French toast sure does taste fancy when you are eating it, but it's actually one of the easiest breakfast recipes that you will ever make! The egg and milk based custard that flavors each slice of brioche is scented with vanilla beans, lemon zest and spices. This recipe for French toast is sure to become a top pocket recipe in your kitchen!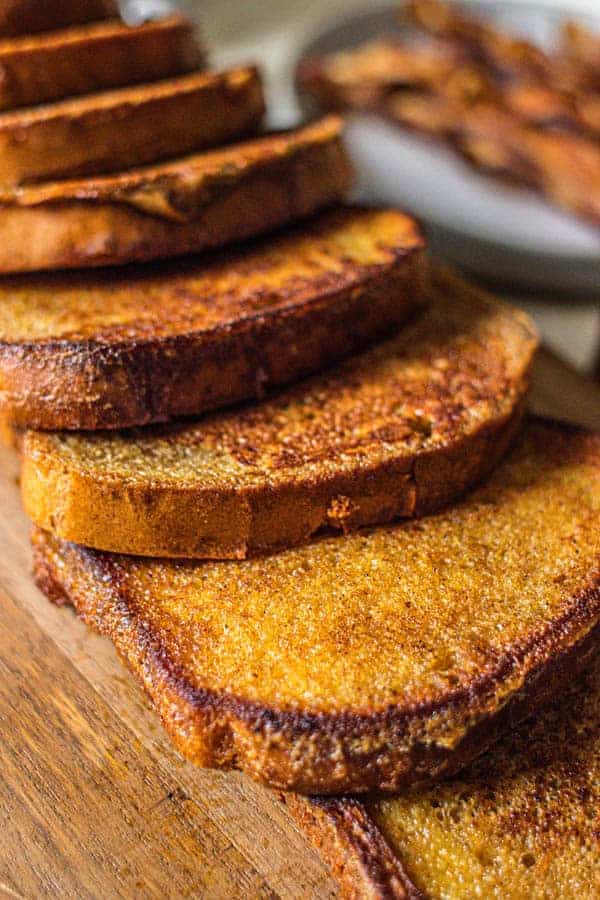 What makes this the best French toast recipe?
Well, for starters it is EASY, DELICIOUS, and everyone that has tested the recipe for us has LOVED it!
Look, these days I don't have the patience for much more than sipping coffee early in the morning, but even I can muster enough energy to whip up this easy french toast recipe.
The custard base batter for this French toast recipe is made quickly and effortlessly in a blender without any elbow grease at all from me and when I use my largest skillet I can knock out cooking all 8 slices, 2 for each of us, in only 2 batches!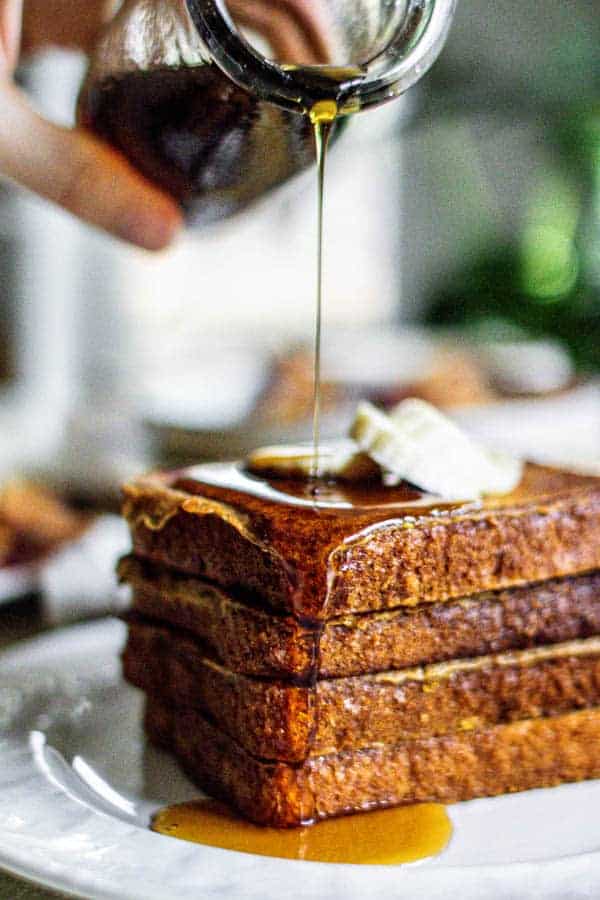 What is the best bread for French toast?
You can use all sorts of different breads to make French toast! Ideally you want a slice of bread that is ¾" to 1" thick and has a spongy texture, but is still sturdy enough not to fall apart during cooking. Here are a few bread ideas to get your gears turning!
Brioche bread
Challah bread
Cinnamon raisin bread
Sourdough bread
Pullman loaf
Texas Toast
French Bread
Sandwich bread
What gluten free bread is best for making gluten free French toast?
I make gluten free French toast all the time with gluten free brioche bread from Trader Joe's, it is actually so perfect that it is what is pictured here.
I find that sometimes gluten filled breads can be finicky requiring additional toasting prior to soaking the slices in the custard. The gluten free brioche bread from Trader Joe's doesn't need any additional toasting. It's already a drier, denser loaf by nature, but it has a delightful sweet flavor and tender texture after soaking and pan frying.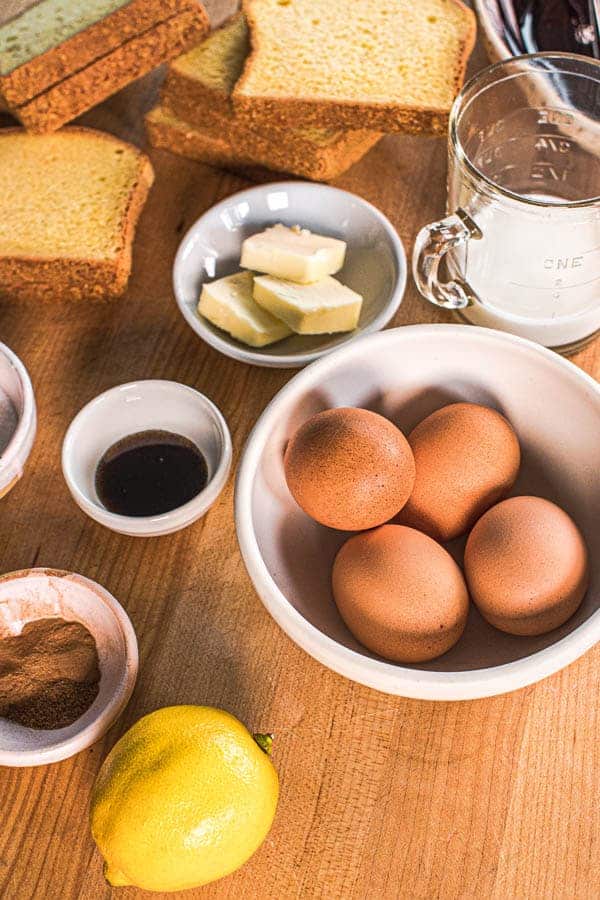 Why is there milk in French toast?
The custard base that gives French toast its tender richness is made of eggs and milk. The batter isn't rocket science to make, but the measurements of these two ingredients are key, because if you get their ratio off you'll wind up with undercooked slices of French toast that have an unpleasant "scrambled eggs" flavor.
While I am a stickler about the measurements for the batter I am super flexible when it comes to what type of milk you use. Here are your options...
half-and-half
whole milk
skim milk
cream
I typically prefer to use half-and-half if I have it because it lends a really creamy flavor, but whole milk is typically what I have on hand and use the most.
You can also use dairy-free milk alternatives for making our French toast recipe. It is really important to note though that the flavor may change slightly depending on which type of plant based milk that you use.
coconut milk
almond milk
soy milk
oat milk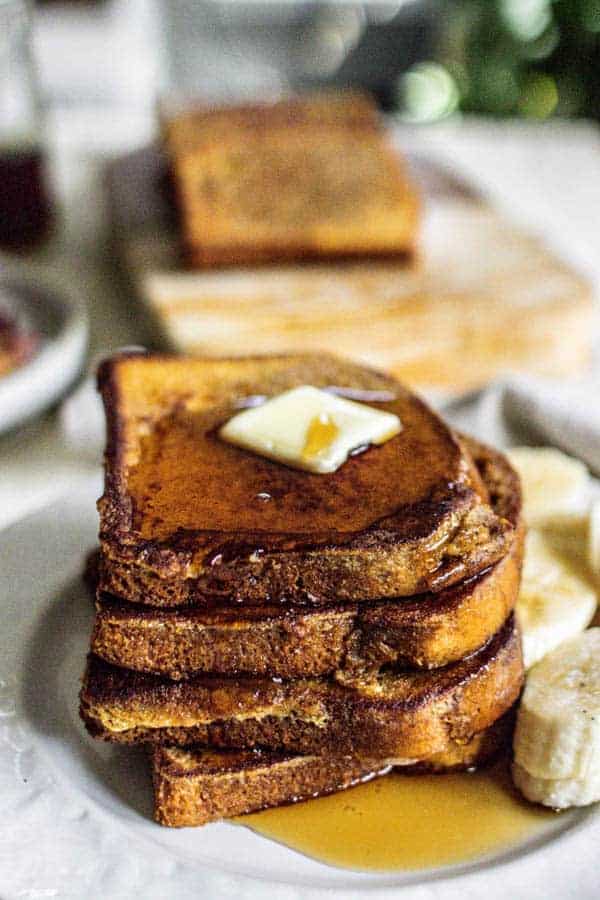 Can French toast batter be saved?
You can prepare the French toast batter in the blender and place it into an airtight container then store in the refrigerator for up to 2 days. When ready to cook, stir or shake the batter to combine well and then proceed with the recipe as written.
Now that we've covered the basics, let's talk about how to make the best French toast recipe!
To make french toast, you first dip slices of bread in a mixture of beaten eggs, milk, and spices. Then you fry the egg-coated bread in a pan until browned. It's pretty simple, but I have a step by step picture guide for you below!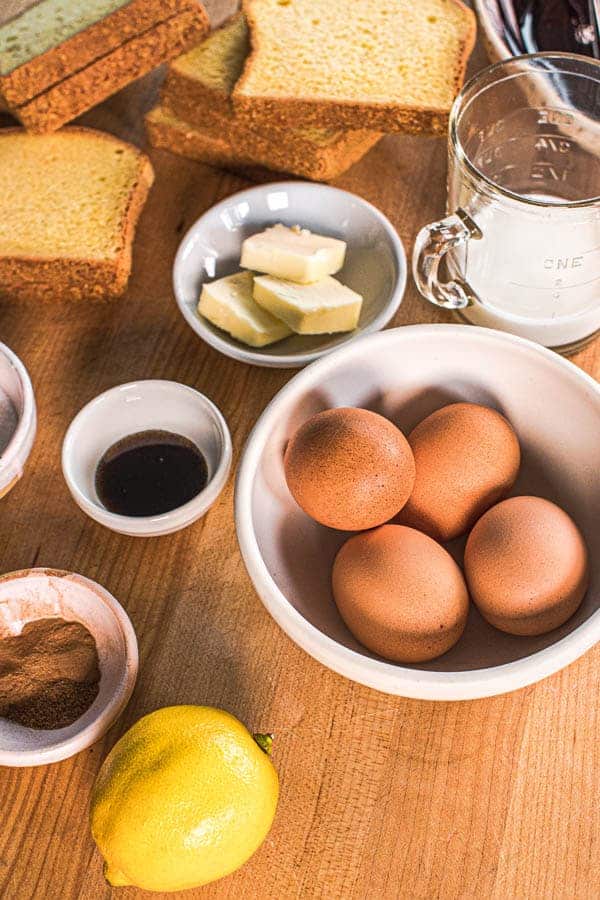 Gather ingredients
eggs
milk of choice
cinnamon
nutmeg
granulated sugar
vanilla extract
lemon zest
butter
bread of choice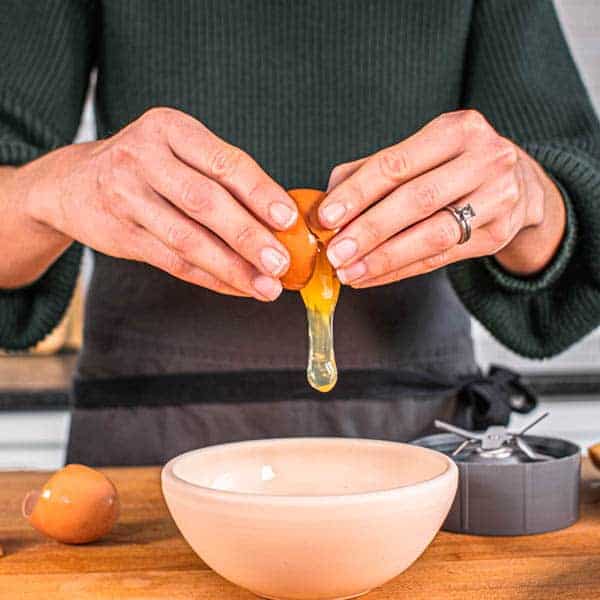 Break the eggs
An eggshell in your French toast batter is a no, no. Break those eggs into a small bowl to make sure they are shell free!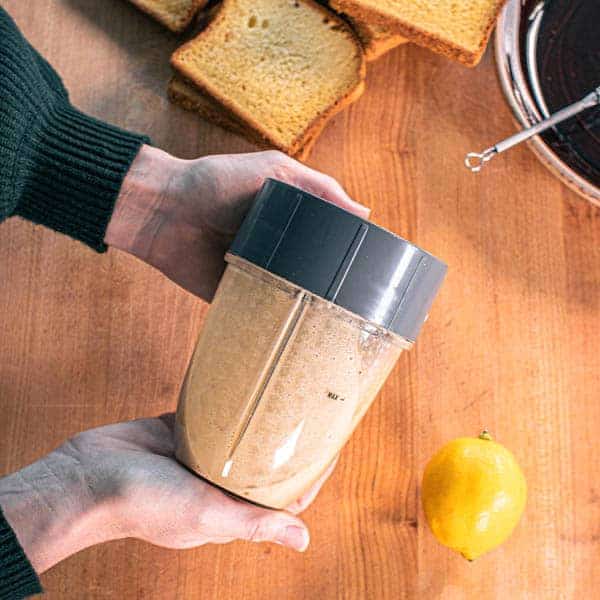 Blend it up in a blender!
Or you can use elbow grease and a whisk if you want!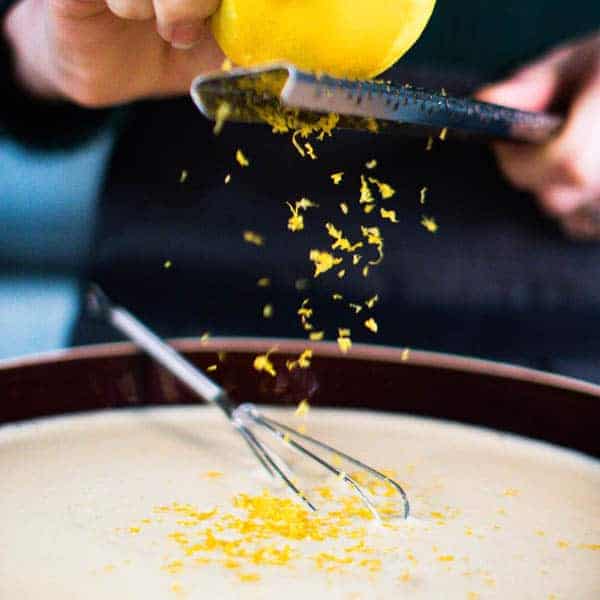 Add a bit of zest!
I personally prefer lemon here, but orange zest is nice too if you want to swap it up.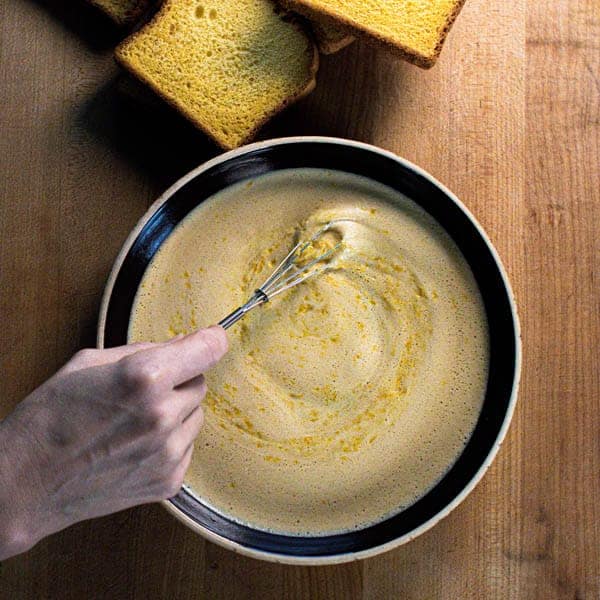 Whisk it up!
Make sure that zest is worked evenly throughout the batter.
Heat a pan & soak your bread.
Heat a skillet over medium heat and melt a tablespoon of butter. Meanwhile begin dunking and soaking slices of brioche in the custard.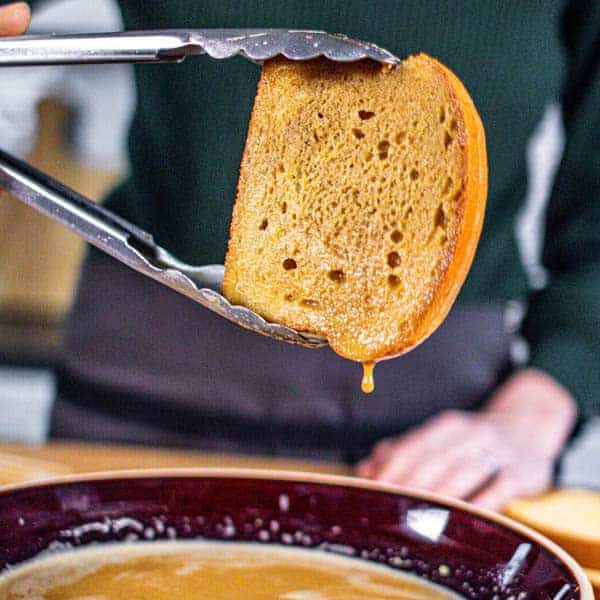 Let 'er drip!
Seriously, give those pieces of French toast a second to shed their excess custard before transferring them to the hot pan.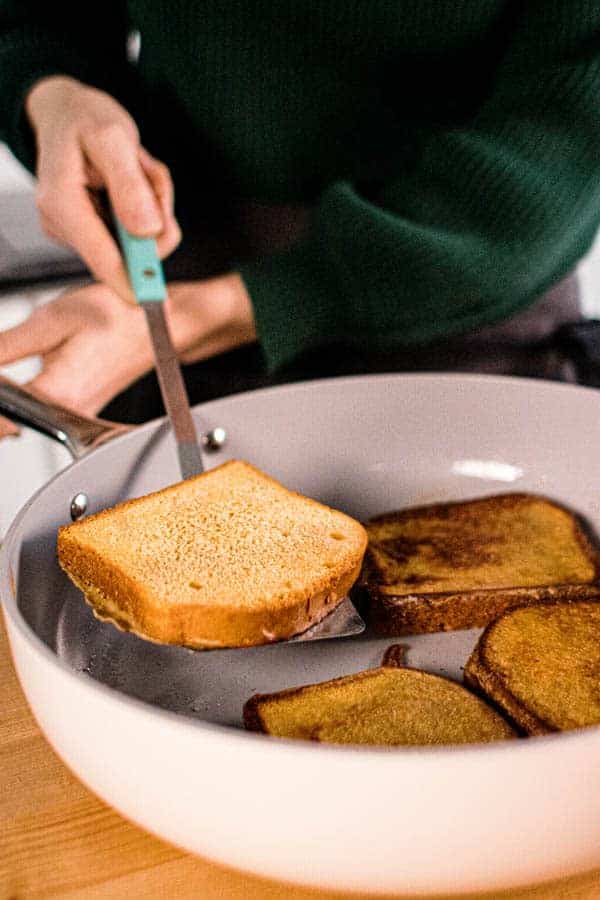 Cook until golden brown.
About 3-4 minutes per side will do it. Wondering how you know when French toast is done? It should be crisp and brown around the edges, not scorched and the center of the bread should no longer be wet to the touch.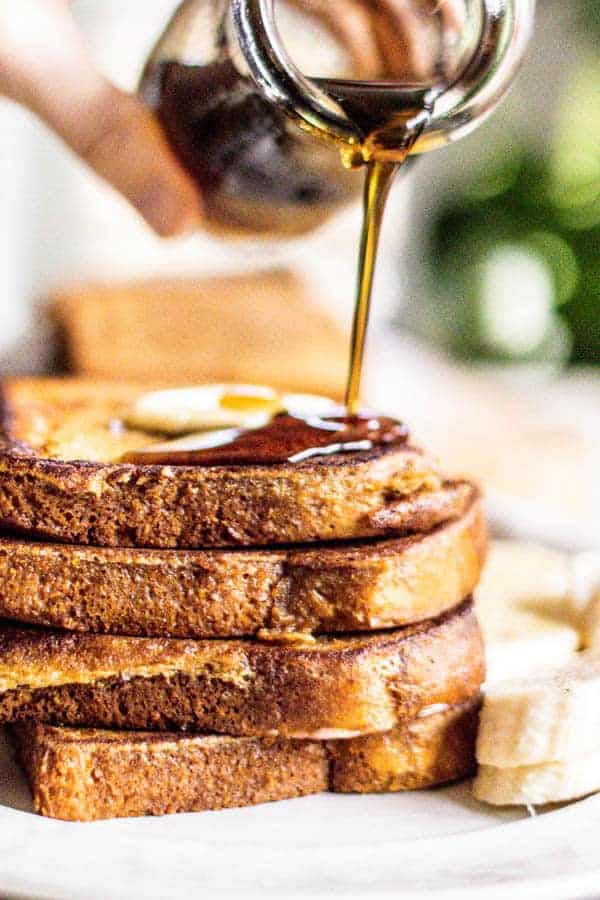 In our opinion, the best French toast recipe needs great toppings too...
You can chase your imagination through the depths of your pantry and probably find all sorts of topping ideas for French toast, but we have a few go-to toppings that are on a regular rotation in our house that I have shared below.
Maple syrup
A light dusting of powdered sugar
Orange or lemon zest
Fresh berries
Sliced bananas
A slather of peanut butter
A sprinkle of crumbled bacon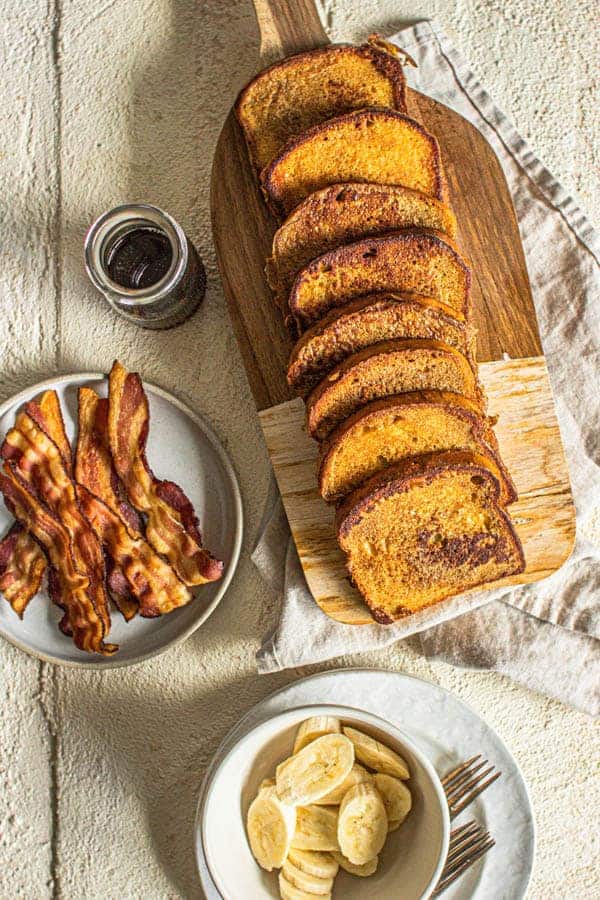 Wondering what to serve with French toast? Here are a few ideas for you!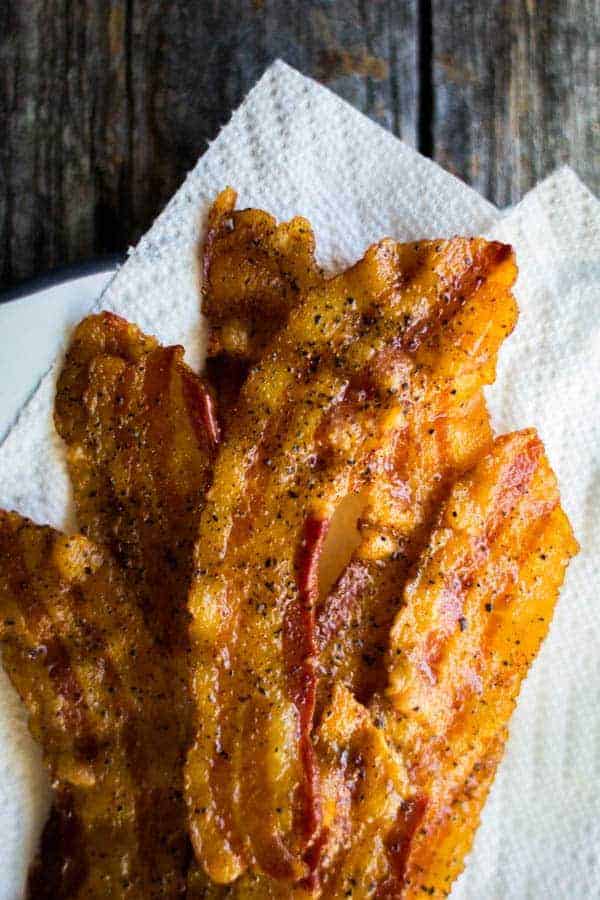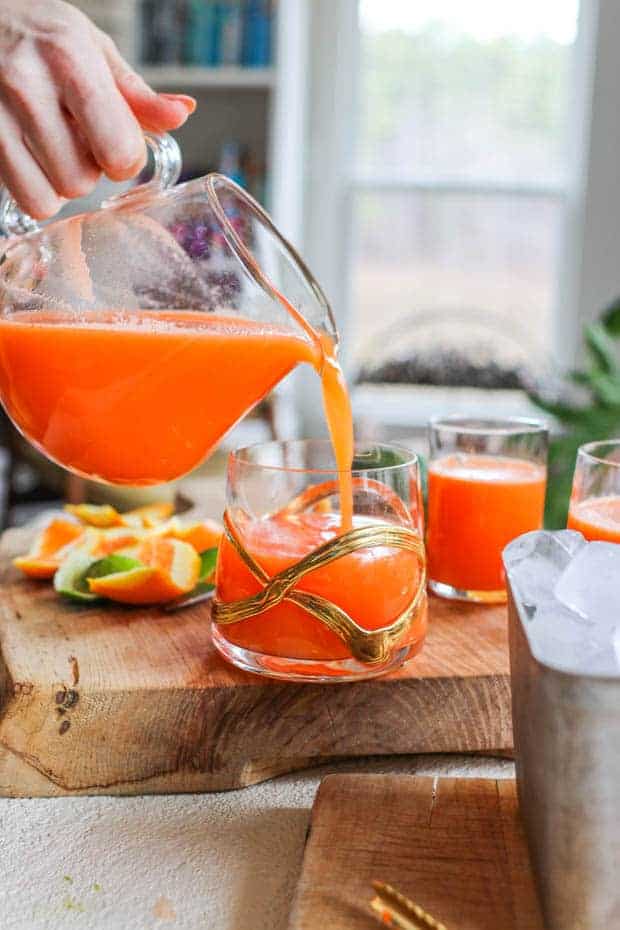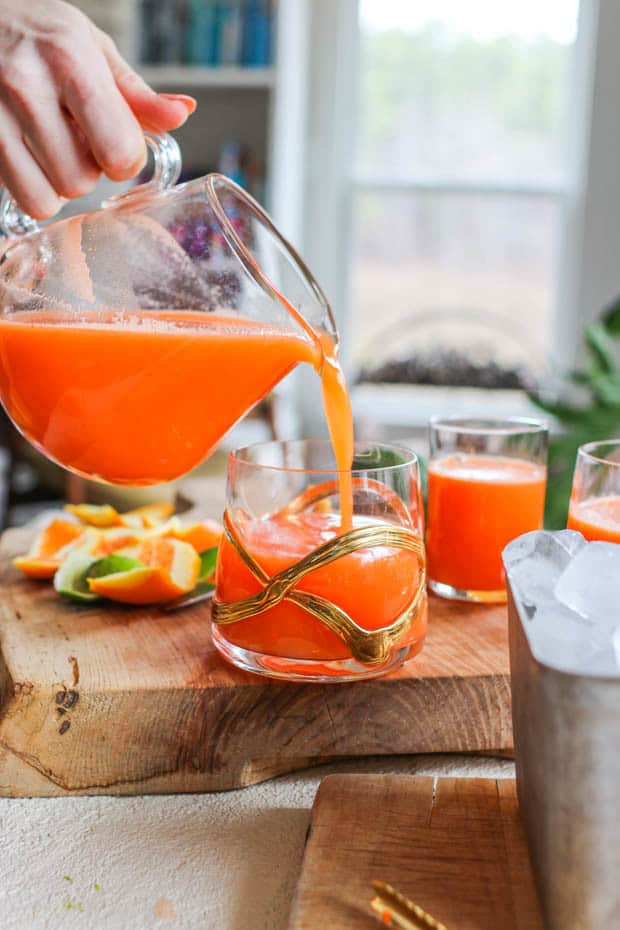 Making sure that you eat your veggies has never been easier or more delicious! This juice recipe combines a variety of immune boosting ingredients that are loaded with vitamins and minerals
If you've made our easy recipe for French toast I would be so grateful if you would rate the recipe and let me know what you think in the comments below!
Print
Our Easy Recipe for the Best French Toast
Don't forget to rate the recipe and let me know what you think about the best recipe for French toast in the comments below. I just love hearing from you. Your reviews/comments really help other people that visit This Mess is Ours!
Author:
Prep Time:

5 minutes

Cook Time:

15 minutes

Total Time:

20 minutes

Yield:

4

1

x
Category:

Breakfast

Method:

Stovetop

Cuisine:

American, French

Diet:

Gluten Free
1 teaspoon ground cinnamon
¼ teaspoon freshly grated nutmeg
2 tablespoons granulated sugar
4 eggs
¼ cup whole milk
2 teaspoons vanilla bean paste or extract
zest of 1 lemon
3-4 tablespoons salted butter, divided
8 slices gluten free brioche bread
½ cup maple syrup warmed
Instructions
Combine the first 6 ingredients in blender and blend until smooth. Pour into a shallow dish or pie plate. Zest a lemon over the batter and whisk to incorporate. Set aside.
Heat a large skillet over medium heat and add 1 tablespoon butter. When the butter has almost melted and is foaming slightly swirl it around the pan. Working quickly dunk one side of a piece of bread into the batter letting it sit for a few seconds, pick up with tongs, flip and let the bread sit for a few seconds more. Then use the tongs to lift the bread out of the batter, allowing the excess batter to run back in the bowl. Cook the bread on the first side until golden brown 3-4 minutes, flip and cook the second side until golden brown.
Carefully, wipe out the pan between each batch of French toast to eliminate and burned bits of butter transferring onto the bread from the pan. Then repeat teh steps above to cook the remaining slices.
Serve immediately with warm maple syrup.
Notes
To prep French toast batter in advance: 
The batter can be made up to 48 hours in advance and stored in the refrigerator until ready to use. Simply whisk, blend, or if in a tightly covered container shake to reincorporate the ingredients before using. Then dip and cook as directed! 
French toast troubleshooting tips:
Can I substitute the whole milk in this French toast recipe? You sure can, but not all substitutions will work. You can use half and half in place of the whole milk which will create a slightly richer custard. Heavy cream is an option as well, but I personally feel it is too rich in flavor for my liking. Just try to avoid using a skim milk or low fat milk here, the results will be less than desirable. 
Can this French toast batter be made without a blender? Yes! I use the blender because it ensures that everything is mixed together completely. You don't want pieces of egg white showing up on your perfectly browned slices. Make sure if you aren't using a blender to be sure that you whisk the custard until the dairy, eggs, and spices are very well combined. 
Is your French toast batter spreading across the pan? If the pan isn't hot enough when you add your first slice in, the custard will spread out from the bread, forming an undesirable "foot" on the bottom of the French toast. When the pan is hot enough, the batter won't have time to seep; the custard will start cooking as soon as it hits the pan.
Nutrition
Serving Size:

2 slices

Calories:

456

Sugar:

37.7 g

Sodium:

439.5 mg

Fat:

18 g

Carbohydrates:

63.6 g

Protein:

10 g

Cholesterol:

209.2 mg
Keywords: french toast, best french toast recipe, easy french toast recipe, gluten free french toast, gluten free french toast recipe,
Recipe Card powered by
I just love hearing from you! Your reviews and comments really help others that visit This Mess is Ours. Want to be a part of our online community outside of the blog? It's easy!! All you have to do is follow @THISMESSISOURS on FACEBOOK, INSTAGRAM, TWITTER, YOUTUBE, or PINTEREST to see cooking demos, and peeks into our day to day life.