We have a variety of eaters gathering around our dinner table every night and one of them is a long time vegetarian. On evenings when I want to serve up a fast dinner with a little Mexican flare I can whip up this easy Tex Mex inspired black bean recipe. This 2-ingredient recipe comes together in about 10 minutes, but tastes like it has been simmering on the stove all day long. As far as recipes for black beans go this one is a REAL winner with minimum ingredients and maximum flavor!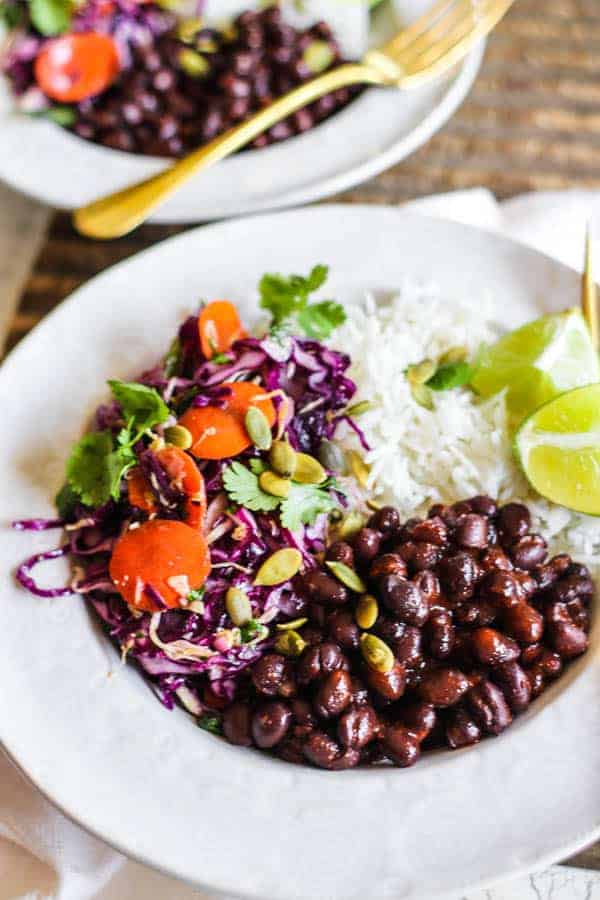 Why are black beans good for vegetarians?
My husband has been a vegetarian since he was a teenager and black beans are hands down his favorite plant based protein! Black beans are a great source of dietary fiber, which is an essential key to good health.
Just one cup of canned black beans will give you almost half of what the USDA has determined as your daily fiber need. But that's not all, according to Weight Watchers, "...black beans are loaded with protein, folate, magnesium and antioxidants — about 10 times the antioxidants of oranges!" WHOA!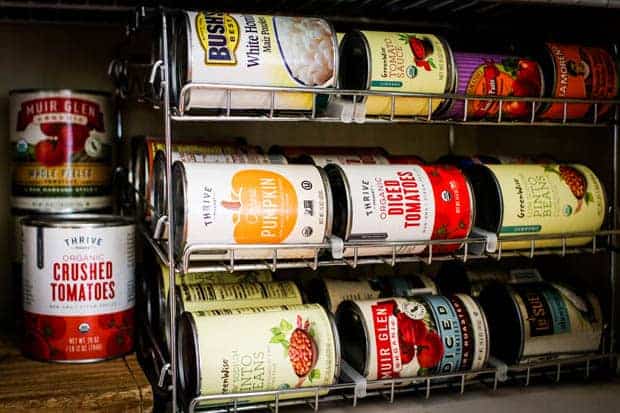 Are black beans a pantry staple I should always have on hand?
We have been on the black bean bandwagon in our house for quite some time! Which means I cook with them ALL the time, so I have some really great ideas for easy, delicious ways you can use canned black beans too.
First though, let's talk about how easy canned black beans are on my grocery budget shall we?! One (15.25 oz) can of cooked black beans costs about $0.63. Which means one ½ cup serving of canned black beans only costs $0.18! Talk about economical pantry choices!!!
Here are some of our favorite canned black bean recipes..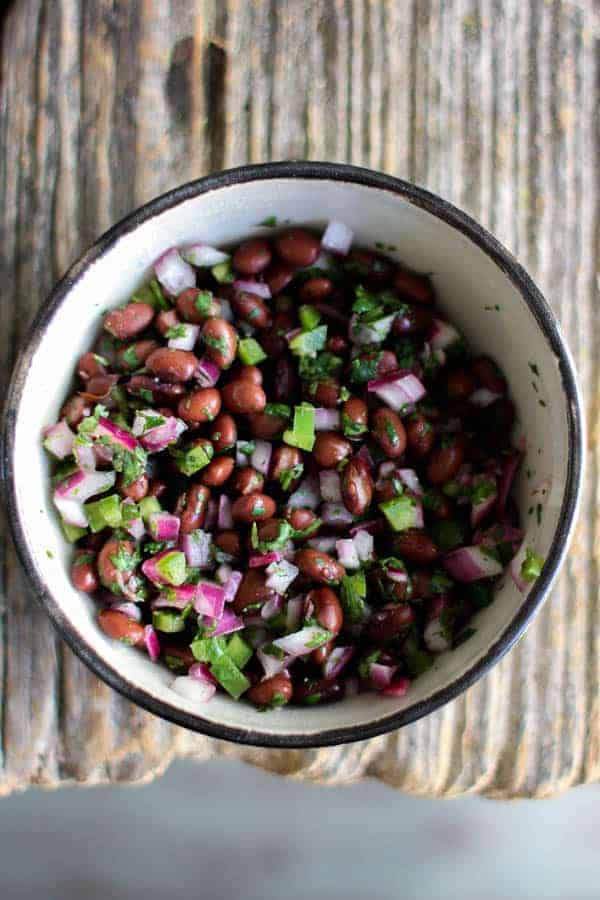 Try this canned black bean inspired twist on salsa! This salsa packs a major protein punch with BIG favor! A big bowl of this with chips would be perfect for a little midday snack or your next Taco Tuesday feast.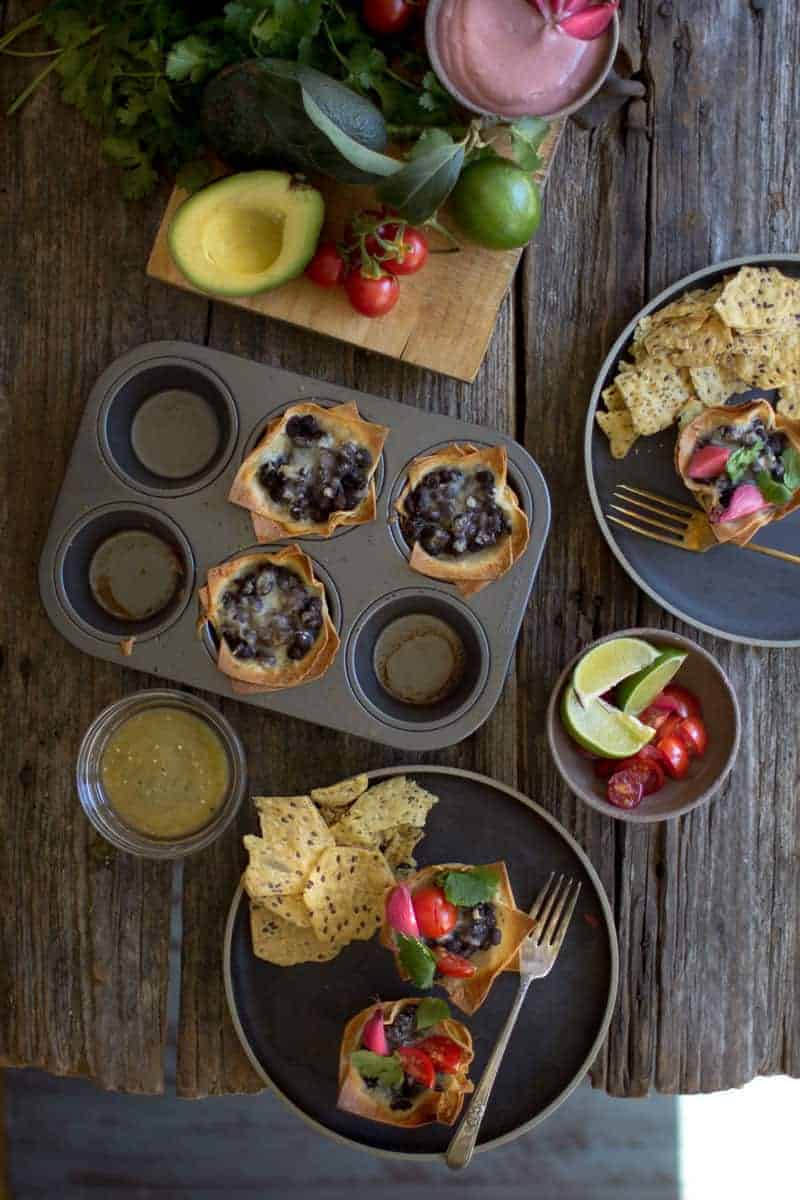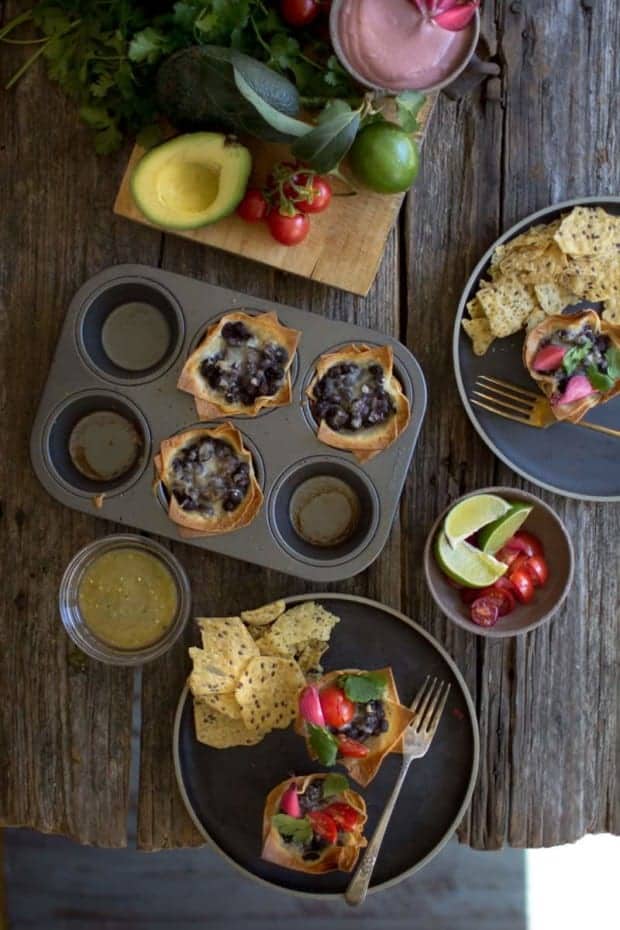 This weeknight warrior of a canned black bean recipe comes together in less than 30 minutes!! It uses flour tortillas in an out of the box way to create perfectly crispy taco cups filled with well seasoned canned black beans and cheese!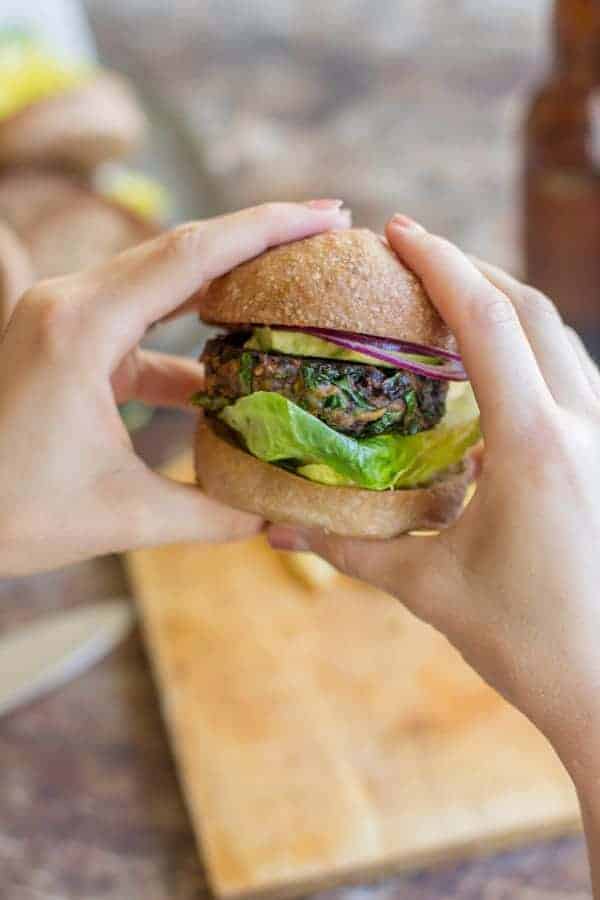 Love a good burger? Us too!!! There are no fancy gadgets required to make this one bowl, homemade veggie burger patty recipe either! These irresistible patties are a blend of canned black beans with fresh shredded sweet potato, kale and warming spices.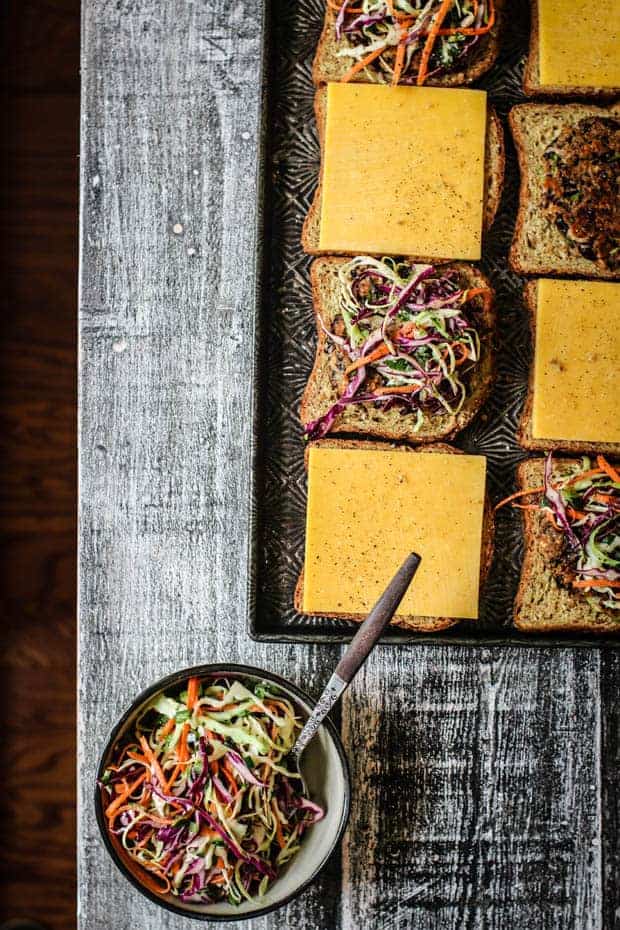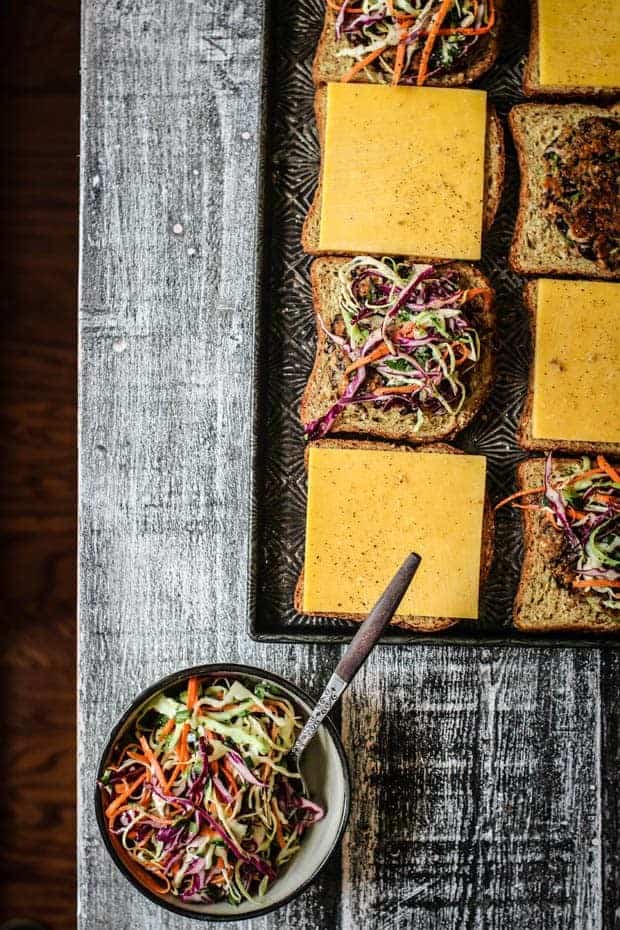 Take your veggie burger and give it a diner inspired spin by transforming those black bean patties into patty melts! This might just be one of my all-time favorite canned black bean recipes to be honest. It tastes naughty, but it is so nice!
Do you always use canned beans in this recipe or can I use dried beans?
Although black beans are available dried, most of us use canned beans more on a day to day basis. And why not? They don't require much effort, they're super versatile, and they can be enjoyed hot or cold.
Sometimes though, I too love to simmer a pot of beans low and slow on the stove all day or in my Instant Pot! So when I have those on hand I substitute them for the canned black beans in this recipe. It's a super simple swap, just use 1 ¾ cups cooked black beans in place of the canned black beans in the recipe below.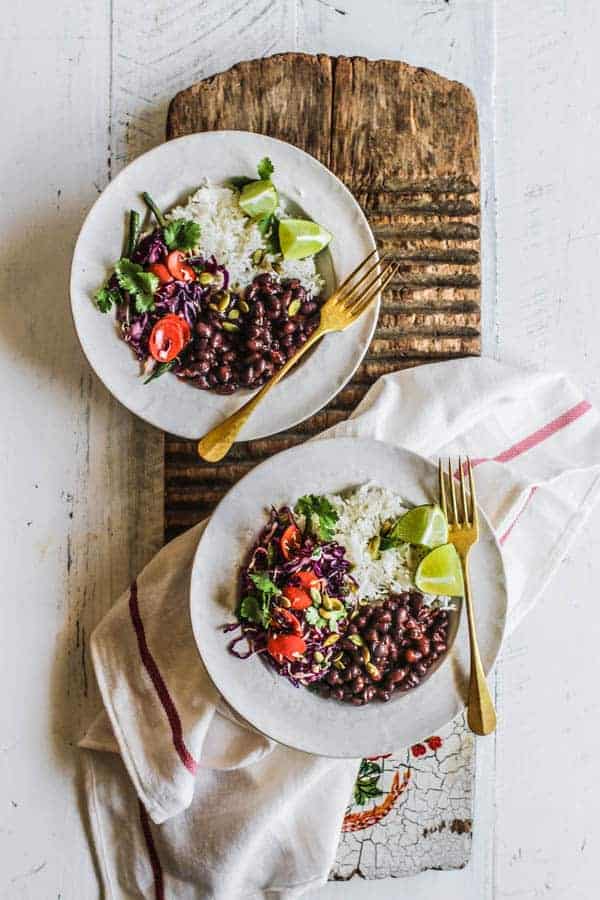 Can I only use black beans in this recipe or can I use other types of beans too?
This recipe could work with literally any type of bean! However we really are keen on black beans and pinto beans.
Now we've covered all the basics of canned black beans, let's talk about enchilada sauce!
This easy recipe for canned black beans was actually inspired by my Shredded Instant Pot Mexican Chicken which I've linked below for you! I needed a fast vegetarian dinner option to serve alongside our shredded chicken for my veggie loving husband one night.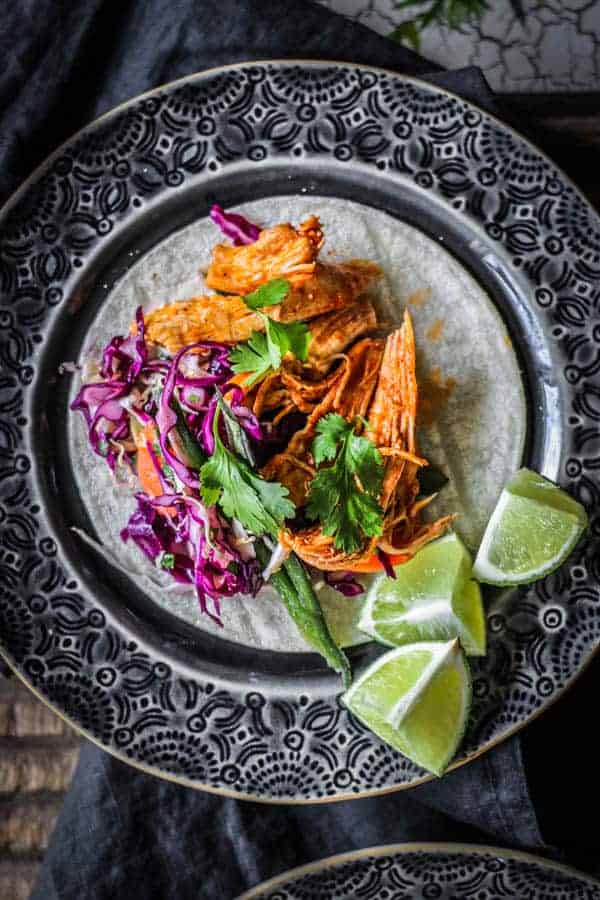 So, I tossed canned black beans in a small pot with the extra enchilada sauce that was left in the can and let it all simmer for 10 minutes or so until the sauce was nice and thick. I served the cooked black beans all wrapped up in a burrito with rice and salsa. I honestly was just hopping he would think it was a decent burrito, but to my delight he seriously RAVED about how delicious it was for 2 days straight!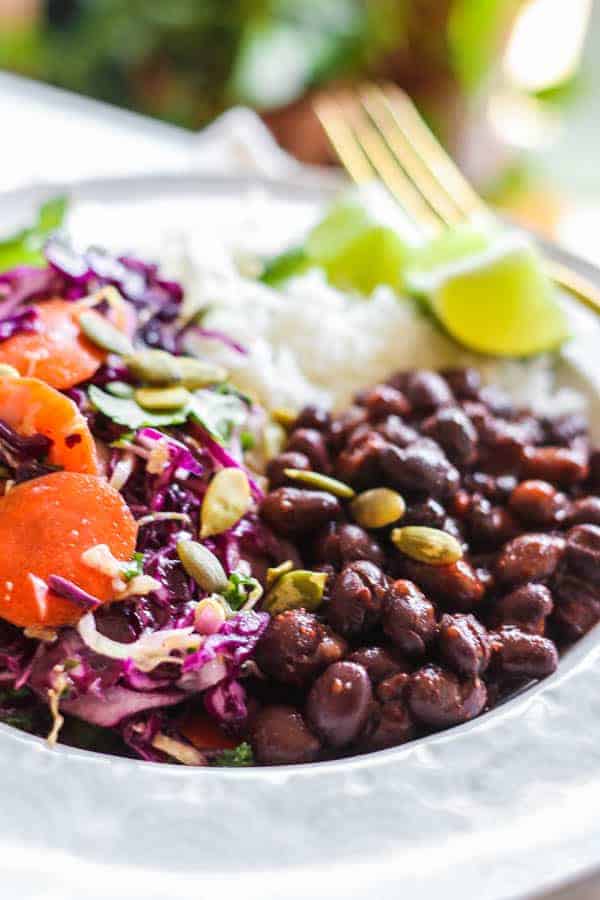 What is enchilada sauce made of?
Enchilada sauce is such an overlooked pantry staple, and happens to be one of my secret (#pantrypower) weapons! Red enchilada sauce is a thick sauce that is made up of chili powder simmered in a sultry broth with garlic, onion, tomato paste/sauce and thickened with either flour or cornstarch. Enchilada sauce is a flavor bomb for your taste buds and hands down the easiest way to get dinner on the table!
Are all brands of enchilada sauce gluten free?
Unfortunately, no! Many enchilada sauces may contain wheat or malt as a thickening ingredient, but there are quite a few household brands that boast naturally gluten free enchilada sauce, so it is key to read the labels when shopping. Alternatively, if you aren't in a time crunch or you are just feeling EXTRA, you can make your own homemade enchilada sauce! It is actually a pretty quick process and even more delicious than using store bought, canned enchilada sauce.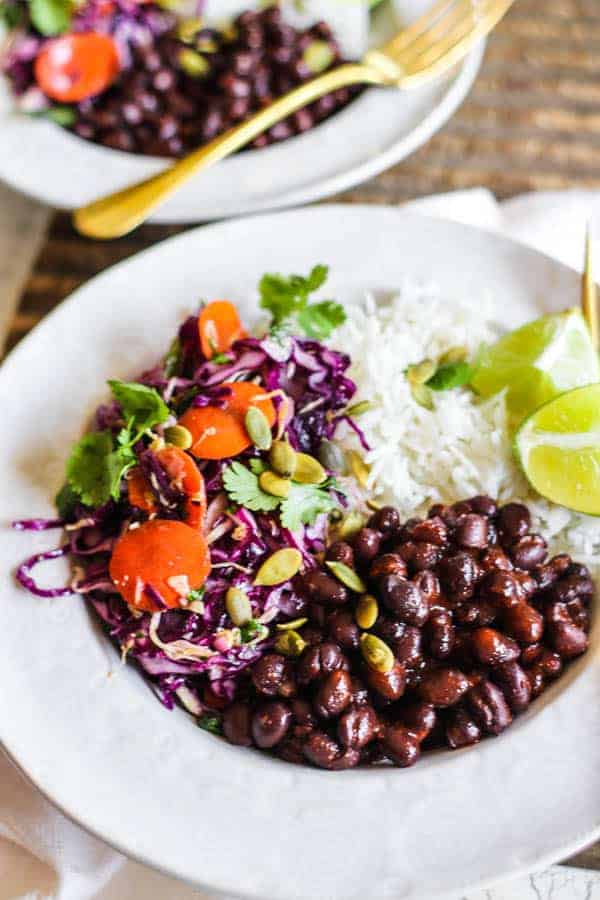 If you've made this Easy Tex Mex inspired Canned Black Bean recipe I would be so grateful if you would rate the recipe and let me know what you think in the comments below!
Easy Tex Mex inspired Black Bean Recipe
Don't forget to rate the recipe and let me know what you think about this in the comments below. I just love hearing from you. Your reviews/comments really help other people that visit This Mess is Ours!
Author:
Prep Time:

1 minute

Cook Time:

7 minutes

Total Time:

8 minutes

Yield:

2 servings

Category:

side dish

Method:

stove top

Cuisine:

Mexican

Diet:

Vegetarian
1 (15.5 ounce) can of black beans, drained and rinsed
1 cup prepared red enchilada sauce
salt and pepper to taste
Instructions
Combine the ingredients into a small saucepan and heat over medium high heat until bubbling.
Reduce the heat to a simmer and cook for 7-10 minutes until the enchilada sauce has reduced slightly and completely coats the beans.
Notes
You can use any beans for this recipe however we prefer black beans or pinto beans.
To substitute the canned beans in this recipe with dried/cooked beans you will need 1 ¾ cup cooked beans total. 
Nutrition
Serving Size:

2

Calories:

241

Sugar:

8.5 g

Sodium:

1856.4 mg

Fat:

0.6 g

Carbohydrates:

45.2 g

Protein:

14.8 g

Cholesterol:

0 mg
Keywords: black bean recipe, canned black bean recipe, recipe for canned black beans, enchilada sauce, enchilada black beans
Recipe Card powered by
I just love hearing from you! Your reviews and comments really help others that visit This Mess is Ours. Want to be a part of our online community outside of the blog? It's easy!! All you have to do is follow @THISMESSISOURS on FACEBOOK, INSTAGRAM, TWITTER, YOUTUBE, or PINTEREST to see cooking demos, and peeks into our day to day life.