Last week, I shared the recipe for my Supreme Veggie Pizza Pasta with you and I raved about my LOVE for all things pizza and pizza inspired dishes. Well, friend, I wasn't kidding! I would eat a pizza inspired dish every single meal of the day if I could get away with it - even dessert! Case in point, this gluten free, Easy Apple Dessert Pizza - it has a perfectly tender, sugar cookie crust that's topped with a brown sugar cream cheese "sauce", and paper thin slices of apple all drizzled in caramel. Be still my heart!
This post was made in partnership with Stemilt ! We received compensation and product in exchange for it. Opinions are always our own. If we don't love it, you don't hear about it. Thanks for your continued support!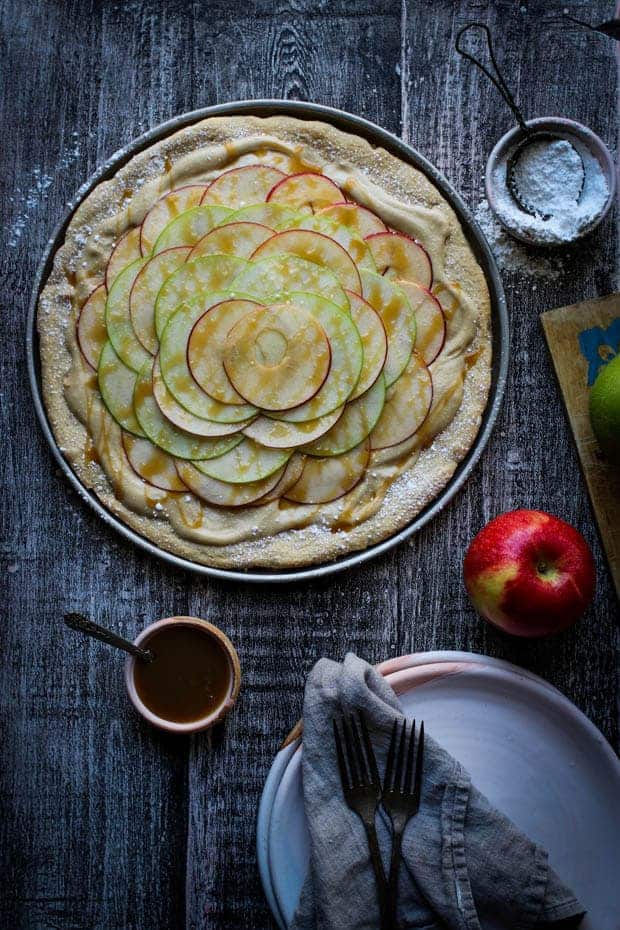 I mean, have you ever seen a more decadent dessert? Plus, just like pizza these slices are perfectly portable!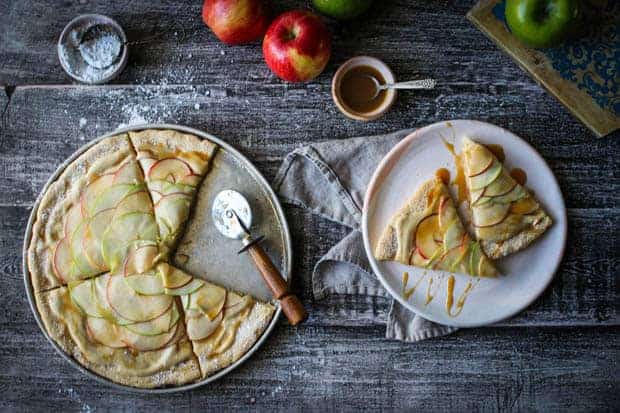 Let's talk about what makes this Easy Apple Dessert Pizza so special, shall we?!
The crust || This is no ordinary pizza pie my friend, this crust is made of sugar cookie dough. (In my case gluten free sugar cookie dough, but hey- you do you!) Store bought cookie mixes, pre-made tubes of dough, or even from scratch recipes are all welcome at tis pizza party, just form it into a big circle the shape of a pizza pie then bake it to perfection!
The "sauce" || Obviously, you wouldn't use tomato sauce on a dessert pizza, that would just be gross! But, you know what you can use?! A whipped brown sugar and cream cheese spread! Oh yes friend- this little dessert dipper is just heavenly! Creamy, luscious, and rich. Just like a dessert pizza should be!
The "toppings" || This Easy Apple Dessert Pizza has a sweet tart combo of thinly sliced Stemilt Piñata apples and Granny Smith apples. I sliced the apples paper thin on a mandoline to ensure easy eating, but you could just chop them up very finely too.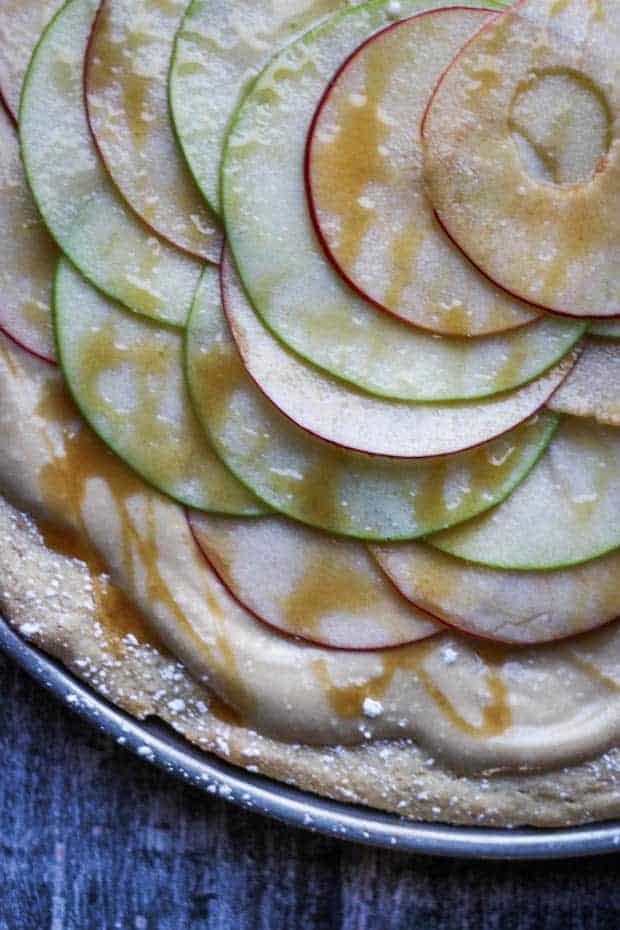 What are you waiting for? You know you want to indulge in a slice of this right now!!!
If you've tried this Apple Dessert Pizza Recipe, I would be so grateful if you would rate it. Let me know what you think in the comments below. I just love hearing from you, and your reviews and comments really help others that visit This Mess is Ours!
Want to be a part of our online community outside of the blog? It's easy!! All you have to do is follow @THISMESSISOURS on FACEBOOK, INSTAGRAM, TWITTER, YOUTUBE, or PINTEREST to see cooking demos and peeks into our day to day life.
What are the health benefits of apples?
The apple, especially with the skin left on, is packed with necessary nutrients that reduce risks of heart disease and diabetes and improve gut heath. The high fiber and water content in apples can also help with weight loss because they are so filling.
Click here more information about the health benefits of apples.