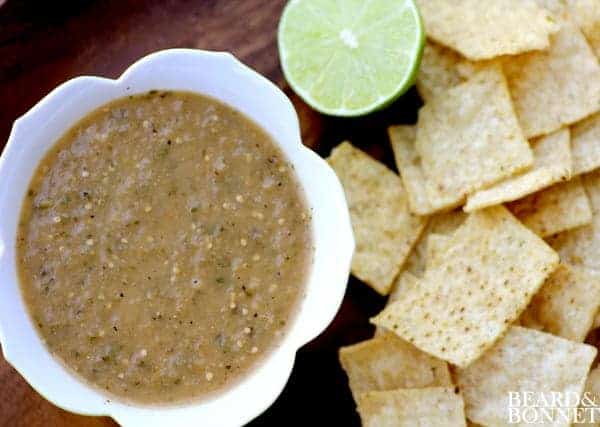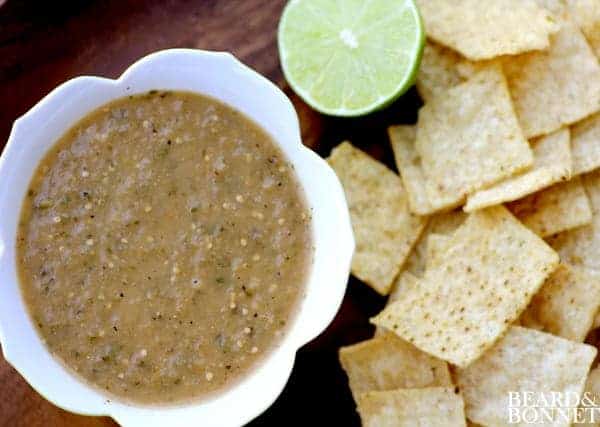 This recipe has a special place in my heart because it was one of the first things that Todd cooked for me when we were dating. Nothing says "I love you" like a batch of homemade salsa! This zesty little sauce is our go-to topping for almost everything and if I mention homemade salsa in a recipe this is probably what I am using. For years we have topped tacos, burgers, burritos and breakfast sandwiches with this little green sauce but recently I have found that I can throw it in the skillet with a little vegetable broth and let it reduce and concentrate into a pretty fabulous enchilada sauce. I make ours mild because the kids like it so much but feel free to add more jalapeños to kick up the heat a notch.
Roasted Tomatillo Salsa
16 tomatillos small to medium in size with husks that are tight
1 Roma tomato
1 jalapeño
2 garlic cloves
½ large red onion
Juice of 1 lime
1 cup cilantro, roughly chopped and loosely packed
1 - 1 ½ tsp. salt
2 Tbsp. lime flavored olive oil or regular olive oil
Remove papery husks from tomatillos by rinsing in water and peeling the husk away from the fruit. Clean the tomatillos, tomato, jalapeño and cilantro well and set aside to dry. Remove the stem from the jalapeno and de-seed the Roma tomato. This can be done by cutting off the end of the tomato and squeezing out the seeds. Peel the garlic and onion and set aside with the remaining ingredients.
Heat the oil over medium-high heat in a large cast iron skillet. When heated place the whole tomatillos, Roma tomato, jalapeño, garlic cloves and red onion into the skillet.
As the veggies start to cook and caramelize on one side flip them and cook the other side. See the blackened bits on the tomatillos? That is a good thing! Have a blender ready with the cilantro, salt and lime juice and add the veggies as they finish cooking. Usually, the garlic cooks the fastest and the jalapeño and Roma tomato are the last things to leave my skillet. There really is no right or wrong here, it all depends on the size of the veggies that you are using.
When all of the veggies are in the blender puree until the salsa is at your desired consistency. Taste and adjust seasonings with additional salt or lime juice to your liking.
We like to eat some of our salsa immediately while it is still warm with gluten-free tortilla chips. Any remaining salsa can be placed in air tight container in the fridge for 3-5 days.