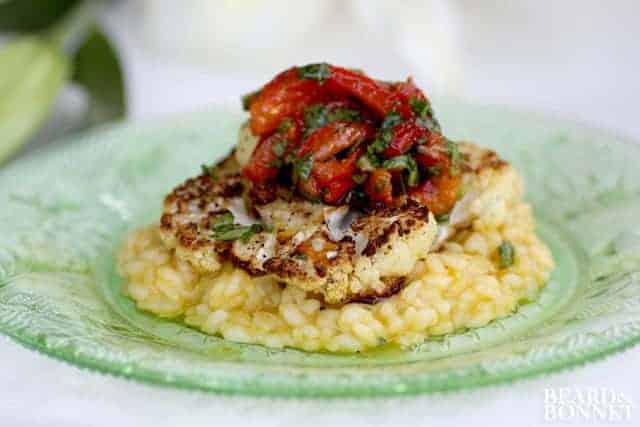 For 30 years I have been under the impression that I didn't like cauliflower. I wasn't a big fan of it's pasty white color and I thought that it was only good as a filler on a vegetable platter. I am still not sure what possessed me to give it a try. Maybe it was the fact that I have been reading about people mashing it, roasting it and pickling it for a while now and my curiosity had finally gotten the best of me. You should have seen my families faces when my answer to "What's for dinner?" was cauliflower! I am pretty sure that they thought I had lost my mind.
I decided that I would treat the cauliflower like a steak. I would marinate it, sear it and then roast it off in the oven and top it with a chimichurri made from herbs out of our garden. The chimichurri recipe came to my home in the latest issue of Better Homes and Gardens and it didn't disappoint! I plated our cauliflower with a simple risotto made with vegetable stock and a glass of red wine for Todd and I. The results were phenomenal and it is official…we LOVE cauliflower!
Roasted Cauliflower Medallions with Chimichurri and Roasted Peppers : Serves 4 (gluten & dairy free)
1 large head of cauliflower
2 red bell peppers
2 cloves of garlic
1 tsp. sea salt
3/4 cup extra-virgin olive oil plus 2 Tbsp. for skillet
2 Tbsp. apple cider vinegar
3/4 tsp. ground black pepper
1/2 cup chopped basil, finely chopped
1/2 cup chopped oregano, finely chopped
1/2 cup chopped cilantro, finely chopped
Peppers:
Roast the red bell peppers under the broiler until blackened and blistered on all sides turning as necessary. When all sides are roasted transfer the peppers to a bowl and cover with plastic wrap. Let rest for at least 2o minutes or until cool enough to handle. Remove the skins, seeds and core and slice the peppers thinly. Set aside.
Marinade:
Mince and mash the garlic with 1/4 tsp. salt using a chef's knife to make a paste. (There is a really great video on how to do this here.) Transfer the paste to a large bowl and add 1/4 cup of the olive oil, 1 tbsp. of the vinegar, 1/2 tsp. salt, and 1/2 tsp. black pepper. Whisk to combine and set aside.
Roasted Cauliflower:
Wash the cauliflower well and remove the leaves and trim the stem end leaving the core intact. Place the cauliflower on the cutting board with the core side down. Using a large knife, slice the cauliflower into 4 equal slices or "steaks". (You will lose some of the florets during this process. Save them for another use like my Hot Giardiniera.) Cut your "steaks" in half to make the medallions. This step isn't necessary but, I like to cut mine smaller so that they are easier to work with.
Preheat the oven to 400° F. Heat 1 Tbsp. of the olive oil in a large cast iron skillet over medium-high heat. Working in two batches, dip the cauliflower medallions into the marinade and cook until golden brown, about 2minutes per side. Transfer to a large baking sheet lined with parchment and repeat with remaining tablespoon of olive oil and cauliflower medallions. When all of the medallions are on the baking sheet roast in the oven approximately 15 minutes until they are tender.
Chimichurri:
In the marinade bowl, stir together the sliced roasted red peppers, finely chopped herbs the remaining 1 Tbsp. of apple cider vinegar, and the remaining 1/4 tsp. each of salt and pepper.
*You can use any combination of herbs that you have on hand for this. Just make sure that you have 1 1/2 cups of chopped herbs when you are done.
Assembly:
Place 2 or 3 cauliflower medallions onto a bed of risotto or rice and spoon chimichurri over top. Next time I make this I think I will place the cauliflower medallions on top of a bed of leafy greens drizzled with some of herb infused oil from the chimichurri.
(Visited 1 times, 1 visits today)