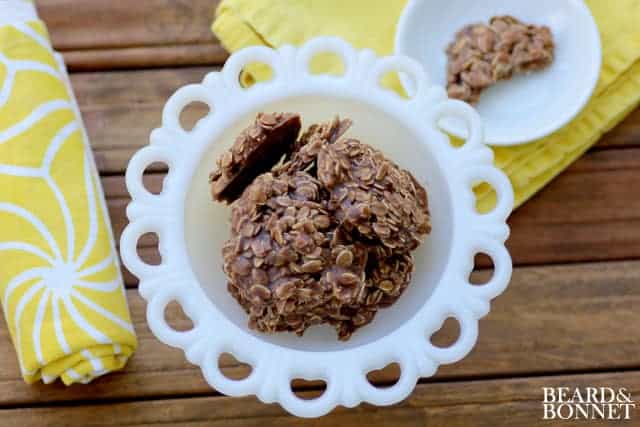 Eliza starts fifth grade in a little over a week! We are spending our spare time picking up school supplies, cleaning out closets and planning her lunches. She isn't happy with the standard PB & J or turkey and cheddar sandwich every day. She loves to see a little diversity in her lunchbox from day to day and I have a really great time creating that with her. This week we decided to turn one of our old recipes for no bake cookies into a gluten and dairy free version that she could take with her to school. We knew that a trial run was needed just to make sure that they were perfect and after all that shopping and clearing out we needed an indulgent treat.
Chocolate Peanut Butter No-Bake Cookies (gluten & dairy free)
3 cups gluten-free quick cooking oats, we used these.
2 cups sugar
4 Tbsp. cocoa powder
8 Tbsp. Earth Balance
1/2 cup coconut milk
1 cup peanut butter
1 Tbsp. vanilla extract
Line baking sheets with waxed paper and set aside. In a heavy saucepan bring the sugar, cocoa, earth balance, and coconut milk to a boil over medium-high heat. Let boil for 1 minute add the peanut butter, vanilla extract and oatmeal stirring well to combine. Remove from the heat and drop the mixture by tablespoonful's onto the wax paper. Allow to cool and harden then store in an airtight container.
We are happy to have shared this recipe at the Gluten-Free Friday's link up party hosted by Vegetarian Mama, Eat.Live.Make, and Gluten Freed R.D.! Hop on over to find more great gf recipes!