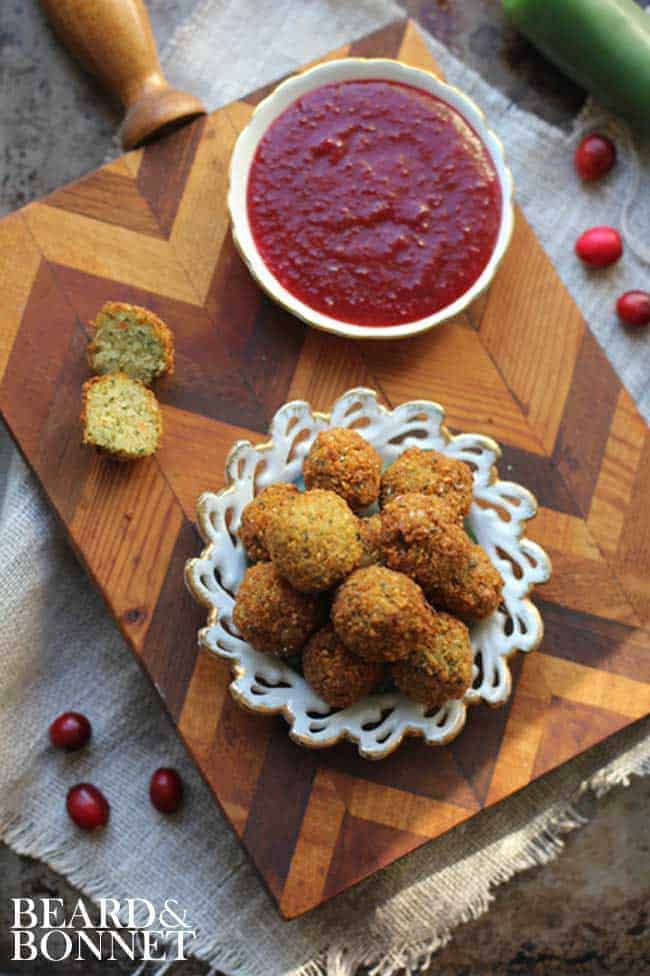 Who doesn't love finger food? I have been developing recipes for a series of posts on B&B in December featuring party worthy tapas when the idea for a finger food inspired stuffing recipe came to mind. Yep, I turned Thanksgiving stuffing into a bite sized, portable treat perfect for entertaining guests, kid's lunches, or just sitting around on the couch watching holiday movies. Ladies and Gents, I give you Thanksgiving Stuffing Poppers!!! Did you just hear the Hallelujah Chorus in your head? I totally do every time I say those 3 little words.
I used my falafel recipe as a base for these little poppers then added in onion, carrots, celery, fresh herbs and spices to make them reminiscent of my favorite holiday side dish.
The cranberry jalapeno dipping sauce isn't mandatory with these little bites, but it really does drive home the whole Thanksgiving dinner in one bite concept when you combine the two. Be careful though, because these babies are addictive…my kids ate an entire batch in no time!
Print
Thanksgiving Stuffing Poppers (gluten free and vegan)
---
Scale
Ingredients
2 cups

dried chickpeas, soaked in water to cover by 3 inches for

24

hours then drain and rinse well.

1

small yellow onion, peeled and quartered

4

cloves of garlic, smashed and peels removed

1/2 cup

coarsely chopped carrot

1/2 cup

coarsely chopped celery

1/2 cup

flat leaf parsley
scant

1/4 cup

chopped fresh sage

1 tablespoon

fresh thyme

1/2 teaspoon

red pepper flakes

1 tablespoon

Tamari

1 tablespoon

maple syrup
Kosher salt and freshly ground pepper to taste
Grapeseed oil for frying
---
Instructions
Place all of the ingredients, except the oil, in a food processor fitted with the "S" blade. Alternate between the machine running constantly and pulsing, stopping to scrape the sides, until the mixture is all uniform in size. You want the consistency to be grainy not smooth.
Use a small ice cream scoop or a tablespoon measure to scoop up a small amount of the mixture. Roll it in between the palm of your hands to make a compact, round ball. Proceed with the rest of the batter, lining all of the stuffing poppers on a parchment paper lined baking sheet until there is no chickpea mixture remaining in the food processor.
Pour the oil into a high sided skillet or dutch oven to a depth of 3 inches and place it over medium high heat. Place a thermometer in the oil and heat the oil until it registers between 360°F and 375 °F.
Meanwhile, line another baking sheet with paper towels or brown paper grocery bags to drain the cooked stuffing poppers after they have cooked.
When the oil is to temperature, drop one popper at a time into the oil, being careful not to overcrowd the pan. The oil should sizzle and bubble around each popper and the popper should hold together perfectly. Cook until the poppers are golden brown, about 1 1/2 – 2 1/2 minutes; remove from the hot oil with a slotted spoon and place on the paper towel lined baking sheet to drain. Sprinkle the tops of the hot poppers with salt. Repeat the process with the remaining poppers until all of them have been cooked.
Serve hot or at room temperature with dipping sauce.
---
Recipe Card powered by
Print
Cranberry Jalapeno Dipping Sauce (Gluten Free and Vegan)
---
Scale
Ingredients
1

8 ounce bag of fresh cranberries

3/4 cup

orange juice

1

jalapeno pepper, seeded and minced

1/2 cup

brown sugar

1/4 cup

Snap liquor or Grand Marnier
---
Instructions
Place all of the ingredients into a large heavy bottomed saucepan and cook over low heat, stirring occasionally, until the sugar dissolves and the cranberries are soft, about 10 minutes. Increase the heat to medium and cook until the cranberries burst, about 12 minutes.
Allow the cranberry sauce to cool then blend with an immersion blender until smooth. This recipe makes almost 2 cups of cranberry sauce.
---
Recipe Card powered by