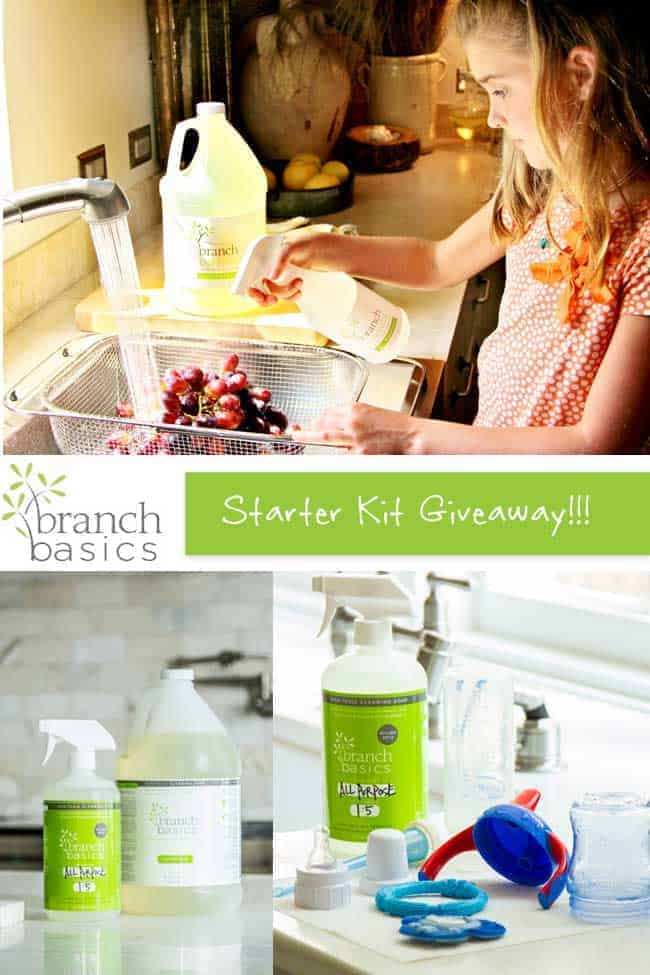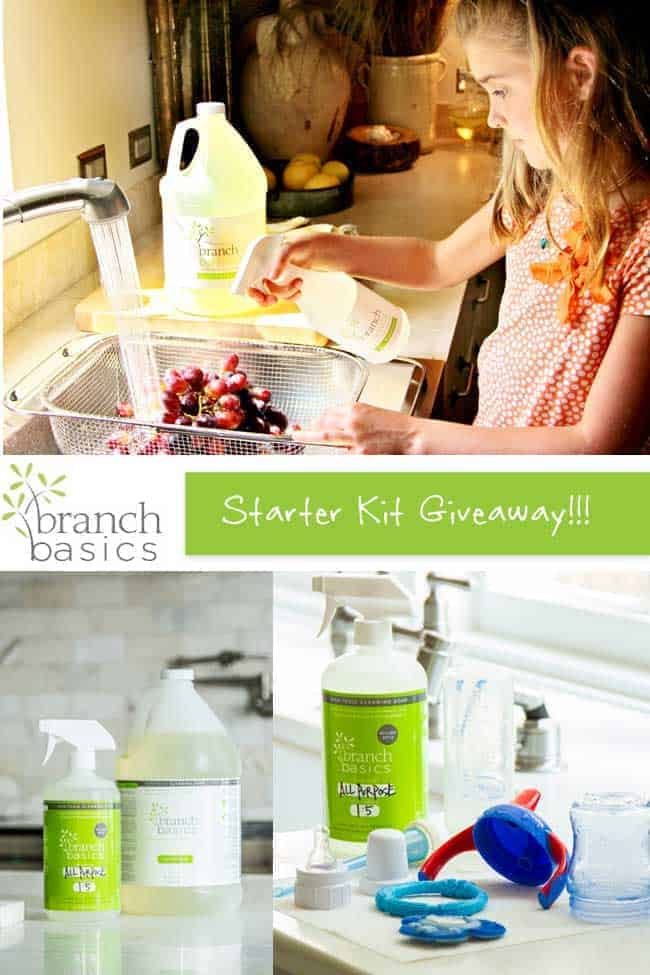 Well friends, can you believe it has been a month since we first introduced you to Branch Basics? Time sure has flown for us here at B & B and with the season of giving upon us I am teaming up with the lovely ladies at Branch Basics again to bring you an awesome giveaway! If you haven't read my first post professing my love for Branch Basics, I think you should hop over and take a peak now by clicking here. Since that first post I have been using Branch Basics every day for just about everything! I have been cleaning my makeup brushes, spraying down sheet pans after I use them to remove oily residue, spot cleaning our handmade rugs, cleaning my kids, cleaning my jewelry, the list could literally go on for days and days. Bottom line is, I am incredibly happy with Branch Basics and as a mom of two I feel completely safe using Branch Basics in my home and on my kids. Don't just take my word for it though; check out these amazing testimonials that really spoke to me when I was researching Branch Basics.
"Hi, I just used Branch Basics for the first time today and I am in love! I have a couple pet stains on the carpet and Branch Basics got the terrible stain out in 5 minutes! Best part. No smell!!! Not a cleaner smell or urine smell anymore. I am a believer. Thank you for making a product that I can feel good about using around my 2 littles. I have one son with Autism and I really try to keep his toxic level low. This really helps. And also it is a great veggie wash! A I have purchased a lot of different produce washes and this is by far superior. I can't wait to give my dog a bath with it! 🙂 Thanks again!" -- Wendy Hoard
"Thanks for making such a great product! I recently started using it to wash my cloth diapers. I would have used the cloth more often if I had known how easy they were to wash with the right detergent- no more 5 rinses to try to get the suds and such out. Thanks again! :)" -- Katalin Van Meter
"Thank you for creating this product. My kids come out squeaky clean from their baths! Their skin problems are improving. My 17 month's dermatitis is almost gone. He now has some rosy healthy cheeks and his hair is so clean and shinny. My 9 year old daughter (who does not like to take baths) is now optimistic. Her dad complimented her on her beautiful shinny hair. My clothes are brighter and more colorful after the wash. I had never seen my wash come out this clean even with Clorox. Get this! I have not used my dishwasher in years. I'ts still practically brand new. I quit using it because we have well water and it leaves all my dishes and glasses with spots and residue no matter what products I used. I tried them all and just gave up. I decided to try BB in my dishwasher and I was shocked! No spots! No residue or films!...I'll need lots more!" -- Zulma McCall
"I was stung by a yellow jacket last month on my lower arm. When my fingers started throbbing and going stiff I decided to try some Branch Basics on it. I dabbed it on full strength and then forgot about it I realized I had no more pain! I am more and more impressed by the product." (a few weeks later...) "I just got blackberry juice out of a white blouse - completely." -- Carol Montgomery
"I use this product on everything from cleaning the kitchen to cleaning my kids. Because it's so safe I don't mind letting my 2 year old have the bottle to use all by herself!" -- Kelsey Campbell
"I am typically skeptical of too good to be true products in general, but Branch Basics proved me completely wrong!" -- Sam Love, MD
Branch Basics is kindly giving one (1) small starter kit to one lucky Beard and Bonnet reader valued at $35.48!
The Small Starter Kit includes:
32 oz Branch Basics Concentrate
32 oz Empty, Refillable Spray Bottle
18 oz Empty, Refillable Foamer Bottle
This kit is the perfect place to start! You can make at least 6 All-Purpose Spray Bottles or Foamer Bottles with the 32 oz Concentrate, costing only $5.24 per bottle. Or, if used as a laundry soap, this small concentrate washes 64 loads.
Congratulations to Amy Margavitch for winning the B&B + Branch Basics giveaway!!
Along with the giveaway the lovely gals at Branch Basics are still offering 15% off your orders through December 1st with this coupon code.
Disclaimer: Thanks for supporting companies I partner with, like Branch Basics who paid me and supplied me with products for my review. This allows me to create more unique content and recipes for you. As always, all opinions are my own.