Cooking artichokes can be a daunting task, but with the right techniques, you can make a delicious and nutritious dish. Artichokes are packed with fiber and antioxidants, making them a great addition to any meal. Here are some tips for cooking artichokes, as well as some of the best recipes for incorporating them into your meals.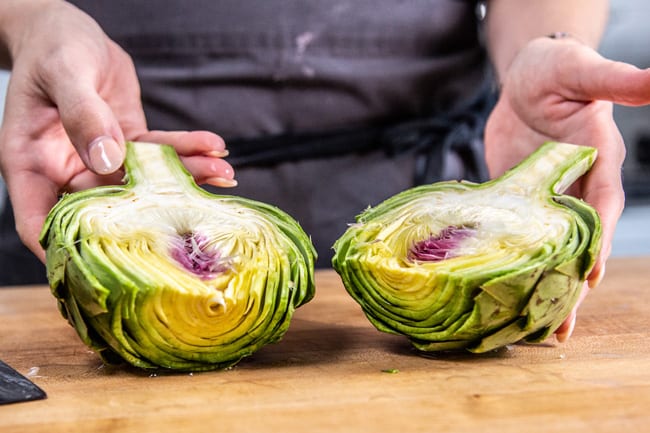 Be Sure To Prep Your Artichokes
When preparing your artichokes, you'll want to start by trimming off the stem and outer leaves. Use a pair of kitchen scissors to cut off the spiny tips of the remaining leaves. After trimming, you can cook the artichokes in a number of ways. They can be boiled, steamed, microwaved, roasted, or grilled.
How to Cook Artichokes by Boiling Them.
Boiling artichokes is a quick and easy way to prepare them.
Start by filling a pot with water and adding a pinch of salt. Place the prepped artichokes in the pot, cover, and bring to a boil. Boil for 20-25 minutes, or until the leaves are tender.
How to Cook Artichokes by Steaming Them.
Steaming artichokes is also a popular method of cooking.
Fill a pot with an inch of water and bring to a boil. Place the artichokes in a steamer basket, cover, and steam for 15-20 minutes.
How to Cook Artichokes by Microwaving Them.
How to Cook Artichokes by Baking Them.
For baking, preheat the oven to 425°F and line a baking sheet with parchment paper. Place the artichokes on the sheet and brush with olive oil and a squeeze of lemon juice. Roast for 45 minutes, or until the leaves are tender.
How to Cook Artichokes by Grilling Them.
Grilling is another great way to cook artichokes. Preheat the grill to medium-high heat and lightly brush the artichokes with oil. Place them on the grill, cover, and cook for 6-8 minutes, or until tender.
Delicious Recipes with Canned Artichokes.
While fresh artichokes are seasonal, canned artichokes are available year-round. Here are a few of my favorite ways to cook with canned artichokes.
This simple Paella recipe comes together quick and easy! It's super customizable too meaning you can repurpose the bits and bobs in your crisper drawer and still be met with rave reviews at the same time.
Our Oven Baked Paella is a delicious recipe for artichoke hearts! This is a heartier version of our paella with delicious chicken and sausage.
This easy recipe with artichoke hearts will find its way into your dinner rotation again and again!
This sandwich is the ultimate - it's a rainbow of color, the perfect mix of texture, and the flavor is nothing short of DYNO-MITE!!!
You can also easily turn it into a salad for a lighter meal.
This is a classic, creamy comfort food that is packed with spinach, artichokes, sauteed onion, garlic, and a mix of creamy cheesy ingredients that will have you weak in the knees.
If you tried these recipes with artichokes, I would be so grateful if you would rate it and let me know what you think in the comments below!