Along with steaming, boiling an artichoke is one of the most common ways to prepare an artichoke. Not sure how to boil an artichoke? I got you covered!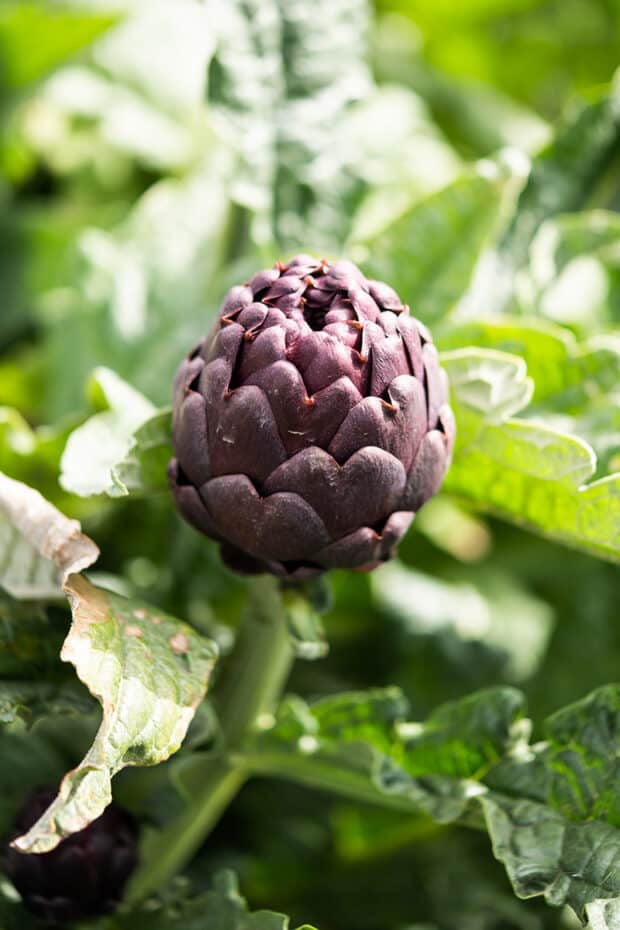 Ahh, artichokes. A thistle that has one of the worst reputations for being difficult to prep and cook. Yup, that's right. This vegetable is a perennial thistle that belongs to the sunflower family. But no need to worry; once you have mastered how to prep artichokes cooking them any which way your heart desires will be a piece of cake!
What part of the artichoke do you boil?
When you are boiling an artichoke, you can boil the entire artichoke as long as you cut off the top and trim the leaves.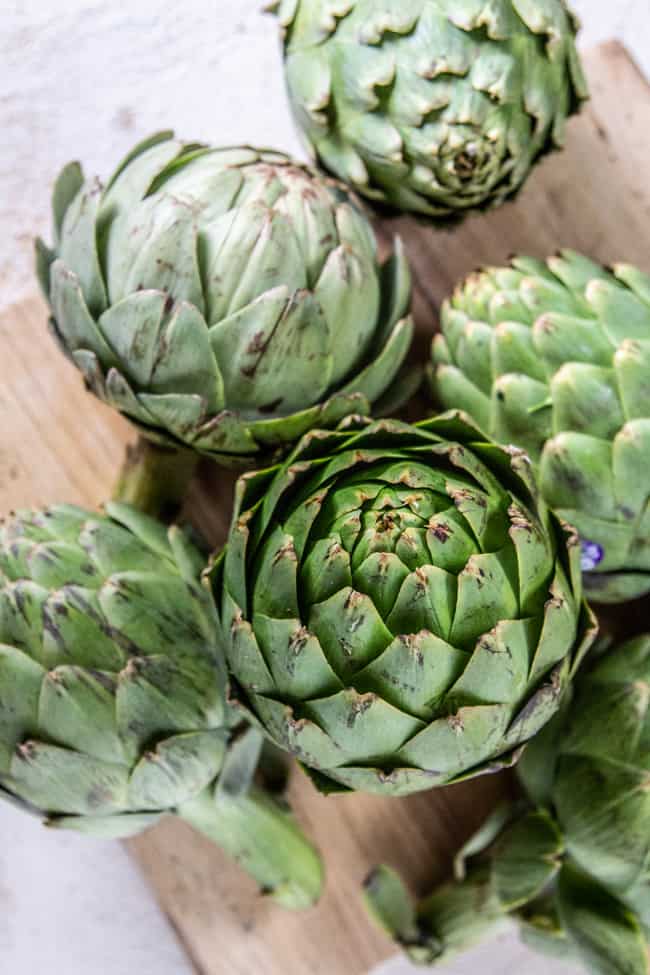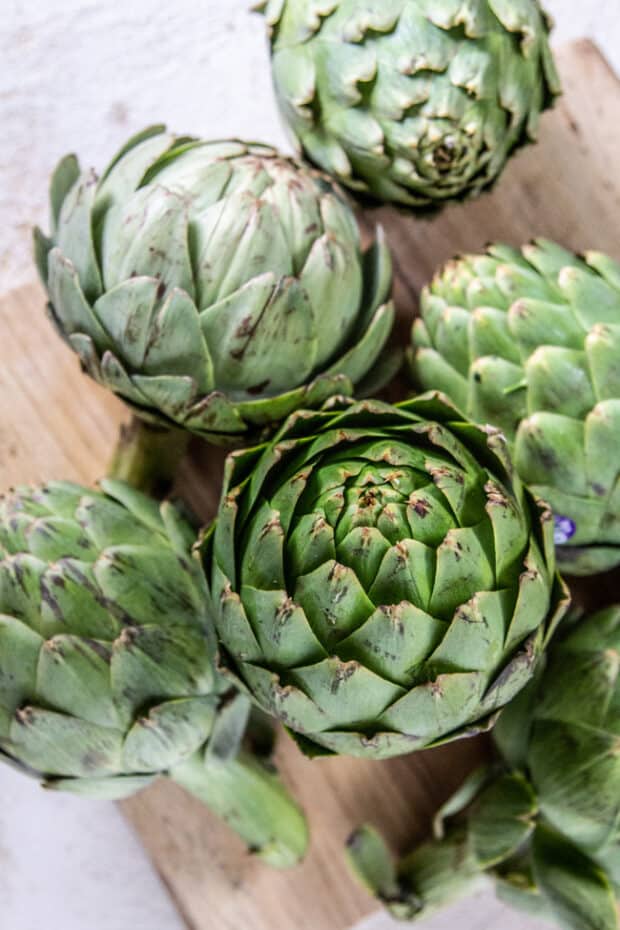 Do I need to cover the artichokes when boiling?
Yes, you need to cover the pot when you are boiling artichokes.
The lid needs to remain on the pot the whole cooking time.
Do I need to add anything to the water when boiling an artichoke?
When you are boiling artichokes you don't want to just place them in plain water. Think of it like salting pasta water! You want to season the cooking liquid aggressively to impart any flavor. To your pot of water add lemon halves, garlic, salt, pepper, and your artichokes of course.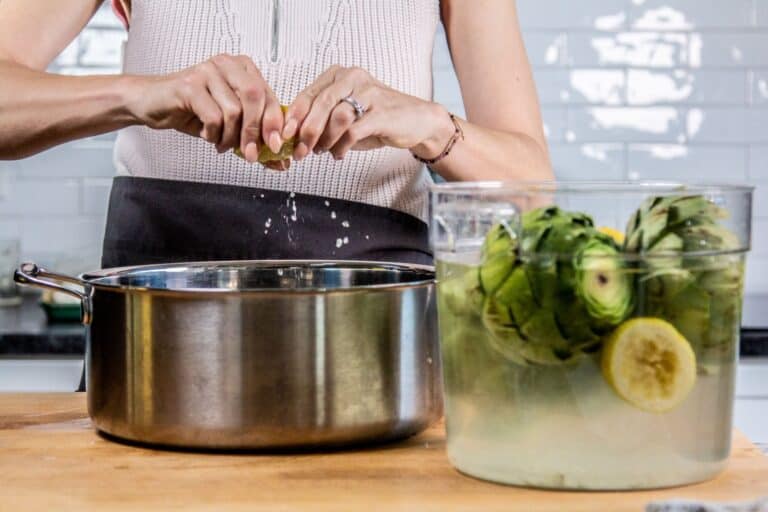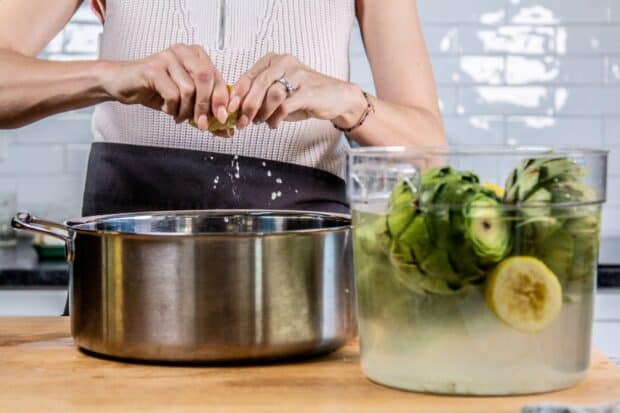 How long does boiling an artichoke take?
Boiling an artichoke can take anywhere from 15-45 minutes depending on the size of your artichokes and to what level of doneness you are cooking them to.
Sometimes, recipes call for artichokes to be par-cooked this takes significantly less time than boiling an artichoke until completely cooked. However, par-cooking means an additional cooking process will be needed before you can eat the artichokes.
What does par-cook mean?
Par-cooking is a process by which food is partially cooked so that it can be finished or reheated later. Restaurants use this method quite often, however it can also be very useful to the home cook especially when cooking dishes like grilled or stuffed artichokes.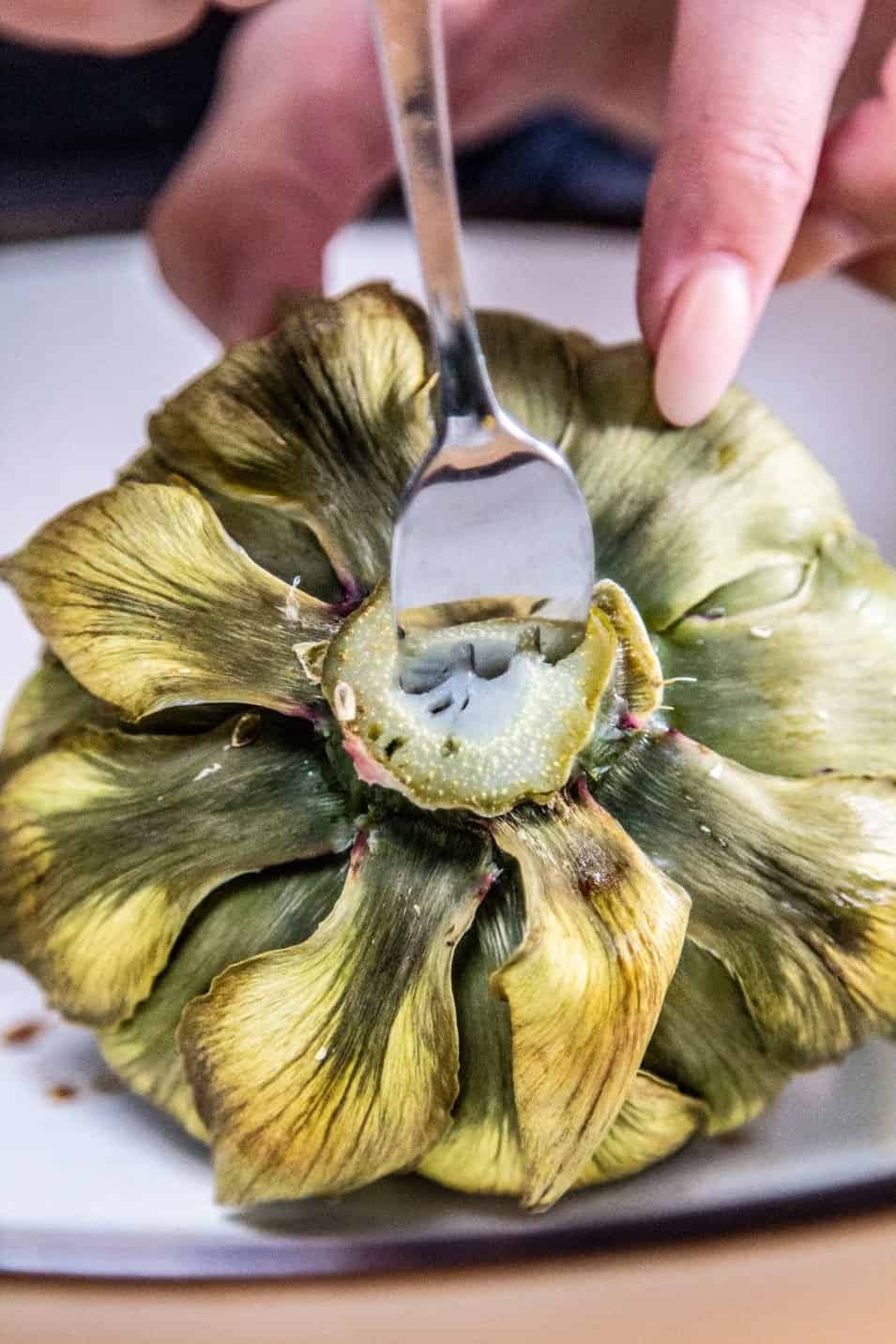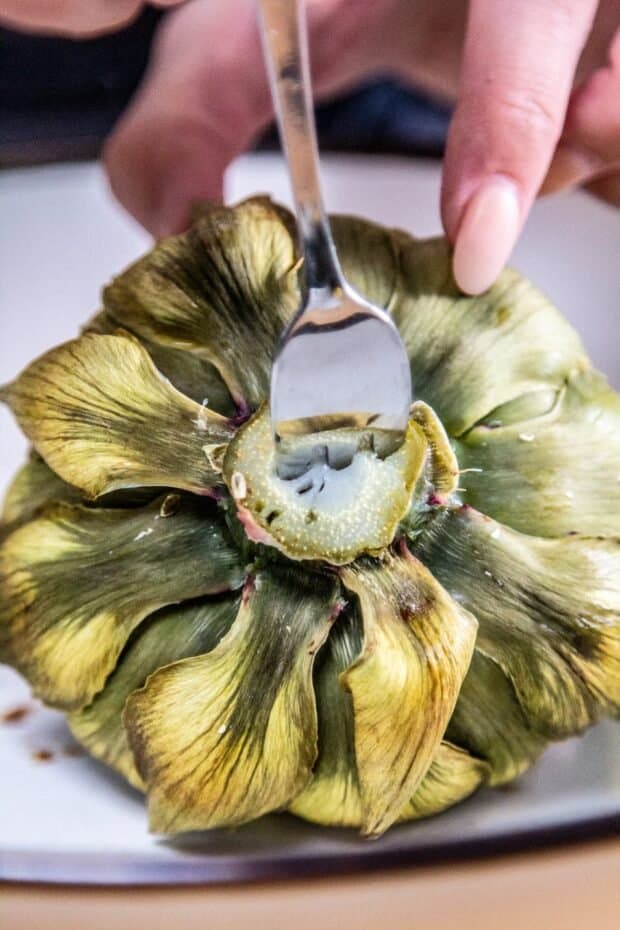 How to make sure an artichoke is fully cooked
You know an artichoke is fully cooked when a knife or a fork is inserted into the bottom of the artichoke, and there is no resistance.
If you tried our method for boiling artichokes and found it helpful and delicious I would be so grateful if you would rate the recipe and let me know what you think in the comments below!
Print
How to Boil an Artichoke
Boiling fresh artichokes is a popular preparation method, however personally I only use it when I plan to grill or stuff and bake artichoke hearts after par-cooking them in boiling water first. 
To me, a fully-cooked, boiled artichoke is rather soggy. But, when only cooking partially in boiling water before being finished on the grill or in the oven the boiling process adds a nice juicy consistency and texture to an artichoke.
Author:
Prep Time:

20

Cook Time:

20-40 minutes

Total Time:

46 minute

Yield:

4

servings

1

x
Category:

Side Dish

Method:

Boiled

Cuisine:

American

Diet:

Vegan
4 artichokes, cleaned and prepped.
coarse kosher salt to taste
2-3 bay leaves
1 head garlic, halved through the center revealing all the cloves.
1 lemon, halved
Instructions
Select a pot large enough to hold all of the artichokes you plan to cook. Fill halfway with water and salt as you would pasta water.  Place over high heat to boil.
Meanwhile, clean and prepare the artichokes through step 5 of this post. 
Place the prepared artichokes stem side down into the boiling water. Lower the heat to a simmer and weight the tops of the artichokes with a dish or potlid that fits into the pot to keep the artichokes submerged. 
Simmer the artichokes until par-cooked 15- 20 minutes or fully cooked 25-40 minutes depending on size. 
Remove the artichokes from the water and place upside-down in a colander to drain.
When cool enough to handle, carefully pull open the petals at the top of the artichoke and remove the small, inner inedible leaves and the hairy "choke" by scraping it with a small spoon. 
Either continue with another cooking process if you par-cooked the artichokes or serve immediately with your favorite dipping sauces. 
Nutrition
Serving Size:

1 artichoke

Calories:

129

Sugar:

3.1 g

Sodium:

78.5 mg

Fat:

0.7 g

Carbohydrates:

30 g

Protein:

5.9 g

Cholesterol:

0 mg
Keywords: boiled artichokes, how to boil artichokes, how to prep an artichoke, artichoke prep, artichoke, fresh artichoke, how to bake an artichoke, roasted artichoke, how to cook an artichoke
Recipe Card powered by
Are you looking for the best recipes with jarred, canned, or frozen artichoke hearts?
These are a few of my absolute favorite recipes and resources to use year-round when I want to cook with artichokes.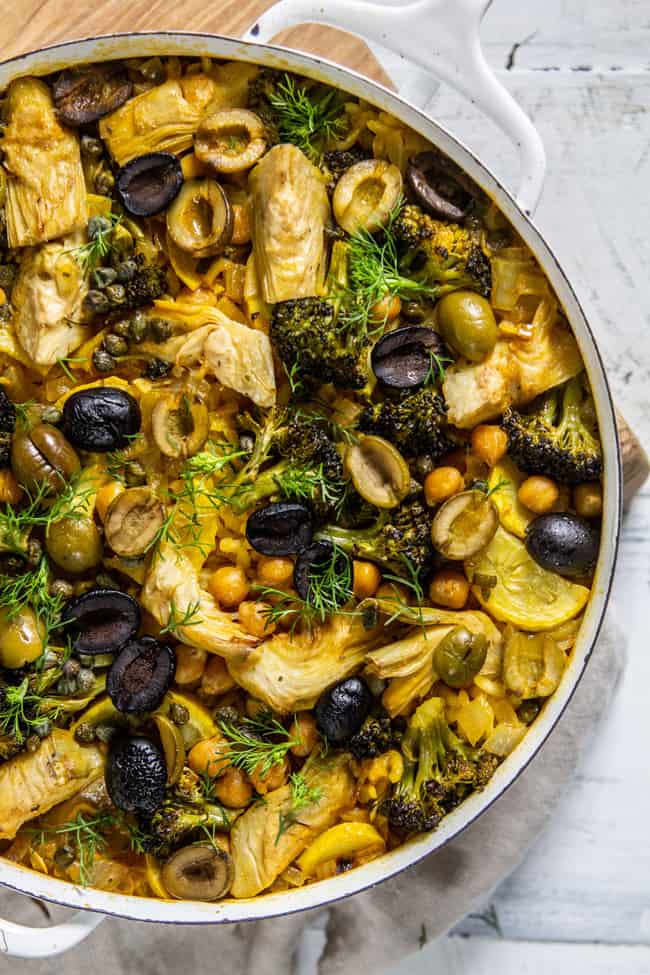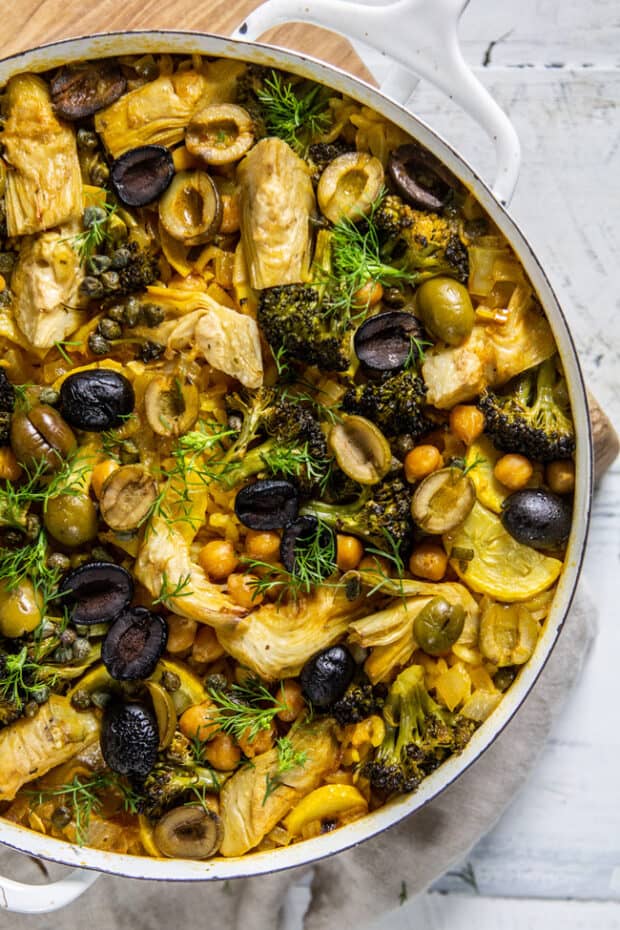 Are you looking for the best recipes with canned or frozen artichoke hearts? This is my absolute favorite!
This easy Paella is packed with vegetables like artichoke hearts, black and green olives, capers, broccoli, yellow squash, onions, garlic, and more!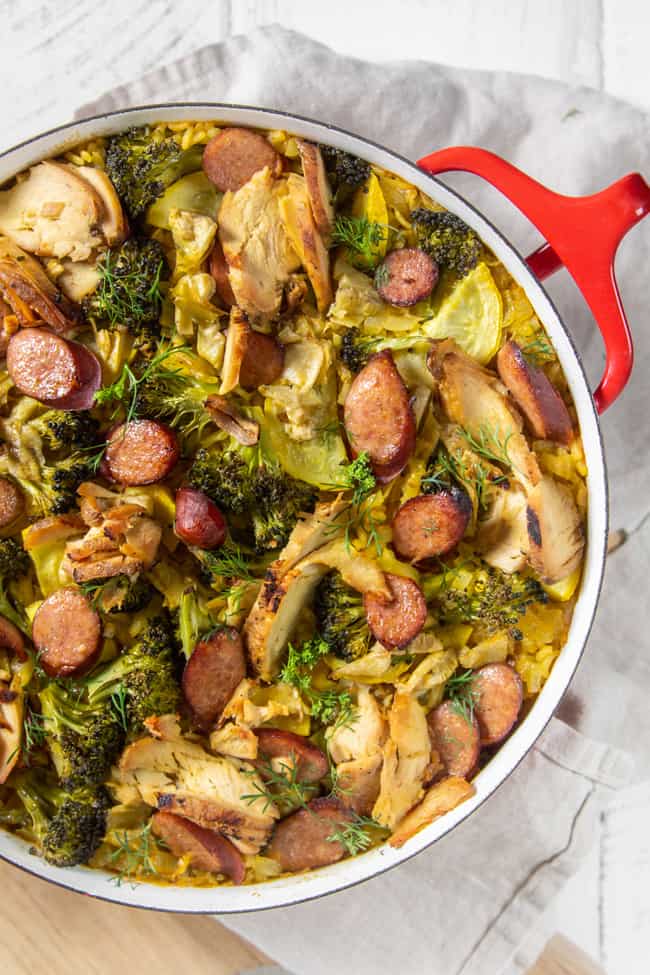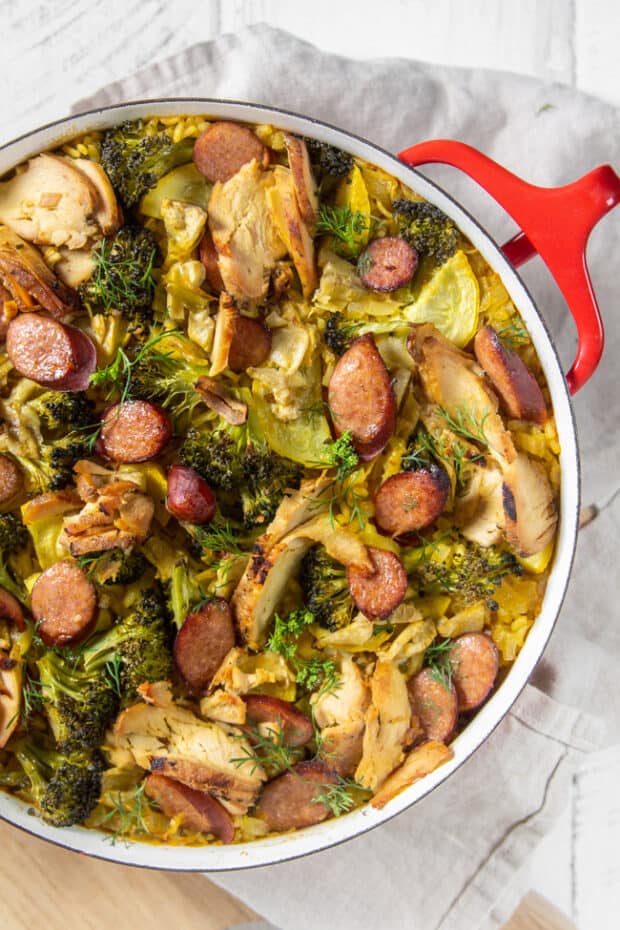 This version has a meaty flare. It is just as easy as the veggie version above and can be a great way to use up the odds and ends in your fridge.
It's a hearty meal that will find its way into your dinner rotation again and again!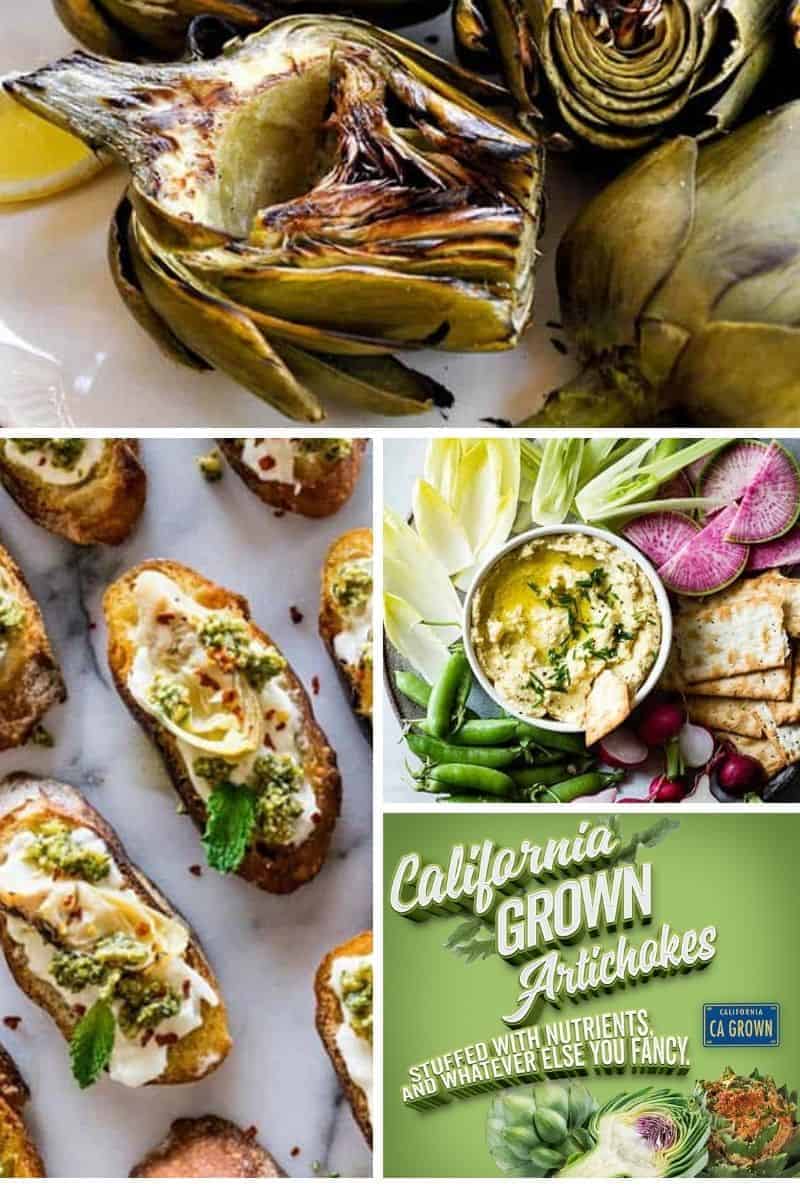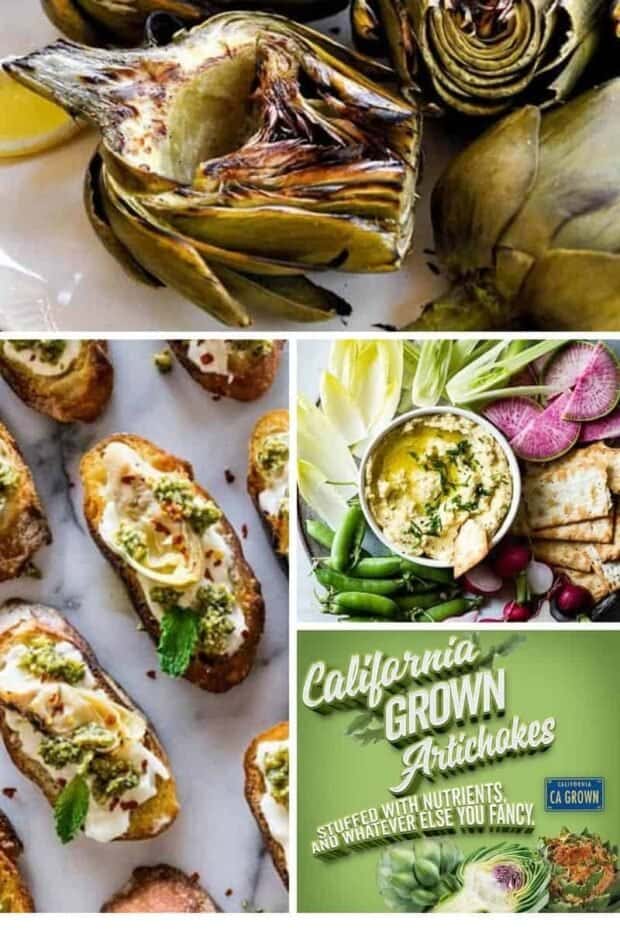 Have you ever Googled, " How to cook artichokes?". Artichokes are one of those vegetables that eludes a lot of home cooks, but California Grown is seeking to change that with this article that will teach you how to cook artichokes like a pro!
Want to be a part of our online community outside of the blog? It's easy!! All you have to do is follow @THISMESSISOURS on FACEBOOK, INSTAGRAM, TWITTER, YOUTUBE, TIKTOK or PINTEREST to see cooking demos, and peeks into our day to day life.