My whole family are artichoke fanatics and we all four love grilled artichokes! That short cook time on the grill imparts a brilliant smoky charred flavor that is irresistible on its own, but downright next level delicious when paired with your favorite dipping sauce for artichokes.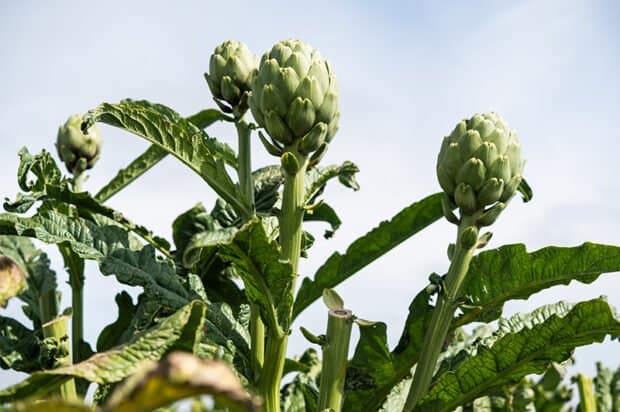 Photo credit James Collier for California Grown.
What part of the artichoke do you grill?
To grill an artichoke you will need to completely clean and prep whole artichokes, par-cook them, and then break the whole partially cooked artichokes down into halves.
The process isn't hard, but it can be intimidating if you have never done it before. Which is why I have a step-by-step picture tutorial for you in the post linked below.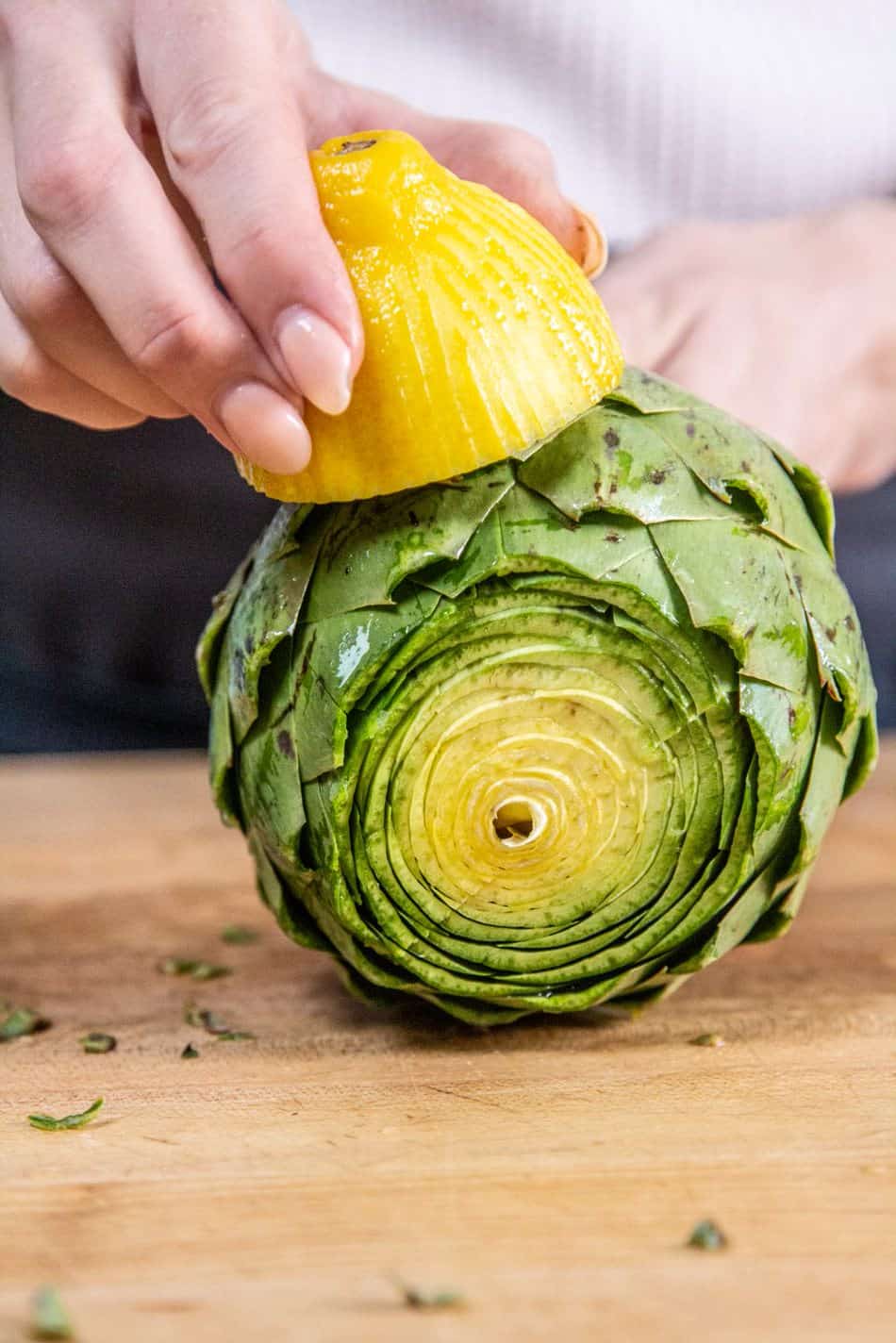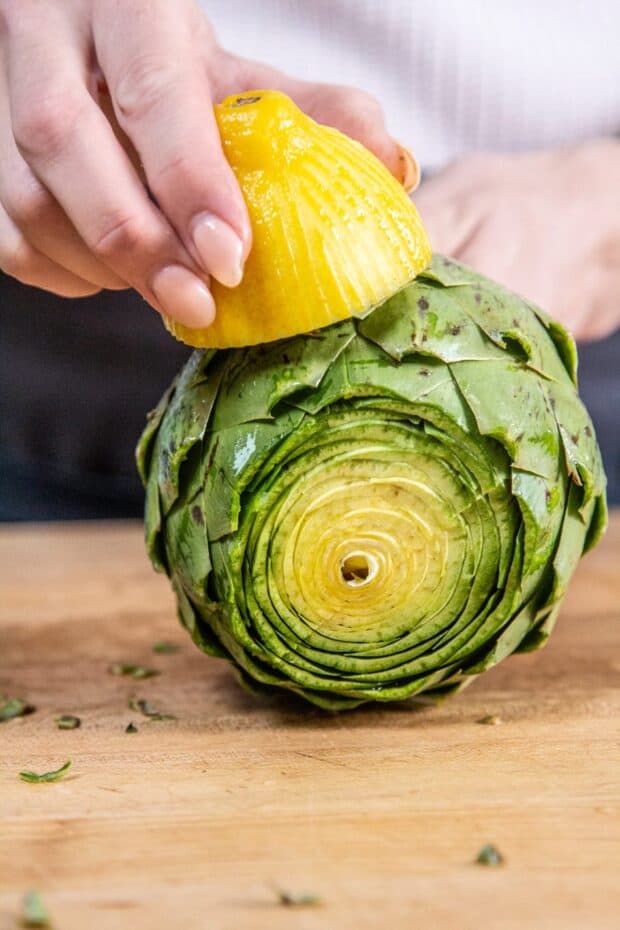 No need to worry; once you have mastered how to prep artichokes cooking them any which way your heart desires will be a piece of cake!
To grill artichokes you will need to prep the fresh artichokes through step 5 in the tutorial.
Once you have prepped the artichokes through step 5 of the tutorial above you can choose a method to par-cook the artichoke hearts before finishing on the grill. .
What does par-cook mean?
Par-cooking is a process by which food is partially cooked so that it can be finished or reheated later. Restaurants use this method quite often, however it can also be very useful to the home cook especially when cooking dishes like grilled or stuffed artichokes.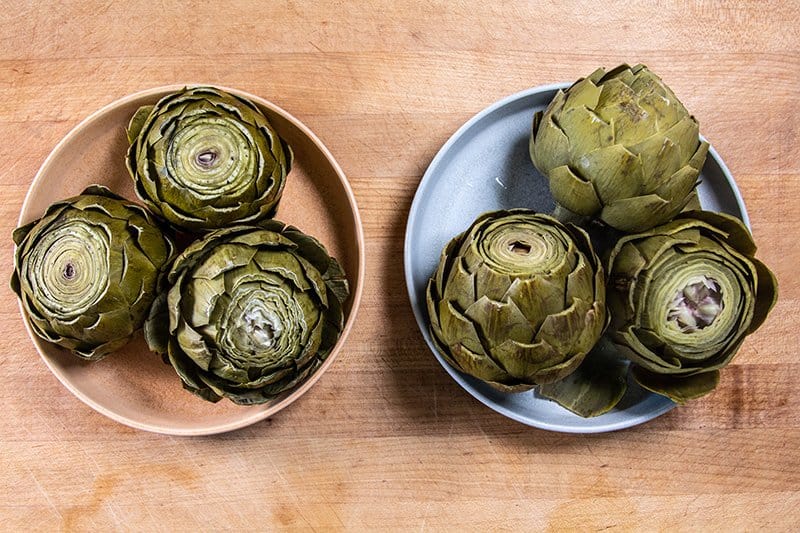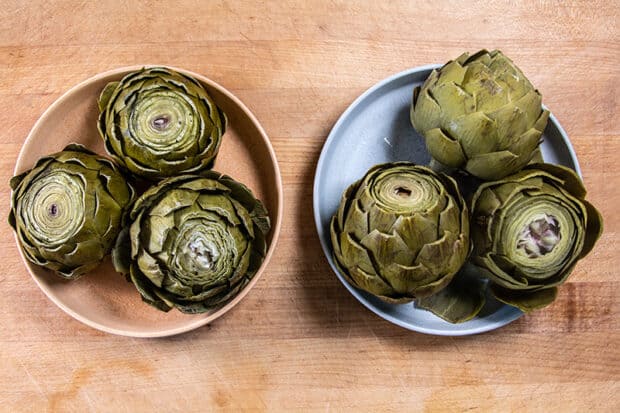 Which method of par cooking artichokes is right for you?
Both of the artichokes in the image above are par-cooked. The ones in the salmon colored dish were steamed and the ones in the gray dish were boiled. These are our two preferred methods for par cooking artichokes for the grill.
You could also par cook the artichoke in the microwave, but we have found that while effective, cooking in the microwave doesn't always produce such beautiful results.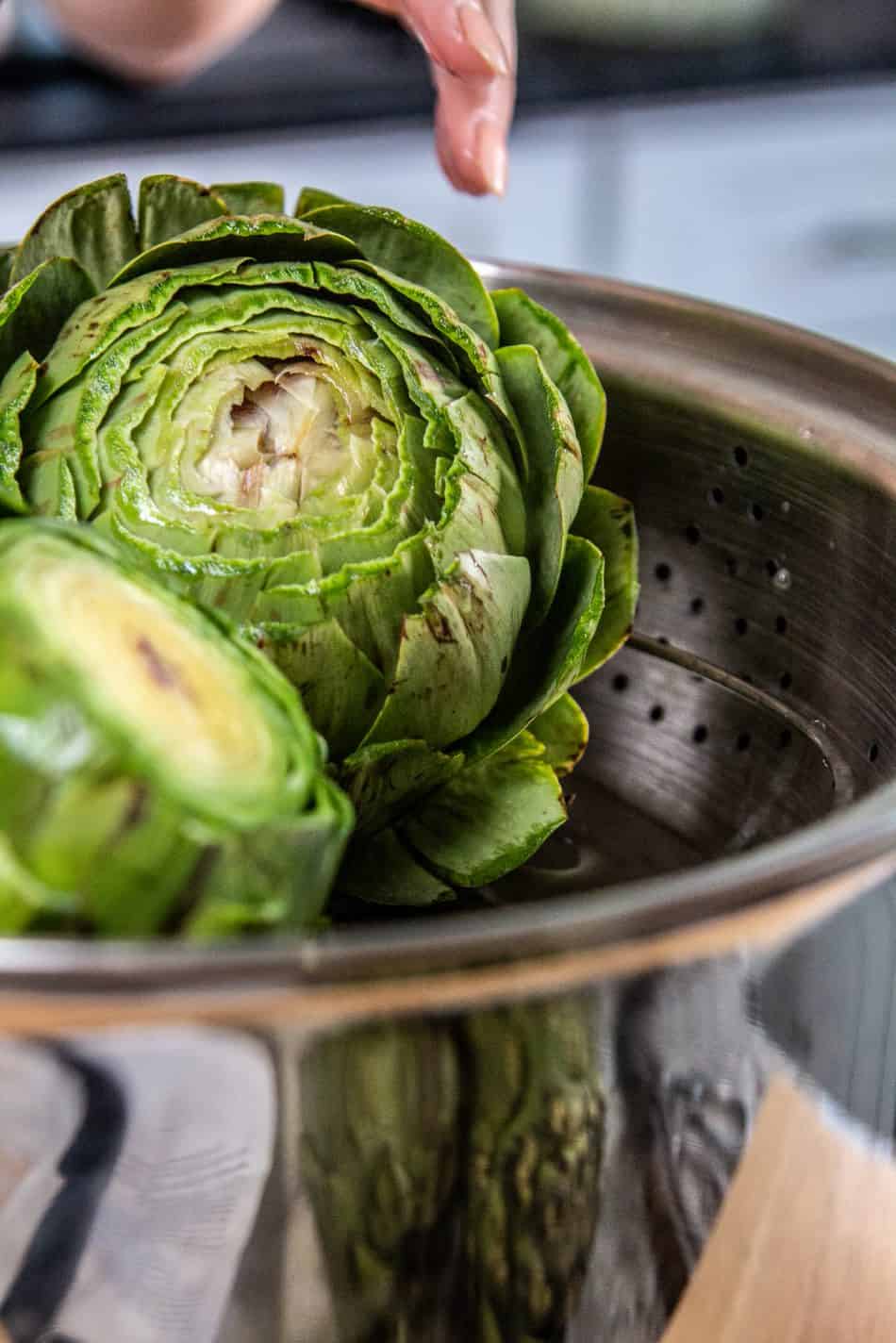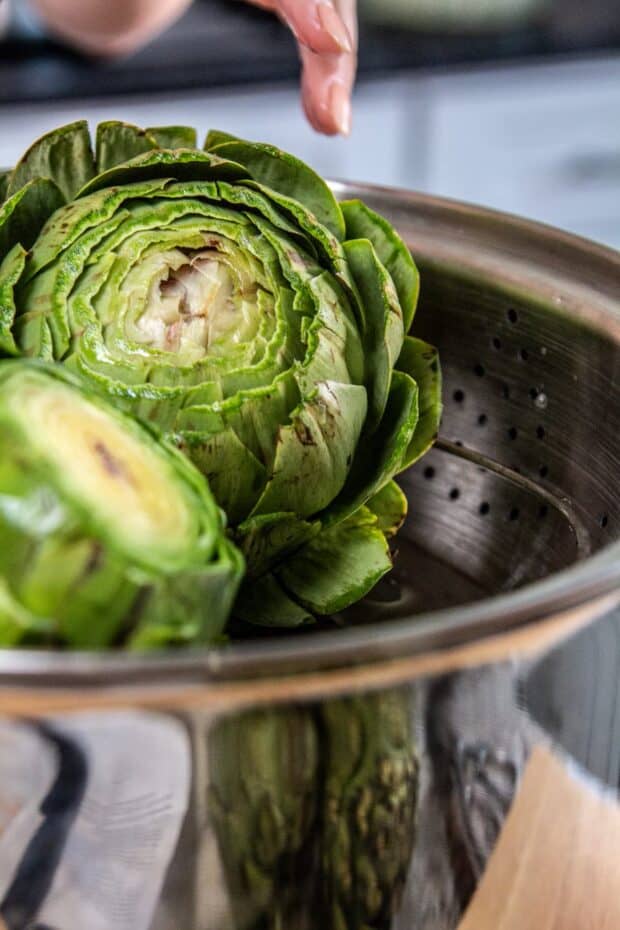 This is the first artichoke preparation method I ever learned. It is easy, mostly hands off, and yields really flavorful artichokes every single time.
Reduce the total cooking time by 10-15 minutes to par cook the artichokes.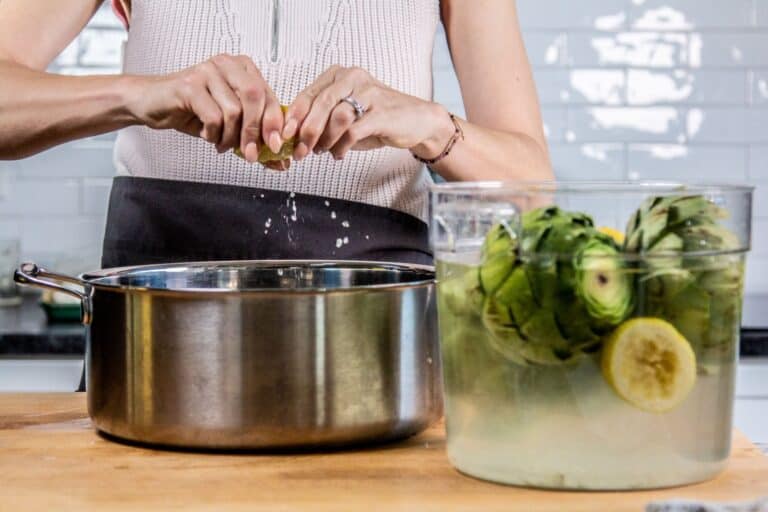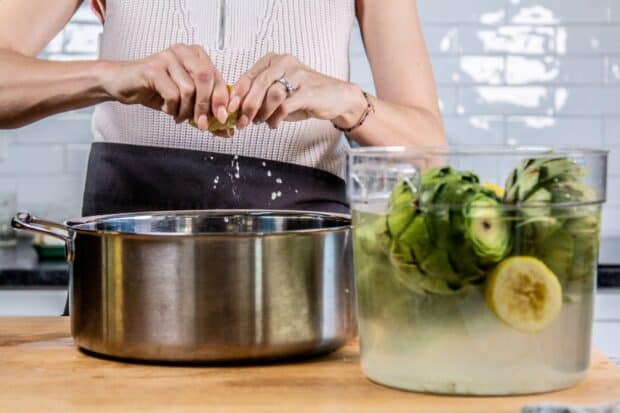 While I am not a super fan of boiling artichokes it is a cooking method that is pretty popular.
I often boil artichokes when I plan to serve them stuffed with cheese and breadcrumbs then baked. But, you can also use this method when you plan to grill.
Reduce the total cooking time by 10 -15 minutes to par cook the artichokes.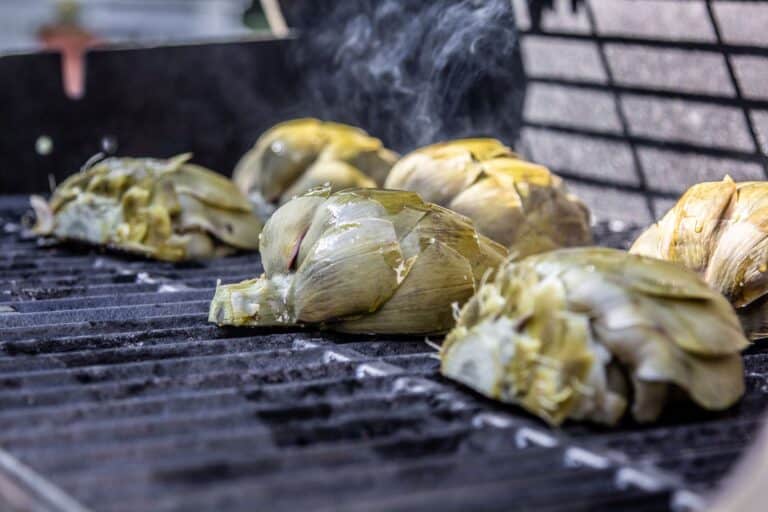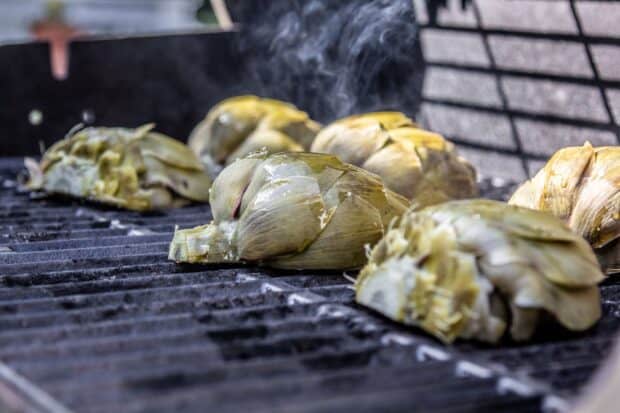 Once the artichokes have par cooked you are ready to continue breaking them down. Once the artichokes cool, slice in half through the stem end, use a spoon or small knife to remove the hairy choke and inedible inner leaves.
Drizzle with olive oil, season with salt and pepper aggressively then grill the prepared artichoke halves with the sliced side down.
How long do you grill artichokes?
It should only take about 5-10 minutes to cook on the grill depending on the grill temperature, doneness of the artichoke already from the par cook, and their size.
You will know they are done when they have beautiful grill marks, the leaves are slightly charred, and the choke is easily pierced with a knife or fork.
Do artichokes fall apart when you grill them?
Since you are grilling par cooked artichokes that have been cut into halves there is always a chance of a few petals falling off.
However, if you overcook the artichokes - the whole thing will practically fall apart so make sure to keep an eye on both the artichoke halves and the clock!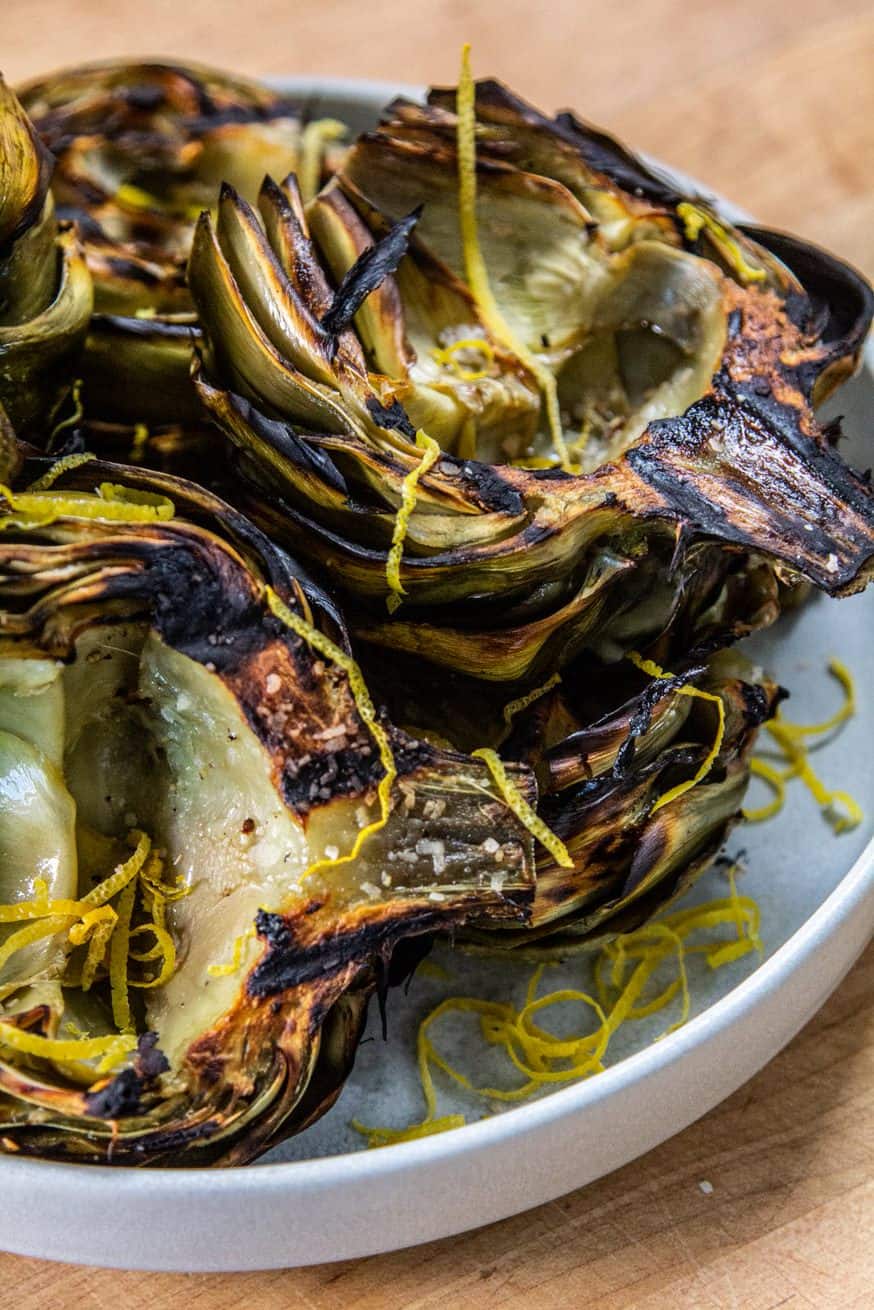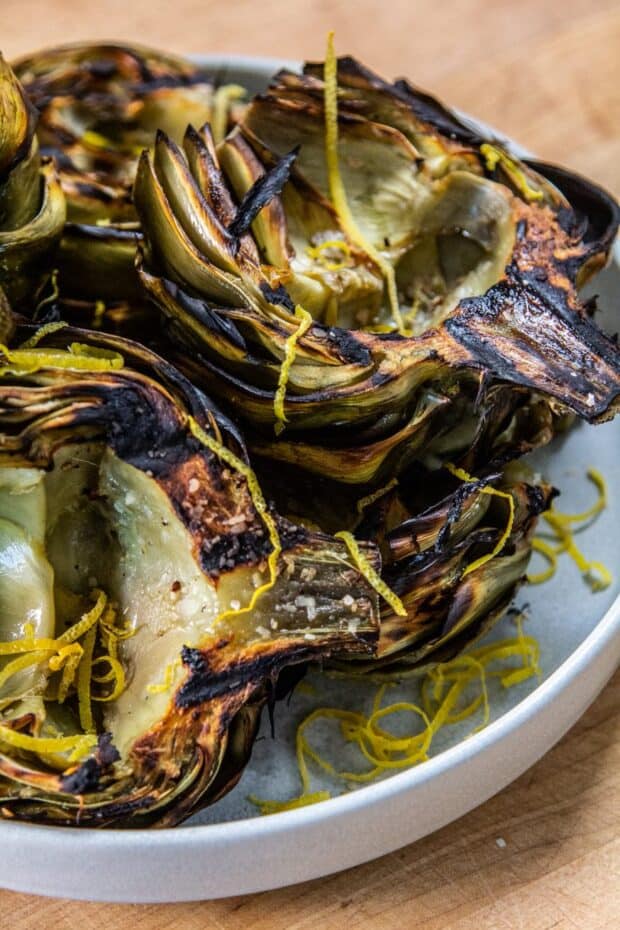 Do I have to cover the artichokes when grilling?
No, you do not have to cover the artichokes when you are grilling them, but I prefer to close the lid on my grill so they can get that delicious smokey flavor! Artichokes will cook faster if the grill cover is closed, so adjust cooking times accordingly.
If you tried this grilled artichoke heart recipe I would be so grateful if you would rate the recipe and let me know what you think in the comments below!
Print
How to Grill Artichokes
Perfectly tender, grilled artichokes are easy to make, with a little advance planning, and they are even easier to eat! 
Author:
Prep Time:

60 min

Cook Time:

8 min

Total Time:

1 hr 8 min

Yield:

4

servings

1

x
Category:

Side Dish

Method:

Grilled

Cuisine:

American

Diet:

Vegan
4 par cooked artichokes, either boiled or steamed, then halved through the stem end and the hairy chokes removed.
¼ cup olive oil
coarse kosher salt and coarsely ground black pepper
Instructions
Apply olive oil to the exposed areas of the par-cooked artichokes with a brush.
Season to taste with salt, pepper & other spices if you'd like.
Place the artichokes on the grill, cut side down, over medium heat—cook for around 6-8 minutes with the grill cover closed, or until grill marks have formed.
Notes
You can par cook the artichokes up to 3 days in advance of grilling and store covered in the refrigerator. 
Nutrition
Serving Size:

1 artichoke, 2 halves

Calories:

185

Sugar:

1.2 g

Sodium:

382.1 mg

Fat:

14.4 g

Carbohydrates:

14.7 g

Protein:

3.5 g

Cholesterol:

0 mg
Keywords: how to prep an artichoke, artichoke prep, artichoke, fresh artichoke, how to grill an artichoke, par cook, how to par cook
Recipe Card powered by