I first learned how to bake an artichoke from watching Adeena Sussman and I have been baking artichokes ever since! No need to steam, boil, or microwave. Just prep those chokes and roast to perfection.
How do you prep an artichoke?
First things first, you are definitely going to need to break down the artichokes. I have a tutorial where you can see step-by-step how that process works by clicking on the link below.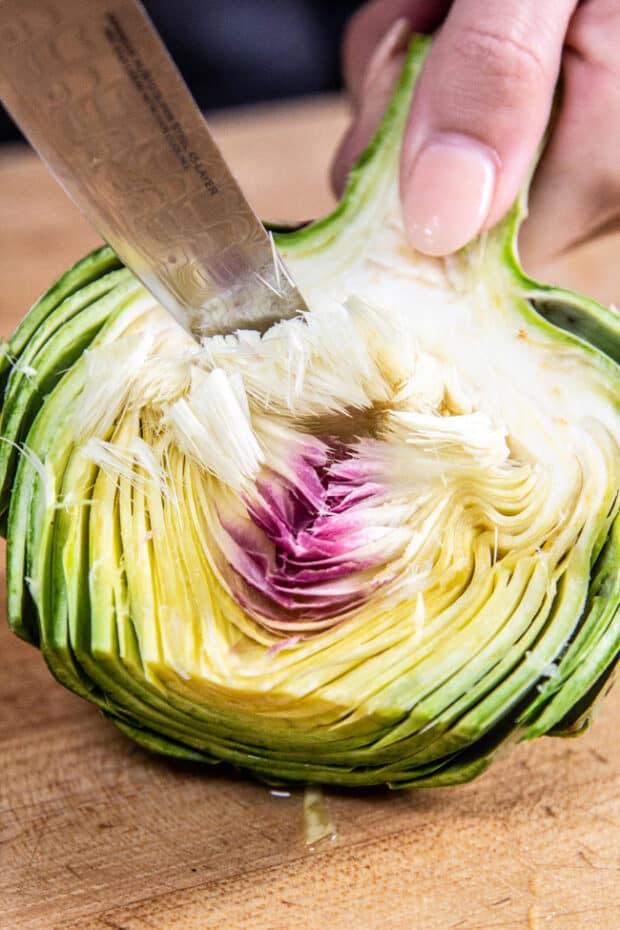 No need to worry; once you have mastered how to prep artichokes cooking them any which way your heart desires will be a piece of cake!
What part of the artichoke do you bake?
Once the artichokes are prepped and chokes removed you will bake the remaining halves of the artichoke, cut side up. Essentially creating little muffin tin type wells with the artichokes themselves. These "cups" allow us to nestle aromatics and seasonings right into the artichoke itself, which just happens to create lots of flavor.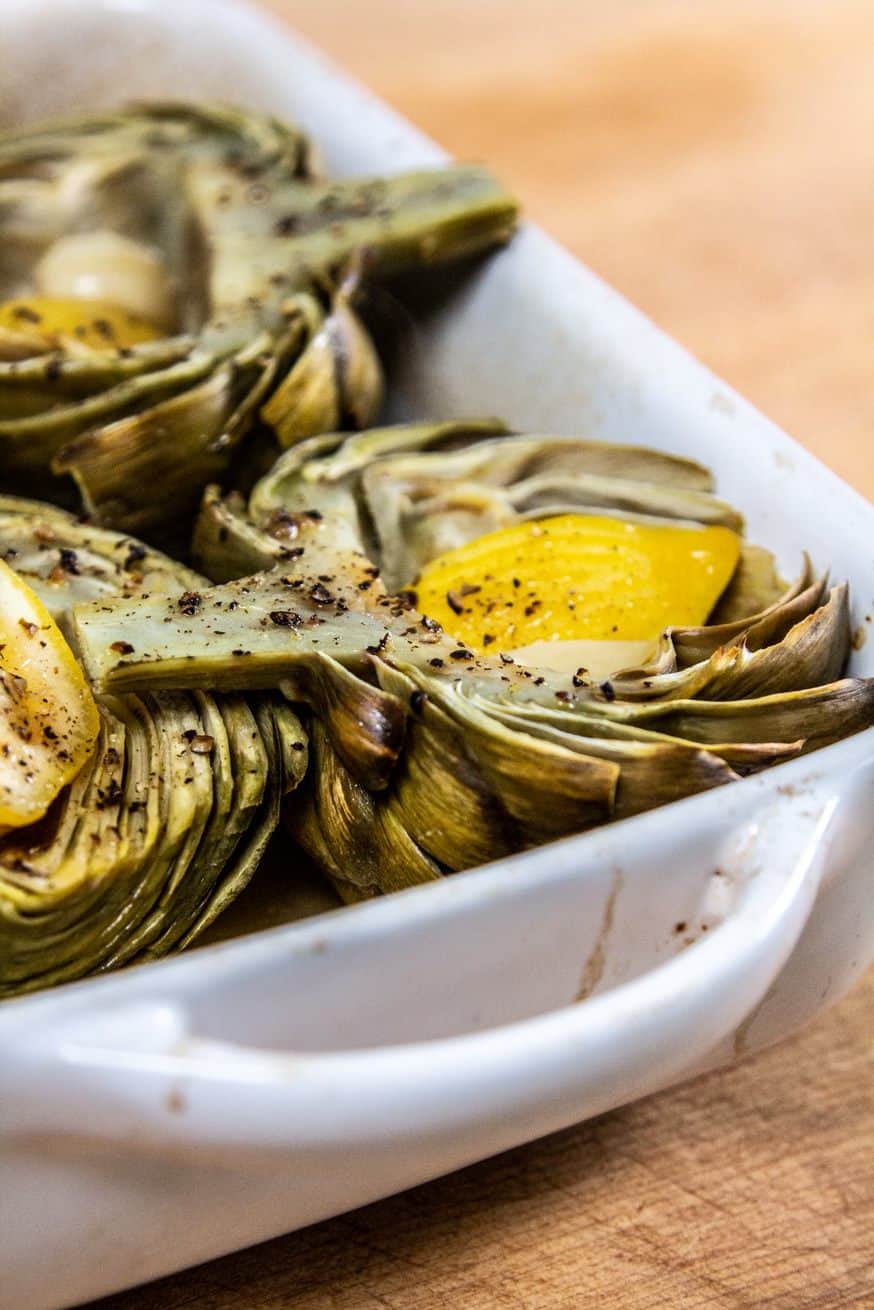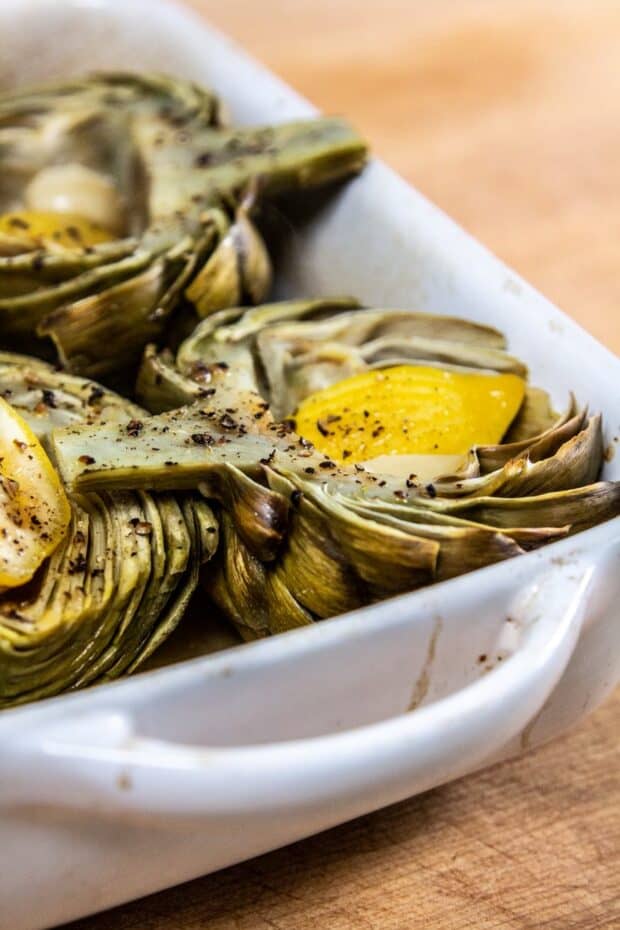 How to season baked artichokes.
Garlic, lemon, and a splash of dry white wine! Seriously, it is that easy. Just drizzle a bit of regular or garlic-infused olive oil into each artichoke, season with salt and pepper, then pop a slice of lemon and a clove of garlic into the middle of each artichoke half.
Add a little wine and water drizzle in the bottom of the pan before sealing it shut and roasting everything in the oven.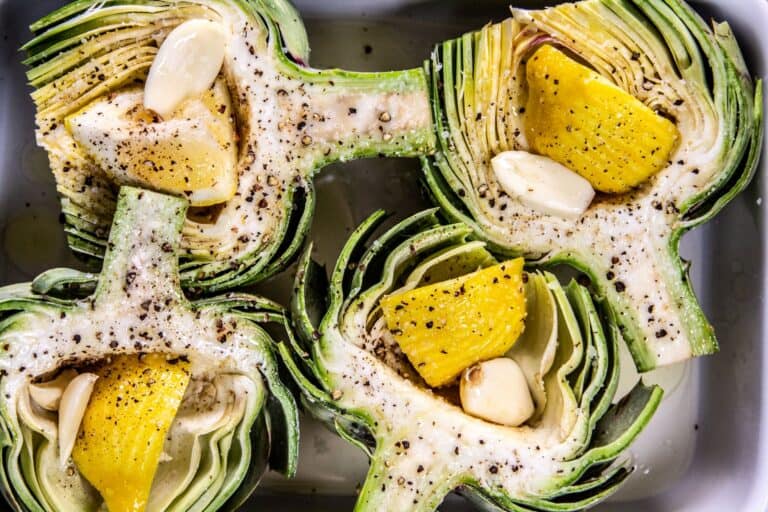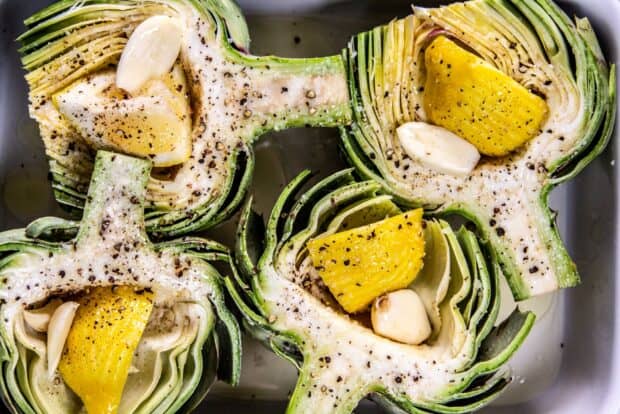 What temperature do you bake an artichoke at?
You will need to preheat your oven to 425°F for baking artichokes.
How long do you bake an artichoke for?
Cooking time for baking an artichoke typically will depend on your oven and the artichokes size. Anywhere from 45 minutes to an hour should do the trick. Just make sure you check your artichokes frequently after the 45 minute mark to avoid overcooking.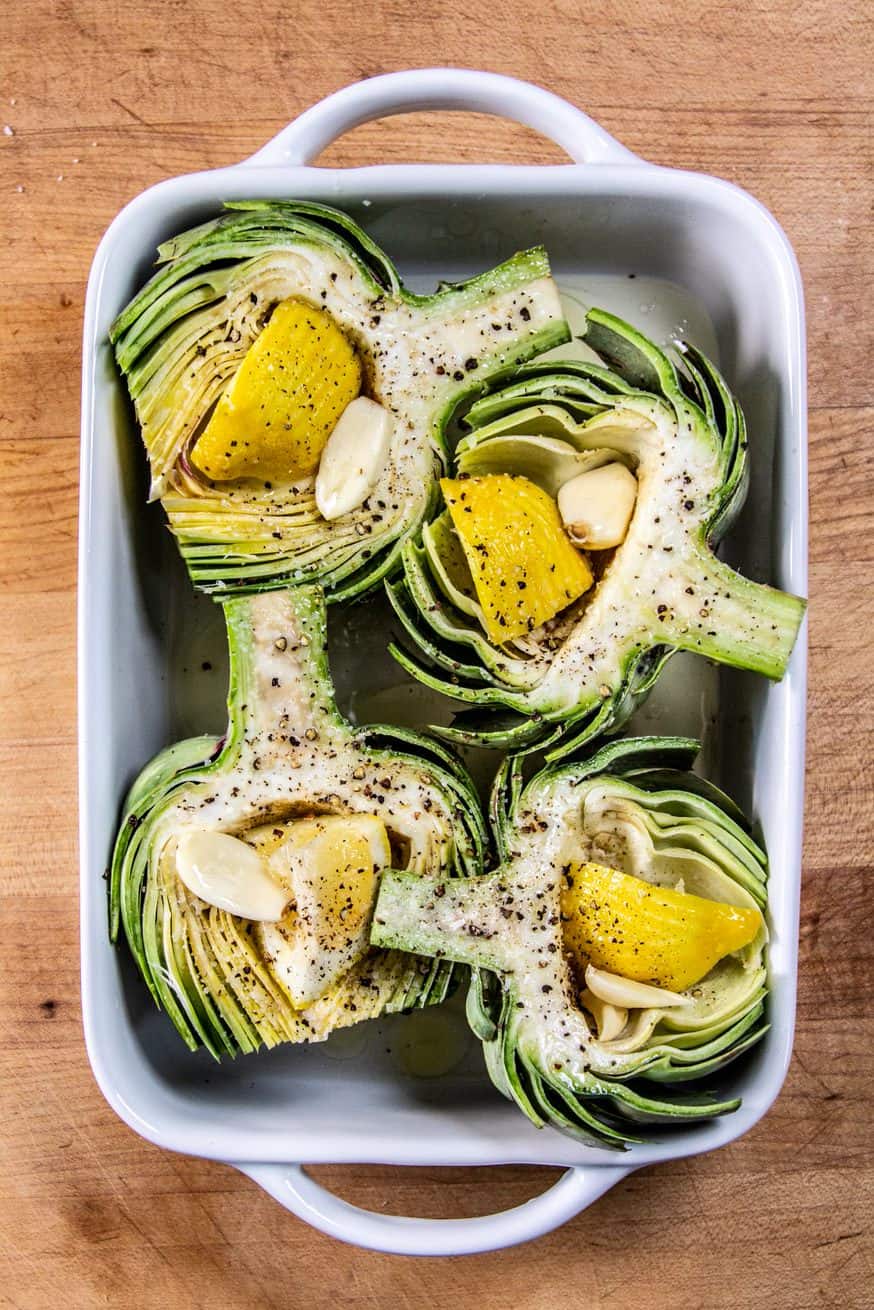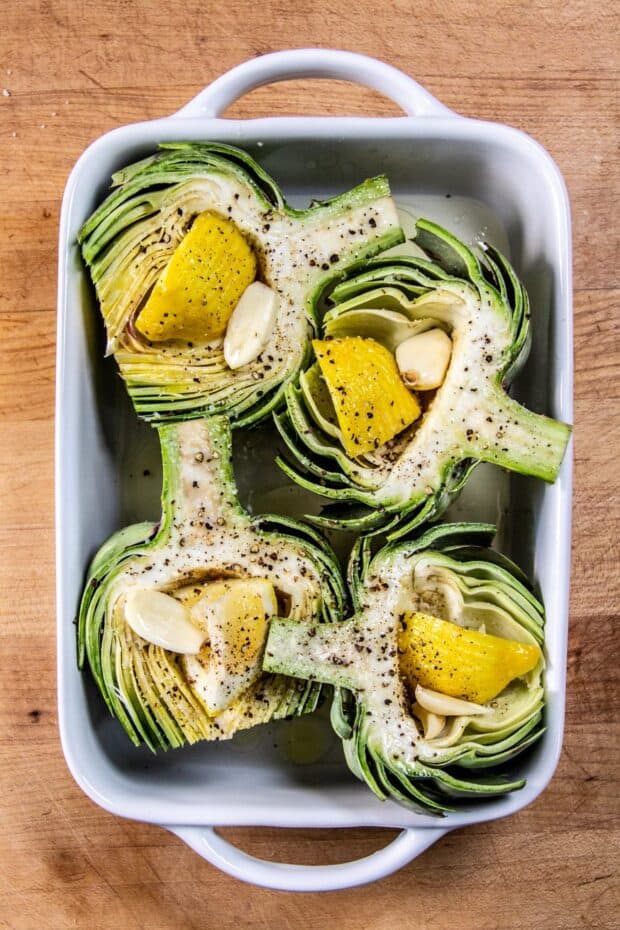 What do you bake an artichoke in?
I bake my artichokes in nonreactive, oven-safe casserole pans where I can nestle them closely together.
Do I need to cover the dish when baking artichokes?
Yes, you need to cover the artichokes when they are baking. Tinfoil works best. Covering the entire dish tightly ensures that the steam doesn't escape while they are baking.
If you have tried baking artichokes and found this recipe helpful I would be so grateful if you would rate the recipe and let me know what you think in the comments below!
Print
How to Bake Artichokes
With this method for cooking artichokes there is no need to boil a pot of water or grab a steamer basket. 
Author:
Prep Time:

10

Cook Time:

55

Total Time:

1 hour 5 minutes

Yield:

4

servings

1

x
Category:

Side Dish

Method:

Baked

Cuisine:

American

Diet:

Vegan
4 artichoke halves, from 2 whole artichokes that have been cleaned, prepped, and the chokes removed.
1 large lemon
4 large cloves garlic, smashed 
⅓ cup olive oil
¼ cup dry white wine
¼ cup water
coarse kosher salt or coarsely ground black pepper to taste.
Instructions
Preheat the oven to 425F. 
Prep and clean the artichokes as directed in this post. 
Place the prepared artichokes faceup in a small glass baking dish. Cut the lemon in half and cut one of the halves into quarters.  Squeeze the half of a lemon over the artichoke halves. Place a lemon quarters into each of the 4 artichoke halves along with a garlic clove.
Drizzle the olive oil over the artichokes, season generously with salt and pepper, then pour the wine and water into the bottom of the pan. 
Seal tightly with foil, and roast the artichokes in the oven until they are cooked through and tender, about 45-55 minutes.
Remove the pan from the oven and uncover. Serve immediately with your favorite artichoke dipping sauce or mash the roasted garlic cloves with a bit of olive oil, salty, pepper, and lemon juice to create a lovely dipping sauce. 
Nutrition
Serving Size:

1 half of an artichoke

Calories:

220

Sugar:

2.1 g

Sodium:

37.4 mg

Fat:

19 g

Carbohydrates:

12.3 g

Protein:

2.1 g

Cholesterol:

0 mg
Keywords: how to prep an artichoke, artichoke prep, artichoke, fresh artichoke, how to bake an artichoke, roasted artichoke, how to cook an artichoke
Recipe Card powered by
Are you interested in the best recipes with jarred, canned, or frozen artichoke hearts too?
These are a few of my absolute favorite recipes and resources to use year-round when I want to cook with artichokes.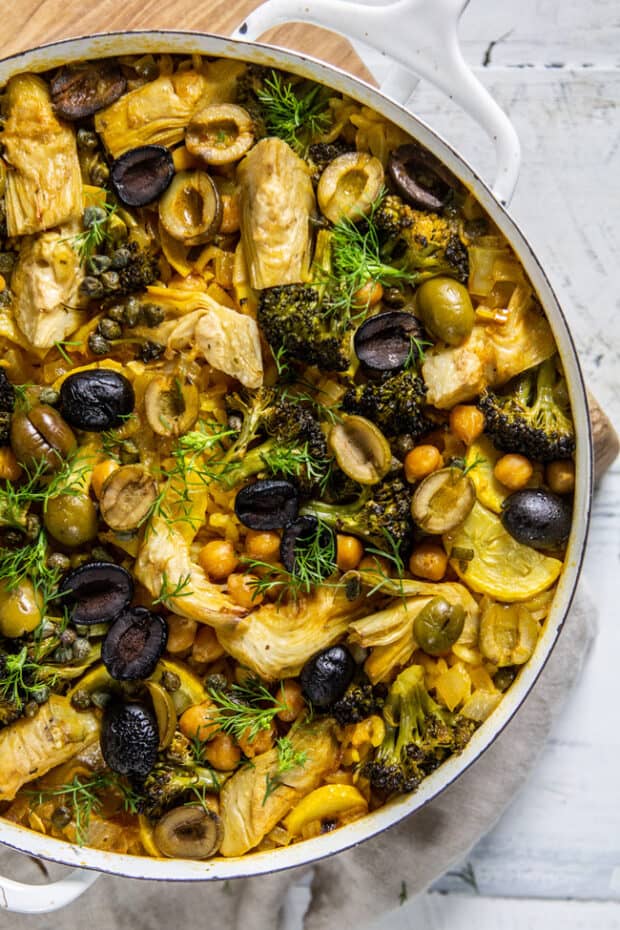 Are you looking for the best recipes with canned or frozen artichoke hearts? This is my absolute favorite!
This easy Paella is packed with vegetables like artichoke hearts, black and green olives, capers, broccoli, yellow squash, onions, garlic, and more!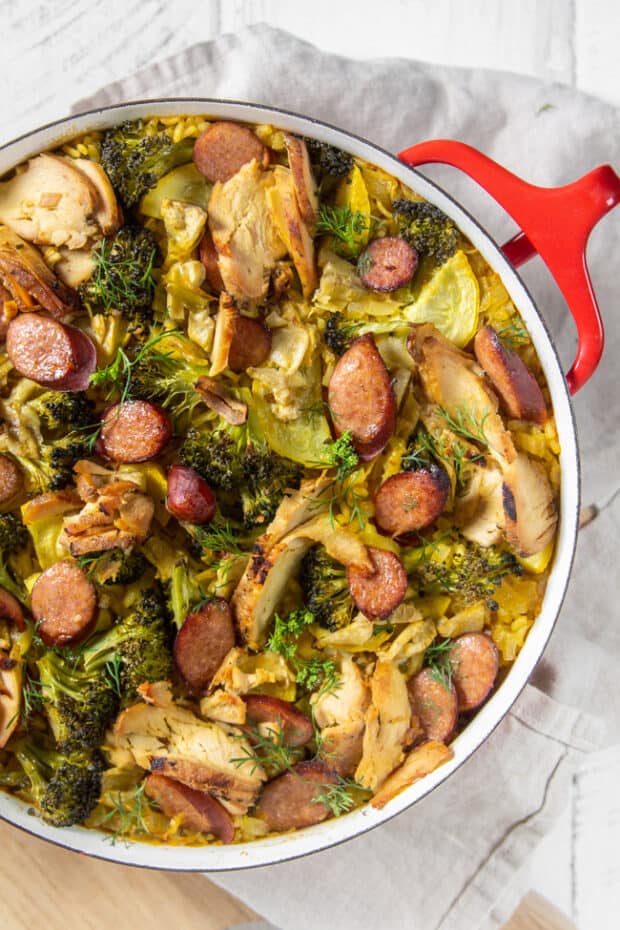 This Paella recipe has a meaty flare. It is just as easy as the veggie loaded version above and can be a great way to use up the odds and ends in your fridge like leftover grilled chicken.
It's a hearty meal that will find its way into your dinner rotation again and again!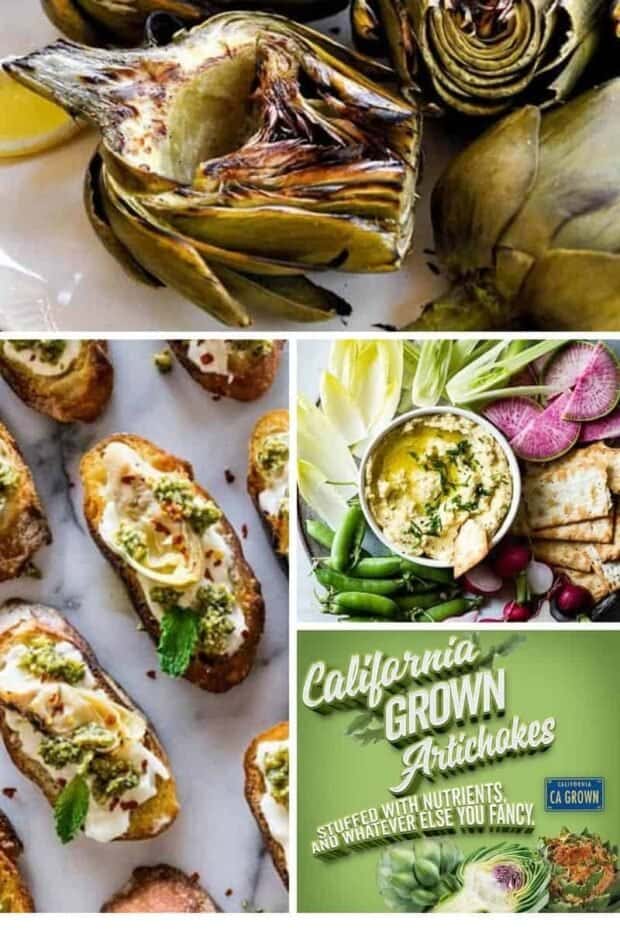 Have you ever Googled, " How to cook artichokes?". Artichokes are one of those vegetables that eludes a lot of home cooks, but California Grown is seeking to change that with this article that will teach you how to cook artichokes like a pro!
Are you interested in learning more about how artichokes are grown in California?
Monterey county greets you with the freshest seafood from the ocean and pairs it with the freshest produce from the land, and right smack in the middle of it all is Pezzini Farms -a food lover's roadside attraction that is not to be missed!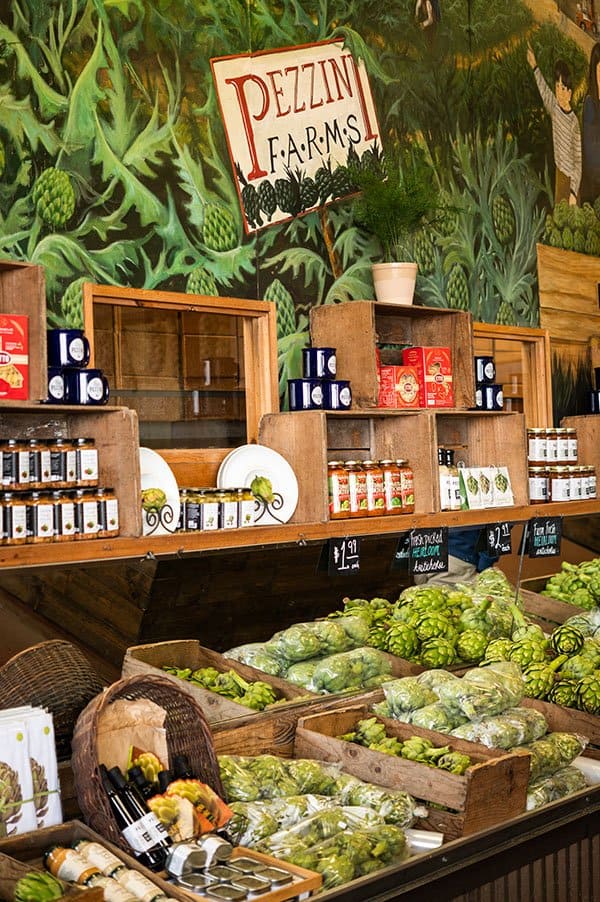 Recently, I had the pleasure of meeting Sean Pezzini, a 4th generation artichoke farmer at Pezzini Farms in Castroville, California.
His family's heirloom artichokes were brought here from Italy by his great grandfather.