Oatmeal is a great breakfast for any healthy-eating individual, but it can get pretty boring if you only eat oatmeal in one form. I mean, eating oatmeal every day is okay (let's face it — it's hard not to like oatmeal), but switching up the style or toppings of your oatmeal gives it an entirely new flavor. Let's talk about our favorite baking recipes with oatmeal!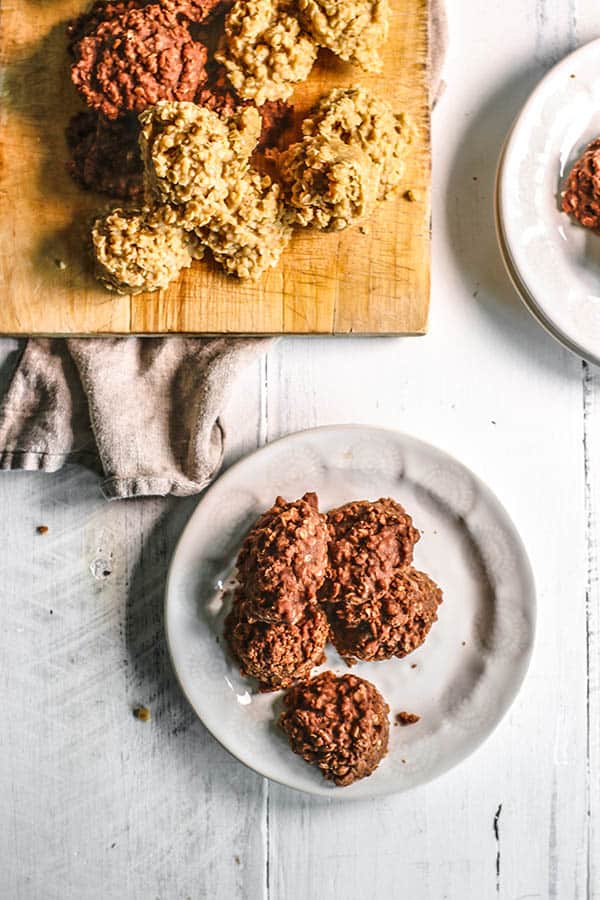 Is Oatmeal Healthy?
Yes, oatmeal is a very healthy food! Oats are some of the healthiest grains on earth. They are a great food to include in your daily diet.
What Are The Benefits Of Oatmeal?
Oatmeal is an incredibly nutritious and versatile food that is packed with many essential vitamins, minerals, and other nutrients. It is also a great source of antioxidants, fiber, and protein. Oatmeal can help you feel fuller for longer, boost your energy levels, and even help lower your cholesterol.
It is also very easy to prepare and can be enjoyed for breakfast, lunch, or dinner. Oatmeal is a great way to start your day with a healthy and delicious meal that can help keep you energized and full.
A Delicious Snack Recipe with Oatmeal
One of the easiest snacks to make with oatmeal is homemade granola! It is great on-the-go snack to have that can be packed with flavor and protein to keep you going.
We frequently create this quinoa granola recipe from Salt & Wind and it never lasts long in our house!
It combines crispy quinoa, toasted oats, and toasted coconut that is slightly sweet and salty.
Cookie Recipes with Oatmeal
Oatmeal is a staple ingredient in my kitchen, and for good reason. Not only is it nutritious, but it can also add a delicious, chewy texture to cookies.
I know that titling these cookies "The Best Gluten-Free Oatmeal Date Cookies" is saying a lot, but I swear they REALLY are the best!
Want to know how I know they are truly the best? Because every single time I have baked a batch of these to photograph they are GONE before I have time to snap a picture.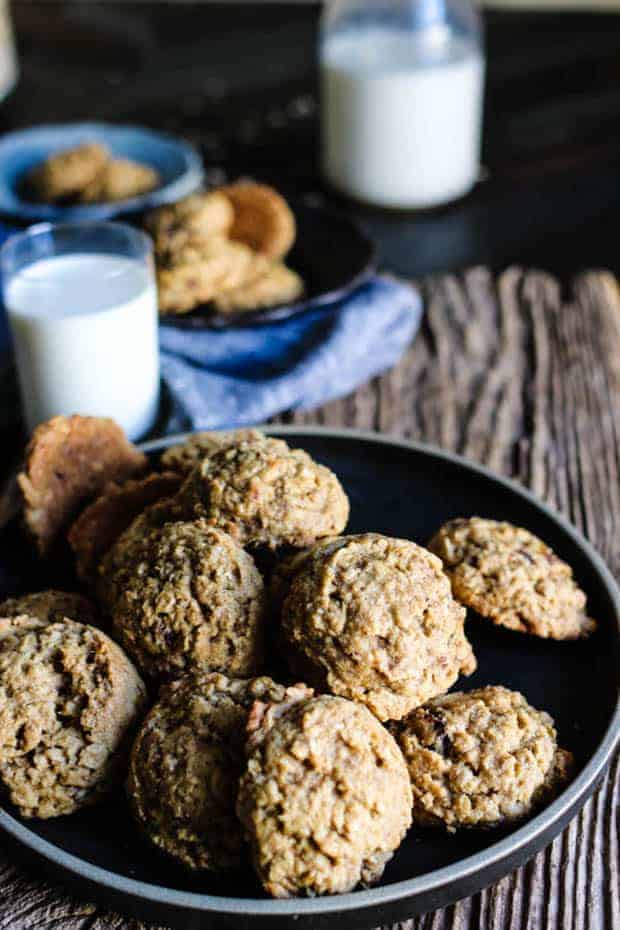 Hands down, this is the best recipe for Raisin Oatmeal Cookies we have ever eaten!
Toasted oatmeal and brown sugar cookies studded with red wine-soaked raisins and vanilla beans; each bite is a literal flavor bomb for your tastebuds.
Baking Recipes with Oatmeal and Fresh Fruit
Fresh fruit is such a great addition to oatmeal recipes. It can add a bit of sweetness or tartness. Here are some of our favorite ways to add in fresh fruit:
Prepare to truly impress your family with this dish I created for California Grown. Under the baked oatmeal top of these soft baked pears comes a surprise—a flawlessly roasted fig half!
In this innovative version of baked oatmeal, the sweet, fragrant flavors of fig and pear work beautifully together.
Is there really anything quite as comforting as a fruit crisp?
I think not, that's why I whip up a batch of fruit crisps anytime I have an abundance of fresh fruit on hand.
These bars are rich and decadent with a crisp, buttery crumb that we just cannot get enough of around here.
Nothing says 'welcome home' like a pan of freshly baked cherry oat bars!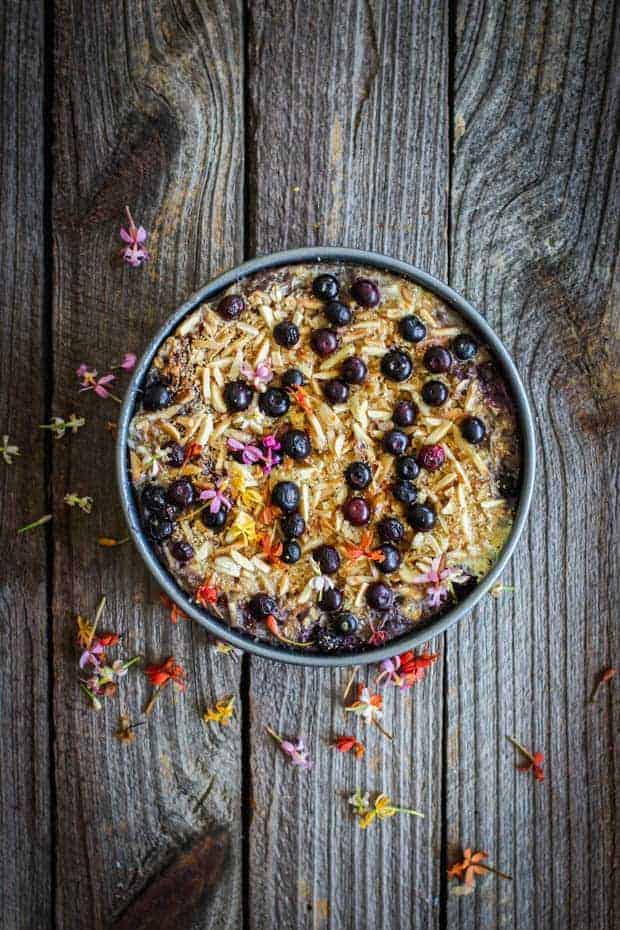 This Blueberry Banana Baked Oatmeal might just be the tastiest thing to come out of your oven in quite sometime!
It's easy to make, insanely delicious, AND it cooks up with minimal ingredients! Ahhhh...pantry power, is a beautiful thing isn't it?!
Dessert
Whether you're looking for a healthy after-dinner treat or a delectable indulgence, oatmeal has something to offer. From crumbles and bars to cakes and cookies, there are plenty of baking recipes with oatmeal to turn it into a tasty dessert.
I will gladly bake and eat this shortbread from Salt & Wind anytime!
This recipe feels like my favorite bowl of oatmeal baked into a cookie and covered in chocolate. It is made using coconut oil, coconut sugar, and maple syrup. Pure indulgence!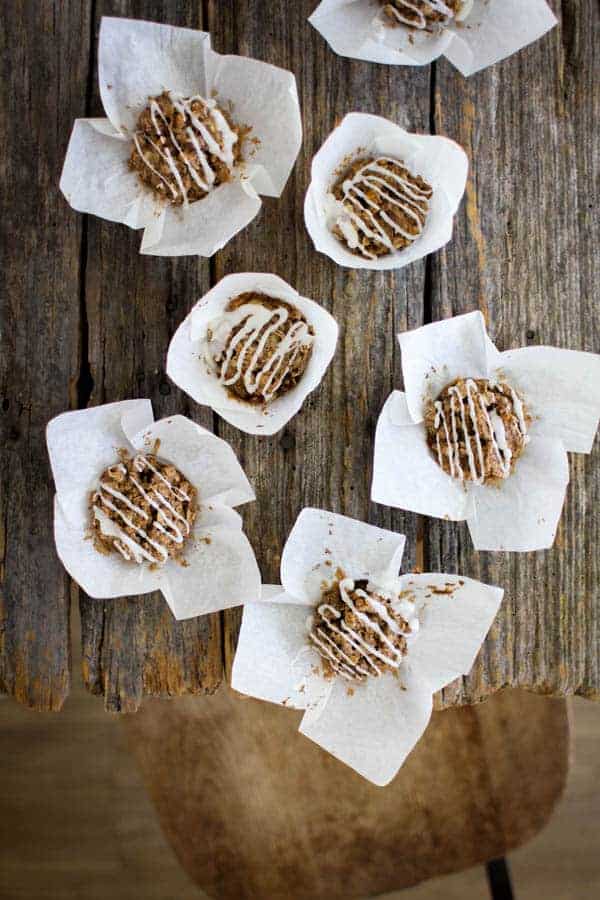 They might look like muffins, baked up in muffin liners, and be super cute and portable. But, my friend, these are anything but a muffin.
These oat cakes are dense and chewy with a wholesome cinnamon flavor that we can't seem to get enough of around here.
If you tried any of these easy baking recipes with oatmeal, I would be so grateful if you would rate the recipe and let me know what you think in the comments below.
I just love hearing from you and your reviews and comments really help others that visit This Mess is Ours!