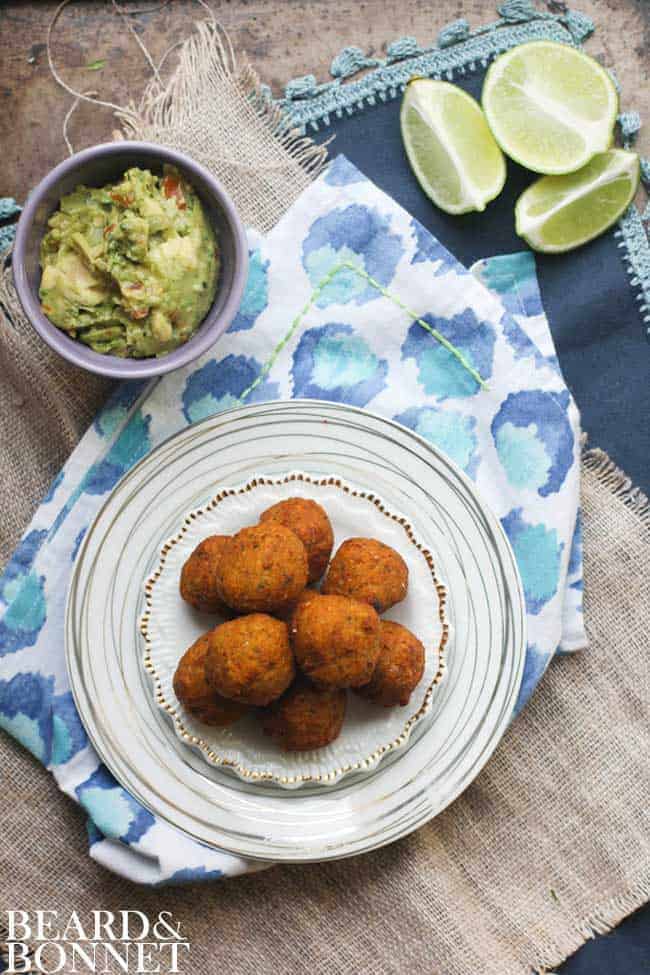 I have an absolute obsession with falafel! If you have been around B&B for some time chances are you have seen a few falafel recipes floating around. I am always dreaming up new ways to make it for my family on those special nights when we indulge ourselves and this sweet potato and millet version is my newest falafel flavor combination. If you have ever ordered authentic falafel at a Mediterranean restaurant then you know that it's crisp and golden on the outside while the inside stays nice and tender. The secret to achieving this texture at home is by using dried, not canned, chickpeas.
A batch of falafel like this one is simple to pull together and cook, but there is some advance preparation that has to happen. First, the chickpeas have to soak for 24 hours to get all nice and tender. You won't actually be cooking them for very long, so the soaking process is really important.
This recipe also calls for mashed sweet potato and cooked millet. If you aren't familiar with millet, it's a tiny grain that is mildly sweet and nutty. It is incredibly versatile and has pretty much replaced couscous for us since we went gluten-free. Millet cooks up a lot like rice; I toast mine first and then add broth, salt, and a little butter or Earth Balance. Then you bring it to a boil, reduce the heat and simmer covered for 15-18 minutes until the liquid is absorbed. Since it triples in volume after cooking, for this falafel recipe, you'll start with about 1/3 cup dry millet.
It may seem like a lot of effort, but trust me it is so worth it when you bite down into that beautiful golden falafel! I serve ours with hummus, guacamole, and tzatziki for dipping, homemade gluten-free naan for wrapping, and grilled veggies. It really is a family favorite around here!
I am happily sharing the recipe for this Sweet Potato & Millet Falafel over on Oh My Veggies! Just click here to see the full post.
Hungry for more falafel? Check out these posts too!
Authentic Golden Falafel
Black Bean Falafel
Thanksgiving Stuffing Poppers