Hands down, falafel is one of our favorite meals around here and this Sweet Potato and Millet Falafel is one of the flavor variations that I make to keep my family's taste buds on their toes! These delectable falafel combine everything you expect from traditional falafel and blends in roasted sweet potato and toasty millet too. Served tucked into gluten free naan or a lettuce wrap, these crispy falafel are sure to be a huge hit at your dinner table!
****This post updated with new images, recipe card, and updated links 10/13/2020. Updated 2/25/2022 with information about chickpeas****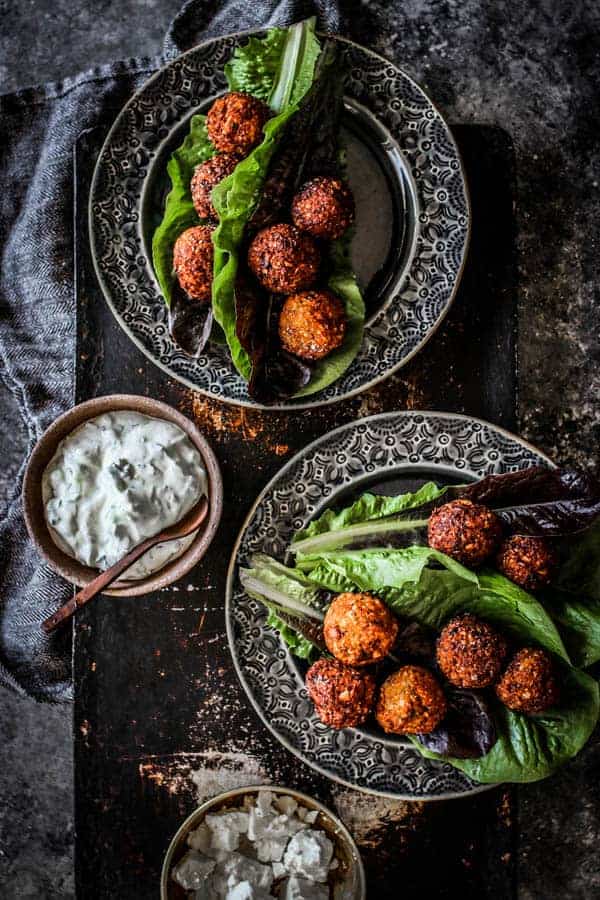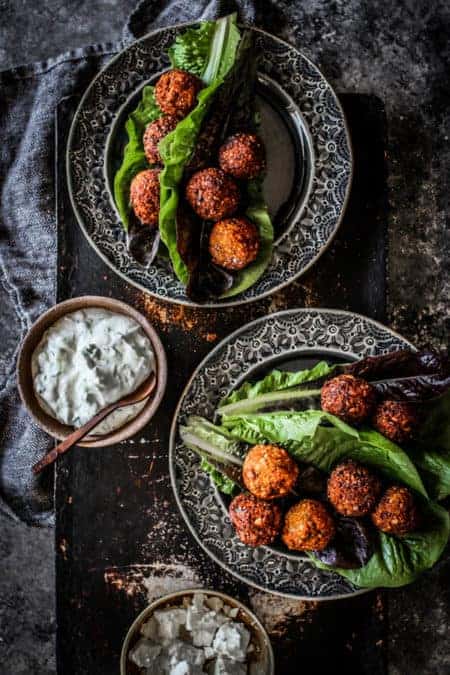 If you have ever ordered authentic falafel at a Mediterranean restaurant then you know that it's crisp and golden on the outside while the inside stays nice and tender.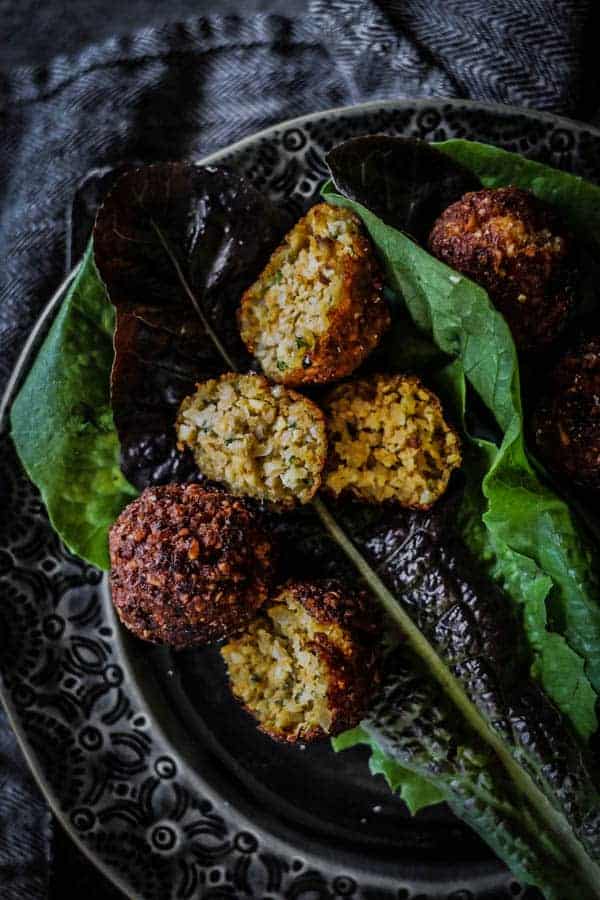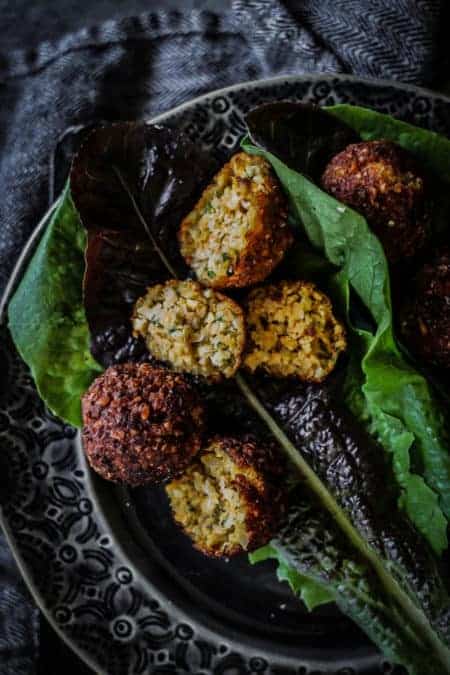 Using canned chickpeas to make falafel is a hard NO in my kitchen! Who wants goopy falafel in the center? Trust me, leave the canned chickpeas for your next batch of hummus and pick up raw chickpeas whenever you are making an authentic falafel recipe like this one.
Looking to learn more about chickpeas or garbanzo beans?
Whole Foods named chickpeas 'the new cauliflower' in their 2021 food trends guide and for good reason! Chickpeas ( AKA Garbanzo beans) are delicious and good for you too!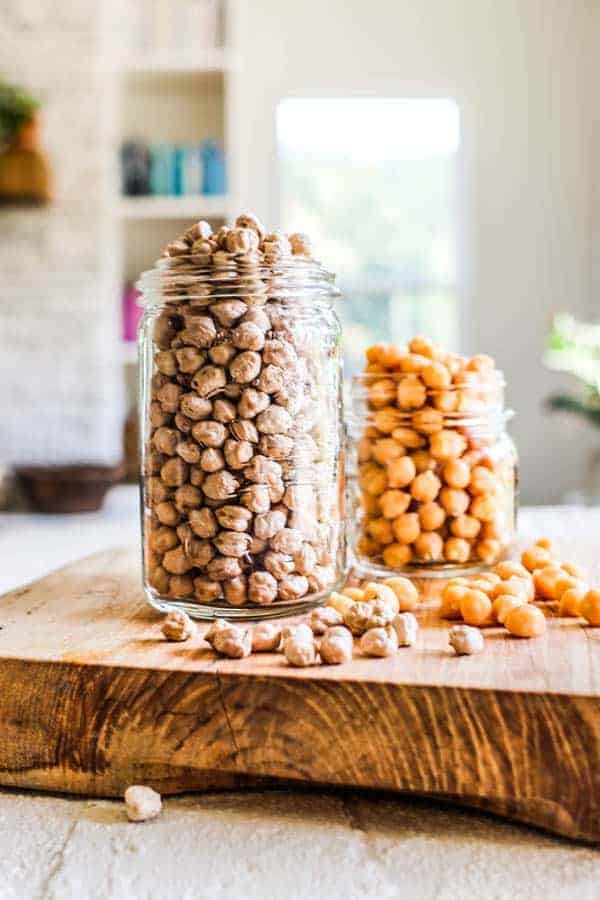 Ever wondered if chickpeas and garbanzo beans are the same things?
Or how to cook chickpeas so they taste amazing, but don't make you gassy?
Everything you need to know for cooking with both dried and canned chickpeas is here in one spot!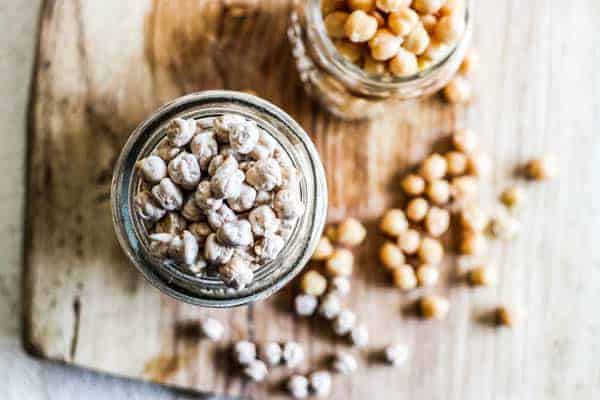 A batch of falafel like this one is simple to pull together and cook from start to finish, but there is some advance preparation that has to happen. The raw chickpeas have to soak for 24 hours to get nice and tender. Those little garbanzo beans will absorb so much water during their 24 hour soak time that they will swell up to 3 times in size! The soaking is a super important part of the process to this recipe since you won't actually be cooking the falafel for very long at all.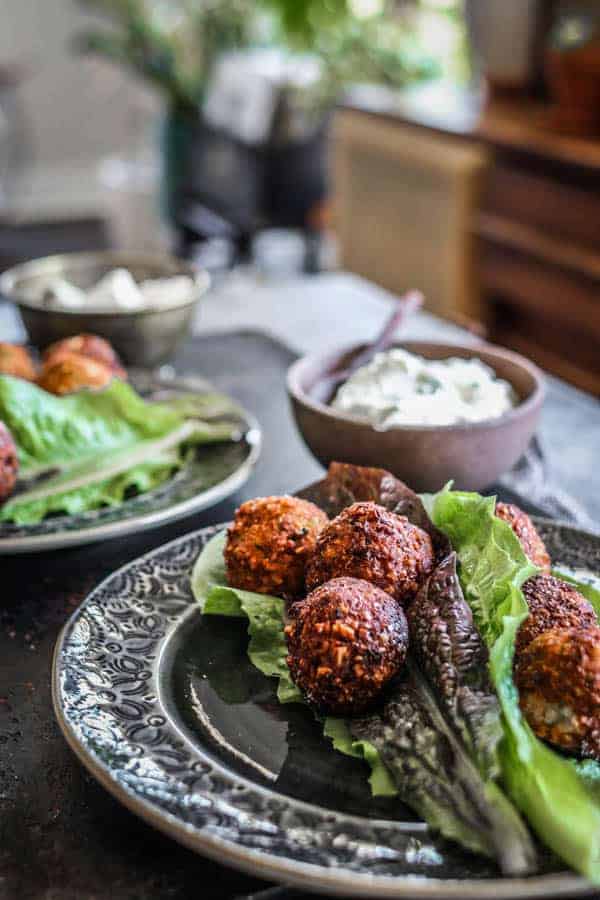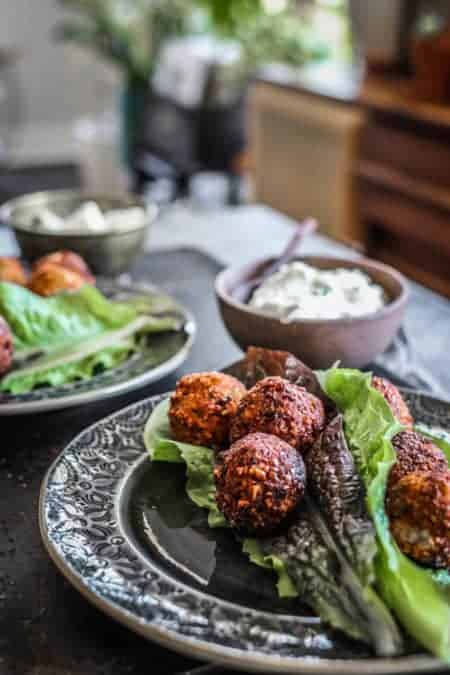 What is millet and how do I cook it?
This falafel does have a few interesting mix in's like sweet potato and millet. If you aren't familiar with millet, it's a tiny grain that is mildly sweet and nutty. It is incredibly versatile and has pretty much replaced couscous for us since we went gluten-free. Millet cooks up a lot like rice; I toast mine first and then add broth, salt, and a little butter. Then you bring it to a boil, reduce the heat and simmer covered for 15-18 minutes until the liquid is absorbed. Since millet triples in volume after cooking, for this falafel recipe, you'll start with about ⅓ cup dry millet.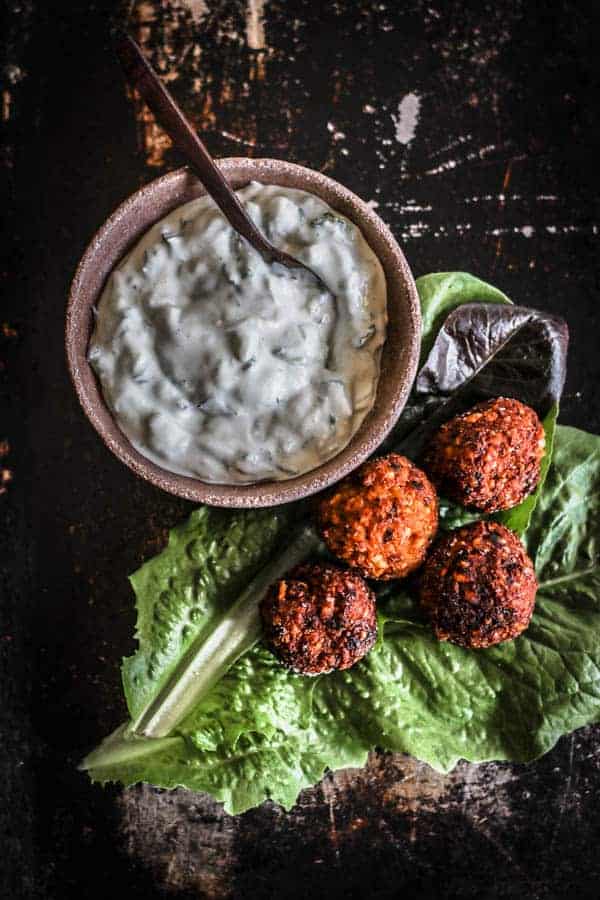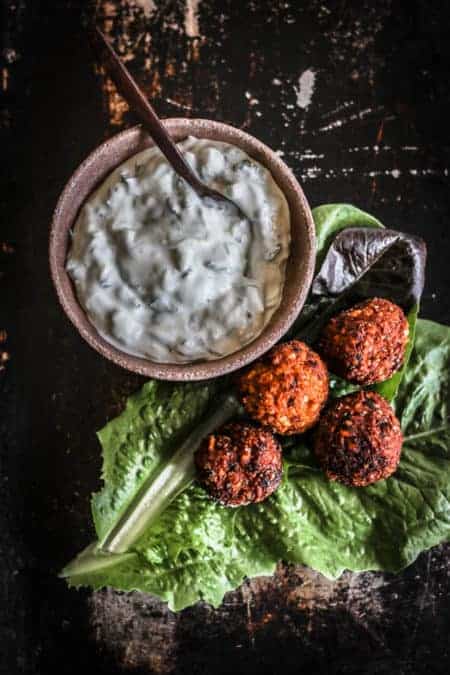 It may seem like a lot of effort, but trust me it is so worth it when you bite down into that beautiful golden falafel! I serve ours with hummus, guacamole, and tzatziki for dipping, homemade gluten-free naan for wrapping, and grilled veggies. It really is a family favorite around here!
Hungry for more falafel? Check out these posts too!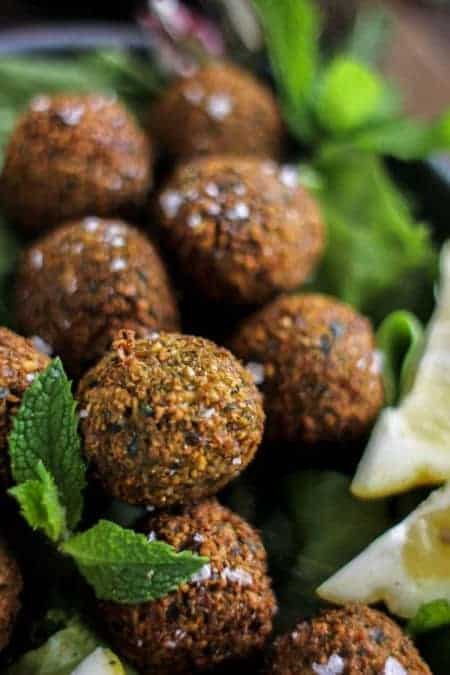 Falafel is a cornerstone of the Mediterranean diet and if you've ever a had truly authentic falafel recipe, you'll know why. That crisp, delicious shellencapsulating a warm, tender and green fluffy center is something from the heavens.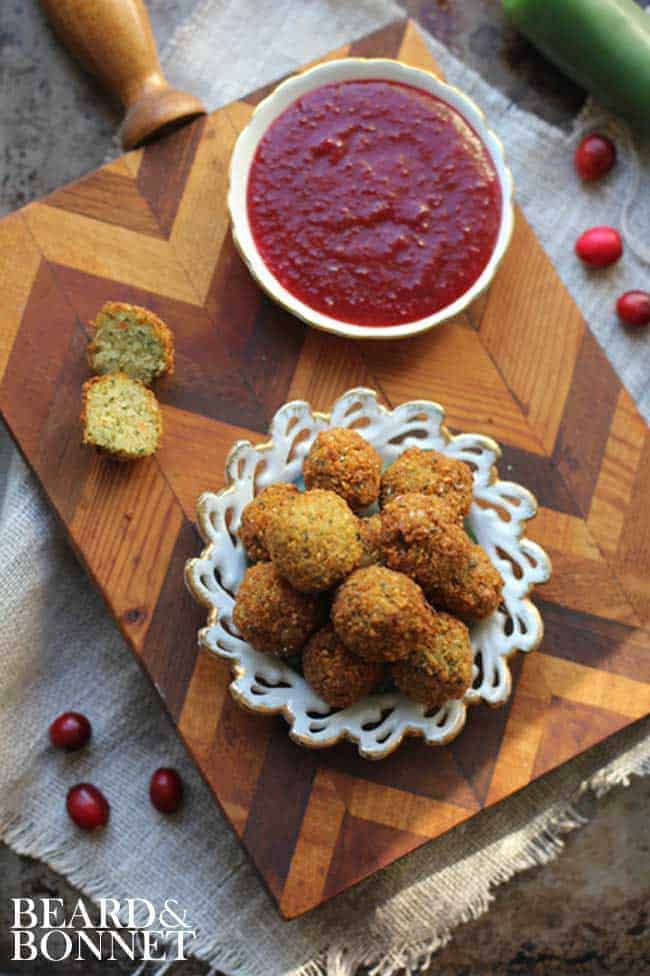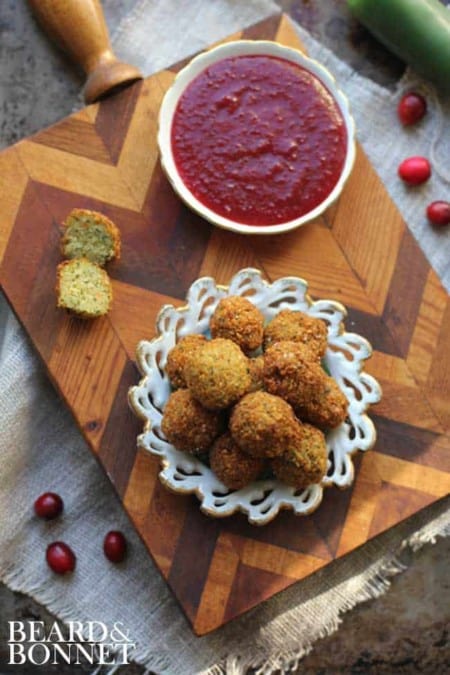 Falafel for the holidays? YES, PLEASE! This recipe is loaded with flavors that are reminiscent of the holiday season
If you've made our Sweet Potato & Millet Falafel recipe I would be so grateful if you would rate the recipe and let me know what you think in the comments below! I just love hearing from you and your reviews and comments really help others that visit This Mess is Ours.
Print
Sweet Potato and Millet Falafel
If you've made our Sweet Potato and Millet Falafel recipe I would be so grateful if you would rate the recipe and let me know what you think in the comments below, I just love hearing from you and your reviews and comments really help others that visit This Mess is Ours! 
Author:
Prep Time:

15 mins

Cook Time:

25 mins

Total Time:

40 minutes

Yield:

4

-

6

servings

1

x
Category:

Dinner

Method:

Stovetop

Cuisine:

Mediterranean

Diet:

Gluten Free
1 cup

dried chickpeas, soaked for 24 hours (see note)

1 cup

mashed cooked sweet potato (about

1

medium)

½ cup

chopped red onion

2

cloves garlic, quartered

¼ cup

chopped flat leaf parsley

¼ cup

chopped cilantro

1 teaspoon

ground coriander

1 teaspoon

kosher salt

½ teaspoon

ground cumin

¼ teaspoon

cayenne

¼ teaspoon

ground black pepper

1 cup

cooked millet, at room temperature
Grapeseed oil for frying

1

–

2

tablespoons chickpea flour and ¼ teaspoon baking soda, if needed
Instructions
Place the chickpeas, sweet potato, onion, garlic, parsley, cilantro, coriander, salt, cumin, cayenne, and black pepper into the bowl of a food processor and alternate between pulsing and blending, stopping to scrape down the sides of the bowl occasionally, until all of the ingredients in the the falafel mixture are uniform in size, but still slightly grainy in texture. Transfer the mixture to a mixing bowl and fold in the cooked millet.
Roll a small amount of the falafel mixture into a walnut sized ball or a small patty with your hands. It should hold together nicely and not fall apart. (If it seems too wet, sprinkle the mixture with a small amount of the chickpea flour, no more than a tablespoon at a time, and fold it in. Once texture is correct, sprinkle the baking soda over the falafel and stir the mixture until combined.) Repeat the shaping process with the rest of the falafel mixture and place the uncooked falafel on a large plate or baking sheet until ready to cook.
To Deep-Fry (For Crispiest Falafel)
Pour the grapeseed oil into a high-sided skillet or saucepan to a depth of 3 inches or high enough to cover the falafel. Place a thermometer into the oil and heat on medium-high until the temperature reaches 360°-375°F.
While the oil is heating, place a flattened paper grocery bag onto a baking sheet and cover it with a few clean paper towels. This will help to collect the oil as it drains off of your falafel.
When the oil is ready, fry a test falafel. The oil should bubble up and sizzle all around it. The falafel itself should stay together in one piece and not break apart at all. It should take 2-3 minutes to fry to a beautiful golden brown. If your falafel is not completely submerged flip and cook the other side until it's nice and browned all over. Remove the cooked falafel from the oil and drain on the prepared baking sheet. Sprinkle with coarse salt while the falafel is still hot, if desired. Fry the remaining falafel in batches, being careful not to over-crowd the pan and drop the temperature of the oil.
To Pan-Fry (For Crispy Falafel)
Shape your falafel into patties, not balls. Heat a large skillet over medium-high heat. Pour 2-3 tablespoons of grape seed oil in the skillet and swirl to coat. Place the falafel patties in the skillet and cook for 2-3 minutes on each side, until crispy and browned. Transfer to a paper towel-lined plate to absorb the excess oil and sprinkle with coarse salt, if desired.
To Bake (For Not-So-Crispy Falafel)
Shape your falafel into patties, not balls. Preheat the oven to 400ºF and spray a baking sheet with an oil mister filled with grapeseed oil. Place the falafel onto the baking sheet and spray the tops with additional oil; bake for about 25 minutes, flipping halfway through cooking time, or until golden brown on the outside.
Notes
To soak the chickpeas: Place the chickpeas in a large bowl and fill with water to cover them to a depth of 3 inches. Cover the bowl with plastic wrap and leave on counter for 24 hours. The chickpeas will triple in size and absorb quite a bit of the water, so check a few times during soaking to see if you need to add more. Once the beans have soaked for 24 hours, drain and rinse well.
Nutrition
Serving Size:

A few falafel

Calories:

525

Sugar:

6.5 g

Sodium:

230.8 mg

Fat:

38.9 g

Carbohydrates:

37.3 g

Protein:

9.1 g

Cholesterol:

0 mg
Keywords: gluten free falafel, millet, millet falafel, sweet potato, sweet potato falafel
Recipe Card powered by
Want to be a part of our online community outside of the blog? It's easy!! All you have to do is follow @THISMESSISOURS on FACEBOOK, INSTAGRAM, TWITTER, YOUTUBE, or PINTEREST to see cooking demos, and peeks into our day to day life.