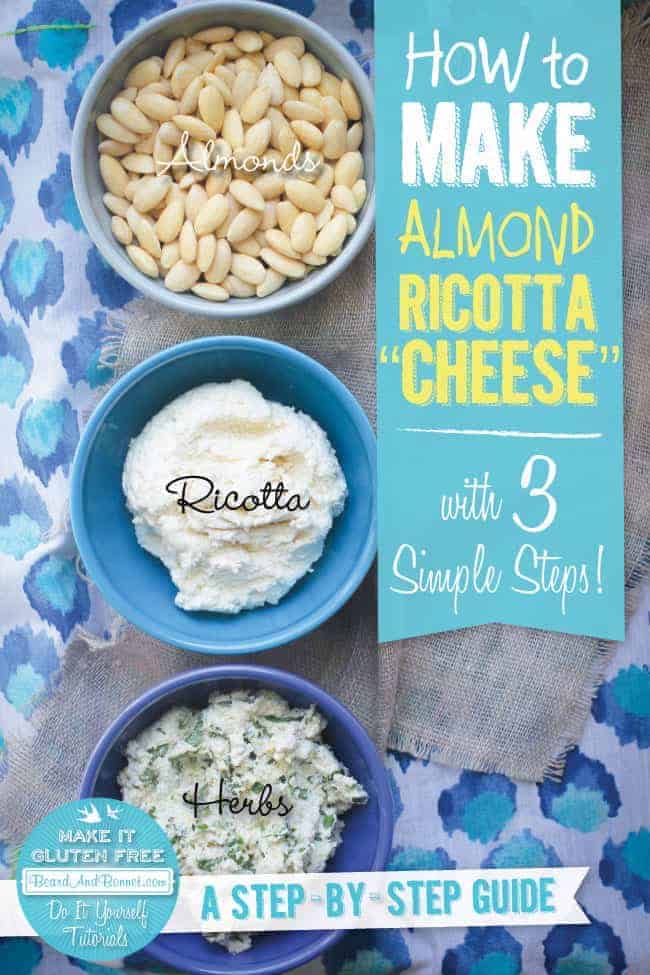 Looking back at our life before we made the transition to a gluten free diet we really had a thing for Italian food. Stuffed shells, lasagna, white pizzas, and pastas made regular appearances on our weekly meal plans. I used ricotta quite a bit in all of those dishes and even used to make ricotta pancakes on the weekend. Since we know now that Kash and Todd also have dietary issues with soft cheeses and most dairy in general I try to eliminate it whenever I can. I really thought that ricotta studded recipes were a thing of the past for us until a few weekends ago when Todd and I attended the Valentine's Day dinner at Real Food Daily in LA.
The second course served to us was a beautiful green and red salad piled high atop a fluffy white version of ricotta cheese! I was convinced it was some type of soy product and waited for the waitress to confirm my suspicions. To my surprise she said "No, it's made with almonds!" I totally freaked out, I nibbled and tasted, I prodded the waitress for more information, and added all sorts of notes in my phone about texture, color, and taste. When we arrived home from our weekend getaway for two I began working to figure out exactly how I could make my own almond ricotta at home for my family.
It took a few tries because I tried to over complicate the process, but when I nailed a finished product that looked and tasted spot on it was actually the simplest recipe of them all. I just LOVE it when that happens! So far I have made an herb and lemon ricotta for dipping, dolloped my gluten free pasta and marinara with ricotta seasoned with black pepper and lemon zest, and have made a salad completely inspired by the one we had on Valentine's Day that I will be happily sharing with you here next week.
Go ahead, break out your blanched almonds...we're bringing ricotta back!
Step 1 & 2: Soak your blanched almonds overnight in filtered water. In the morning drain, rinse and combine in a high powered blender with the additional ingredients and blend.
All that you see in my blender are the soaked blanched almonds and filtered water. You can add acidopholus powder, which is a probiotic, but it is not necessary if you wish to leave it out altogether. I honestly couldn't taste much of a difference in taste or texture between the batches I made with and without it. I simply tried it because one of the few recipes I found online for almond ricotta cheese used it and I thought it would be interesting to try. If you are allergic to milk proteins or are on a vegan diet and would like to add this ingredient to your "cheese" be sure that you purchase a vegan acidophilus powder as some of them are dairy free, but still contain casein.
Now that all of the ingredients are in the blender all you have to do is blend the heck out of it stopping to scrape down the sides once or twice until the consistency of your almond ricotta "cheese" looks like the picture below.
Step 3: Drain
Now that you have blended the blanched almonds and water line a fine mesh strainer with cheesecloth and set it over a bowl. Scrape all of the almond ricotta "cheese" into the strainer and allow the "cheese" to drain at room temperature for 8 hours. I placed mine in the microwave just so I knew there was no chance of little hands getting into it or dirt falling on it.
At the end of the 8 hour draining time you will have beautiful almond ricotta "cheese"! I made multiple batches of this "cheese" to make sure the recipe would work right for all of you and because I was so excited to cook with it. I honestly have no way of telling you approximately how much excess liquid to expect to drain from your ricotta. I can say that the amount never equaled a tablespoon and after draining one batch for 8 hours there was no liquid at all.
At this point your ricotta is a blank slate. It doesn't really taste like much, but that was always the beauty of real ricotta anyways. You can flavor your ricotta with honey or maple syrup for a sweet dessert style "cheese" or I am including my recipe below for a savory herb studded ricotta that is perfect for dipping veggies and crackers, stuffing shells, or layering up in your next pan of gluten free lasagna.
Print
Almond Ricotta "Cheese"
Author:
Yield: Makes

2 cups

1

x
2 cups

raw blanched almonds, soaked in filtered water to cover overnight then rinsed and drained.

1 cup

filtered water

⅓ teaspoon

acidophilus, if desired but not necessary
Instructions
Combine the almonds, water, and acidophilus powder, if using, in a high speed blender. Puree until the mixture is smooth with some texture left to it, but there are no large chunks of almonds remaining.
Place a fine mesh strainer over a bowl and line with cheesecloth. Then add the almond mixture to the strainer and allow it to drain for 8 hours at room temperature.
Add herbs and spices immediately to achieve desired taste for the recipe you are creating and store any unused ricotta in the refrigerator for 3-5 days.
Recipe Card powered by
Print
Savory Herb Studded Almond Ricotta "Cheese"
Author:
Yield: Makes

1 cup

1

x
1 cup

prepared almond ricotta "cheese"

¼ cup

chopped fresh basil

1

garlic clove, minced

½

-

1

teaspoon kosher salt, depending on taste

¼

-

½

teaspoon freshly ground black pepper, depending on taste

1 teaspoon

lemon zest
Instructions
Combine all of the ingredients in a small mixing bowl and stir until completely combined.
Recipe Card powered by