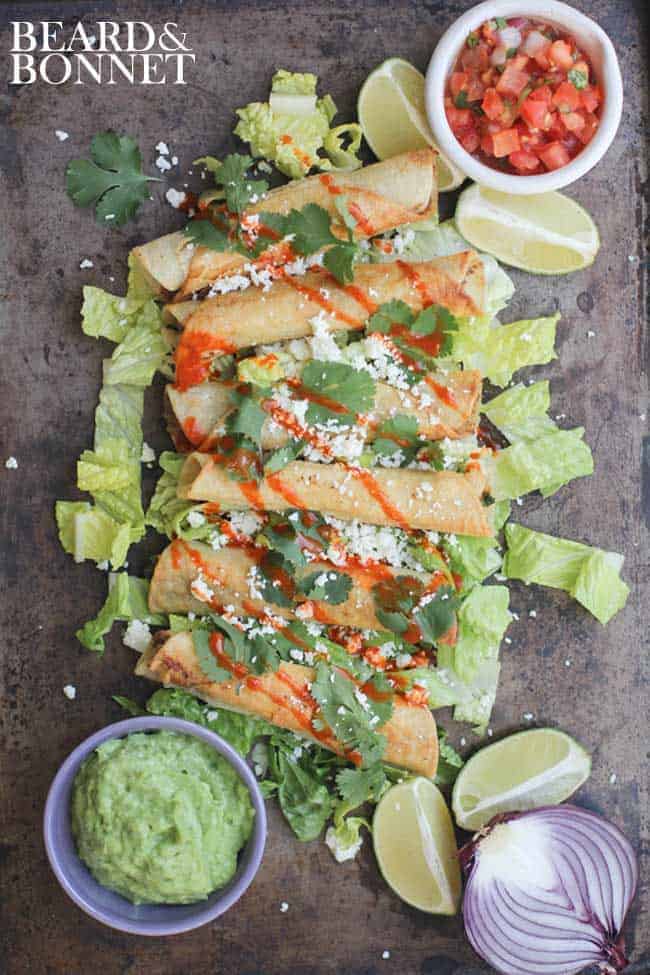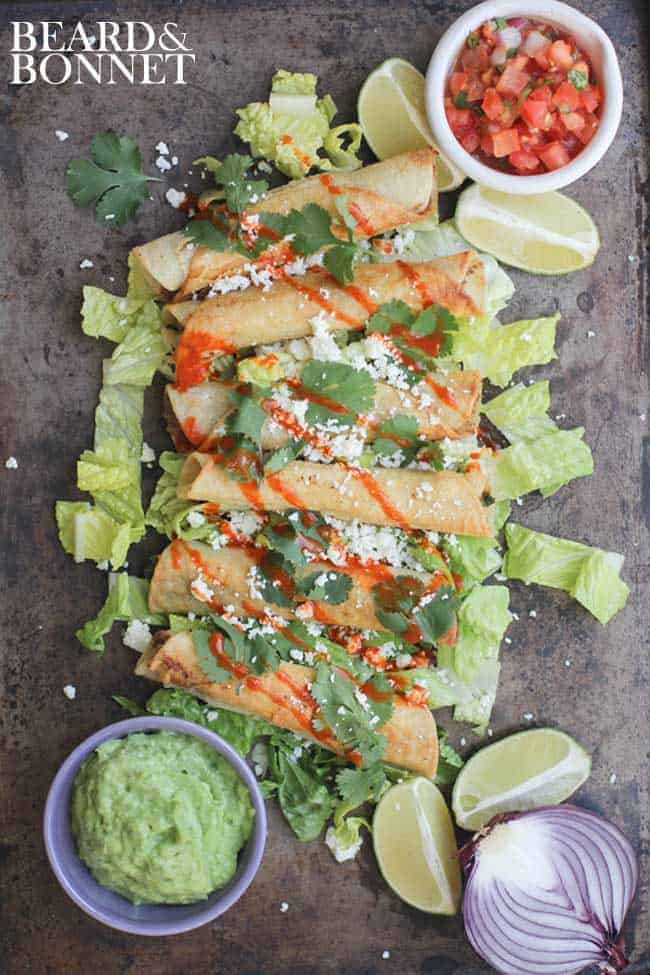 I really think that the "Make it Meatless" posts that I write for Oh My Veggies every month are becoming one of my favorite posts to create! I am inspired by all sorts of recipes gluten free, vegan, vegetarian, and meaty basically if the pictures are beautiful and the ingredients are interesting I can appreciate it. I love to peruse Pinterest every day and just let the inspiration strike when the time is right. That is exactly what happened with these flautas. Seeing as though my family are sort of Mexican food junkies it didn't come as a surprise to me that the Chicken Flautas with Spicy Avocado Sauce from Heather Christo stood out to me and practically called my name!
As I was brainstorming ways to make this dish meatless I knew that I definitely wanted to make this a simple 30 minute meal so that everyone could enjoy flautas, even on a hectic weeknight. For the filling I replaced the boiled, shredded chicken with store bought spicy vegetarian refried black beans and my top secret, knock your socks off, incredibly easy taco topping that I serve at every taco dinner we have here at home. Well, I guess after this post it won't be top secret anymore…it's OK, you guys are my friends and friends share things like top secret taco toppings.
The spicy avocado dipping sauce for these black bean flautas sounded pretty amazing as it was originally written so except for two minor tweaks to use ingredients that I already had on hand I left it as it was, because come on why mess with perfection right? This sauce is pretty much a super smooth, spicy, guacamole and just in case you were wondering it is totally OK to dip your chips in it too! Go ahead, get all up in there, don't by shy!
So I made a batch of black bean flautas and styled them all pretty for you, but I also thought I should be perfectly honest and show you exactly how we devoured them! These bad boys NEVER hit a plate, my kids literally lined up in the kitchen and they dunked and ate them as fast as I could cook them up.  There was lots of giggling and play fighting about who got the next one and when they had filled their bellies they were nice enough to leave me some flautas to enjoy on my own. I actually had 6 black bean flautas left so I ate 3 immediately and saved 3 to reheat later. I wasn't sure how well they would reheat, but I thought it would be good information to share with all of you here so I wrapped them on a plate with plastic wrap, stuck them in the fridge, and waited for the mood to strike. When the need for a faluta hit me I simply popped them in a dry skillet over medium-high heat. It only took a minute or two to reheat and my flautas were just as crispy as the first time around. Yay flautas!
I am so happy to be sharing this recipe on Oh My Veggies today! Click here for the recipe.