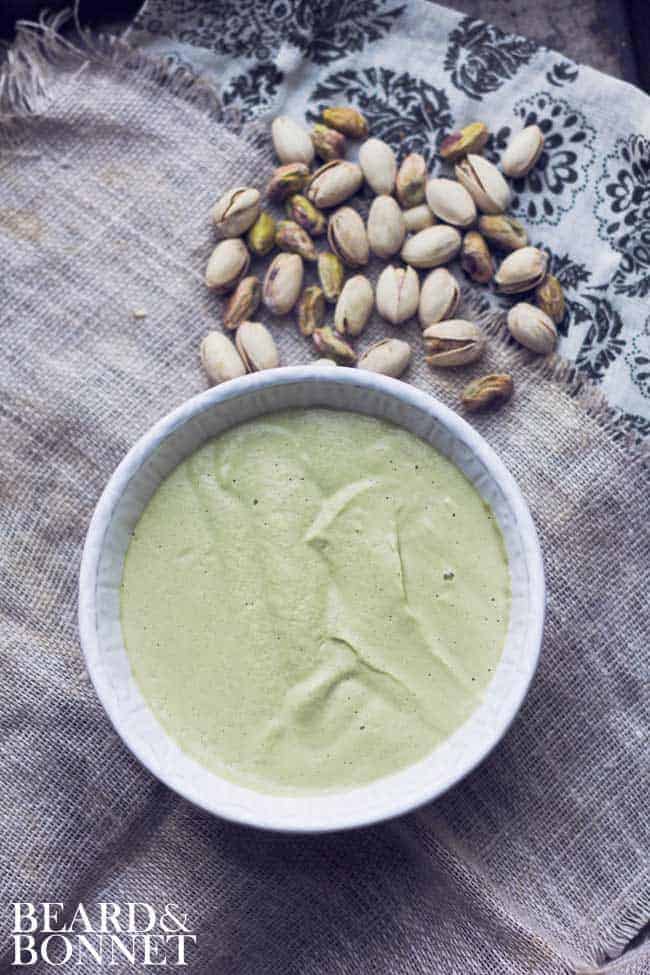 Sometimes I have an idea for something and I am not sure where it came from or if it will even work. This pistachio cream happens to be one of them! This one actually came to me in a dream, yes you heard me right I dream about food. Some people may think that is awesome and some may think it is pretty lame, but it is the truth. I have dreams of eating at exotic restaurants and enjoying beautiful produce that I have never even seen before and then sometimes I have dreams about dipping the most beautiful little carrots in pistachio cream at lunch with my little fruit bandit.
Most of the time the ideas and strange foods from these dreams never make it into my real life, but this one totally intrigued me so the next day I set out to purchase raw pistachios and give it a go. I figured that since I love cashew cream so much that I should at least give pistachio cream a chance. I found raw pistachios, went home, covered them with filtered water and began the long process of waiting for them to soak overnight.
Since I am totally impatient when it comes to this type of thing I decided to go ahead and Google the term "pistachio cream recipe" and see what popped up. Surprisingly to me I only found recipes laden with lots of sugar and nothing at all like the savory version in my dream; not that I have anything wrong about a sweet version of anything...but we will get to that later.
The next morning, I seasoned and blended my soaked pistachios, I grabbed a carrot and I went in for the test. Friends, it was good! The pistachios blended up all smooth and creamy, the flavor was more savory than a plain cashew cream, but paired with the sweetness of that carrot it was perfect. I can totally see drizzling it on my tacos or spreading it on sandwich. Of course now that I have tried it plain you bet that I will start whipping up flavored versions to share here with all of you. Hello dreamy pistachio cream...I think I love you!
Print
Pistachio Cream (Gluten Free, Vegan, Raw)
Author:
Yield:

2 ½ cups

1

x
1 ½ cups

raw pistachios soaked in filtered water overnight, drained & rinsed (See note)

1 cup

filtered water
Juice of half of 1 large lime

¼

-

½

teaspoon salt to taste
Instructions
Combine all of the ingredients in a high speed blender and blend until completely smooth and creamy.
Notes
Raw pistachios will soak up more water than cashews so cover with enough filtered water to make up for this during the soaking process and add more if necessary.
Recipe Card powered by
So, back to that conversation we were having about sweet pistachio cream recipes...during this whole pistachio cream discovery my dear friend Kiersten of Oh My Veggies reached out to me with a dilemma. Kiersten wanted to make a mint chocolate chip raw dessert for her site and just couldn't quite get it like she wanted it. She asked if I would be interested in giving it a go and I thought it was the perfect time to whip up a sweet version of pistachio cream and create a fun and tasty dessert that was not only healthy, but tasted really good too!
I added a few fun ingredients into the mix and whipped up one of my favorite Lära bar style crusts topped it all with a layer of gluten free and vegan chocolate chips, and then I froze the whole darn thing and crossed my fingers.
The result was a bar that tastes like mint chocolate chip ice cream! They are so insanely good that just last night I caught Eliza in her room greedily chowing down on 4 bars by herself. Todd has declared them his new favorite dessert and due to the fruit bandit's obsession with them they are now being stored in the freezer outside. I call that winning!
Click here to visit Oh My Veggies and get the recipe for these Mint Chocolate Chip Dessert Bars!