*** This tutorial style blog post was updated 1/21/2020 with new pictures, nutritional information, and updated text. The recipe is the same as originally published 3/3/2014. Also, please note that this post contains affiliate links. Should you make a purchase through one of these we make a small commission. That money helps us operate this site, thank you!**
Ahhh cashew cream, the silky, smooth, nut-based sauce adored by vegans and meat eater's alike! Cashew cream has been a popular plant based substitute for everything from nacho cheese inspired sauces to dessert fillings for years. It has proven it self time and time again in the plant based home kitchen as well as on big name restaurants menus and it's definitely a kitchen skill you should master!
Think of this recipe as a launching point; from here you can go either sweet or savory with minimal effort. Experiment by blending in your favorite flavors like roasted chiles or fresh herbs. Toss it with pasta, serve it as a dip, or schmear a sandwich. Literally, anything goes!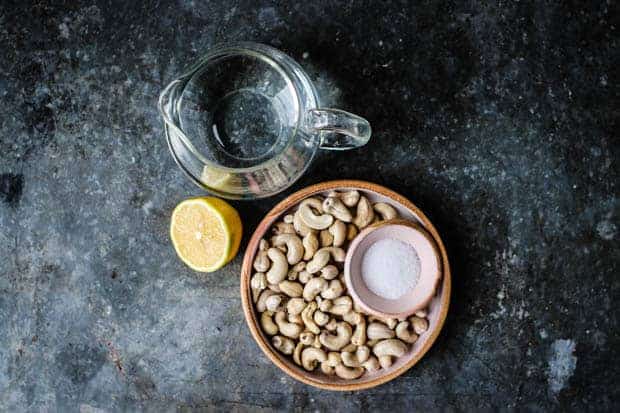 Step 1 ||

Gather the ingredients.
One of the greatest things about cashew cream is that it doesn't take many ingredients to make it! A basic cashew cream only requires 4 simple ingredients that are probably staple items in most kitchens.
Raw cashews|| The key ingredient in cashew cream is obviously the cashews, specifically raw cashews. Roasted cashews just simply will not work, it is important for them to be raw so that they will absorb the water as they soak making them easy to blend to a silky smooth consistency.
Filtered water || Since the cashews are absorbing the water and it will essentially wind up in our finished dish, I personally choose to go with filtered water. If you don't have access to filtered you can use tap water instead.
Freshly squeezed lemon juice || None of that bottled citrus juice here, only freshly squeezed lemon will work! Its bright flavor really does come through in the final taste which means you want the real thing!
Salt || I have used kosher salt, sea salt, and Himalayan salt in cashew cream variations over the years and they have all been delicious. Personal preference is key, just note that in the recipe below I call for coarse kosher salt, so if you use a finer grain of salt than that you will need to adjust the measurement a bit to your taste.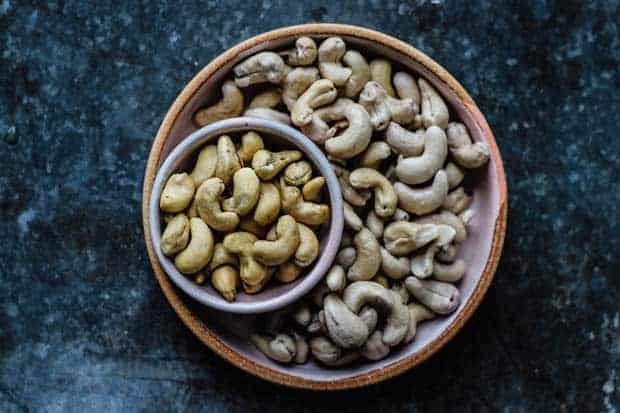 Step 2 ||

Prepare the raw cashews.
Preparing the cashews to make cashew cream is easy, but you need to make a plan in advance that includes soaking time for the cashews. Soaking cashews prior to using them for eating and cooking purposes aids in proper nutrient absorption and helps remove enzymes called phytates that hinder vitamin and mineral absorption. Long technical story short…soaking your nuts not only makes blending them into a creamy sauce possible – it's also good for you!
Cold soak method || Place the desired amount of raw cashews in a large mixing bowl and cover with filtered water. Soak for at least 4-6 hours, preferably overnight either on a counter covered or in the refrigerator then drain and rinse.
Quick soak method || Place the desired amount of raw cashews in a bowl, cover with boiling water and soak for 30 minutes. Drain and rinse well. Cashews that are soaked this way will not have the same nutritional properties as cashews that have been prepared with the cold soak method.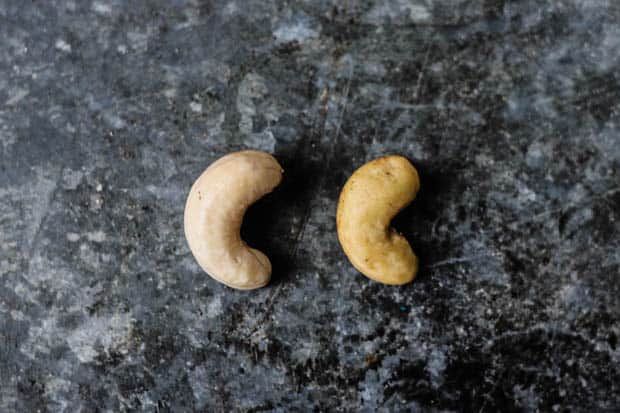 Either way you soak the cashews will absorb an enormous amount of water! Just look at how much larger the cashew on the left is in the image above to the one on the right. It has almost doubled in size! Now, you're ready to make cashew cream!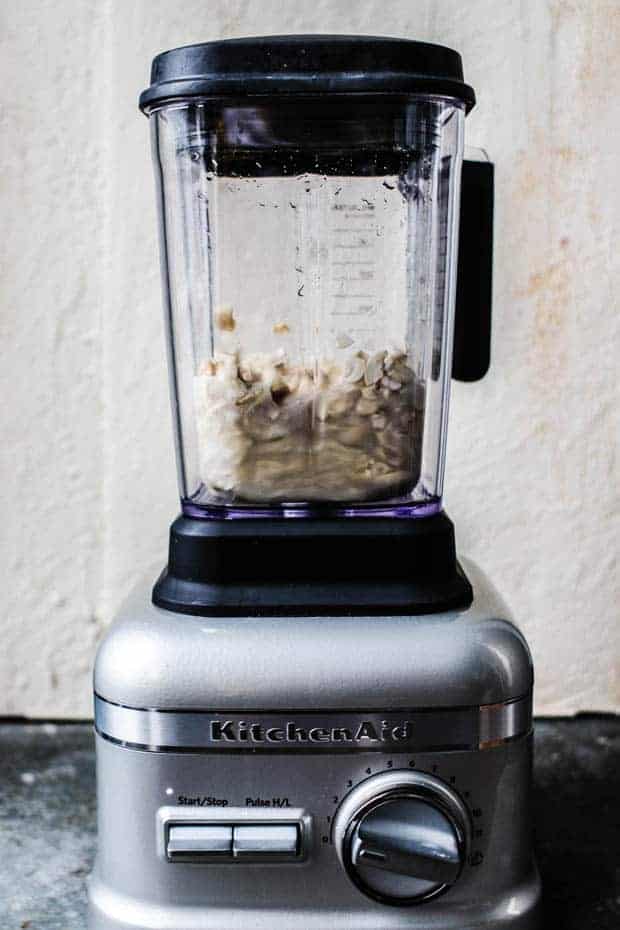 Step 3||

The blend.
Once the cashews have soaked; drain and rinse them well then decide if you will be blending with a high powered blender like the one I am using here or a food processor. Both will produce excellent results with variation in texture, so really this step is all about personal preference.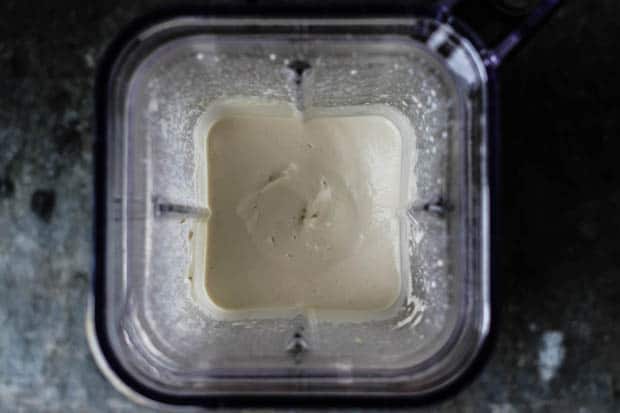 High powered blender || If you are looking for a luxuriously smooth cashew cream a high powered blender is the way to go. I prefer this method when I am making vegan cheesecakes or planning to use the cashew cream as a sour cream alternative. Typically a high powered blender can blend the cashews from start to finish in one short blending session without the need for even scraping down the sides.
Food processor or standard blender || A food processor or a standard blender will create a cashew cream with a bit more texture and grit to it and that's ok too! I love cashew cream like this for topping tacos and nachos! Just note that you may have to stop and scrape the side down a few times to ensure that everything is incorporated and broken down.
Place the cashews in your blender or food processor along with filtered water, lemon juice, and salt. Blend until you reach the consistency of a smooth, pour-able sauce, stopping to scrape the sides as needed.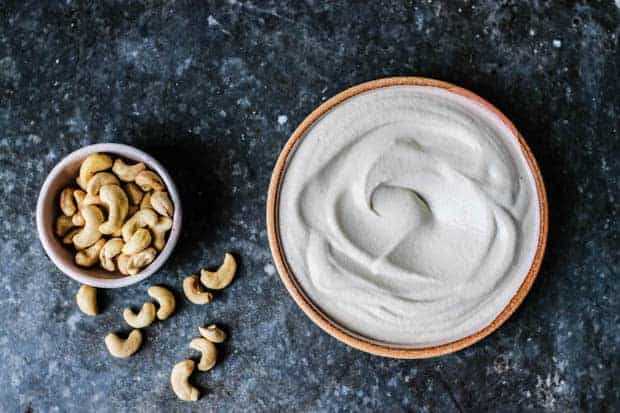 How simple is that?!! Now that you know how to make cashew cream let's talk about some ways you can use it!!
Plant based sour cream replacement || Yep, you read that right – anywhere you dollop sour cream this cashew cream would be great in its place!
As the base for a vegan cheesecake || I actually prefer a cashew cream based cheesecake to a traditional one and so does my family! They're perfectly sweet and rich with a decadently smooth texture!
The perfect plant based sandwich schmear || You can flavor cashew cream about a bazillion ways which makes it a perfect schmear for sandwiches of all types!
Do you have an interesting way that you are using cashew cream in your kitchen? I want to know about it! Leave me a comment below, so I can learn all sorts of delicious new ways to use cashew cream too!!
Don't forget to rate the recipe once you've tried it!! You can also FOLLOW ME on FACEBOOK, INSTAGRAM, TWITTER, and PINTEREST to see more.
Print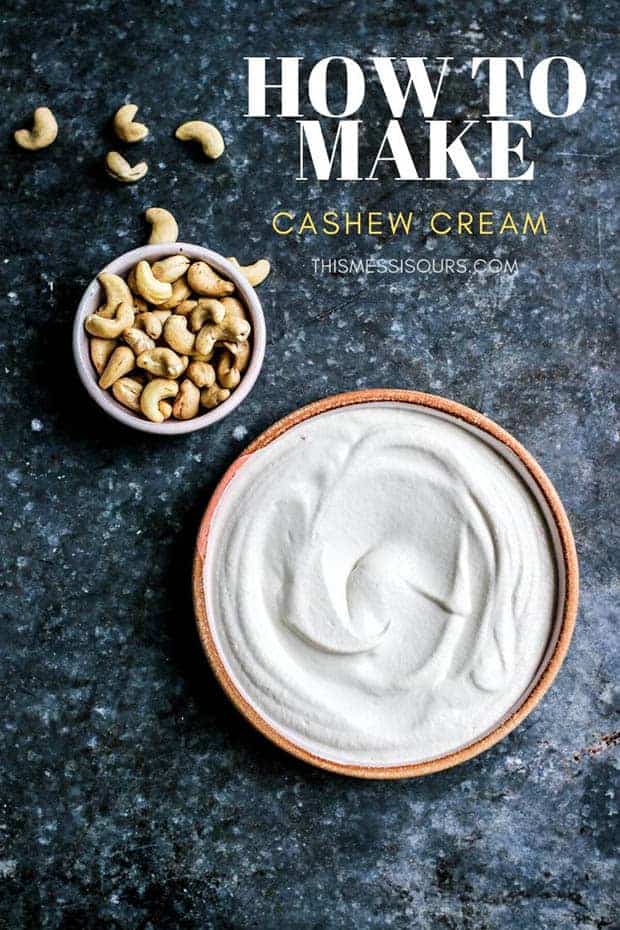 Cashew Cream (Gluten Free & Vegan)
Author:

Prep Time:

8 minutes

Total Time:

8 minutes

Yield:

2 cup

s

1

x
Category:

Sauces

Method:

Soaked/Blended

Cuisine:

Vegan
---
Description
Uh oh!! Did you forget to soak your cashews? No worries! Check out the 'quick-soak method' in my blog post above. Now only 30 minutes stands between you and decadent cashew cream!
---
Scale
Ingredients
1.5 cup

s raw unsalted cashews

3/4 cup

filtered water, plus more for soaking
juice of half of 1 large lemon

1/2

–

1

teaspoon coarse kosher salt
---
Instructions
Place the cashews in a bowl and fill with filtered water at least an inch above the cashews. Allow the cashews to soak for 4-6 hours or up to overnight. Drain and rinse the cashews well.
Place the cashews, filtered water, lemon juice, and salt in a high powered blender or food processor. Blend until desired consistency, stopping to scrape the sides as necessary.
This cashew cream will last in the refrigerator for 3-4 days and can be frozen for up to 6 months. If you choose to freeze it be sure to run it through the blender really quick after you defrost it to eliminate any lumps.
---
Keywords: cashew cream, vegan
Recipe Card powered by