The weather is beginning to heat up here in the south which means summer will be here before we know it and with it comes the need for no-bake dessert recipes like this Vegan Chocolate Almond Butter Icebox Cake! This plant-based cake, while strikingly beautiful, isn't difficult to make at all! Its basic cashew cream sauce base is blended with dark chocolate, almond butter, and banana then poured on top of a gluten free raw bar crust made of oats, dates, and almonds. It's rich, decadent, and actually still pretty darn good for you which means you will be WINNING summer
This
Vegan Chocolate Almond Butter Icebox Cake

recipe is part of our 3-part

'Choose Your Own Recipe Adventure'

video series on You Tube featuring cashew cream!

Watch me make this Vegan Chocolate Almond Butter Icebox Cake for you step-by-step in the video below....

Want to see just how versatile cashew cream can be? Click on the links and images below to see 2 more episodes featuring recipes that showcase my basic cashew cream in lots of different ways!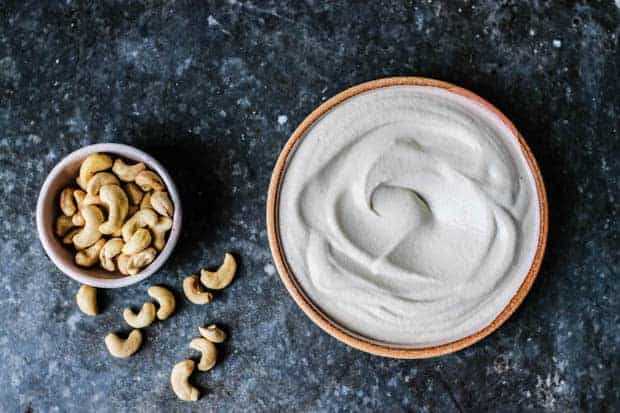 Click here to watch how simple it is to make my basic cashew cream!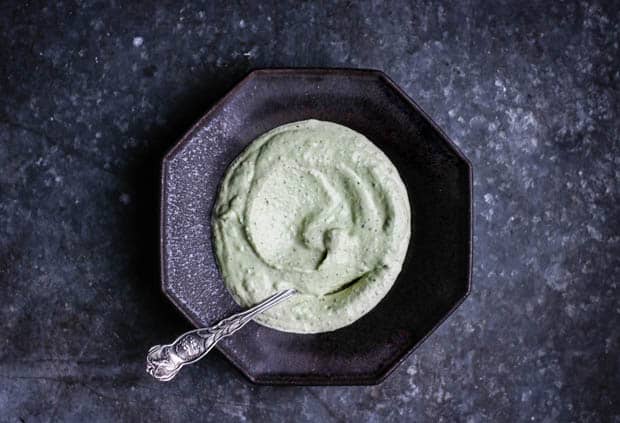 Click here to watch how simple it is to turn my basic cashew cream into a savory Roasted Poblano Cashew Cream Sauce for tacos and enchiladas!!!
Now, back to the Vegan Chocolate Almond Butter Icebox Cake you came here for...
While there is no baking involved, celebratory cakes like this one require a few special pieces of kitchen equipment to make.
Food processor || A food processor is essential for making the raw bar inspired crust for this icebox cake, although it can also be used to make the filling too. It's important to note that the filling won't have as smooth of a texture as it would if you made it separately in the blender.
High powered blender ||Using a blender to make the filling ensures a luxuriously smooth cashew cream filling that is perfect for icebox cakes! I prefer this method when I am making vegan cheesecakes or icebox cakes like this one instead of a food processor because the texture is closer to that of an actual silky smooth cheesecake.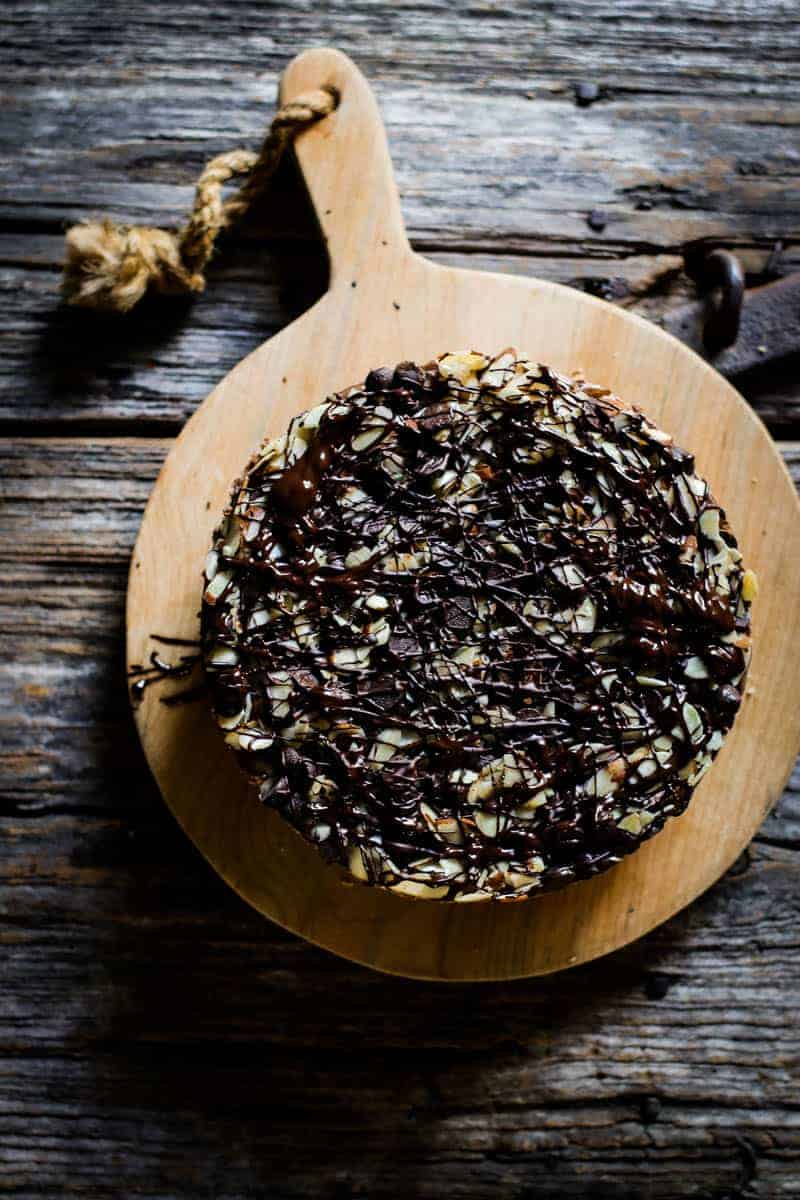 This recipe also requires a special pan called a springform pan. This type of pan allows you to easily remove the "walls" of the pan from the base with a buckle once the icebox cake is frozen. You definitely can't get away with making this particular Almond Butter Icebox Cake in a regular cake pan, it would be a total nightmare to get a frozen cake to release from a traditional cake pan, trust me!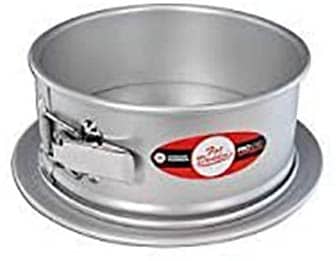 Although there may be a few dishes when you get finished making this cake, it isn't actually difficult to make at all and once you get the hang of things you'll be whipping up all sorts of vegan icebox cakes like this one over the summer!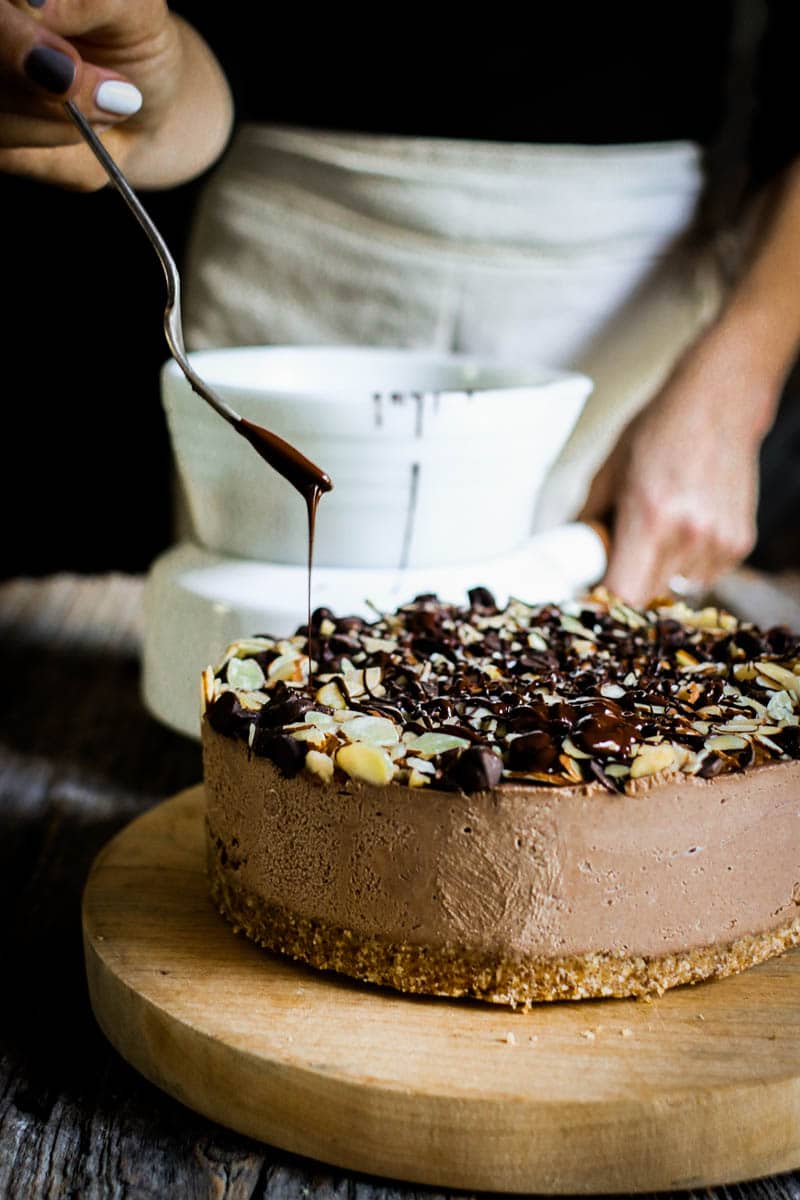 If you've made this Vegan Chocolate Almond Butter Icebox Cake I would be so grateful if you would rate the recipe and let me know what you think in the comments below, I just love hearing from you and your reviews and comments really help others that visit This Mess is Ours.
Want to be a part of our online community outside of the blog? It's easy!! All you have to do is follow @THISMESSISOURS on FACEBOOK, INSTAGRAM, TWITTER, YOUTUBE, or PINTEREST to see cooking demos, live #CoronaCall 's, and peeks into our day to day life.
I know that you have the power to #choosewhatyouconsume and I am just SO honored that you have made the choice to spend a little bit of your time here with us, thank you!
Print
Vegan Chocolate Almond Butter Icebox Cake
Author:
Prep Time:

30 minutes

Cook Time:

5 minutes

Total Time:

35 minutes

Yield:

10

slices

1

x
Category:

Dessert

Method:

Blended & Frozen

Cuisine:

Vegan

Diet:

Gluten Free
For the crust
coconut oil spray
1 cup gluten free oats
1 cup fresh, pitted, and roughly chopped Medjool dates
½ cup raw slivered almonds
a generous pinch of coarse kosher salt

For the filling
2 batches basic cashew cream, see note
½ cup melted coconut oil
¼ cup maple syrup
1 cup creamy almond butter
1 tablespoon vanilla extract or vanilla bean paste
2 bananas, broken into pieces
½ cup dark chocolate chips
For the topping
½ cup dark chocolate chips, divided
½ cup sliced or slivered almonds, toasted
Instructions
To make the crust
Place a piece of parchment over the bottom of an 8-inch springform pan and attach the side wall of the pan, buckle into place. Lightly spray or grease the paper and the collar of the pan with coconut oil. Set aside.
Combine the oats, dates, almonds, and a generous pinch of kosher salt in the bowl of a food processor fitted with the 's' blade. Process until the dough starts to look like sand and the pieces begin to clump together when squeezed in the palm of your hand. Press the crust mixture firmly into the bottom of the prepared pan. Set aside.
To make the filling
In the large carafe of a high powered blender combine the cashew cream, coconut oil, maple, almond butter, vanilla, bananas, and dark chocolate chips. Blend until completely smooth and all of the ingredients are incorporated, this can take up to 5 minutes or more. look for the heat from the blades to start melting the chocolate. (If you have a small blender you may need to blend the filling in 2 batches. ) Once the filling is completely smooth, pour it over the prepared crust almost to the top of the pan. Gently, pick the pan up and tap the bottom of the pan a few times against the kitchen counter to release any trapped air bubbles in the filling.
To decorate
Sprinkle ¼ cup of the dark chocolate chips and the toasted almonds across the top of the cake. gently press down with your hand to ensure that the toppings are nestled into the top of the cashew cream filling then transfer to the freezer for at least 8 hours, preferably overnight.
30 minutes before you are ready to serve, remove the cake from the freezer and allow it to set at room temperature with the collar of the springform pan still in place.
Meanwhile, prepare a double boiler by nestling a heat safe glass bowl over a pan of simmering water. Make sure that the bowl fits into the pan snuggly, but does not actually touch the water below. Place the chocolate chips into the bowl and stir frequently until melted.
Use a fork to drizzle chocolate over the top of the cake then remove the sides of the springform pan to serve. If you are having trouble slicing through the cake, run a sharp knife under hot water, wipe dry, then slice.
Store any leftovers in the refrigerator up to 3 days.
Notes
*If you would like to make this recipe, but DO NOT have a double batch of our basic cashew cream made already....
Simply add the ingredients below to your blender with the other ingredients. It will take a little longer to blend and you will need to stop and scrape the sides down quite a few times along the way.
3 cups raw unsalted cashews, soaked overnight, drained, and rinsed.
1 ½ cups filtered water, plus more for soaking
juice of 1 large lemon
1 teaspoon coarse kosher salt
Nutrition
Serving Size:

1 slice

Calories:

631

Sugar:

31.3 g

Sodium:

65.3 mg

Fat:

43.3 g

Carbohydrates:

53.5 g

Protein:

13.4 g

Cholesterol:

0.7 mg
Keywords: gluten free, vegan, plant based, cashew cream, dessert, icebox cake, frozen dessert, no bake
Recipe Card powered by