When I think of a giant, gluten free Mediterranean feast all laid out before me I get a bit weak in the knees over here! I could literally live on herby gluten free falafel, gluten free tabbouleh, garlicky hummus, and lemon-laced tazatziki every day for the rest of my life and never complain. I mean, what's not to love?! The flavors are fresh and bold, while the ingredients required to make these dishes are easy to find, even in a pandemic!
Every great feast starts with an appetizer...
...and this one is no different! I love a classic mezze board and am a total sucker for a good dip! From hummus to Baba Ganoush and Tzatziki - it's almost impossible to pick just one of these luscious starters to try!
5-Minute Hummus || Fast, easy, and delicious just the way hummus should be! This recipe has a base of canned chickpeas seasoned with tahini, garlic, lemon juice, and seasonings.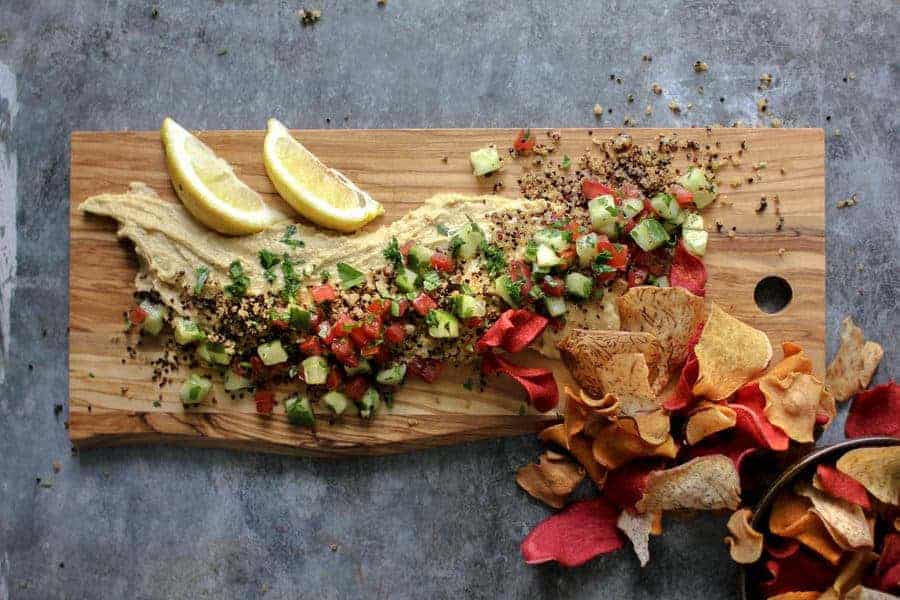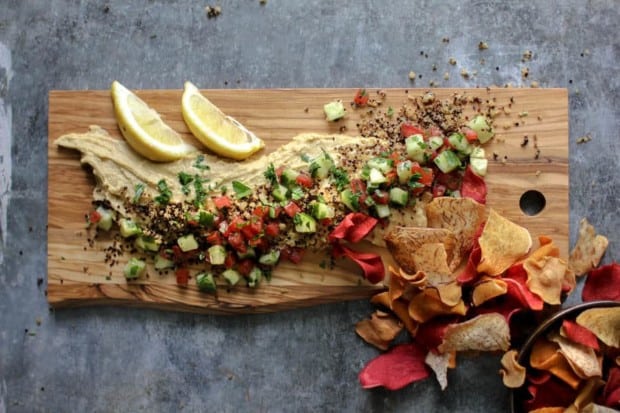 Deconstructed Tabbouleh Hummus Platter || Consider this store-bought hummus's little black party dress! You can dress up any ordinary tub of hummus this way, just pick a flavor, gather toppings that you like, and dip until you just can't dip anymore! I went for a tabbouleh flavored topper here with cucumber, tomato, and crispy quinoa and it is always a HUGE hit!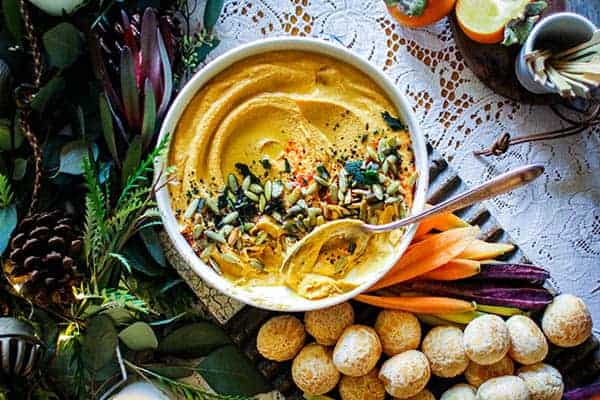 Roasted Butternut Hummus with Crispy Fried Sage || This roasted butternut hummus is smoky, slightly sweet, and has an earthy punch from the crispy fried sage leaves, pepitas, and sage oil drizzled over the top.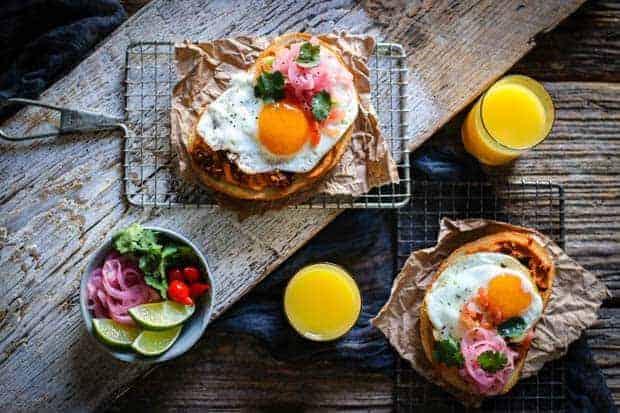 Taco Inspired Hummus Toast || Taco flavored hummus? Yes please!! Layered with perfectly toasted bread, taco flavored hummus, a walnut "taco meat" crumble, and sunny side up eggs; these toasts are great for breakfast, lunch, or a hearty snack.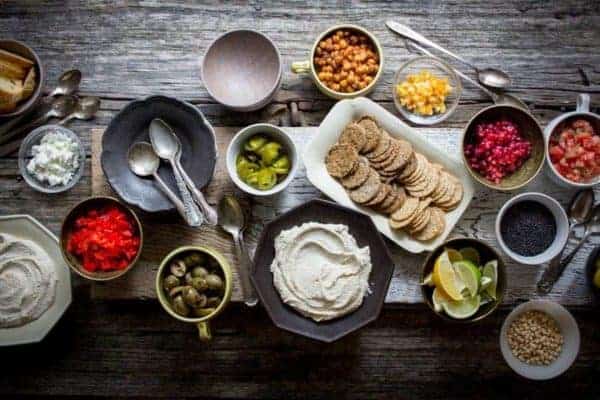 DIY Hummus Bar || It's inevitable if you are feeding multiple people that there will be varying opinions on what toppings are the best for an epic bowl of hummus. With the help of this DIY hummus bar recipe you can now set up a do it yourself hummus station so everyone can get exactly what they want!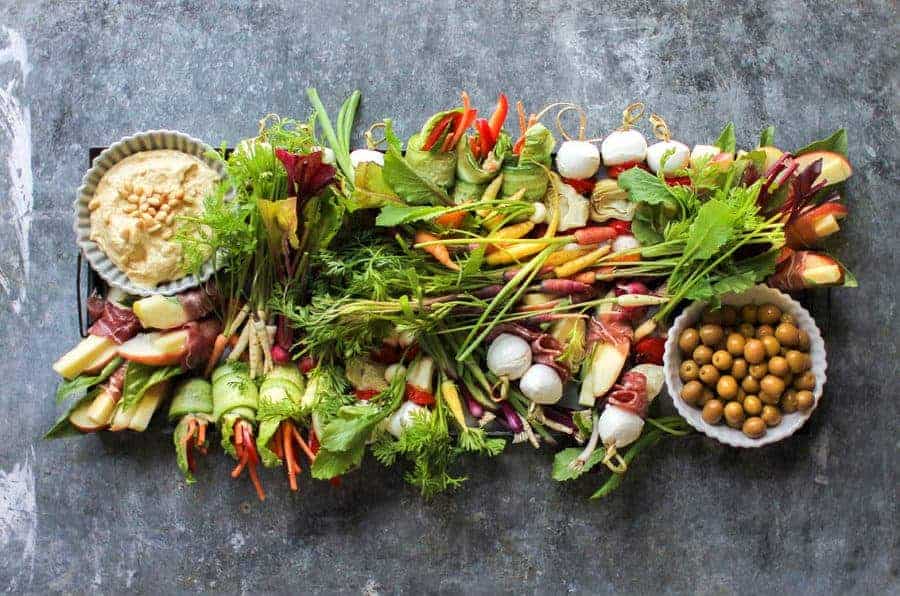 Kid Friendly Mezze Platter || Little ones and grown ups alike will swoon over this mezze platter! Our cucumber hummus hand rolls, apple basil and prosciutto wraps, and mozzarella salami skewers are all packed with super kid friendly ingredients, but actually make adults pretty darn happy too!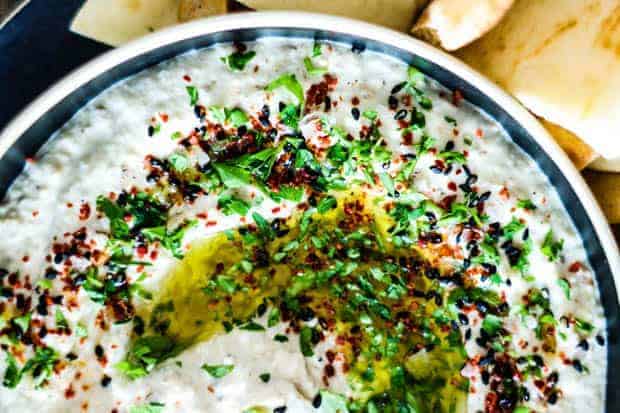 Creamy Baba Ganoush || No weird, brown, watery baba ganoush here! This version is perfectly creamy and totally decadent thanks to lots of garlic and creamy yogurt!
Easy Homemade Tzatziki || No falafel feast would be complete without homemade tzatziki and this version is my favorite! I'm not a big fan of dill, so my version is laced with cilantro instead. Feel free to use whichever herb you like the most!
Side dish recipes with Mediterranean flare!
Some of the more traditional Mediterranean dishes, like tabbouleh, are made with grains that aren't gluten free which is why I created the delicious gluten free Mediterranean side dishes listed below for you.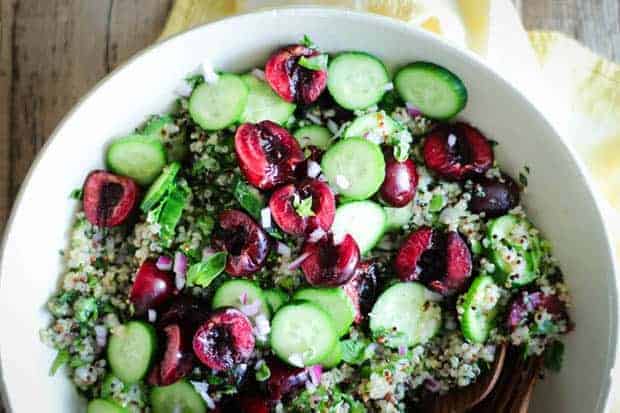 Cherry Basil Tabbouleh || I LOVE tabbouleh and probably have about a bazillion versions in my brain, but this unexpected Cherry Basil Tabbouleh is my absolute favorite. The flavor combo of basil and fresh dark cherries is a total match made in heaven!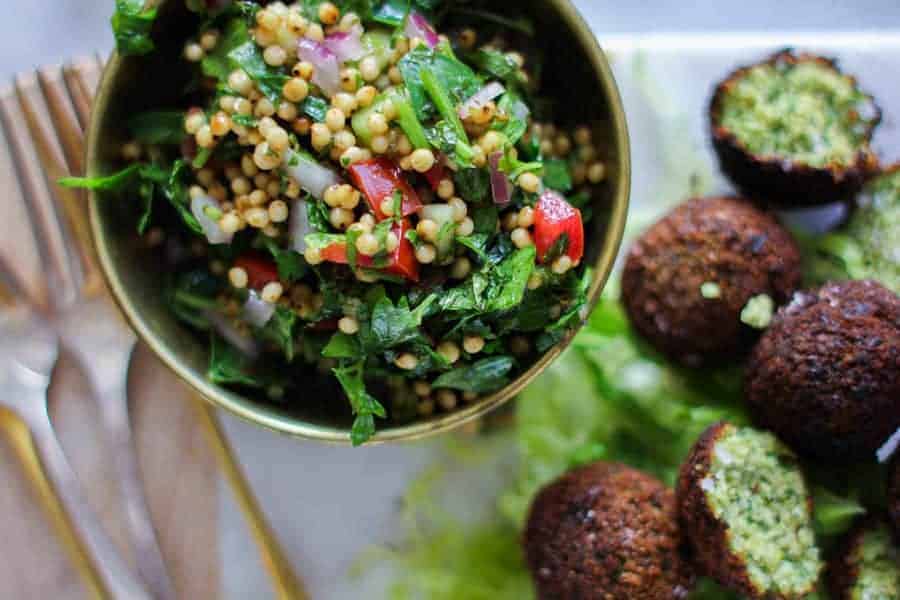 Sorghum Tabbouleh || Move over gluten filled tabbouleh!! We eliminated the traditional bulgur wheat in this version of tabbouleh and made it t=with sweet sorghum grains instead. The result was a deliciously modern, gluten free twist on tabbouleh!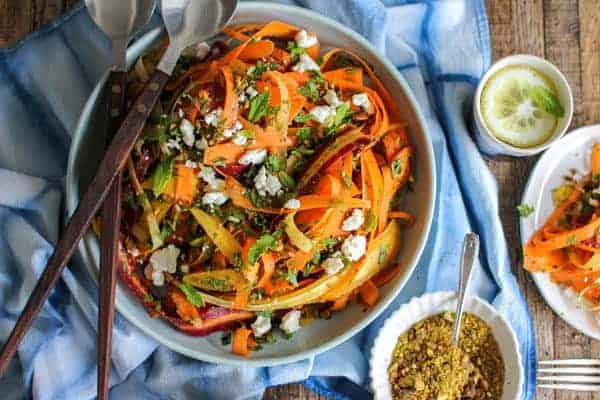 Carrot Feta and Pistachio Salad || The flavors in this incredible Carrot, Feta, and Pistachio Salad with Orange Blossom Toss from Lily Diamond's cookbook Kale & Caramel are totally unexpected, strangely addicting, and not to be missed!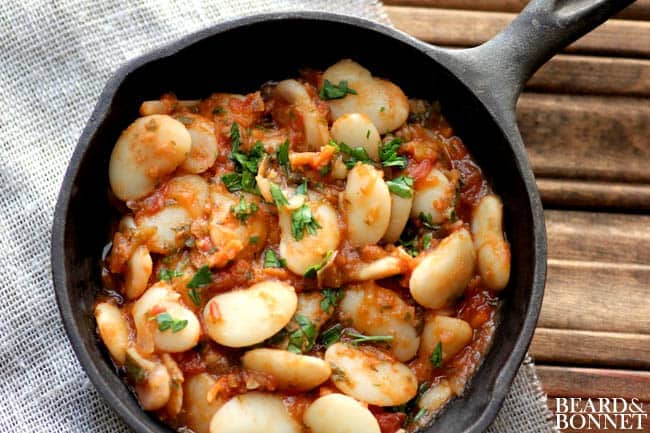 Mediterranean Style Baked Lima Beans || These aren't your average run of the mill lima beans, these are kicked up a few notches with the addition of a rich velvety tomato sauce and just a hint of mint for a little Mediterranean flare. This lima bean dish will change the mind of even the most avid lima hater!sorghum
Gluten Free flatbread recipes so you can wrap it all up!
I mean, can you really curb a hummus and flatbread craving with a raw carrot? I think not! That's why I've poured some serious hours into creating the gluten free naan and tortilla recipes below.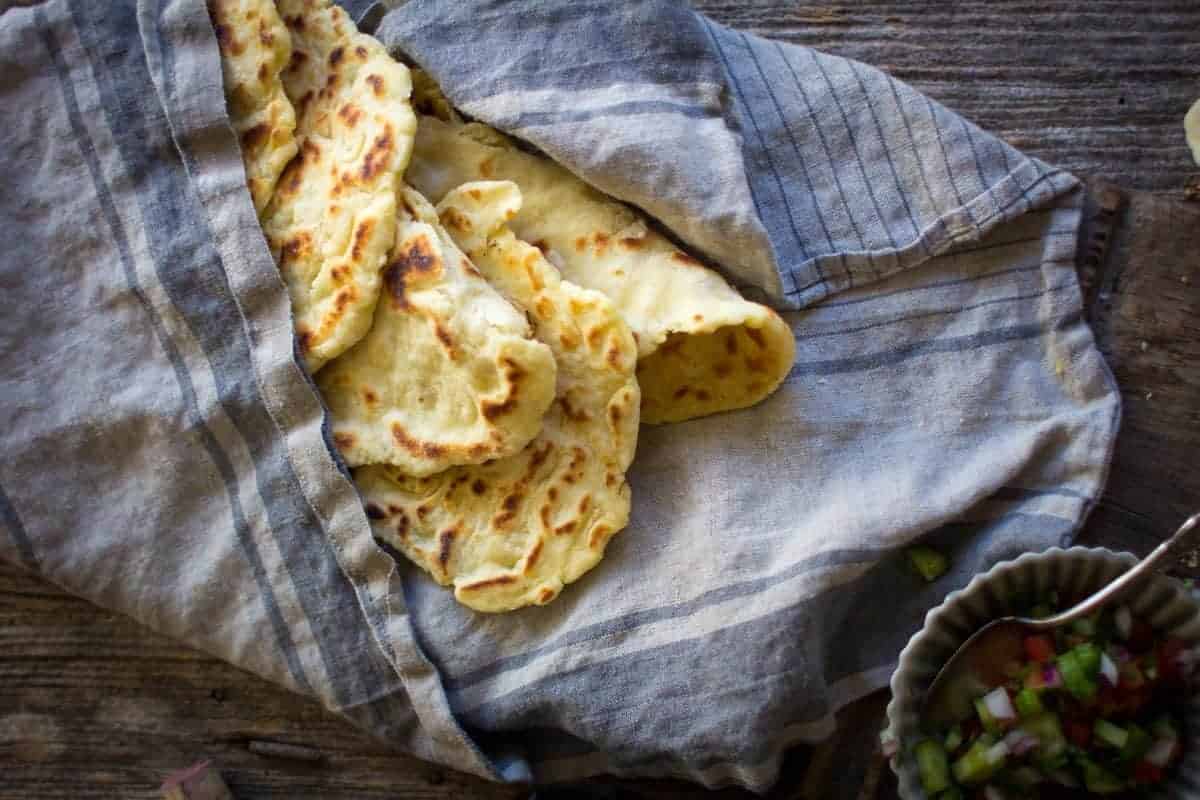 Gluten Free Roasted Garlic Naan || If you miss traditional naan since going gluten free, this naan recipe is for you! It's fluffy and tender, but strong enough to make a delicious handheld falafel wrap!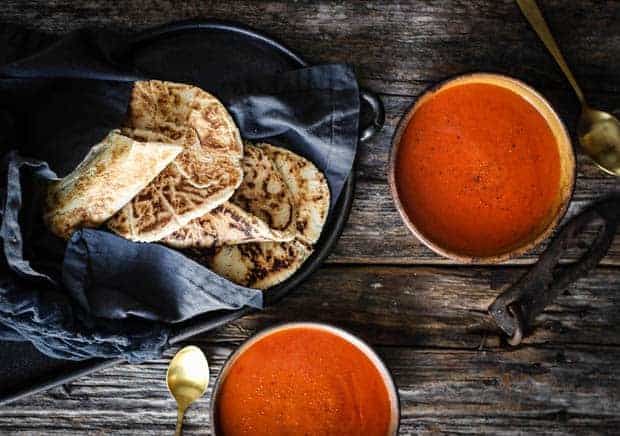 Easy Paleo Naan || Grain free, but flavorful! This easy paleo naan recipe is made in 1 mixing bowl and uses one of my favorite alternative flours, Cassava flour!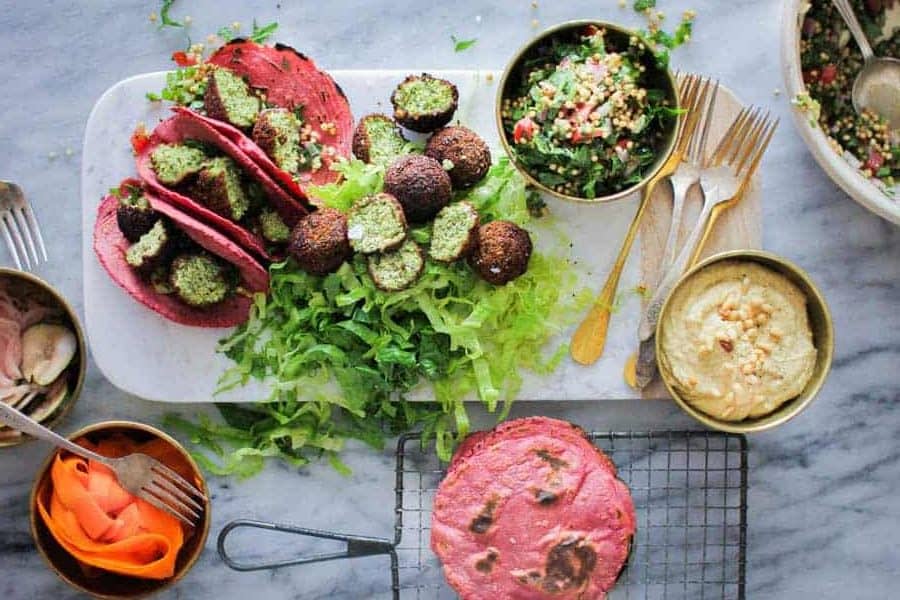 Perfectly Pink Tortillas || I know, I know what do tortillas have to do with Mediterranean food. Well...I'll tell you! You need a gorgeous beet laced taco shell for falafel tacos!
Gluten Free Mediterranean main dish recipes for every occasion
Whether you are serving gluten freezer's, vegetarians, vegans, or meat eaters the main dishes below have something for everyone while ensuring rave reviews for the home cook that prepares them!
Truly Authentic Falafel || This falafel recipe is the ONLY reason I invested in a meat grinder attachment for my KitchenAid. Each falafel is light, airy, herbaceous, and never heavy! No meat grinder? No problem! Use the recipe below that shows you how to make falafel in the food processor instead!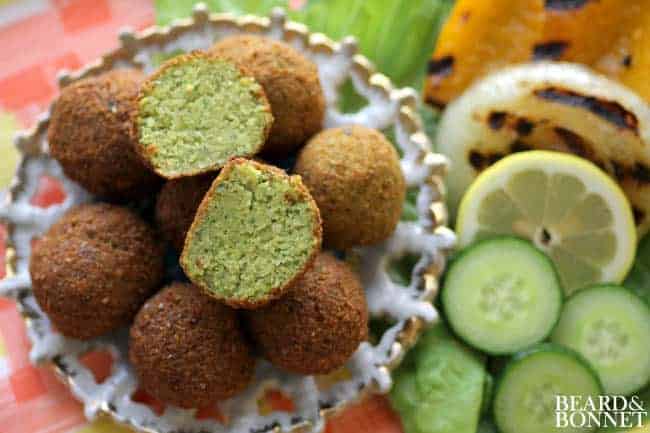 Authentic Golden Falafel || This was the first gluten free falafel recipe I ever developed and let me tell you it's still just as delicious now as it was way back then! This version is made in a food processor instead of with a meat grinder, so it makes for a more dense version of my Truly Authentic Falafel, but that's ok. It is still DELICIOUS!
Shawarma Spiced Chicken Sheet Pan Dinner || This is my FAVORITE sheet pan dinner EVER! Tender succulent chicken breasts all dressed up in warming shawarma spices like cinnamon and cumin, then roasted with chickpeas, cauliflower, red onion wedges, and lemon halves. Prepared to fall in love!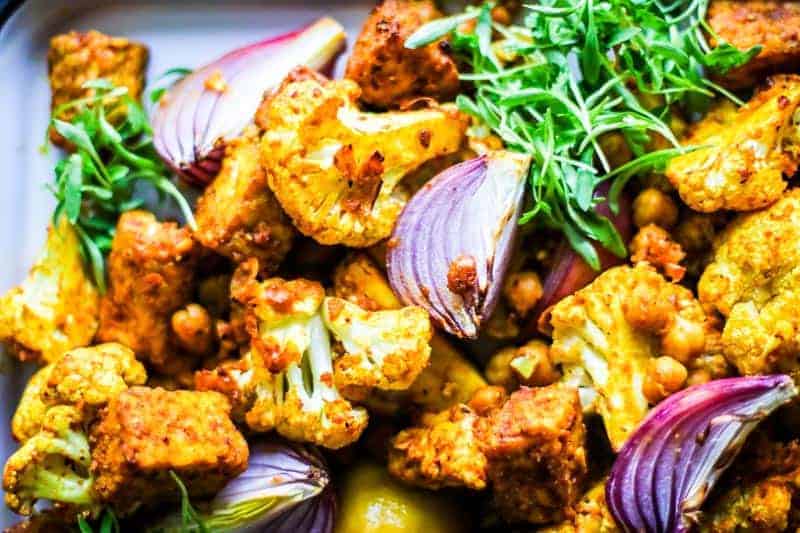 Vegan Sheet Pan Shawarma|| If you have a plant based eater at home, but still want to indulge in a sheet pan shawarma spiced dinner this Vegan Sheet Pan Shawarma is for you - smokey tempeh stands in for the chicken here, but everything else stays the same as my crave worthy Shawarma Spiced Chicken Sheet Pan Dinner!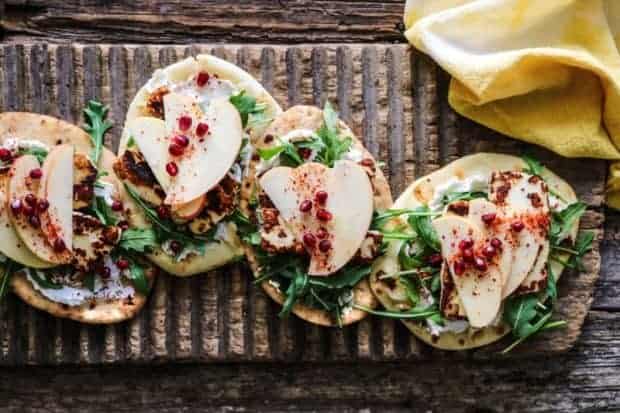 Apple, Halloumi, and Labneh Flatbreads || These flatbreads practically touch on every flavor and texture note you could ask for in a meal and then some! Salty, sweet, tart, & tabby - they're all there with a bit of Mediterranean flare!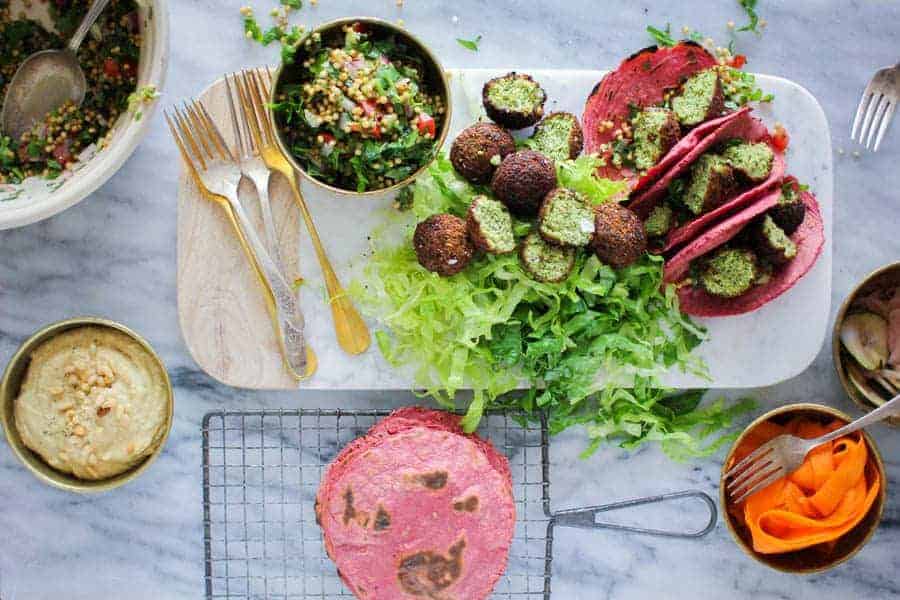 Epic Falafel Tacos || Remember those pink beet infused tortillas we talked about? Well mu friend, these EPIC falafel tacos are why you need them! You will not be sorry for spending an afternoon creating this epic feast.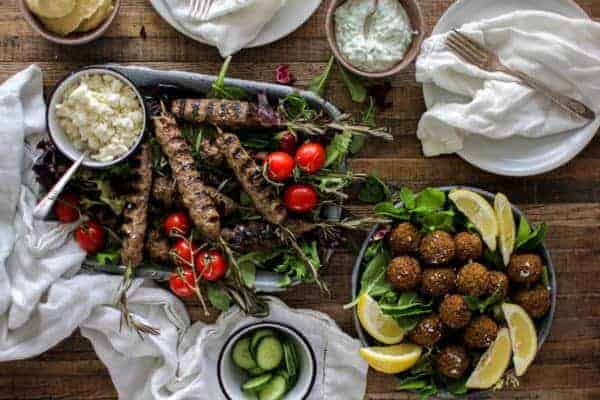 Rosemary Lamb Kofta || If you are in the mood to grill then you should whip up a batch of our Rosemary Lamb Kofta! You don't have to make the falafel to go with it, but you will be so glad if you did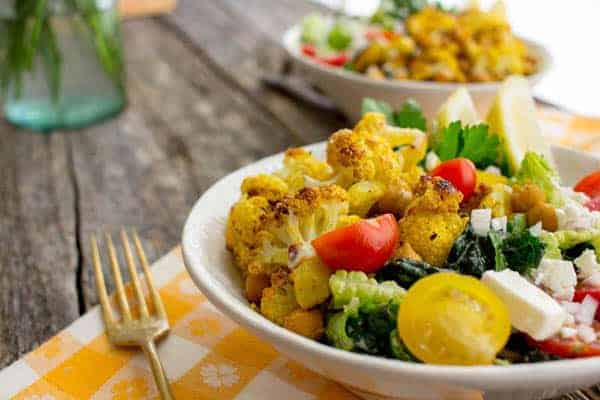 Roasted Chickpea and Cauliflower Shawarma Bowls || Whether you are serving a light lunch at home or you need a recipe to layer in mason jars for your next on-the go lunch, these vegetarian shawarma salad bowls are what you are looking for!
If you've made any of the recipes from our Gluten Free Mediterranean Feast Round Up, I would be so grateful if you would rate the recipe and let me know what you think in the comments below, I just love hearing from you and your reviews and comments really help others that visit This Mess is Ours.
Want to be a part of our online community outside of the blog? It's easy!! All you have to do is follow @THISMESSISOURS on FACEBOOK, INSTAGRAM, TWITTER, YOUTUBE, or PINTEREST to see cooking demos, live #CoronaCall 's, and peeks into our day to day life.
I know that you have the power to #choosewhatyouconsume and I am just SO honored that you have made the choice to spend a little bit of your time here with us, thank you!