Who's ready for epic summer picnics, al fresco dining in the backyard, and seemingly endless mezze platters? I know we sure are! Our kid-friendly mezze platter is perfect for the warmer months and is sure to bring plenty of ooh's and aww's from even your youngest dinner guest!
This post is sponsored by Sabra, and we received compensation and product in exchange for it. Opinions are always our own. If we don't love it, you don't hear about it. Thanks for your continued support!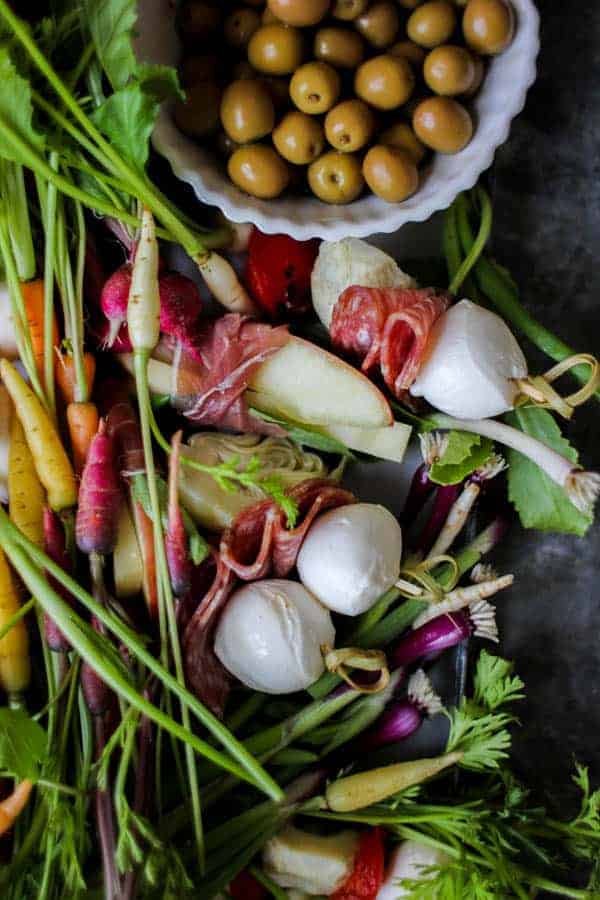 Since we live close to the beach and don't have a/c we tend to dish up gigantic snack platters like this one for dinner more often than we actually cook during the warmer months of the year. The reason for this is two-fold; first, if it's already 90° outside it gets crazy hot in our house when we crank on the stove and second, platters like these have something for everyone whether we are just having a small family picnic or a big gathering of friends.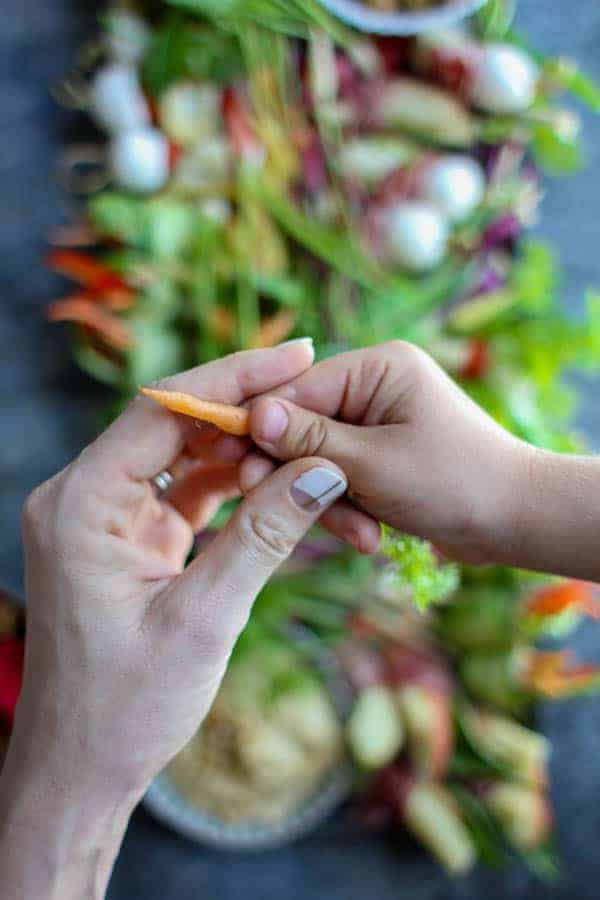 We created this kid-friendly mezze platter with our son and his little buddies in mind, although we think any adult would be equally happy with what we're dishing up here. Kash is getting better about trying new foods and flavor combinations lately, but we know he tends to eat heartier portions when the flavors are familiar and he is comfortable with the ingredients.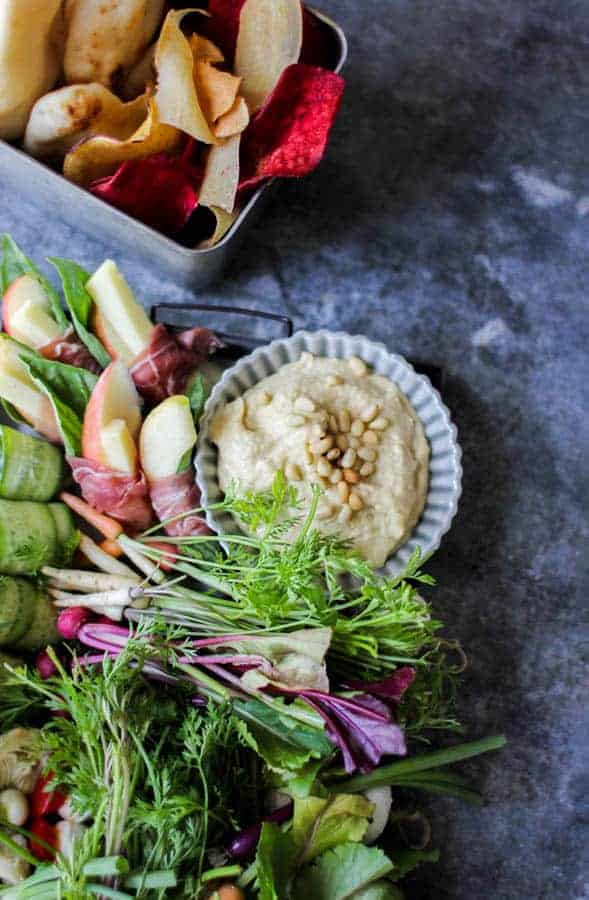 This platter features some of his all-time favorite snacks like apple slices that have been dressed up with basil, fontina cheese, and prosciutto. A play on all of his favorite veggie tray flavors wrapped up in a portable 2 bite treat that consists of thin strips of cucumber slathered with Sabra hummus and filled with carrots, red bell peppers, and Romaine lettuce. As well as, fancy bamboo skewers that showcase familiar flavors for him like bocconcini and salami paired with more adventurous ingredients like artichoke hearts and roasted red bell peppers.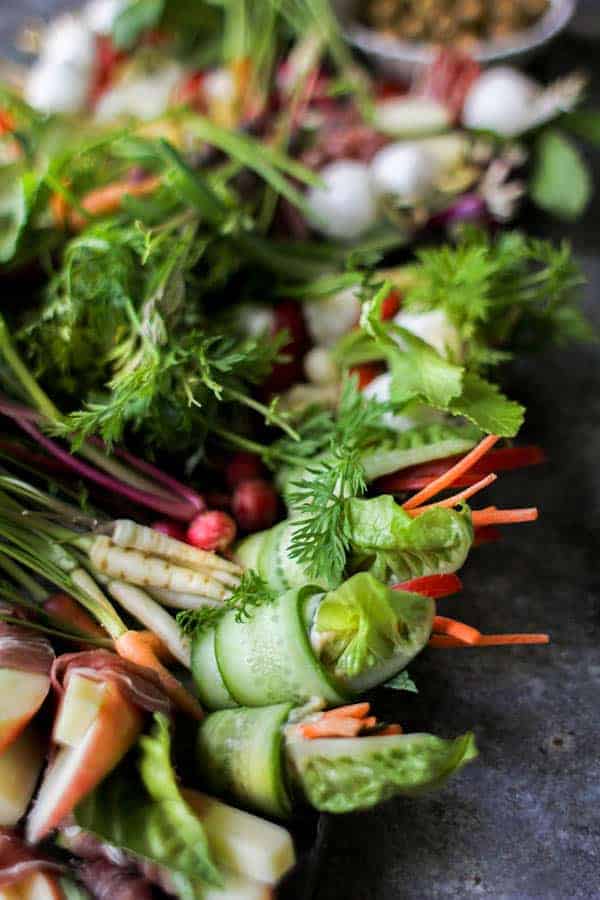 Our kids and their friends went crazy for all of the fun mezze combinations on this platter. Not to mention they totally geeked out over those tiny veggies! (Big thanks to my friend Lauren of Harvest and Honey for the Gourmet Sweet Botanicals recommendation! I have never seen kids fight over who was going to eat the baby beets before! ) For the kids, this mezze platter was fun and adventurous while being wholesome and hearty. Which is a total win for us parents too!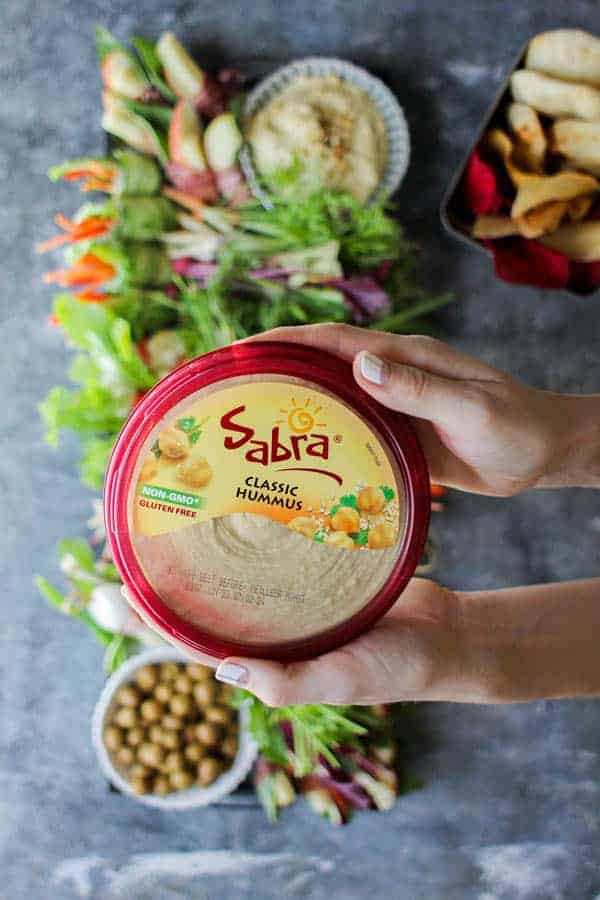 Print
Kid-Friendly Mezze Platter
These kid-friendly mezze recipes aren't only for platters like this! Swap up your kiddos lunch box routine by packing them a mezze inspired lunch.
Author:
Yield: serves

6

-8

1

x
Cucumber Hummus Roll-Ups
3

Persian cucumbers sliced paper-thin lengthwise with a mandoline
Sabra classic hummus

1

head baby Romaine lettuce

¼ cup

mixed herbs like basil, mint, and cilantro

¼ cup

shredded carrots

1

red bell pepper, very thinly sliced
Apple Basil Prosciutto Bites
1

dozen pieces of prosciutto

1

dozen apple slices, I use pre-sliced organic apples from Trader Joe's

1

dozen large basil leaves

1

dozen slices of Fontina cheese, I try to make the slices about the same size as the apple slices.
Mezze Skewers
12

bocconcini
jarred roasted red bell peppers, drained

1

can artichoke hearts in water, drained and quartered
Genoa salami
To serve
Sabra classic hummus

1 tablespoon

toasted pine nuts, optional
olives
Mixed vegetables like carrots, baby beets, radishes, spring onions, etc.
Instructions
To make the Cucumber Hummus Roll-Ups
On a flat surface arrange two thin slices of cucumber, slightly overlapping one another lengthwise. Spread a thin layer of Sabra classic hummus down the cucumbers then on one side of the cucumber strips layer on a leaf of baby Romaine lettuce, a few herbs, 3 or 4 pieces of shredded carrot, and a few bell pepper slices. Be careful not to overfill as it will be hard to roll.
Once all of the ingredients are layered on start at the end of the cucumber with all of the veggies and tightly roll towards the other end. Use the hummus as a "glue" to seal the edges or use a pick to secure the roll together.
For the Apple Basil Prosciutto Bites
Lay a piece of prosciutto flat on a cutting board. Starting at one edge layer on a large basil leaf, an apple slice, and a piece of fontina cheese. Starting at the edge with the fillings, wrap the prosciutto around the fillings.
For the Mezze skewers
For meat lovers thread bocconcini, salami, a slice of artichoke heart, and a piece of roasted red pepper onto bamboo skewers.
For veggie lovers thread bocconcini, a slice of artichoke heart, a piece of roasted red bell pepper, and a second bocconcini onto bamboo skewers.
To build the kid-friendly mezze platter
Place bowls of hummus and olives on a large serving platter. Sprinkle toasted pine nuts over the hummus if desired. Arrange the Mezze skewers, Cucumber Hummus Roll-Ups, and Apple Basil Prosciutto Bites onto the platter. Fill any open spaces with fresh veggies, or crackers for dipping.
Recipe Card powered by