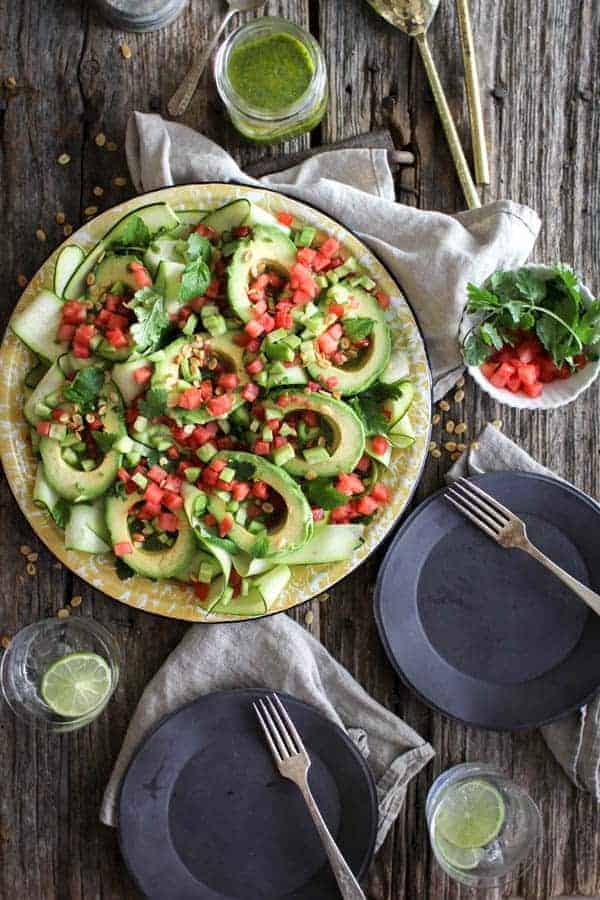 Have you ever seen a more perfect summer dish than this tomato and cucumber filled Avocado Avenger salad?
I fell in love with this salad the first time I laid eyes on it! This genius recipe creation comes from Tess Master's latest cookbook, The Perfect Blend. Honestly, I had a hard time choosing what delicious creation to share from the book with all of you. Every single page was full of mind-blowing recipes, but this salad with its avocado, tomato, cucumber, zucchini, and melon all spiced up with chimichurri ultimately won me over. I mean, how could I possibly resist those avocados?!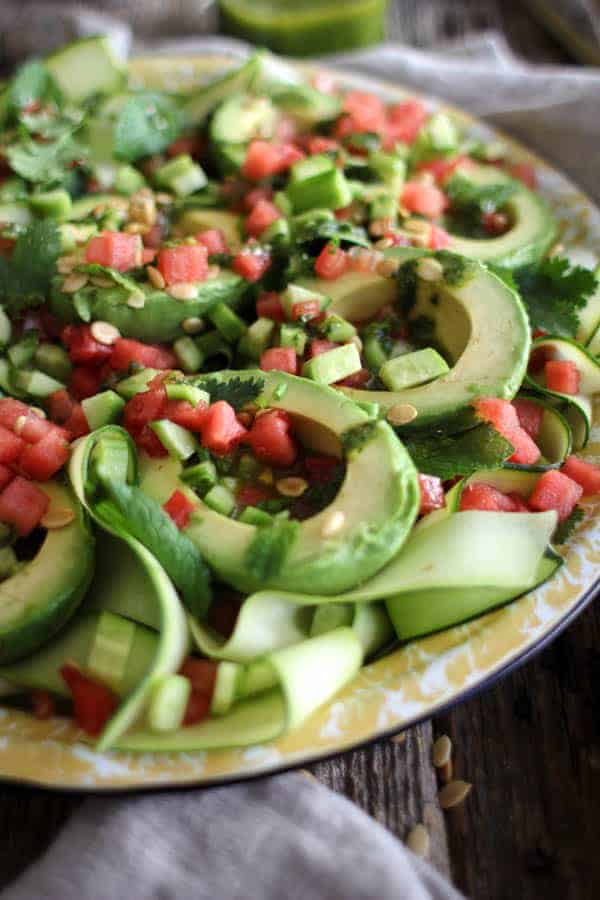 If you liked this Tomato, Cucumber, and Avocado Avenger Salad, you'll love Tess's book!
The Perfect Blend is divided into 12 delicious chapters that focus on current food trends and how to eat for the health goals you would like to achieve. Looking to gain energy from the foods you eat? There's a chapter for that! Interested in combating inflammation through your diet or learning about probiotic rich foods? Yep, they're in there too!
This book is so much more than a cookbook, its a lot like having a nutritionist in your very own kitchen giving you advice and insight on the foods you eat. While the flavors in Tess's book are complex and often exotic, the preparation of these meals couldn't be any easier. I mean seriously, quit looking at your blender as just a way to drink your morning smoothies. It is by far one of the most versatile tools you have in the kitchen to cook healthy, delicious meals for your family.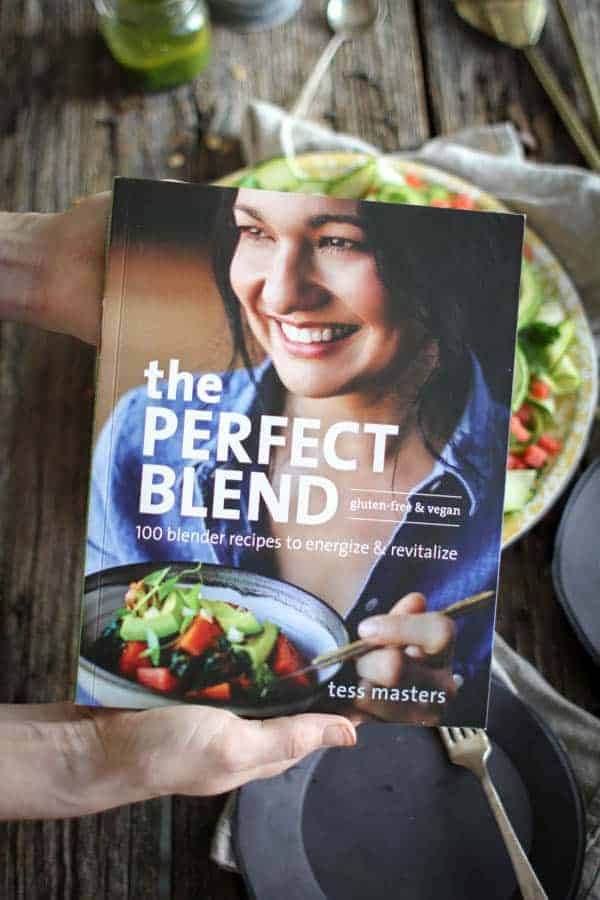 We have featured recipes on our site from all of Tess's cookbooks and her app. Click on the links to check them out:
Raw Chocolate-Orange Torte
Chai Tai Smoothie
Green Mojito Smoothie
If you've tried this Avocado Avenger Recipe, I would be so grateful if you would rate it. Let me know what you think in the comments below. I just love hearing from you, and your reviews and comments really help others that visit This Mess is Ours!
Print
Avocado Avenger Salad
Big thanks to my friend Jody, for the photo and suggestion that inspired this dish. Eating at a café in Sydney, she snapped a shot of an avocado del sur and sent it with the caption, "Your chimichurri would be so good on this!" The alkalizing, anti-inflammatory ace that resulted is a showstopper. The lime juice, herbs, and chile of the chimichurri meld with the buttery notes of the avocado and the tang of the tomato for a beautiful bite of bliss.
Author:
Yield:

4

servings

1

x
chimichurri
¾ cup

extra-virgin olive oil

1½ tablespoons

finely grated lime zest

2 tablespoons

fresh lime juice

2 tablespoons

fresh lemon juice

1½ tablespoons

minced garlic about

4

cloves

1 teaspoon

natural salt

¼ teaspoon

red pepper flakes plus more to taste

¾ cup

firmly packed mint leaves plus more to garnish

¾ cup

firmly packed cilantro leaves plus more to garnish

½ cup

firmly packed finely chopped chives plus more to garnish

4

avocados halved, pitted, and peeled

¼ cup

peeled and finely diced English cucumber

¼ cup

seeded and finely diced tomatoes
optional boosters
¼ cup

seeded and finely diced watermelon plus more to taste

¼ cup

raw sprouted watermelon seeds
Instructions
To make the chimichurri, throw the olive oil, lime zest, lime juice, lemon juice, garlic, salt, and red pepper flakes into your blender and blast on high for 10 to 20 seconds, until the sauce is emulsified and the zest, garlic, and pepper flakes have been completely pulverized. Add the mint, cilantro, and chives, and pulse on high for a few seconds, then on low for a few seconds just to break down the herbs, but keeping the dressing very loose and not completely blended.
On a large platter, lay out the zucchini ribbon booster. Then place the avocado halves cut sides up on top of the zucchini, like boats. Drizzle 1 tablespoon of the chimichurri into each pit hole. Next, place 1 teaspoon diced tomato and 1 teaspoon diced cucumber into each pit hole or on top of each avocado. Place 1 teaspoon of the watermelon booster on top. With a squeeze bottle or a spoon, drizzle more chimichurri sauce onto the avocados. Top with a sprinkle of mint, cilantro, chives, and the watermelon seed booster. Sprinkle with the remaining tomato
and cucumber and with the remaining (or more) watermelon booster if desired. Enjoy immediately.
Notes
Reprinted with permission from The Perfect Blend, copyright 2016 Tess Masters. Published by Ten Speed Press, an imprint of Penguin Random House LLC
Recipe Card powered by
Want to be a part of our online community outside of the blog? It's easy!! All you have to do is follow @THISMESSISOURS on FACEBOOK, INSTAGRAM, TWITTER, YOUTUBE, or PINTEREST to see cooking demos and peeks into our day to day life.
What are the health benefits of avocado?
Avocados are known worldwide as a superfood. It is one of the most nutrient rich foods out there. It boasts over 20 different vitamins and minerals with NO cholesterol or sodium. Avocados help to lower cholesterol levels, reduce the risk of heart disease, and improve gut health.
Click here for more information about the health benefits of avocado.
Frequently Asked Questions
SaveSave