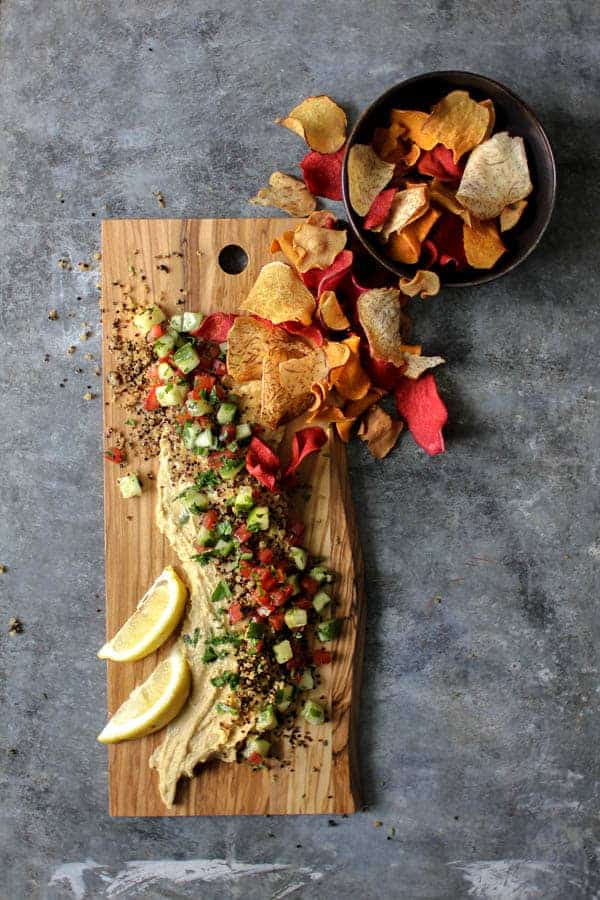 We normally don't go all crazy for national food holidays, but when our friends at Sabra told us that National Hummus Day is coming up on May 13th, I knew we would have to make an exception. I don't know about you, but I consider hummus more than just a snack. On busy weeknights, a fully loaded Deconstructed Tabbouleh Hummus Platter Recipe often turns into an easy to make, plant-based meal that everyone around our family table gets excited about!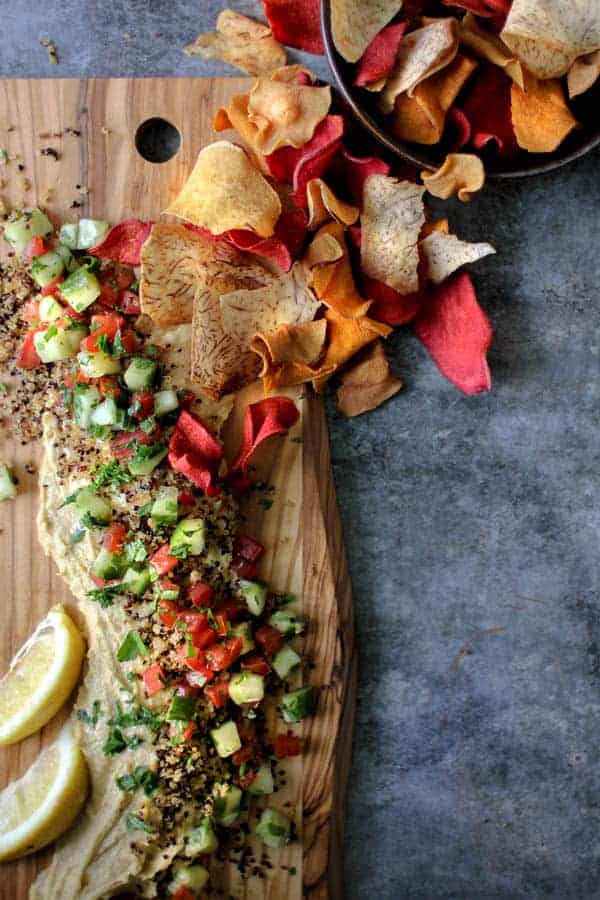 I personally consider Sabra hummus a refrigerator staple. It's always on my shopping list and I am never, ever caught without it. On those occasions that the day just gets away from me I can always count on being able to come up with an inventive new spin on one of these hummus platters to serve my family.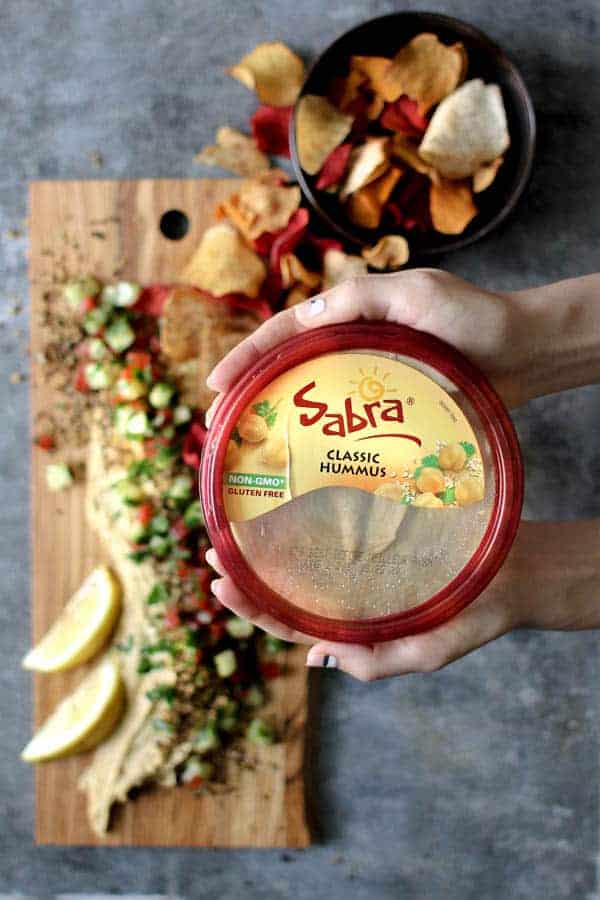 It's hard to find a healthier meal than this Deconstructed Tabbouleh Hummus Platter Recipe.
For this particular deconstructed tabbouleh platter I made use of leftover quinoa we had hanging out in the fridge. When you roast cooked quinoa in the oven it turns into this magically crunchy topping that I love sprinkling over everything from hummus to salads and sandwiches. All I added after that was a super quick to make salad of tomato, cucumber, parsley, and citrus to mimic the flavors that we love in tabbouleh.
Once the quinoa roasts you just pile everything high atop your favorite Sabra hummus and dig in! It's fresh, bright, and hearty enough to be a meal. Although, I have to admit I plan on entertaining with platters like this soon too!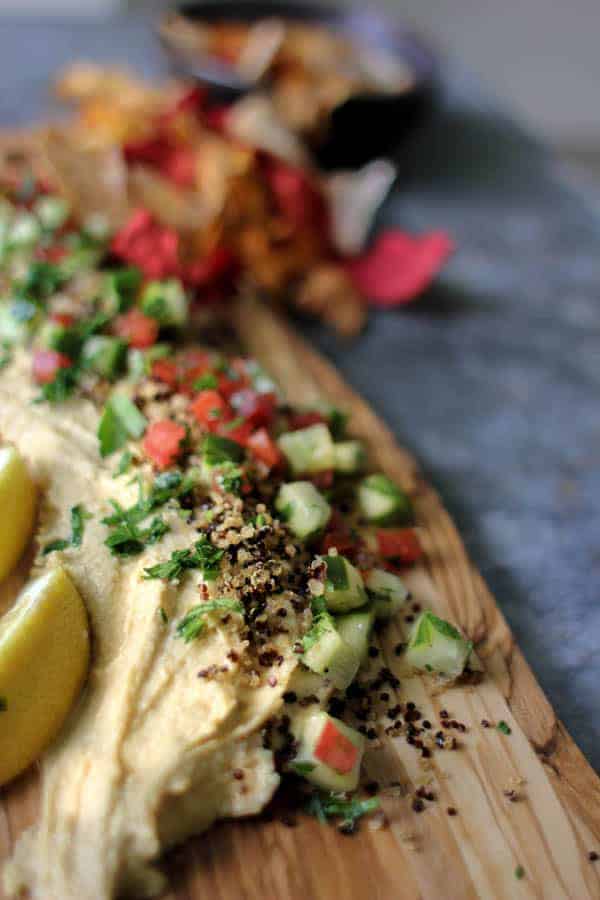 Looking for more fun ways to celebrate National Hummus Day with Sabra? Check out our Do It Yourself Hummus Bar!
If you've tried this Deconstructed Tabbouleh Hummus Platter Recipe, I would be so grateful if you would rate it. Let me know what you think in the comments below. I just love hearing from you, and your reviews and comments really help others that visit This Mess is Ours!
Print
Deconstructed Tabbouleh Hummus Platter
Sabra hummus is more than just a healthy snack, it actually makes for a great meal too! I like to pack individula size portions of this platter in Todd's lunchbox for a delciious, plant based lunch that is packed with flavor!
Don't forget to rate the recipe, and let me know what you think about this Deconstructed Tabbouleh Hummus Platter in the comments below. I just love hearing from you. Your reviews/comments really help other people that visit This Mess is Ours!
Author:
Yield:

4

servings

1

x
1 cup

cooked multicolor quinoa

½ tablespoon

olive oil

1 ½ tablespoons

lemon juice, divided

1

plum tomato, seeded, cored and finely chopped

⅓ cup

finely chopped English cucumber

1 tablespoon

minced flat leaf parsley
kosher salt and black pepper to taste

1

package Sabra Cassic Hummus
To serve
Instructions
Preheat the oven to 350°F and line a baking sheet with parchment paper. In a bowl toss together the cooked quinoa, olive oil, and ½ tablespoon lemon juice. Season to taste with salt and pepper then spread into a thin layer onto the prepared baking sheet. Bake for 30-35 minutes, stirring every 10 minutes until quinoa is crunchy and golden brown.
Meanwhile, combine the tomato, cucumber, parsley, and the remaining tablespoon of lemon juice. Season with salt and pepper, stir, then allow to marinate while the quinoa cooks.
To serve
Spread the Sabra Classic Hummus onto a serving platter. Sprinkle the crispy quinoa across the top of the hummus. Drain and discard any excess juices from the vegetable mixture then scatter over the top of the hummus. Serve immediatley with root vegetable chips.
Recipe Card powered by
Want to be a part of our online community outside of the blog? It's easy!! All you have to do is follow @THISMESSISOURS on FACEBOOK, INSTAGRAM, TWITTER, YOUTUBE, or PINTEREST to see cooking demos and peeks into our day to day life.
What are the health benefits of quinoa?
Quinoa is a great source of antioxidants and nutrients, especially for those who want to avoid gluten. It is packed with healthy proteins and contains all 9 necessary amino acids. Controlling blood sugar and cholesterol levels are just a few of the benefits of eating quinoa.
Click here for more information on the health benefits of quinoa.
Frequently Asked Questions