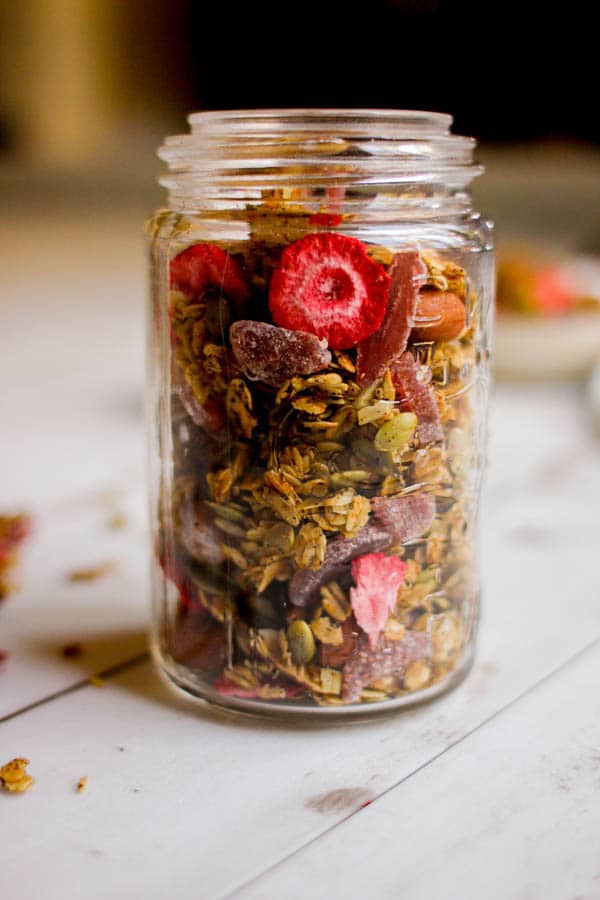 I promise, we are going to talk all about this homemade Earl Grey & Strawberry Granola in a second, but first, can we talk about the fact that I really LOVE cookbooks. Honestly, I love them almost as much as I love to eat! I keep them by my bed, I take them on trips, and I always keep one in my car for when I'm waiting on the kids somewhere. There is a downside to reading so many cookbooks though...it is that it's really rare for one to stand out from the pack and completely captivate my attention.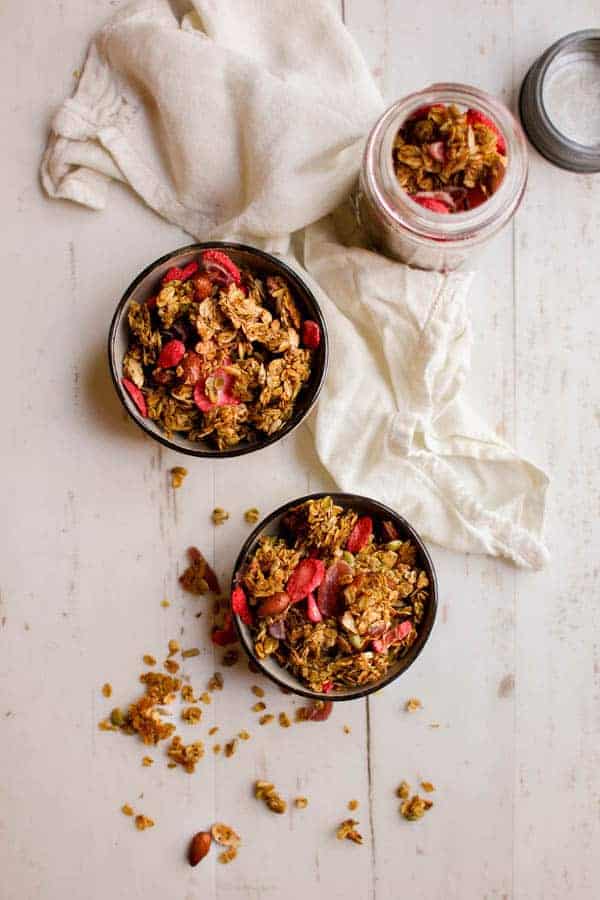 Leave it to Heather Crosby of Yum Universe to come along and publish Pantry to Plate, which caught me by complete surprise! I didn't even think it was possible to reinvent the wheel when it came to writing a cookbook, but she has totally done it. Pantry to Plate will inspire you to improvise the meals you love, from what you have! (Seriously, that's the tagline!)
Here is how it works, every section of Heather's cookbook has a theme, take homemade granola for example. Heather gives a beautifully illustrated master recipe that covers everything from the crunch factor, nuts & seeds, whether you prefer sweet or more savory, flavor profiles, special add-in's, and finishing touches. Each little section has lists of ingredients that you probably have on hand in your pantry as well as measurements for each one should you want to get creative and make your own granola concoction. ( I highly recommend playing in the kitchen this way!) Then to take it a step further, for those days you want a straight-forward, no fail recipe Heather has included 3 original granola recipes of her own.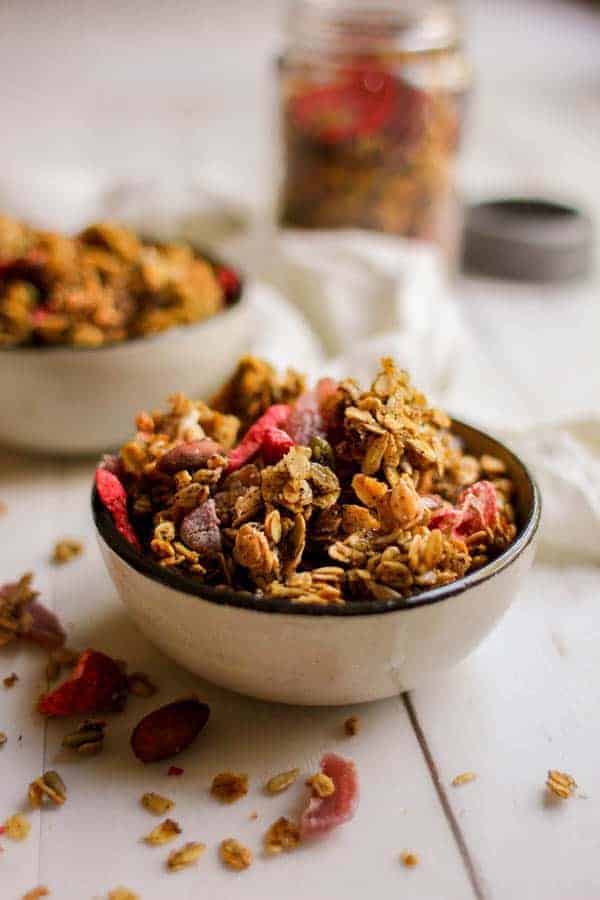 This irresistible homemade Earl Grey & Strawberry Granola is one of the 3 delicious granola variations that Heather shares in her book and to say we are hooked would be a total understatement.
First, it is one of the easiest granola recipes I've ever made.
Second, it's beautiful.
Third, dang this stuff is delicious!
We cannot get enough of combining Earl Grey and strawberry together. Sweet, tart, and totally addictive!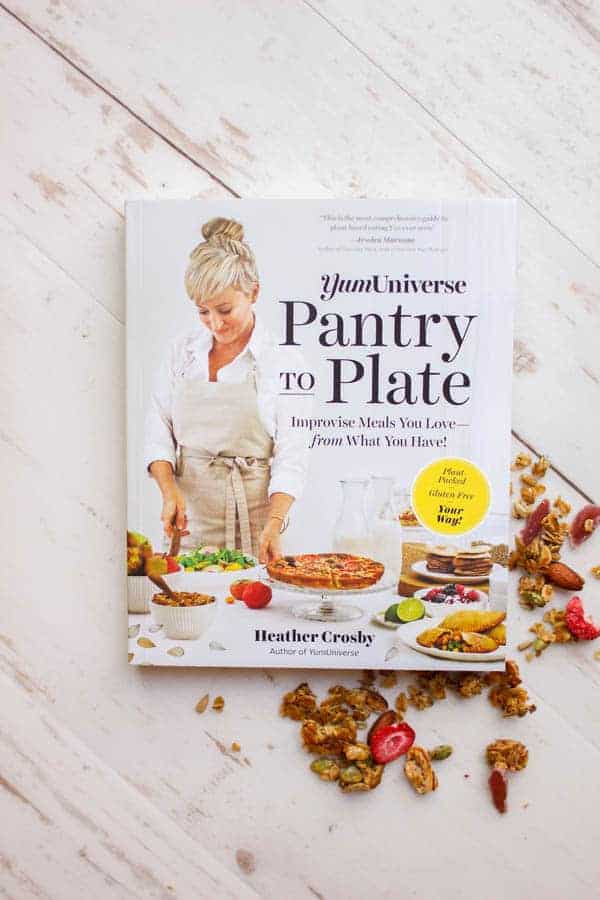 Print
Earl Grey & Strawberry Granola
This granola is great on its own, in a bowl of yogurt, served with almond milk, and even sprinkled over ice cream!
Don't forget to rate the recipe and let me know what you think about this Earl Grey and Strawberry Granola in the comments below. I just love hearing from you. Your reviews/comments really help other people that visit This Mess is Ours!
Author:
Yield:

8

servings

1

x
3 cups

rolled oats

1 cup

raw unpasteurized honey

¾ cup

raw, unsalted almonds, chopped

½ cup

raw, unsalted sunflower seeds

¼ cup

raw, unsalted pepitas

¼ cup

extra virgin olive oil

1 tablespoon

Earl Grey tea leaves, ground in coffee/spice grinder

1 teaspoon

grated orange zest

¾ teaspoon

salt

1 cup

dried strawberries, we used a mixed chewy dried strawberries and crunchy freeze-dried strawberries
Instructions
Preheat the oven to 300°F. In a large bowl, combine the oats, honey, almonds, sunflower seeds, pepitas, olive oil, tea, zest, and salt. Spread the mixture on a rimmed baking sheet in an even layer roughly ¼-inch thick. Give it a light press and bake for 35 minutes, stirring every 10 minutes, until toasty and golden brown.
Once cooled, transfer the granola to a large bowl and break apart; fold in the strawberries. Store in an airtight container in the pantry or fridge for 4-8 weeks.
Notes
Looking for a decaf version of this granola? Heather suggests using a rooibos-based Earl Grey tea.
Recipe Card powered by
Want to be a part of our online community outside of the blog? It's easy!! All you have to do is follow @THISMESSISOURS on FACEBOOK, INSTAGRAM, TWITTER, YOUTUBE, or PINTEREST to see cooking demos and peeks into our day to day life.
What are the health benefits of granola?
Granola, being made of toasted oats and nuts, is a protein packed cereal. High amounts of fiber, along with the protein, help to promote gut health and keep you feeling full longer. The ingredients in granola also regulate blood pressure, cholesterol, and blood sugar levels.
Click here for more information on the health benefits of granola.
Frequently Asked Questions
SaveSaveSaveSave