This post is the first in a year long partnership with Stemilt ! We received compensation and product in exchange for it. Opinions are always our own. If we don't love it, you don't hear about it. Thanks for your continued support!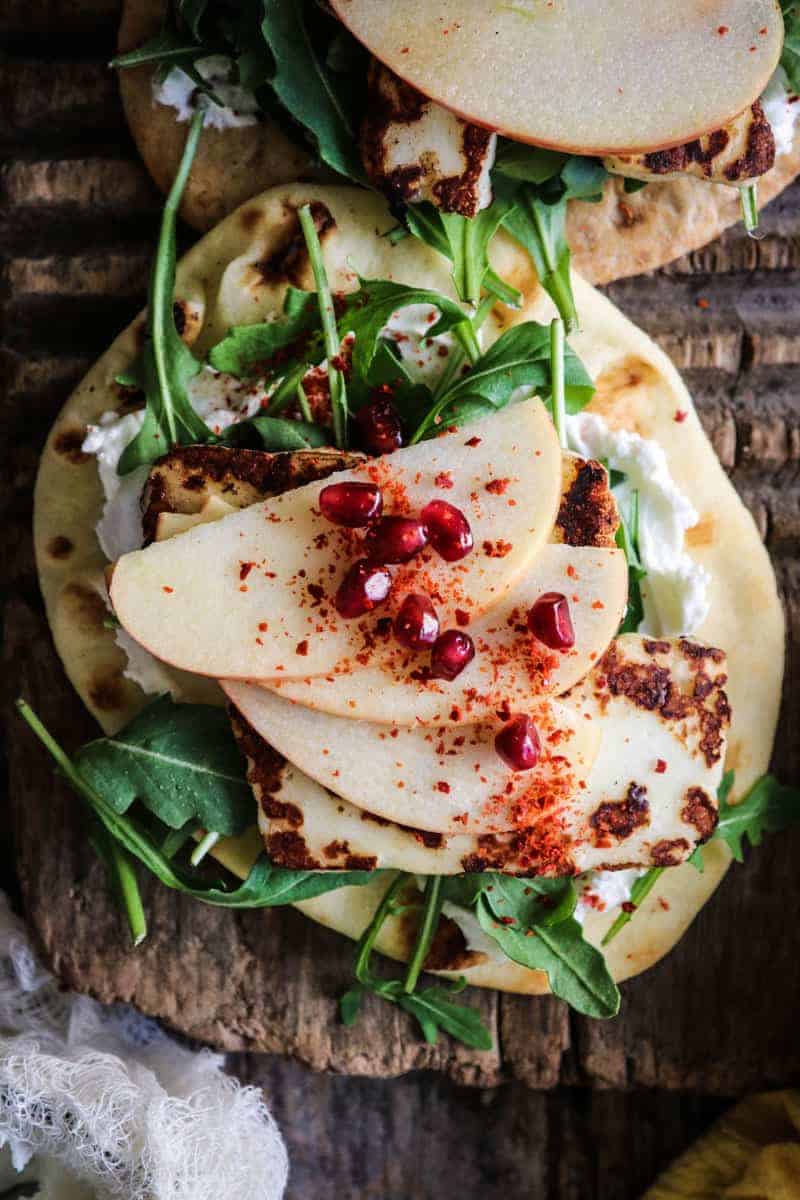 Having 2 school-aged kids at home makes traveling the world to try new flavors and cultural experiences a bit difficult for us. However, I can easily turn our family table into a worldly affair any night of the week! Case in point, last week we shared a delicious dinner of Apple, Halloumi, and Labneh Flatbreads that really showcased some delicious Middle Eastern flavors that everyone at our table went nuts for!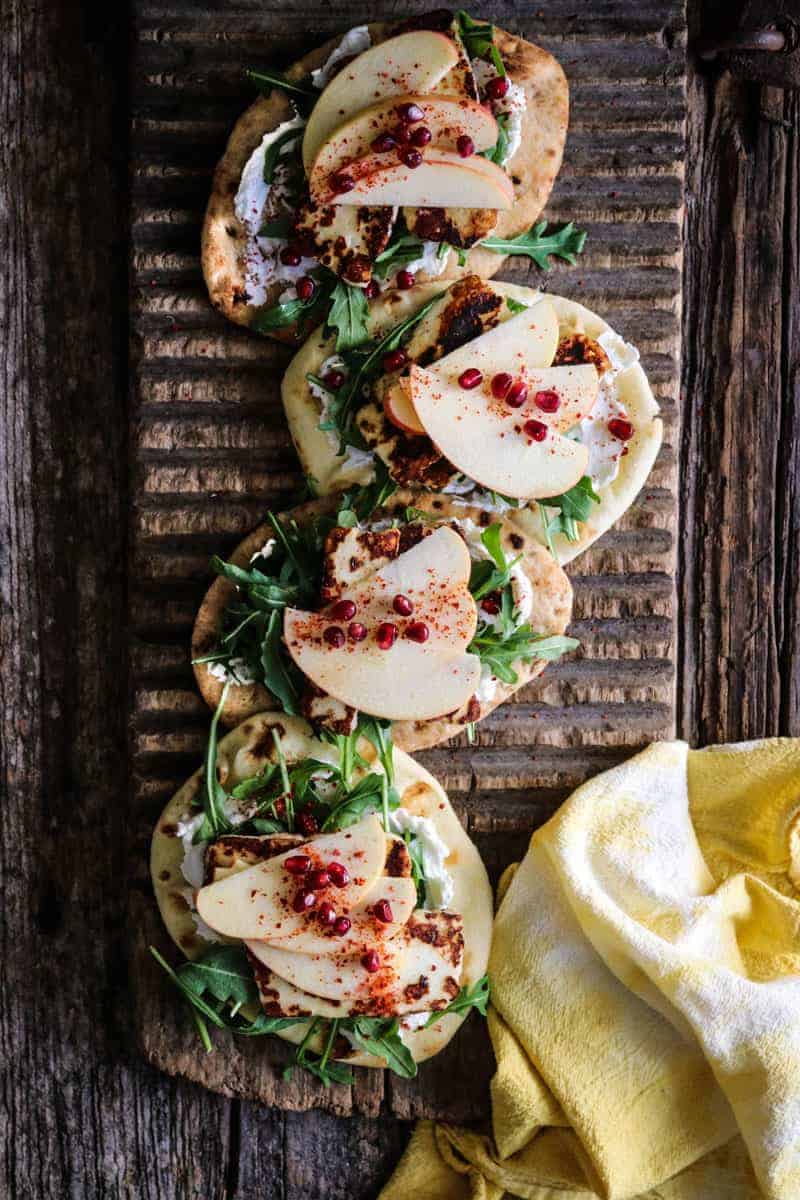 These flatbreads practically touch on every flavor and texture note you could ask for in a meal and have a few new-to-us Middle Eastern inspired ingredients that my family was super excited to try. Let's break them down shall we?
Salty: One of my favorite ingredients in these Apple, Halloumi, and Labneh Flatbreads is the pan seared halloumi cheese. Halloumi is a salty, semi-hard goat and sheep milk cheese popular in Middle Eastern cuisine. It has a high melting point that makes it suitable for grilling or pan frying and cooks up in less than 3 minutes which means this meal hit the table in a flash.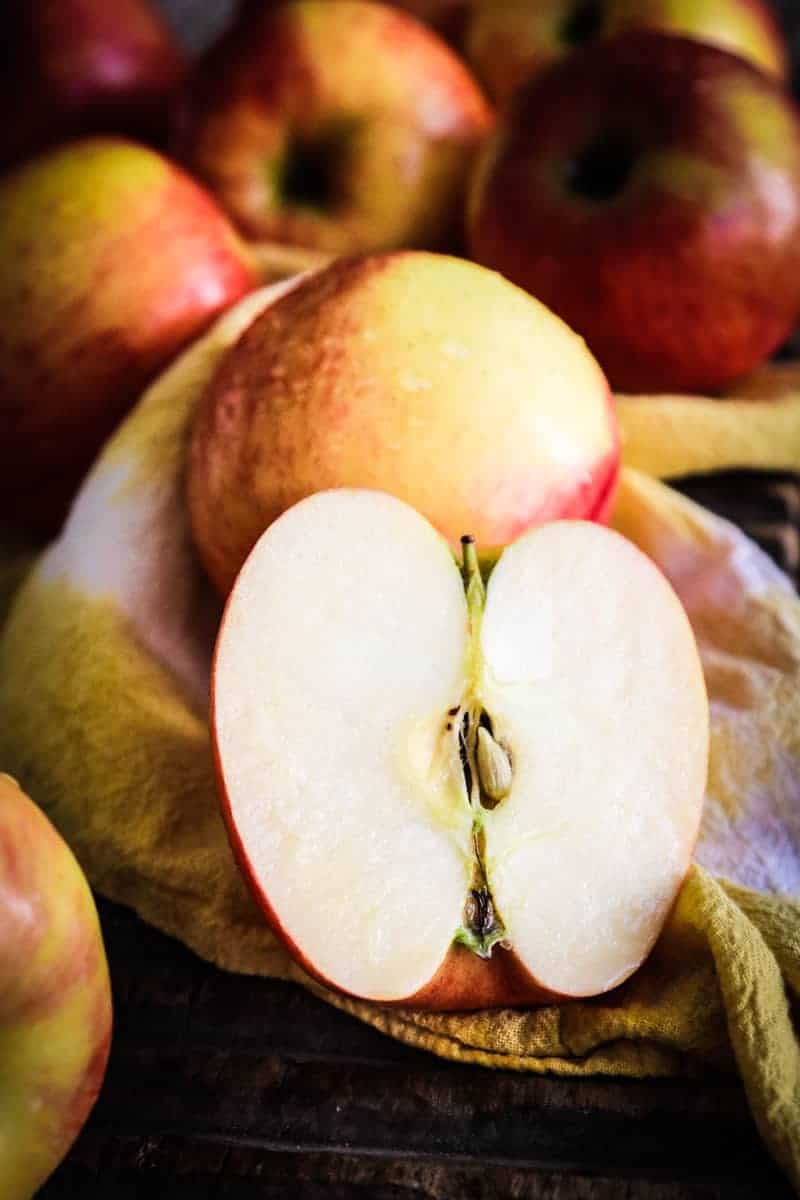 Sweet: I chose to use Stemilt's Piñata Apples in these flatbreads because they are literally a flavor explosion for the taste buds. They have a bit of a sweet meets tart tropical vibe to them that we just love. And they bring a much needed crispness to these flatbreads.
Tart: Greek yogurt is pretty much a staple in our home. But, did you know that you can easily transform Greek yogurt into the popular Middle Eastern dish Labneh simply by straining it through cheesecloth in your fridge for a few days? This process turns it into a super thick creamy spread that has more of the consistency of cream cheese rather than yogurt. In a pinch though, I bet these flatbreads would be pretty delish with Greek Yogurt straight from the tub as-is too!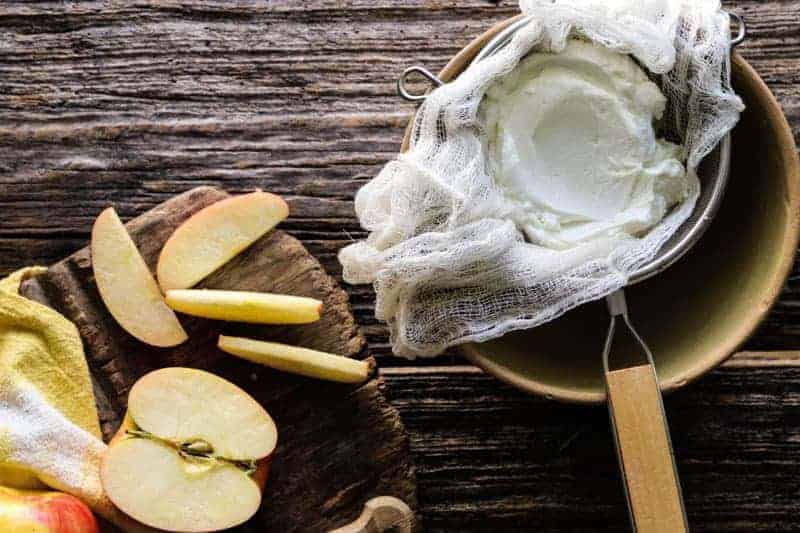 Bitter: When it comes to the bitter bite that arugula brings to these flatbreads, either you are a fan or you aren't. Our kid's palettes aren't quite ready for arugula yet, so they skipped this ingredient on their flatbreads, but my husband and I loved it paired with Stemilt's sweet Piñata Apples. Not a fan of bitter flavor notes? You could totally replace the arugula with baby spinach instead.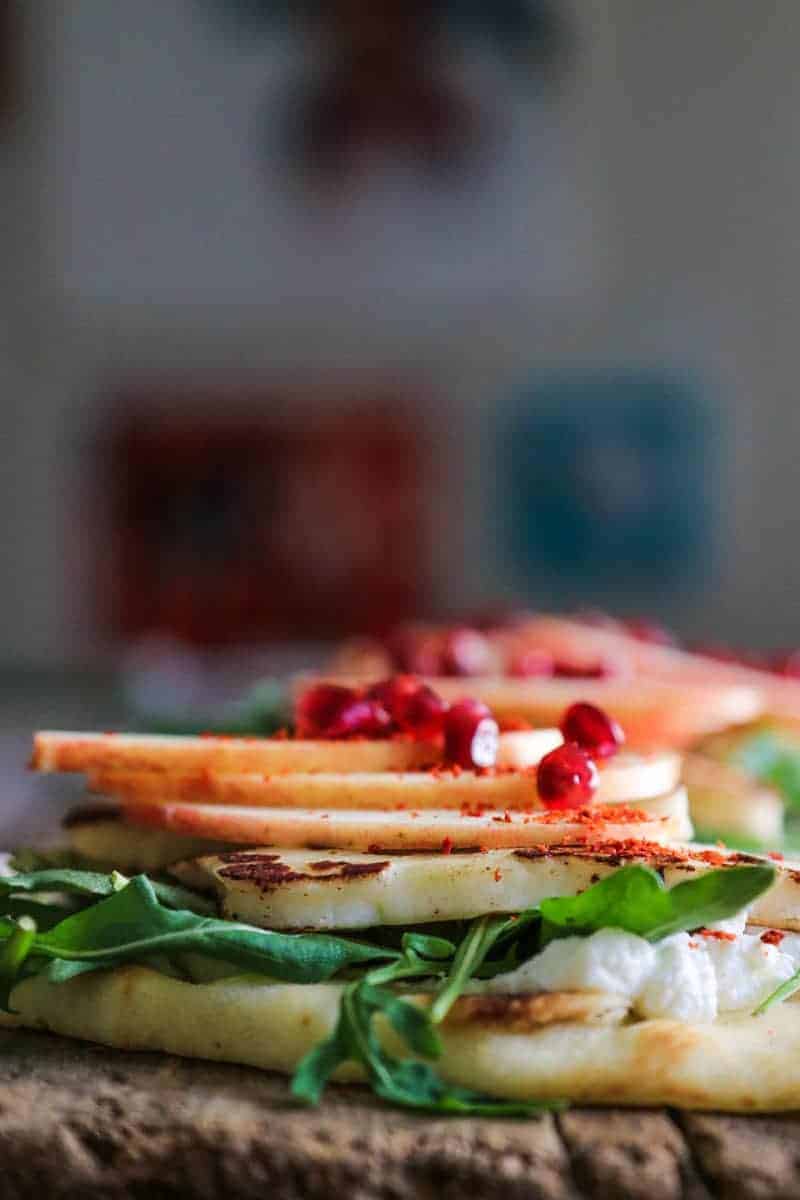 Sour: Pomegranate is often used in Middle Eastern dishes and we're big fan of its one two punch of sweet and sour flavors. Those little bursts of flavor really come through in each bite of these flatbreads.
Spice: Don't let the vibrant red hue of those Aleppo pepper sprinkles fool ya, this popular Middle Eastern pepper isn't really that hot at all. It just adds the aroma and essence of a spicy pepper without going overboard on the scolville units. Our kids were even into it and didn't run screaming for a glass of milk after they took a bite!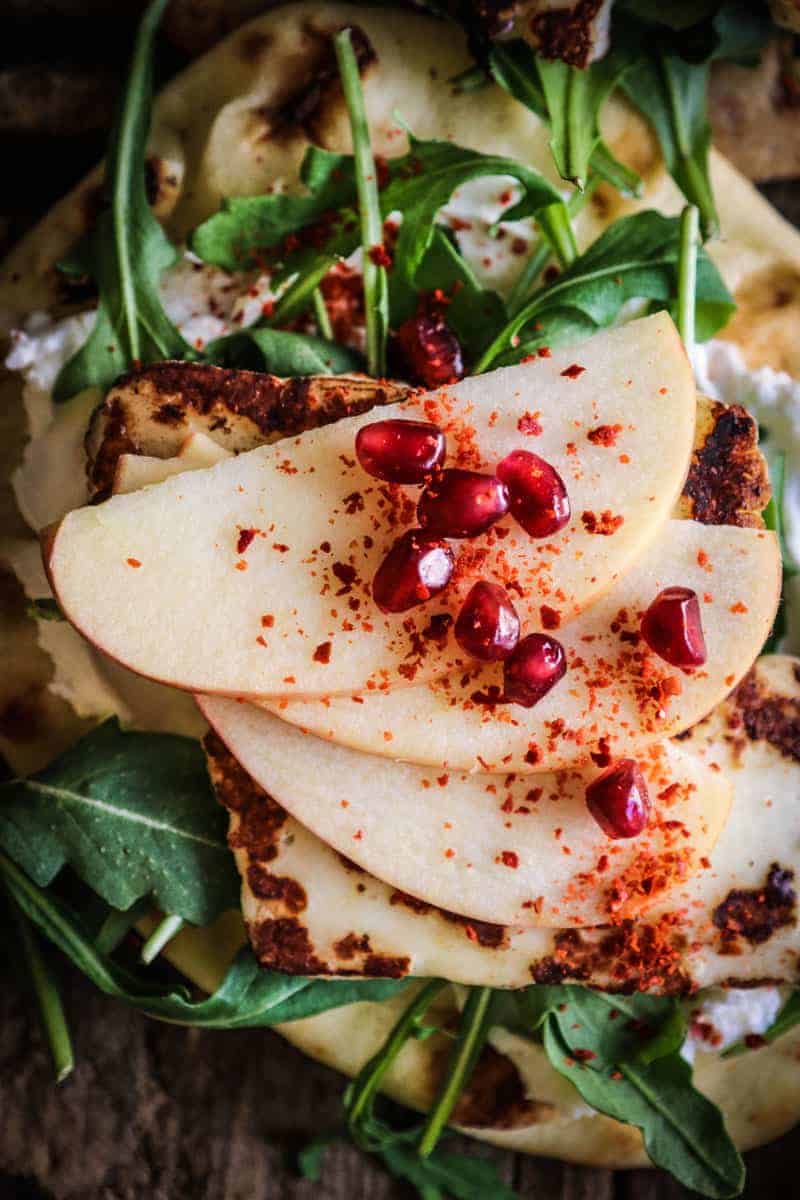 If the flavor profiles in these Apple, Halloumi, and Labneh Flatbreads don't entice you to try them for yourself maybe the prep time will...not counting the process to make the labneh these babies take less than 15 minutes to put together which means you can spend less time in the kitchen and more time at the family table with your loved ones.
Want to make these delicious flatbreads? Click here to hop over to the Stemilt site to download the recipe.
P.S. Looking for a gluten free naan recipe for these flatbreads? I'v got you covered, click here!
SaveSave
SaveSave
SaveSave
SaveSave
SaveSave
SaveSave
SaveSave
SaveSave
SaveSave
SaveSave
SaveSave
SaveSave
SaveSave