Life isn't just about following a recipe to the letter. Sometimes, it's about those unpredictable, delicious detours that bring joy to our tables. For instance, we recently discovered that we could use one of our favorite cocktail mixers to marinate chicken! The result is a succulent, tender main dish that will make your dinner pop—our Sangrita Marinated Chicken.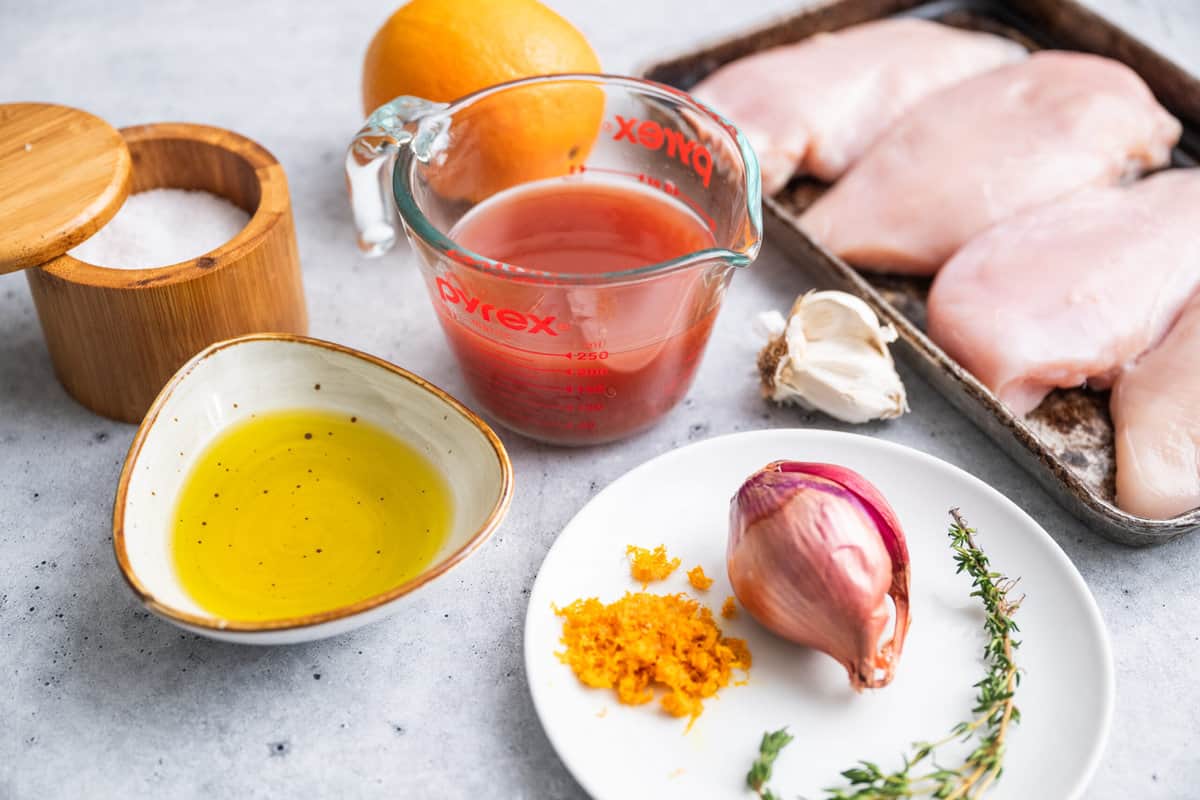 Before we jump into the recipe, let's talk about the star of the show—Sangrita. Contrary to popular belief, Sangrita isn't wine-based Sangria's cousin. Originating in Mexico, this traditional beverage is the perfect tequila companion. But today we're thinking outside the tequila bottle. We recently found that Sangrita makes an outstanding chicken marinade, which gives us even more of a reason to keep this delicious cocktail mixer on hand.
The recipe for Sangrita Mix that I created for California Grown uses three exceptional ingredients: fresh citrus juice for brightness, antioxidant-rich pomegranate juice for a sweet burst, and tomato juice for earthy richness.
If you're curious about the many ways to enjoy Sangrita, it's remarkably versatile. Besides sipping it with tequila, it's fabulous in wine or beer-based cocktails and—as you're about to discover—in cooking as well!
How to Make Sangrita Marinated Chicken
This delicious chicken marinade recipe will be easy to master, for even the most novice home cook. Simply follow the instructions below and you can't go wrong.
Ingredients needed to make Sangrita Marinated Chicken:
¼ cup olive oil, plus more for pan
1 shallot, roughly chopped
3 cloves garlic, minced
2 sprigs thyme
1 tablespoon orange zest
1 teaspoon salt
4 boneless skinless chicken breasts
Step-by-step how to make Sangrita Marinated Chicken
1. Preparation: In a mixing bowl, combine all ingredients except the chicken. Stir until well incorporated.
2. Marinating: Place the chicken in a zip-top freezer bag. Pour in the marinade, and make sure the chicken is well-coated. Refrigerate for 2 to 8 hours (the sweet spot is 5 to 6 hours).
Cooking: Preheat your oven to 350 degrees F. Remove any remaining marinade bits from the chicken and season it with salt and black pepper.
Searing: Drizzle a small amount of olive oil in an oven-proof skillet on medium-high heat and sear the chicken for one minute per side.
Baking: Transfer the skillet to your preheated oven and bake for around 8 minutes, or until the chicken's internal temperature reaches 165 degrees F.
How Sangrita Elevates the Ordinary to Extraordinary
Want that perfect bite—juicy, tender, and rich in flavor? Thanks to the Sangrita marinade, this isn't just any chicken—it's an explosion of flavors that turn an everyday meal into an incredibly delicious experience.
With the first tender bite, you will see exactly how the citrus and pomegranate notes infuse the chicken with brightness, while the tomato juice adds a grounding, earthy touch. It's truly a feast for all of the senses.
Turn Your Everyday Chicken Into a Fantastic Meal!
This Sangrita Marinated Chicken is more than a meal; it's a flavor-filled journey that starts in your pantry and ends on your palate. Whether you slice the chicken and eat it on a salad, or use it to build an incredible sandwich, this recipe is a must-make!
Here are a few of our favorite side dishes to serve with Sangrita Marinated Chicken:
An Easy & Delicious Twice-Baked Potato Recipe
A twice-baked potato is a creamy, cheesy potato filling stuffed inside a crunchy, salted skin that's then topped with even more cheese
Sangrita Shandy
Traditionally, Sangrita is sipped alongside a good quality tequila, but you can also use it to make a Sangrita Shandy cocktail that is a 1:1 ratio of Sangrita Mix and sparkling wine from California.
Refreshing, delicious, and easy to sip!
Are you hungry for more easy chicken recipes? Click on any of the images below to see more.
Did you love our Sangrita Marinated Chicken? There's a whole world of delectable messes to be made. Subscribe to our blog, follow us on social media, and don't forget to give this recipe a star rating and leave a comment below. Let's make life delicious together, one recipe at a time!
Print
Sangrita Marinated Chicken
This marinade infuses chicken with the ideal blend of citrusy zing and spicy kick, making it a breeze to either sear and bake in the oven or sizzle to perfection on the grill.
Author:
Prep Time:

15

Marinade time:

2-8 hours

Cook Time:

8

Total Time:

0 hours

Yield:

4

servings

1

x
Category:

Dinner

Method:

Roasted

Cuisine:

Mexican
1 cup California Grown Sangrita mix
¼ cup olive oil, plus more for pan
1 shallot, rough chopped
3 cloves garlic, minced
2 thyme, sprigs
1 tablespoon orange zest
1 teaspoon salt
4 boneless skinless chicken breasts
Instructions
Combine all ingredients, except for the chicken, in a mixing bowl and stir until incorporated.
Place the chicken in a ziptop freezer bag and pour marinade over.
Make sure the chicken is coated with marinade by squishing the bag around and place in the refrigerator for at least 2 hours or up to 8 hours.  A longer marinade time will cause the chicken to become tough and negate the original purpose.  I find 5 to 6 hours to be the ideal time for a marinade with this amount of acid.
Preheat your oven to 350 degrees F.
Gently discard any bits of the marinade that may stick to the chicken and season with salt and black pepper.
In an oven-proof skillet on medium-high heat, drizzle a small amount of olive oil into the pan, then sear the chicken for one minute without moving, flip, and sear the other side for one minute.
Place the skillet in the preheated oven and cook for approximately 8 minutes. Depending on the size of the chicken you may need to cook longer.  To ensure your chicken is cooked thoroughly insert an instant-read probe thermometer into the thickest part of the chicken and check that it reads at least 165 degrees.
Nutrition
Serving Size:

1 chicken breast4

Calories:

724

Sugar:

16 g

Sodium:

2540.1 mg

Fat:

59.6 g

Carbohydrates:

25.9 g

Protein:

27.7 g

Cholesterol:

82.7 mg
Keywords: chicken, marinated chicken, easy chicken recipe, dinner, sangrita marinated chicken, oven roasted chicken
Recipe Card powered by