Labor Day is coming up soon, and you know what that means – time for an end-of-summer feast! Let's talk about recipes about Labor Day that'll have everyone at the table doing a happy dance.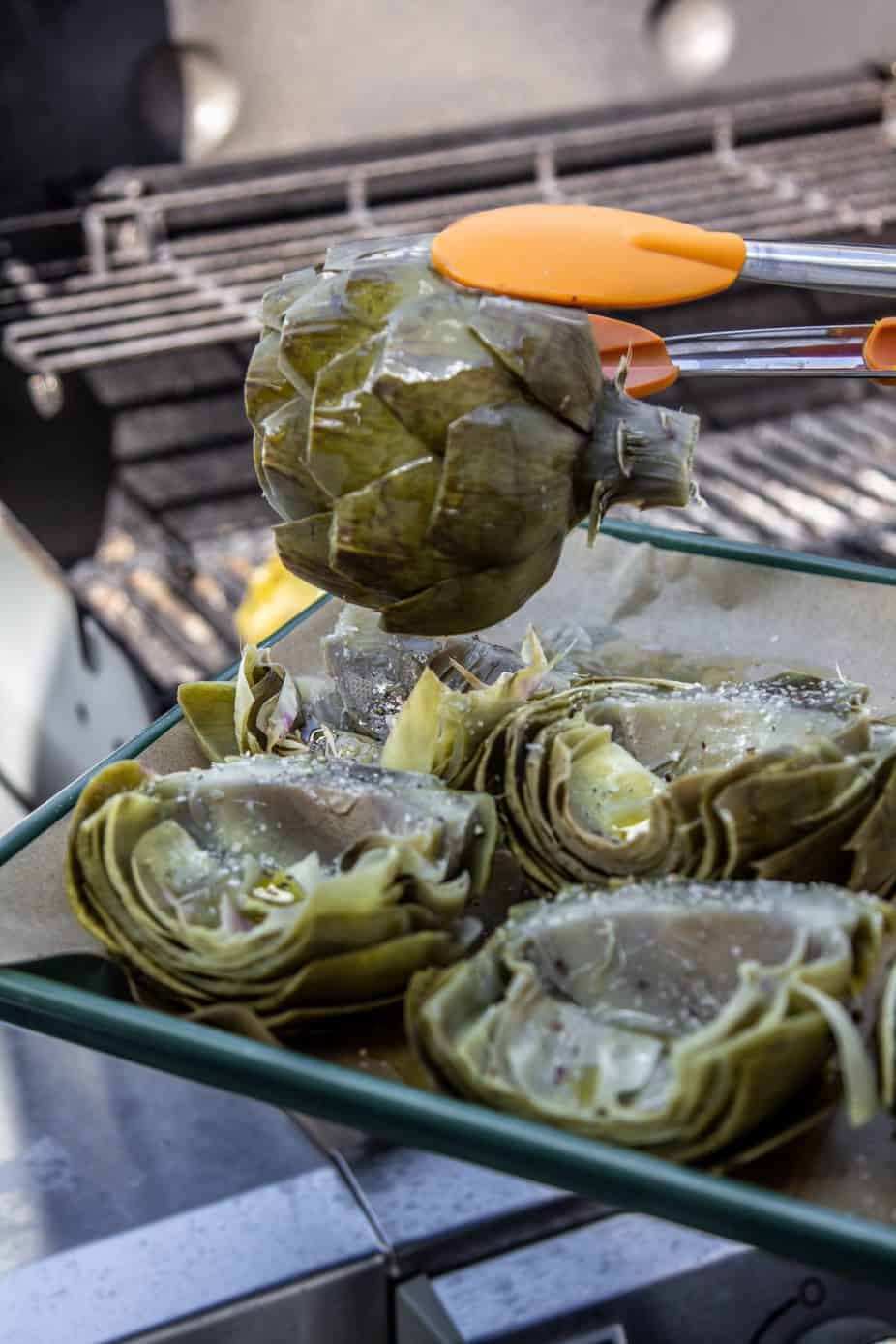 Recipes for Labor Day: Grilled Delights
Let's kick things off with some serious grill action. Juicy corn on the cob sizzling with those glorious grill marks, grilled chicken with tons of flavor, and mouthwatering grilled artichoke. Grilling is like a summer ritual, and Labor Day is the perfect excuse to get those coals fired up.
This recipe isn't fussy, and just takes basic pantry ingredients like olive oil, lemon juice, zest, coarse kosher salt, black pepper, and chile powder. But it produces the best Grilled Chicken for salads, sandwiches, and wraps.
Are you curious about grilling corn in the husk? With our garden bursting with fresh summer corn, we're eager to share this fantastic method.
Grilling it in the husk is not only easy, but it locks in that smoky goodness while keeping those kernels juicy and flavorful.
We're a bunch of artichoke enthusiasts here, and let me tell you, grilled artichokes are our ultimate obsession!
A quick grill session gives them a perfect smoky char that's already amazing, but when you dip those charred leaves into your favorite artichoke sauce, it's a flavor explosion that's unbeatable.
Recipes for Labor Day: Side Dishes
From zesty potato salad to fresh pico de gallo that celebrates the season's harvest, side dishes bring balance and excitement to your Labor Day table. And let's not forget about the ultimate game-changer – twice baked potatoes topped with gooey cheese and a dollop of sour cream.
Wave goodbye to the usual mayo-heavy potato salad and say hello to a vibrant twist – warm baby Yukon gold potatoes coated in a zesty California avocado Green Goddess dressing.
This light, tangy, and utterly delightful potato salad is the ultimate crowd-pleaser!
Bursting with the freshness of ripe tomatoes, zesty onions, vibrant cilantro, and a hint of lime, every bite is a fiesta of taste.
Whether you're dipping chips, topping tacos, or adding a zing to grilled dishes, this pico recipe is a game-changer in the kitchen – simple, versatile, and seriously addictive!
Our twice-baked potato recipe takes comfort food to a whole new level with its creamy, cheesy filling enveloped in a crispy skin, all topped off with an extra layer of gooey goodness.
The combination of flavors and textures is nothing short of spectacular. With just a handful of pantry staples, you're on your way to experiencing potato perfection like never before!
Recipes for Labor Day: Garden-to-Table Freshness
For dinner, we're keepin' it fresh and real with garden-to-table goodness! Think vibrant salads, refreshing gazpachos, and sides that are basically summer in a bite. It's like Mother Nature's way of saying, "Hey, enjoy the good stuff!"
The combination of fresh, vine-ripened tomatoes, zesty garlic, tangy citrus, fragrant herbs, and bouillon magic creates a delicious and light soup.
This gazpacho is not only perfect for easy summer suppers, but also guaranteed to steal the show at any summer party with its impressive taste and refreshing simplicity.
Our Elote Salad takes grilled corn to a whole new level with its irresistible combination of flavors.
Picture smoky corn on the cob with a rich Mexican crema and zesty cilantro dressing – every bite is pure indulgence that'll have you coming back for seconds and thirds!
This simple recipe for Caprese Salad really honors the classic Caprese with gorgeous heirloom tomatoes, fresh mozzarella, and lots of basil. But we added a sweet little Southern-inspired kick with the addition of fresh juicy peaches.
Recipes for Labor Day: Sweet & Simple Desserts
Labor Day desserts are a canvas for creativity – colorful fruit tarts topped with bright berries, delicious ice cream sundaes with homemade toppings, and festive patriotic treats. These desserts aren't just about sweetness, they're about creating moments of pure joy and celebration.
This delightful dessert topping is incredibly smooth and sultry, with less sugar than most. Thanks to prunes, it's also packed with nutrients and fiber.
Prunes don't just enhance the taste - they elevate it to new heights, making this the most delightful hot fudge you have ever tasted.
Our Fresh Cherry Pretzel Tart will transport you to summer paradise with every bite.
From the satisfying crunch of the salted pretzel and walnut crust to the velvety cheesecake-like layer scented with brown sugar and vanilla, and finally, a juicy burst of cherries and touch of honey and basil, this is a memorable recipe you'll want to make again and again!
Looking for a no-bake dessert with a little patriotic flare?
This layered Patriotic Jello Cake will not only look impressive, but will be loved by kids and adults!
So, there you have it – recipes for Labor Day that'll have your whole family asking for more. From grilled classics to sweet treats, the options are endless. But remember, it's not just about the food; it's about the laughter, the stories, and the joy of being together. As you dig into those delicious recipes for Labor Day, savor every bite and every moment. Here's to good food, great times, and a Labor Day celebration that's absolutely unforgettable!