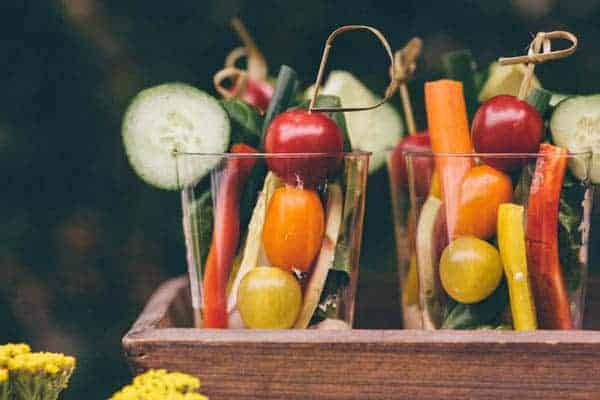 Hummus...the ultimate party food!
It's a great dip, fills tart shells beautifully, and practically everybody LOVES it. If you still need convincing that hummus is the ultimate party food then how about the fact that it is completely customizable. Once you have a great base recipe you can flavor it practically any way that you see fit.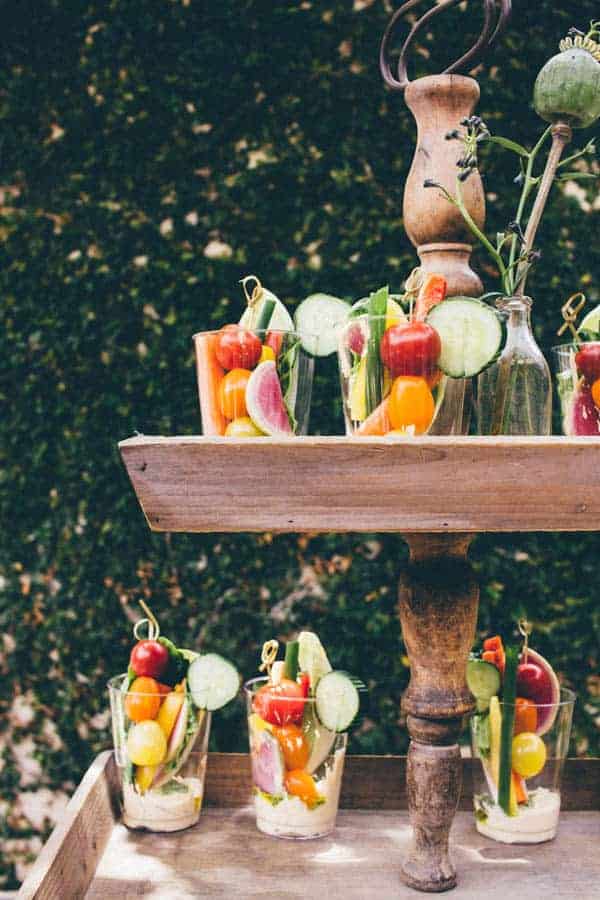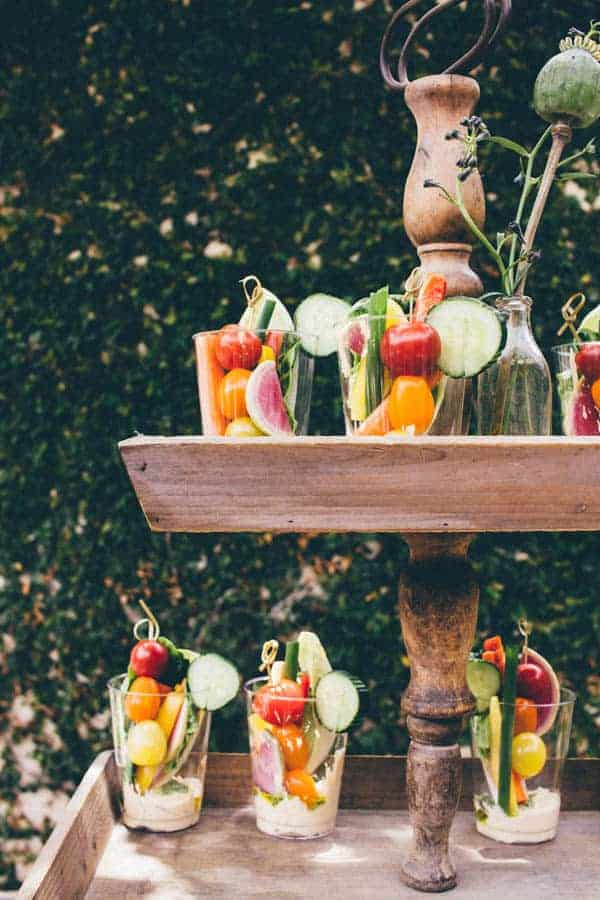 When I was planning out the menu for Sabrina's baby shower I came across a beautiful post for Individual Salad Cups from one of my favorite blogs, The View from Great Island. Those cups were so beautiful and festive I knew that I had to make a version for the shower so that everyone could have an individual crudité arrangement to go with their hummus!
To make this batch of hummus special I decided to add lots of fresh lemon zest and extra lemon juice to my base recipe then I finished each serving with a swirl of pesto to really make the flavors pop. It was a huge hit!
I have found quite a few store bought pestos that taste really great, so I tend to purchase those for a large party like this and spend my extra time making things like homemade tahini that really do impact the flavor of a simple dish like hummus .
Tahini is one ingredient that I just cannot bring myself to buy at the store. I used to...but once I realized how easy it is to make at home and how the flavor is so much richer I knew I would never, ever go back. It makes such a huge difference in the flavor of your homemade hummus too -which by the way can I make another request real quick? If at all possible, for the love of hummus, don't make hummus from canned garbanzo beans! If you don't believe me just try it my way one time. Sure it is a bit more of a process - you need to soak and cook the beans, toast the sesame seeds, and make a little magic happen, but when you taste the difference I guarantee you will never go back. Your guests will rave and your taste buds will be forever spoiled!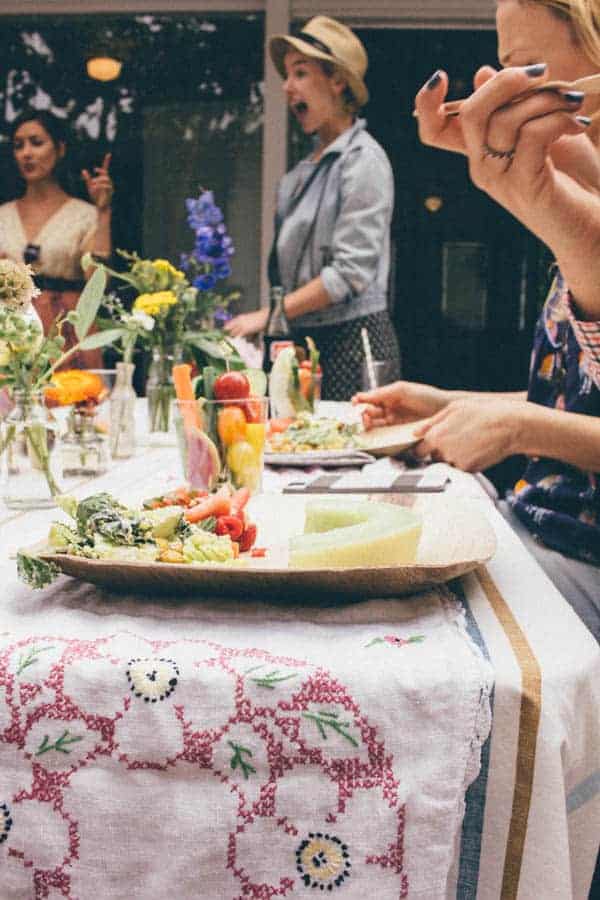 One last bit of advice, although I love the taller glasses like these they can prove to be a bit harder for guests to eat and dip freely without utensils. Shorter, flared glasses make a more finger food friendly dish and still look amazing!
Print
Lemon Hummus with Pesto and Crudités
This hummus is perfect for entertaining or for just indulging! It's light, packed with great citrus flavor, and has an herby finish from an added drizzle of pesto.
Author:
Prep Time:

20 mins

Cook Time:

30 mins

Total Time:

50 mins

Yield:

20

small servings

1

x
Category:

Appetizer
2 ½ cups

dried garbanzo beans

2 teaspoons

baking soda

12

-

13

cups water

2 cups

homemade tahini
juice of

4

large lemons
zest of

2

lemons

6

cloves garlic, crushed

2

-

4

teaspoons Kosher salt, depending on taste

¾ cup

+

1 tablespoon

ice water
To serve
1 cup

pesto
assorted fresh vegetables sliced into easy to eat pieces: carrots, heirloom cherry tomatoes, snap peas, bell peppers, endive leave, watermelon radish, cucumber rounds, green onion, etc.
Instructions
The evening before you want to make your hummus place the dried garbanzo beans in a large bowl and cover with water two to three times their volume.The next day drain the garbanzo beans and rinse well.
In a very large pot over high heat combine the garbanzo beans and the baking soda, stirring constantly for 3 minutes.
Add 12-13 cups water to the pot and bring the beans to a boil. Continue to cook the beans over medium-high to high heat for anywhere from 20 -40 minutes depending on freshness. Skim off any foam or skins that float to the surface during the cooking process with a slotted spoon and discard them. When the beans are tender enough to break up easily, but not turn to mush when pinched between your thumb and finger they are done. Drain the cooking liquid.
Transfer the cooked garbanzo beans to a food processor fitted with the "S" blade and process until a thick yellowish paste forms.
With the machine running, add the homemade tahini, lemon juice, zest, garlic, and salt. Once they have been incorporated drizzle in the ice-cold water and continue to process for 5 minutes until the hummus is smooth and velvety.
Transfer the hummus to a bowl and cover the surface with plastic wrap so that there is no way that air can get in between the hummus and the plastic wrap. Let the hummus sit for 30 minutes at room temperature, during this time the hummus will thicken slightly.
To assemble
Place 2-3 tablespoons lemon hummus in each serving cup, drizzle with a swirl of pesto, and fill the cups with the assorted vegetables.
Notes
For easy party prep make the hummus up to 3 days before the party.
When ready to assemble the cups set up an assembly line and if at all possible have a few people helping to make it a quick process.I assigned 1 person hummus and pesto duty and another veggie duty. It worked out perfectly!
Recipe Card powered by