I used to think there was no better way to start the day than with an everything bagel. Honestly, I would sometimes eat one for breakfast and follow it with an everything bagel sandwich for lunch. I was obsessed with all of those amazing spices speckled across the top of the bagel and I just couldn't get enough
*** Updated 2/25/2022 with information about chickpeas and updated recipe card***
How to make homemade Everything Bagel Seasoning
I quickly left my love for everything bagels behind when we had to eliminate gluten from our home. I knew I couldn't have it and so I refused to even give them a second glance when I went to the store. I would purposely avoid the bread aisle altogether just so I wouldn't get a whiff of those scrumptious bagels.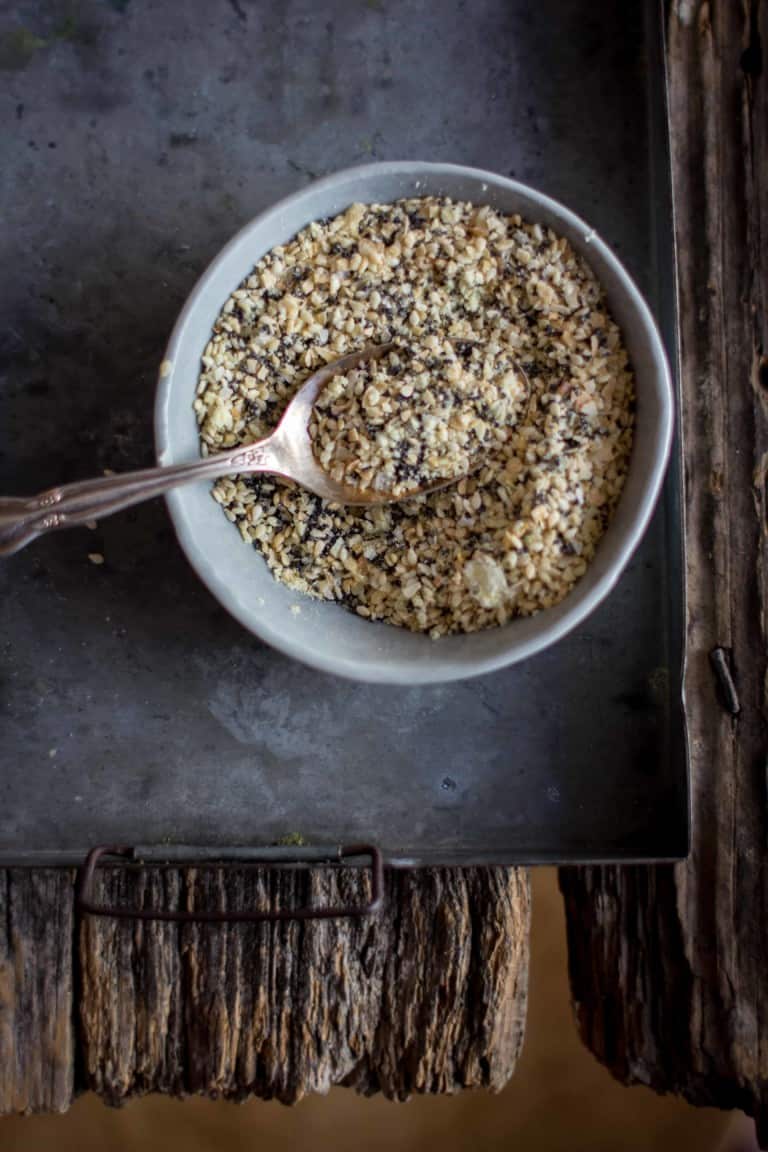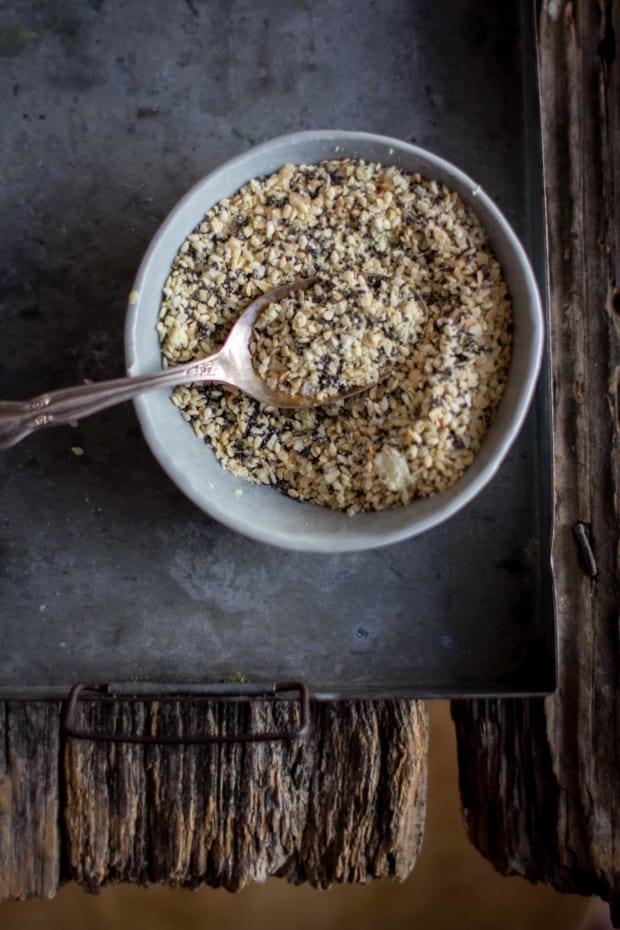 Everything Bagel Seasoning
1 tablespoon toasted sesame seeds
1 tablespoon poppy seeds
1 tablespoon dried minced onion
1 tablespoon dried minced garlic
1 teaspoon Maldon salt or other large flake salt
2 vegetable bouillion cubes ground to a powder
Combine all of the ingredients together, stir to mix. Store at room temperature in an airtight container.
Fast forward a few years and I had all but forgotten about my everything bagel addiction until one night I had a dream. I dreamed I was throwing a dinner party, not a fancy dinner party, just dinner with a few friends and I was serving gigantic grain bowls with roasted veggies. When we all sat to eat I had a small bowl on the table filled with some type of spice blend. I smelled the bowl when it was passed to me and I immediately knew what it was. It was everything bagel spice! I sprinkled it over everything on my plate and was seriously bummed out when I was woken up halfway through my meal by my alarm.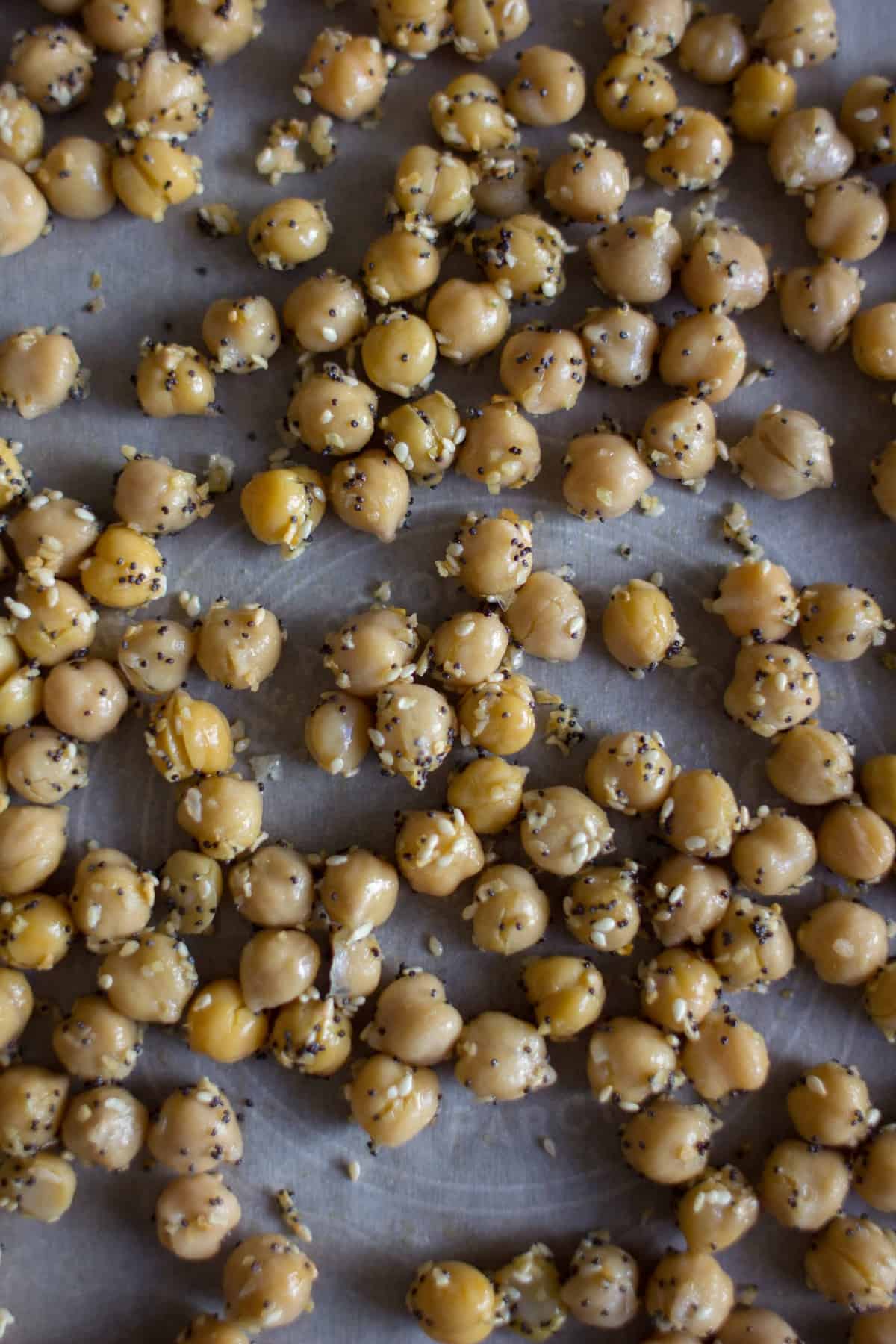 I knew I was going to have to give making everything bagel spice a whirl asap– I needed it back in my life and fast! Ever since I made my first batch of this spice blend I have been giving all sorts of dishes the everything bagel-fication treatment. I sprinkle it on eggs and avocado toast at breakfast, I season my cashew cream with it at lunch for a fancy spread for my sandwich and I definitely sprinkle it liberally over my entire dinner.
Looking to learn more about chickpeas or garbanzo beans?
Whole Foods named chickpeas 'the new cauliflower' in their 2021 food trends guide and for good reason! Chickpeas ( AKA Garbanzo beans) are delicious and good for you too!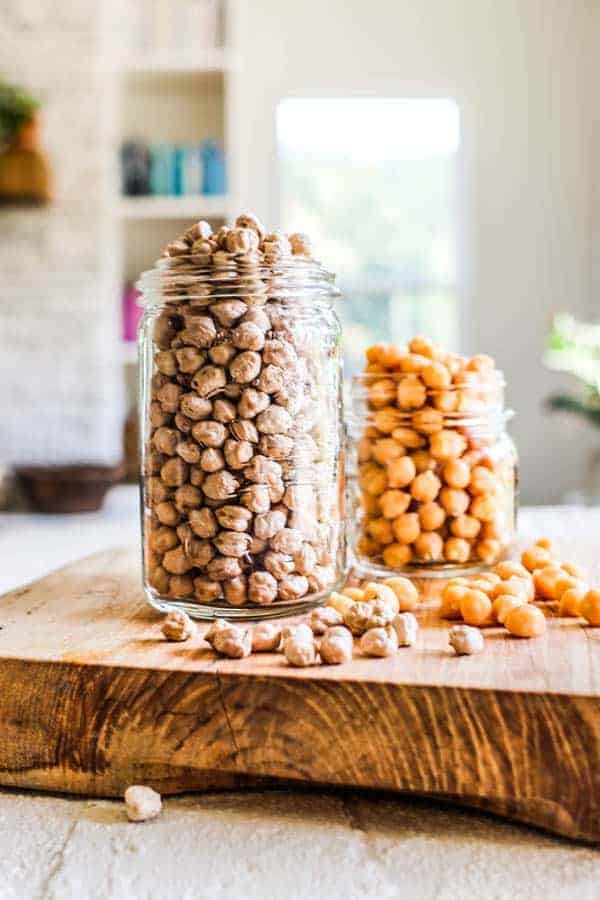 Ever wondered if chickpeas and garbanzo beans are the same things?
Or how to cook chickpeas so they taste amazing, but don't make you gassy?
Everything you need to know for cooking with both dried and canned chickpeas is here in one spot!
Print
Everything Bagel Spiced Crispy Chickpeas
These crispy little chickpeas are great for snacking on their own, but they are also really great on salads and in popcorn mixes.
Author:
Yield:

4

-

6

servings

1

x
1

(15 ounce) can chickpeas

1 teaspoon

olive oil

1 ½ tablespoons

Everything bagel spice
Instructions
Preheat the oven to 400°F and line a baking sheet with parchment paper, set aside.
Drain and rinse the chickpeas then place the chickpeas in a tea towel and gently rub them dry. Discard any skins that separate from the chickpeas.
Place onto the prepared baking sheet, drizzle with oil and sprinkle with the everything bagel spice then toss the chickpeas to coat.
Roast for 20 minutes, stir and roast another 10-15 minutes until lightly golden.
Remove from the oven and allow to cool completely. The chickpeas will crisp up as they cool.
Recipe Card powered by
SaveSave
SaveSave