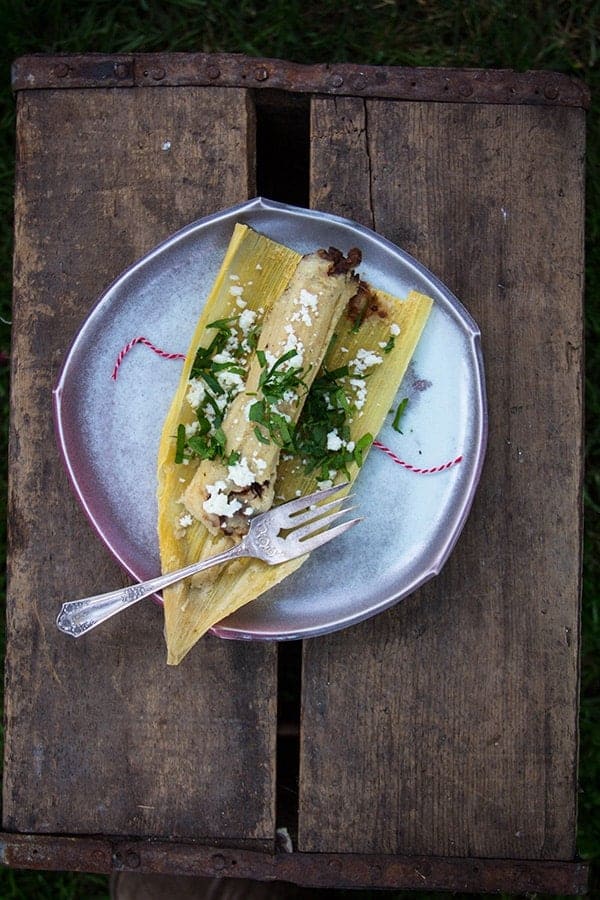 Living in the south I never really had the opportunity to eat a legit tamale. It actually wasn't until we moved to California a few years ago that I experienced my first real-deal tamale. Now that I have had one I just can't go back to the dry, store bought version I was eating before!
Over the last few years, I have looked into making my own tamales at home but the process honestly seemed really involved, and I never gave it a try. So, when Kate of ¡Hola Jalapenõ! invited us and a few other friends to her home in Ventura, Ca a few weeks ago for a Tamalada (AKA: a tamale making party!!) I jumped at the opportunity to learn how to make authentic tamales with her. I had no idea how easy tamales were to make - sure, it is a time investment and there is a bit of prep involved, but when you take that first bite of your ridiculously delicious homemade tamale it was so worth the effort!
Still not sure about how easy it is to make tamales? Don't worry, we took pictures of every step of the process for you so we can show you the entire process from start to finish!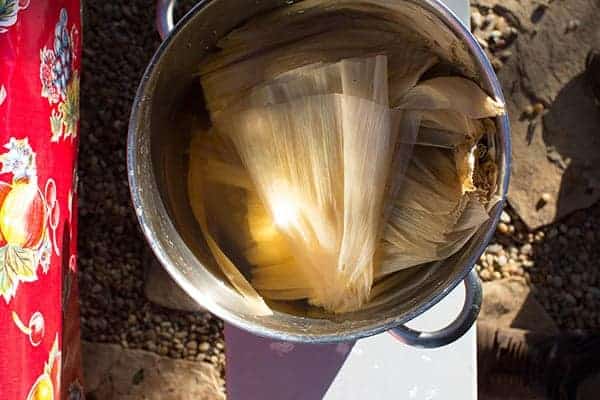 SOAK || You can find corn husks pretty easily at most grocery stores these days and since this is a big batch recipe, you are gonna need a bunch of them- 30 husks should get the job done, but I'd probably have a handful of extras too just in case of torn or split husks. Place the dried husks in a deep pot and cover them completely with hot water. Soak for at least 2 hours until the husks are pliable. If the husks keep floating to the surface you may need to weigh them down with a plate to completely submerge them in the water.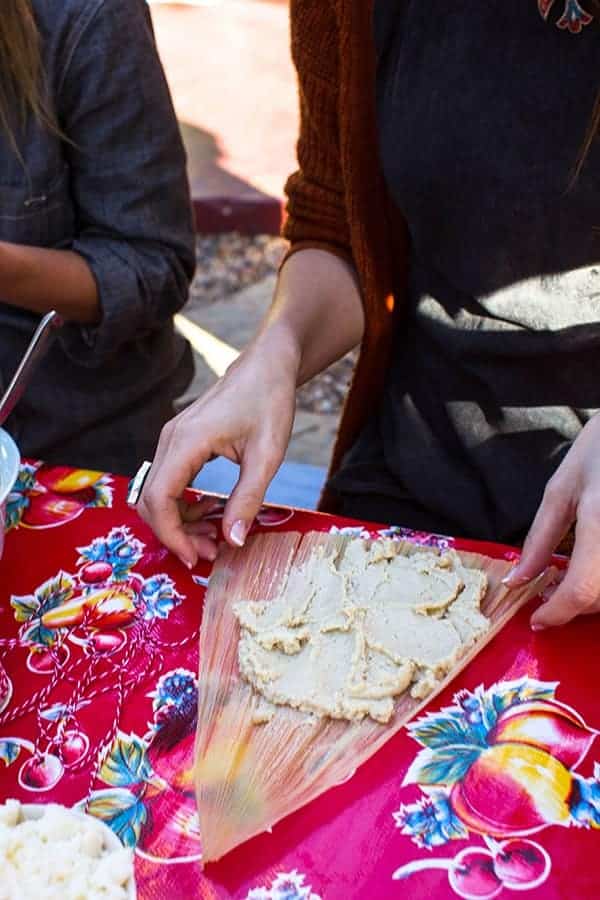 SLATHER || Use a dry clean kitchen towel to wipe excess water from both sides of a soaked corn husk. Lay the husk flat on the table with the widest part of the husk pointing towards you. Measure about ¼ - ⅓ cup of the prepared masa onto the husk using a large soup spoon. Starting from the center, use the back of the spoon to spread the masa to the bottom edge then out to the sides, leaving a ½-inch border on each long side of the husk.
STUFF || Pile 2-3 tablespoons of the spicy refried black beans down the center of the masa. You want enough filling so that there will be refried black beans in every bite of the tamale, but not so much that the masa cannot completely wrap around the filling, encasing it like a pig in a blanket.
SEASON WELL || Now is the moment when you can really create a wide variety of flavors with this one spicy black bean and cheese tamale filling. Top the tamale with 1 tablespoon of crumbled, melty cheese. I used a blend of Cotija and Queso cheeses, but you can use whatever cheese you want as long as it is a cheese that melts. To make different variations on the original recipe you can add a few teaspoons of salsa, hibiscus cashew cream or even fresh corn kernels to your tamale too.
WRAP & ROLL || Fold one long, clean side over the filling and down the other long, clean side tucking the very edge of one side of the husk under the filling snuggly. Roll tightly to secure. It will only take practicing on a few tamales for you to get the hang of the wrap & roll, I promise!
TUCK & TIE || Fold the pointy, narrow flap towards the top of the tamale like a little purse. If you are making all one flavor you can begin to layer the tamales into the steaming basket without tying them, but if your Tamalada is like ours then you may need to differentiate the vegetarian tamales from the sweet dessert tamales or the meat filled. I used baker's twine to mark my veggie friendly tamales, but you can make a more authentic tamale tie by tearing corn husks into long, thin ribbons. The husks are pliable enough to tear and tie really easily.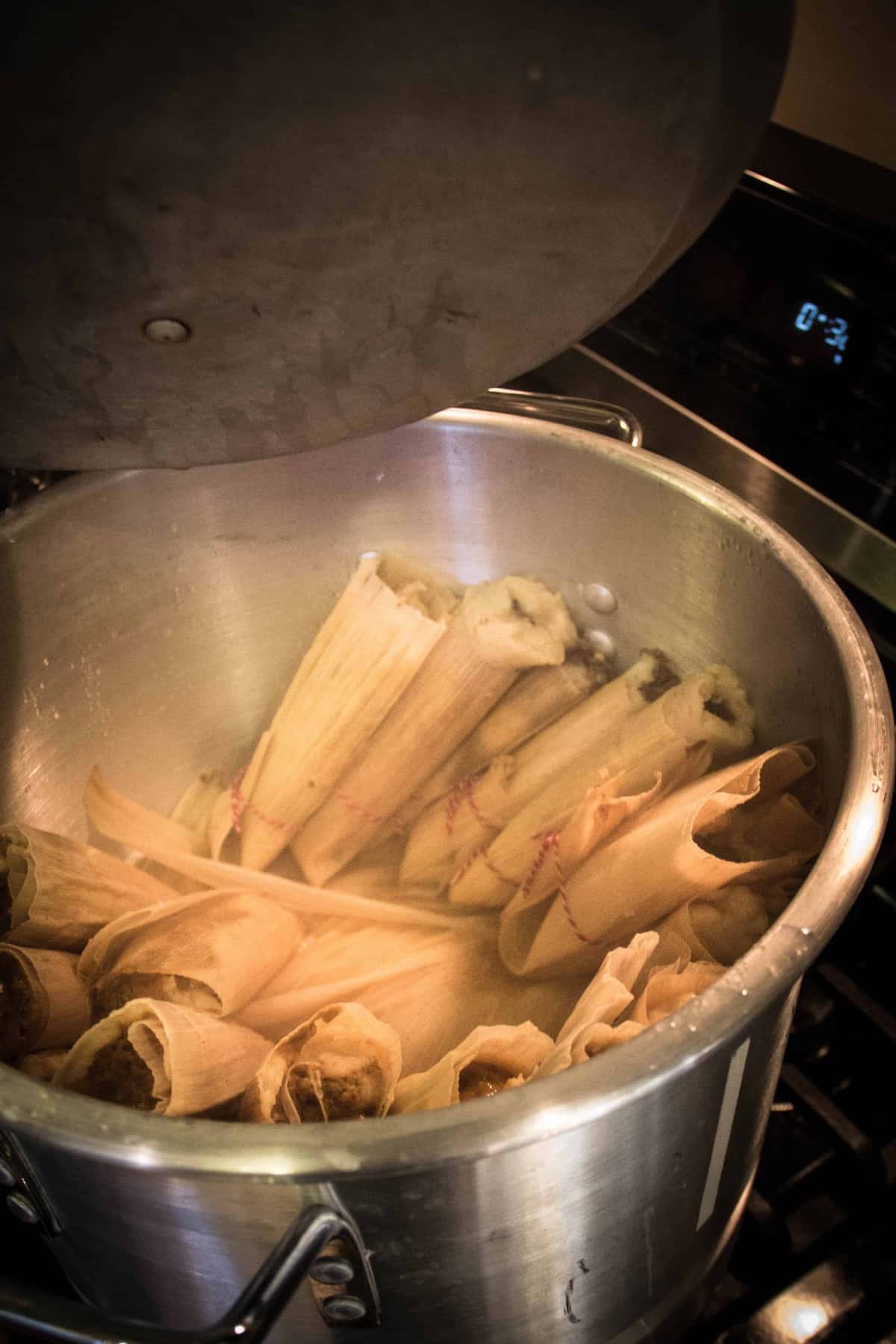 STEAM || If you are just preparing one batch of tamales for your family a smaller tamale pot will be fine, just be prepared to cook in batches. If you're making multiple tamale recipes like we did at our Tamalada you will probably need 2 very large tamale pots going at the same time. Arrange the tamales snuggly open-side-up on the rack of the steamer. Place the steamer over medium heat and cook the tamales until they are firm and no longer doughy in the middle, about 30 minutes.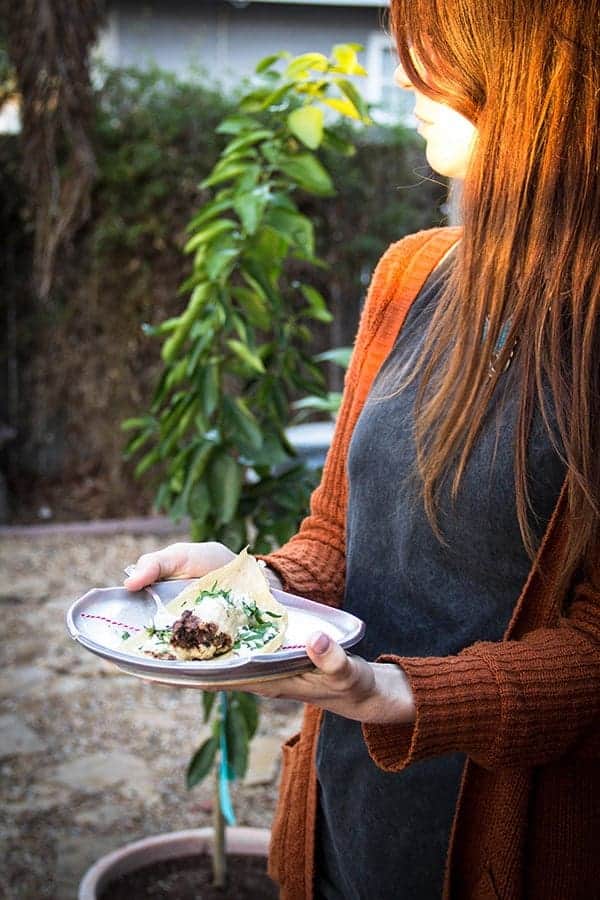 If you've tried this Vegetarian Tamale Recipe, I would be so grateful if you would rate it. Let me know what you think in the comments below. I just love hearing from you and your reviews and comments really help others that visit This Mess is Ours!
Print
Spicy Black Bean and Cheese Tamales
Don't forget to rate the recipe and let me know what you think about these Vegetarian Tamales in the comments below. I just love hearing from you. Your reviews/comments really help other people that visit This Mess is Ours!
Author:
Yield:

3

dozen

1

x
Spicy refried black beans
4 tablespoons

olive oil

1

large white onion, diced

6

cloves garlic, minced

1 ½

jalapenos, seeded and minced

1 teaspoon

chili powder

1 teaspoon

chipotle pepper powder

2 teaspoons

cumin

5 cups

cooked black beans, preferably homemade

1 ⅔ cup

hot water +

3 tablespoons

Massel concentrated liquid stock,"beef" flavor or 3 "beef" flavored bouillion cubes

¼ cup

roasted chopped green chiles, I used Bueno Autumn Roast, you can find it in the freezer section
kosher salt to taste
juice of

1

lime
For the masa
6 cups

Maseca corn flour

2 tablespoons

baking powder

1 tablespoon

kosher salt

1 cup

Crisco vegetable shortening, cut into small pieces

5

-

6

cups vegetable broth, I use Massel
To assemble the tamales
3

dozen dried corn husks, soaked

½

wheel Cotija cheese, crumbled

½

wheel Queso cheese, crumbled
bakers twine
Instructions
Soak the husks
Cover the husks with hot water and soak for at least 2 hours. You may need to weigh them down to completely submerge in the water.
For the refried bean filling
Heat the oil in a large, deep skillet over medium heat. Add the onions, garlic, and jalapeño. Cook, stirring often, over medium-low heat until onions are softened, 7 to 10 minutes. Add the chili powders and cumin, and cook, stirring, 1 to 2 minutes, or until fragrant.
Increase the heat to medium. Add 1 cup beans, ⅓ cup stock, the roasted chiles, and salt. Use a potato masher or the back of a spoon to mash the beans into the liquid. Continue cooking until the liquid evaporates, 7 to 10 minutes. Add 1 more cup beans and ⅓ cup stock, and mash and cook again, stirring. Repeat, mashing and cooking and stirring, until all of the beans and stock have been incorporated, the liquid is absorbed and the beans hold together, 8 to 10 minutes. Stir in lime juice, and adjust salt to taste.
For the masa
Combine the Maseca, baking powder, and salt in a large bowl. Add the vegetable shortening and work into the dry mixture with your hands until they are the size of small pebbles. Add the broth and mix it into the flour with your hands until the dough is uniformly wet and soft. It needs to be easily spreadable but not runny, like the consistency of fluffy mashed potatoes. Add more stock if necessary. Cover with plastic wrap until ready to use.
To assemble the tamales
Fill a large tamale steamer with enough water to reach the rack where the tamales will sit to cook. If you don't have a tamale steamer you can fill the bottom of a large stockpot with water and place a wire rack in the bottom.
Dry one corn husk on both sides with a clean kitchen towel. Hold the widest part of the husk closest to you and use a large soup spoon to spread about ⅓ cup of the prepared masa from the middle to the bottom and out to the sides, leaving about a ½-inch border on each of the long sides.
Place 2-3 tablespoons of the spicy refried black beans in the center and top with 1 tablespoon of cheese. Fold one long side over the other long side and roll tightly to secure. Fold the pointy end up towards the top and secure with bakers twine. Place open-side-up on the rack of the steamer. Repeat the process until all the masa and beans have been used.
Place the steamer over medium heat and cook tamales until firm and no longer doughy in the middle, about 30 minutes. Remove the tamales from husks and serve with salsa, mole, guacamole or chopped cilantro.
Notes
Tamales will keep covered in the refrigerator for up to 5 days or place in a freezer bag and freeze for up to 6 months. Reheat by placing in a frying pan with ¼ cup or so of water, cover and steam until hot.
Recipe Card powered by
Some of the links in this post are affiliate links to Amazon.com. We make a small commission for any orders received via the affiliate links. All products opinions are our own.
Want to be a part of our online community outside of the blog? It's easy!! All you have to do is follow @THISMESSISOURS on FACEBOOK, INSTAGRAM, TWITTER, YOUTUBE, or PINTEREST to see cooking demos and peeks into our day to day life.
What are the health benefits of black beans?
Black beans are filled with nutrients such as calcium and magnesium which help keep bones strong and healthy, making them a great alternative to meat for vegetarians. Combined with the low sodium content, these nutrients also help to lower blood pressure. The high amount of fiber and low amount of cholesterol in black beans help to manage diabetes and improve heart health.
Click here for more information on the health benefits of black beans.
Frequently Asked Questions