Recently, I discovered the best chile powder we've ever tasted from Boonville Barn Collective. It's a little sweet with a slightly spicy kick and a subtle tomato vibe that we can't get enough of. We've been enjoying this delicious savory sprinkle on everything from avocado toast to pasta bakes with unforgettable results.
*** When you buy something through the links in this post, we may earn a small affiliate commission. Thank you for supporting our small buisness and the small businesses that we support. ***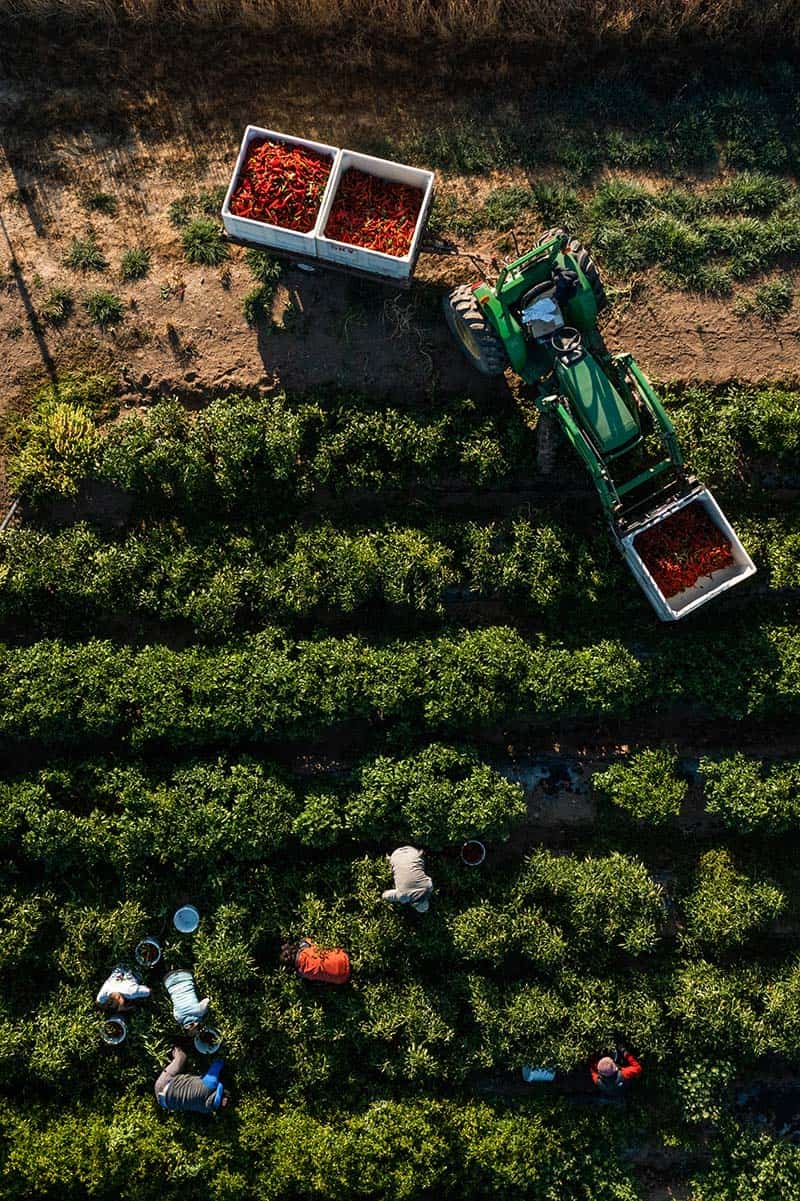 Photo courtesy of James Collier, Paprika Studios
One look into our cupboards will confirm the fact that we are collectors of spices. Having the ability to transport our tastebuds anywhere around the world at the dinner table with a simple pinch makes me giddy.
Hands down, chile powders and dried chile flakes are some of the most used spices in my spice cabinet. We all love adding a little kick to our meals, but we don't all enjoy the same heat level. Since Boonville Barn carries a range of products with different Scoville unit ratings there is something for all of us.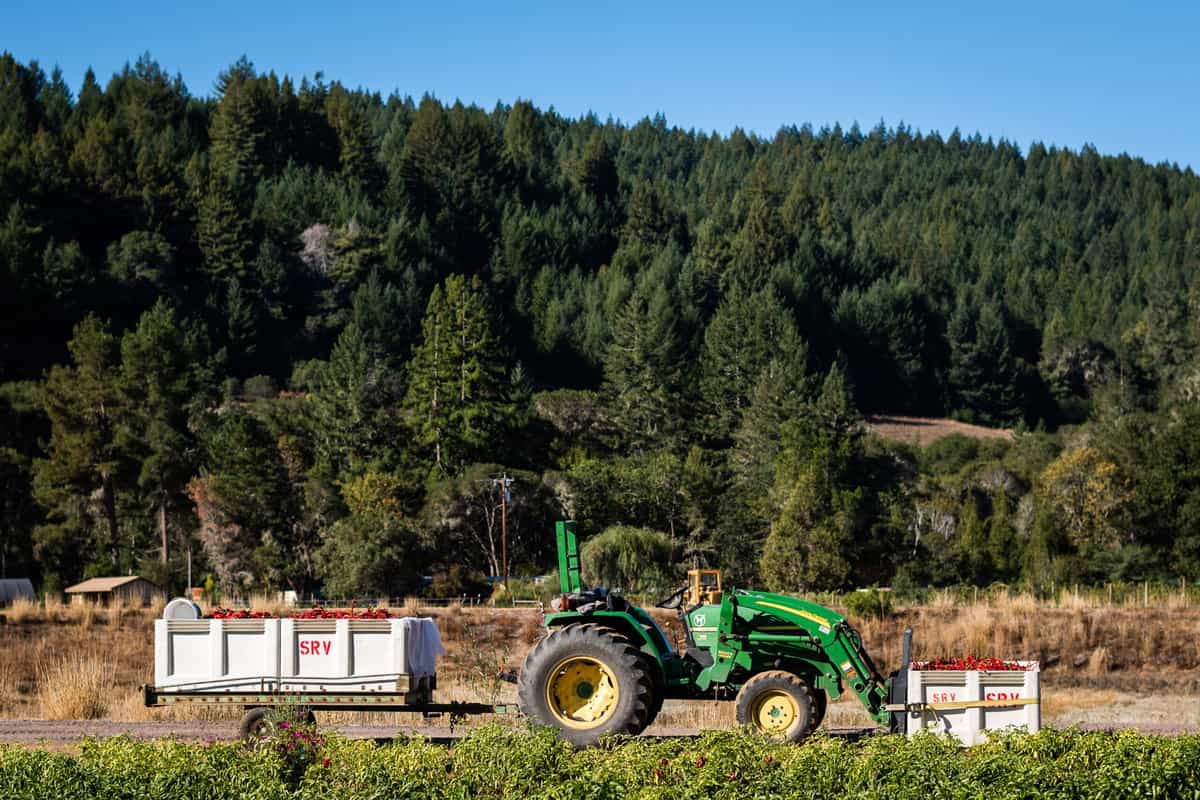 Photo courtesy of James Collier, Paprika Studios
What is the Scoville scale?
The Scoville scale is used to rank the spiciness of different chile peppers. Peppers are given scores from 0 (bell peppers) to 10+++ (Carolina Reaper). For a more technical explanation, you can read here.
In the case of Piment d'Ville Chile Powder, the piment d'Ville pepper rates level 4 on the scale. This means it is slightly spicier than the ancho chili pepper but definitely less hot than a jalapeno. Since this chile powder is on the milder side, you will find all members of our family reaching for the jar.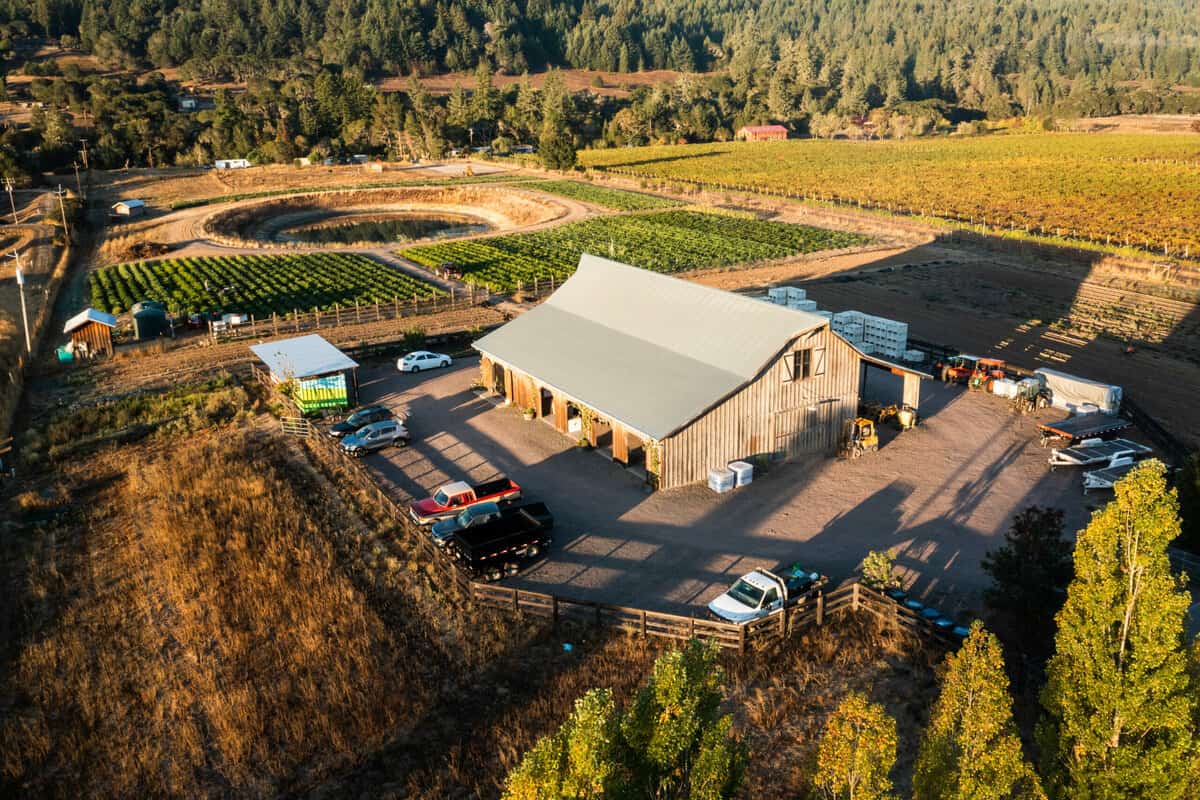 Photo courtesy of James Collier, Paprika Studios
What is Boonville Barn Collective?
Boonville Barn Collective is a small, female-owned farm that grows all its own chiles in northern California. All of their products are grown with organic and sustainable practices and are Renegade Certified. All of their crops are individually hand-picked and then dried.
Boonville Barn is the number one producer of the coveted piment d'Espelette pepper outside of France. This pepper is used by many chefs in restaurant kitchens to impart warmth and flavor to their dishes.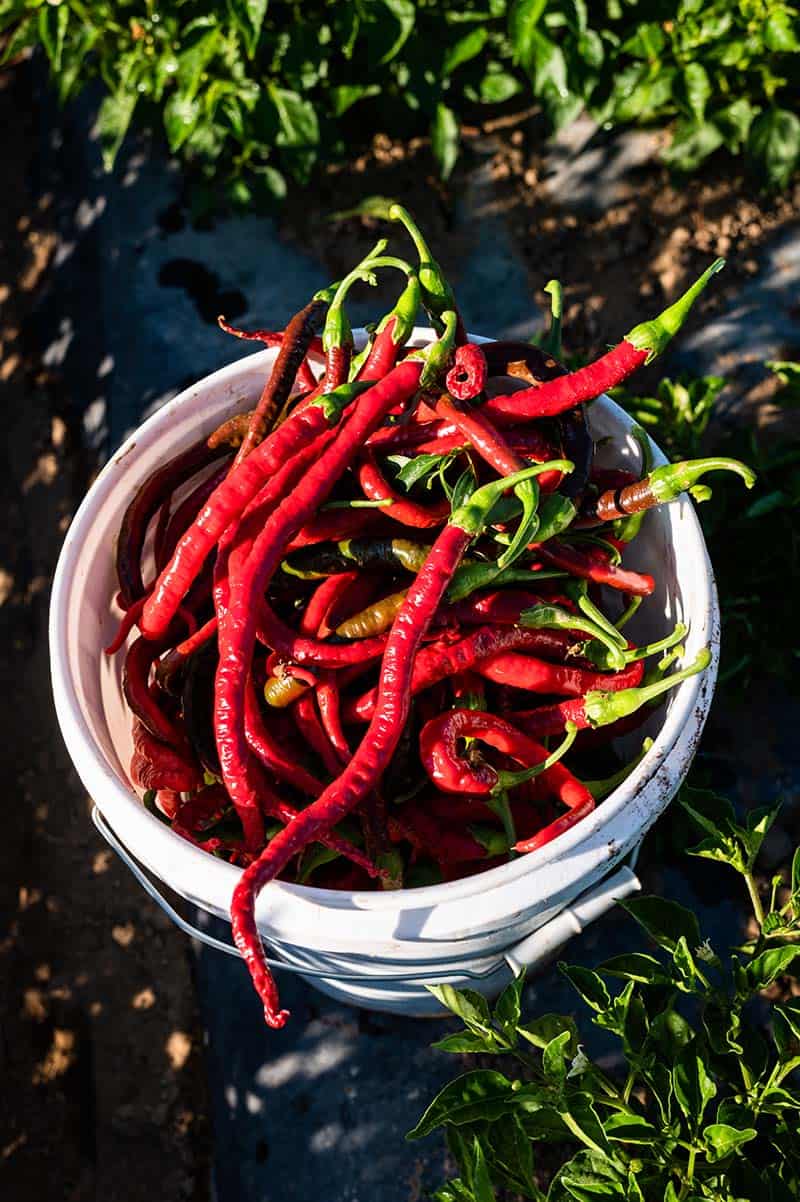 Photo courtesy of James Collier, Paprika Studios
What is a piment d'Espelette pepper?
Espelette peppers, like Champagne, are AOC-classified which is a certification of authenticity. This means that this variety of pepper can only be called "piment d'Espelette" if they're grown in Basque Country.
Are piment d'Ville and piment d'Espelette the same thing?
Piment d'Ville and piment d'Espelette and both dried Espelette peppers. Because true piment d'Espelette is a regional designate, it can only be grown in the Espelette region of France. Piment d'Ville is a California Grown Espelette pepper.
Over a decade ago, Boonville Barn founder Krissy Scommegna was working as a sous-chef at the Boonville Hotel in California. In the kitchen, Krissy loved to use ground piment d'Espelette in her dishes. But, she found the cost of importing these peppers to be extremely high.
Krissy realized that Anderson Valley, where Boonville Barn is located, has a similar climate to the Basque region of France. Which is where her beloved Espelette peppers are grown. So, she obtained some seeds, acquired a patch of land, found a farmer with experience growing peppers, and set out to grow her own.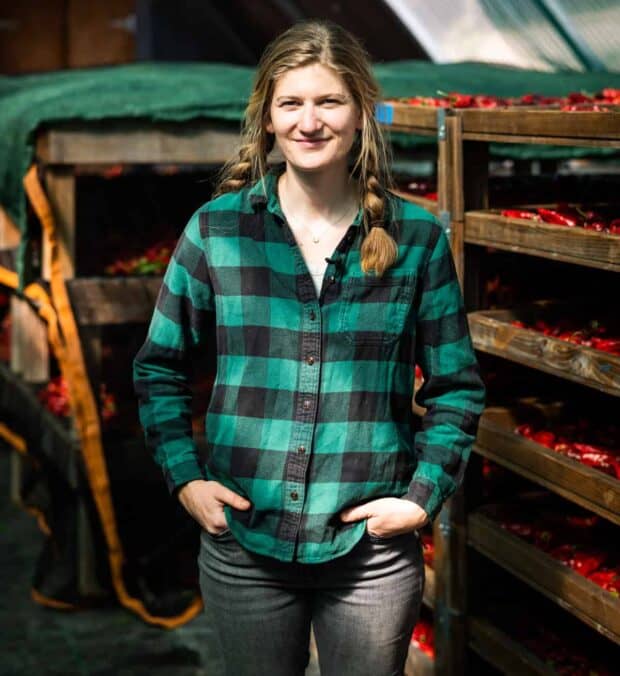 I first learned about Krissy, her farm, and her irresistible line of products from our friends at California Grown.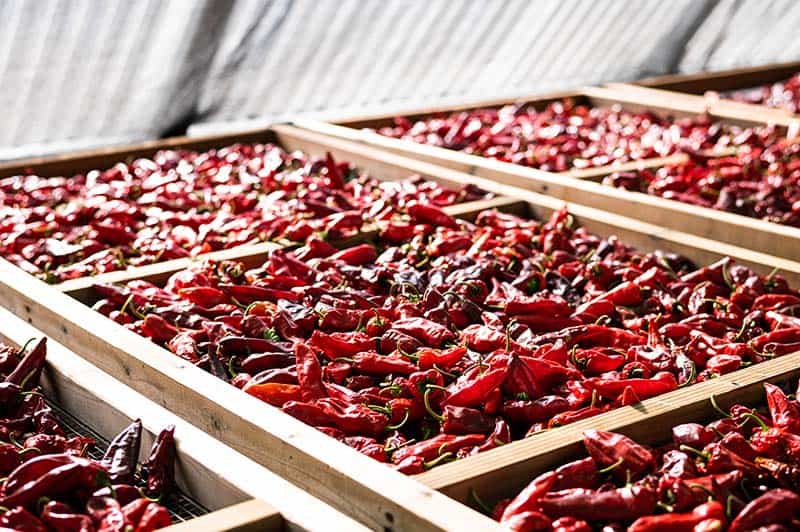 Photo courtesy of James Collier, Paprika Studios
What is chile powder?
Chile powder is a spice made from ground dried chiles that has few or no additives.
What is Piment d'Ville Chile Powder?
Piment d'Ville is the flagship chile powder of Boonville Barn Collective. These special chiles are farmed with organic growing practices, sun-ripened throughout the season, then are hand-harvested and dried.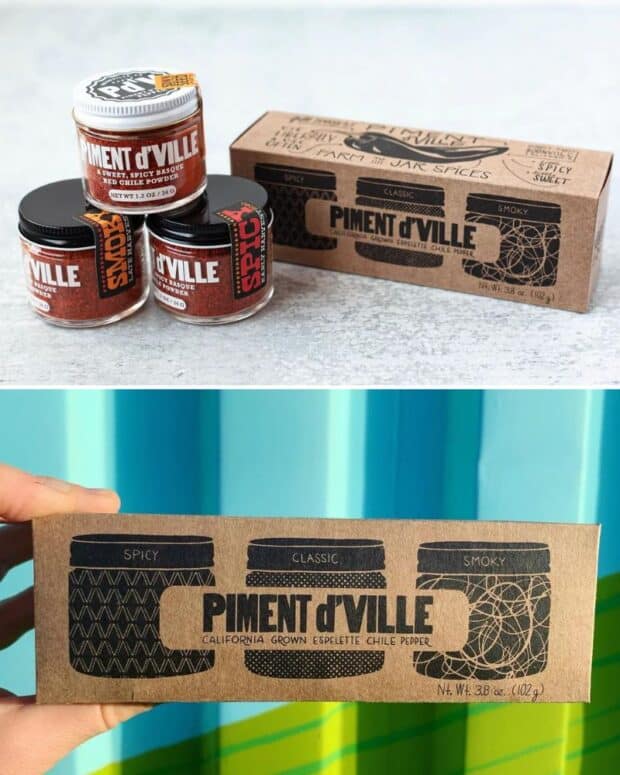 While you could order the original Piment d'Ville and be totally satisfied when you opt for the Piment d'Ville Collection you get the chance to taste how the flavor of the California-grown Espelette chile is influenced by when it is harvested.
Use the code TMIO at checkout for 10% off your purchase!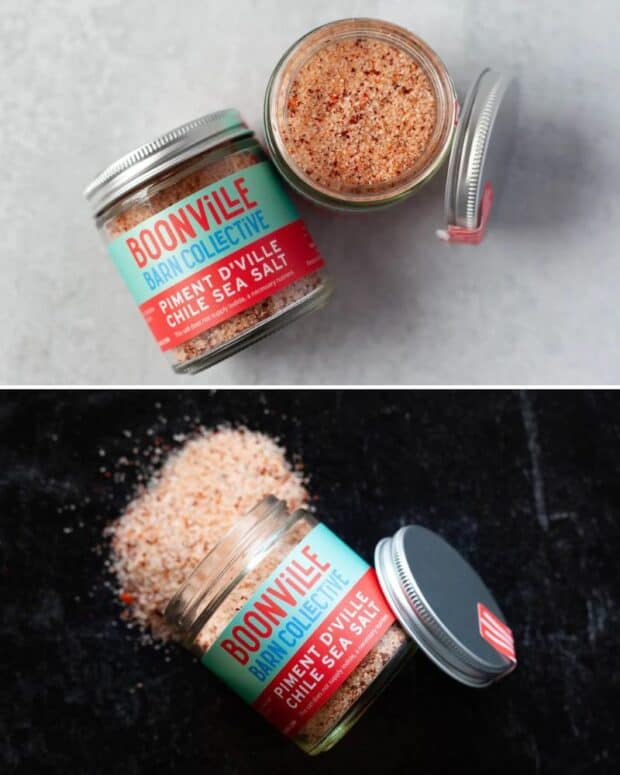 This is actually the first Boonville Barn Collective product that I ever tried and it hooked me instantaneously!
This salt is a blend of San Francisco Salt Co.'s Pure Sea Salt and Boonville Barn's Piment d'Ville. This is the only way I know how to salt and pepper my meals in one go!
Consider this more of an all-purpose salt than a finishing salt.
Use the code TMIO at checkout for 10% off your purchase!
Our favorite recipes to use Piment d'Ville Chile Powder.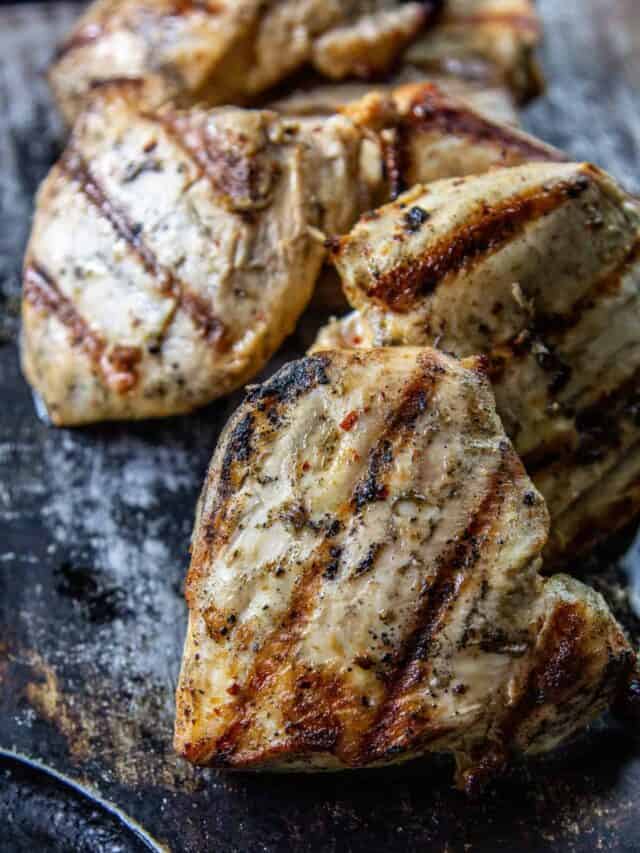 Grilled Chicken Marinade Recipe
This recipe produces the best Grilled Chicken for salads, sandwiches, and wraps.
More Boonville Barn Collective products we love!
While we are currently fully stocked on every type of chile powder in the Boonville Barn lineup. We are also BIG fans of some of their other products and can't imagine our meals now without them.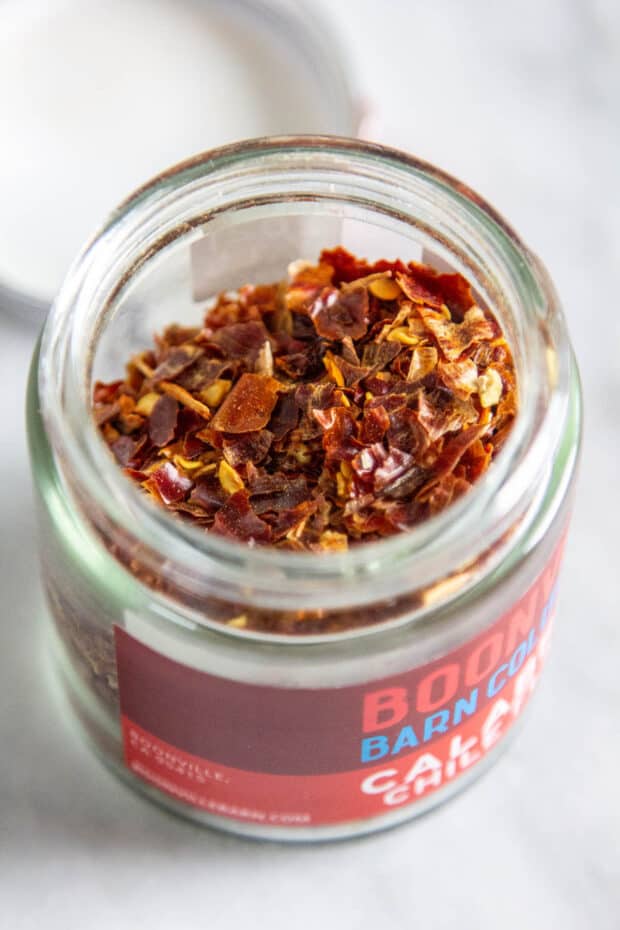 Florence Fabricant of the New York Times said that Boonville Barn's Calabrian Chile Flakes "deliver an almost floral aroma and balanced, lingering heat with a whisper of sweetness. Use with abandon on pizza, in linguine with clams, even over steamed lobster."
We couldn't possibly agree more!
Use the code TMIO at checkout for 10% off your purchase!
Flaky Finishing Salt
Unlike table and kosher salt, which have even shapes to their crystals, finishing salt has been allowed to form rough, flat, or spiky crystals. These crystals are unexpected and often flaky in a very delicious way. Finishing salt is used as the finishing touch in dishes - the flakes of salt create tiny, crunchy explosions of salty flavor in every bite.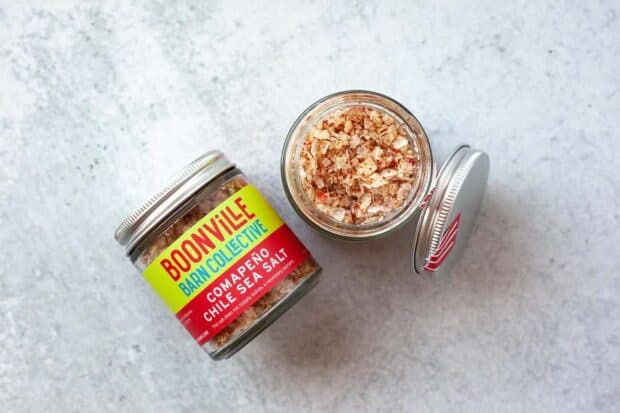 This flaky finishing salt is citrusy and a little acidic with beautiful color. too! Boonville Barn blends their dried Comapeño pepper with salt from Pacific Flake, a small salt producer from Humboldt County, CA.
Use the code TMIO at checkout for 10% off your purchase!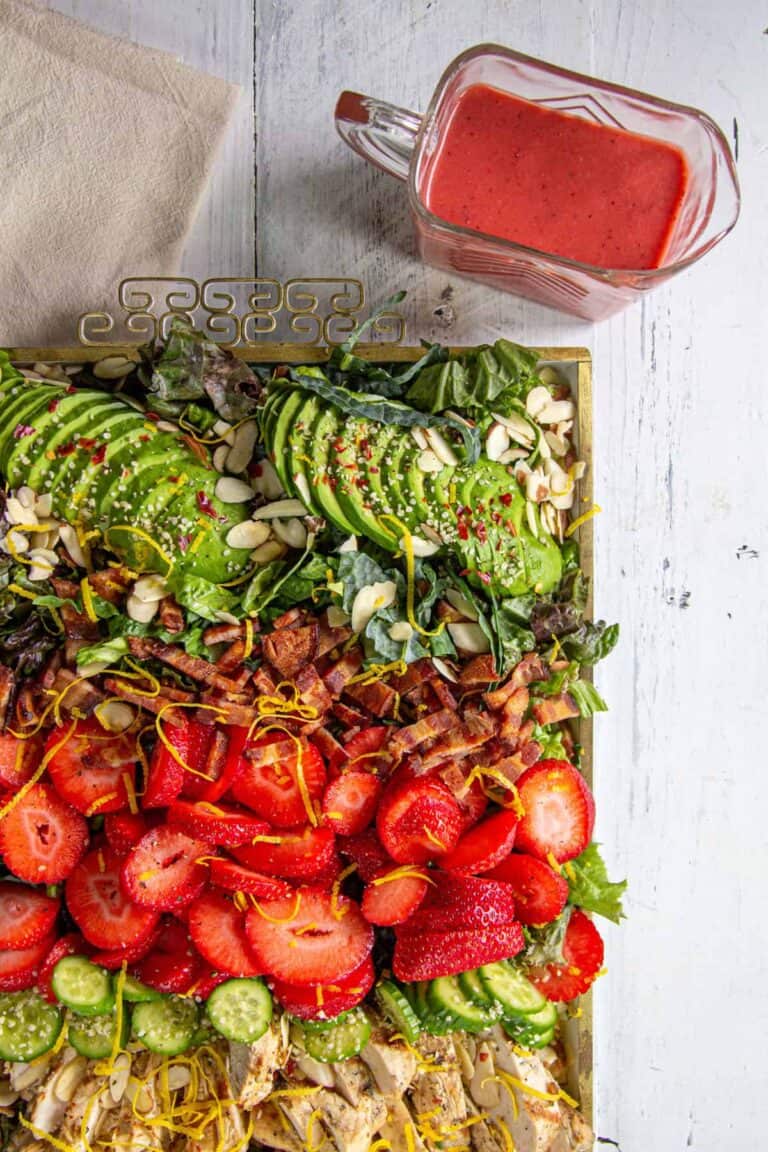 Strawberry Salad with Grilled Chicken
Did you know that the Cobb salad was invented in California? It's true! The Golden State has inspired all sorts of delicious food trends over the years, but the Cobb Salad is one that has reached Super Star status. California Grown's latest version of the classic Cobb is this Strawberry Salad with Chicken. We think it's delicious enough to become a California icon on its own!