Have you ever been nibbling on your favorite summer melon and wondered, can dogs eat cantaloupe? The answer is YES, in moderation of course. This tasty melon is safe for pups and can be a healthy alternative to traditional treats.
***Please note, I am not a veterinarian, just a very passionate dog owner! The information in this blog post documents our own personal experiences, research, and the recipes that we feed our dogs under our veterinarian's careful supervision. Please, consult with your vet and use your own judgment when considering transitioning to a 100% human-grade food diet for your pup.***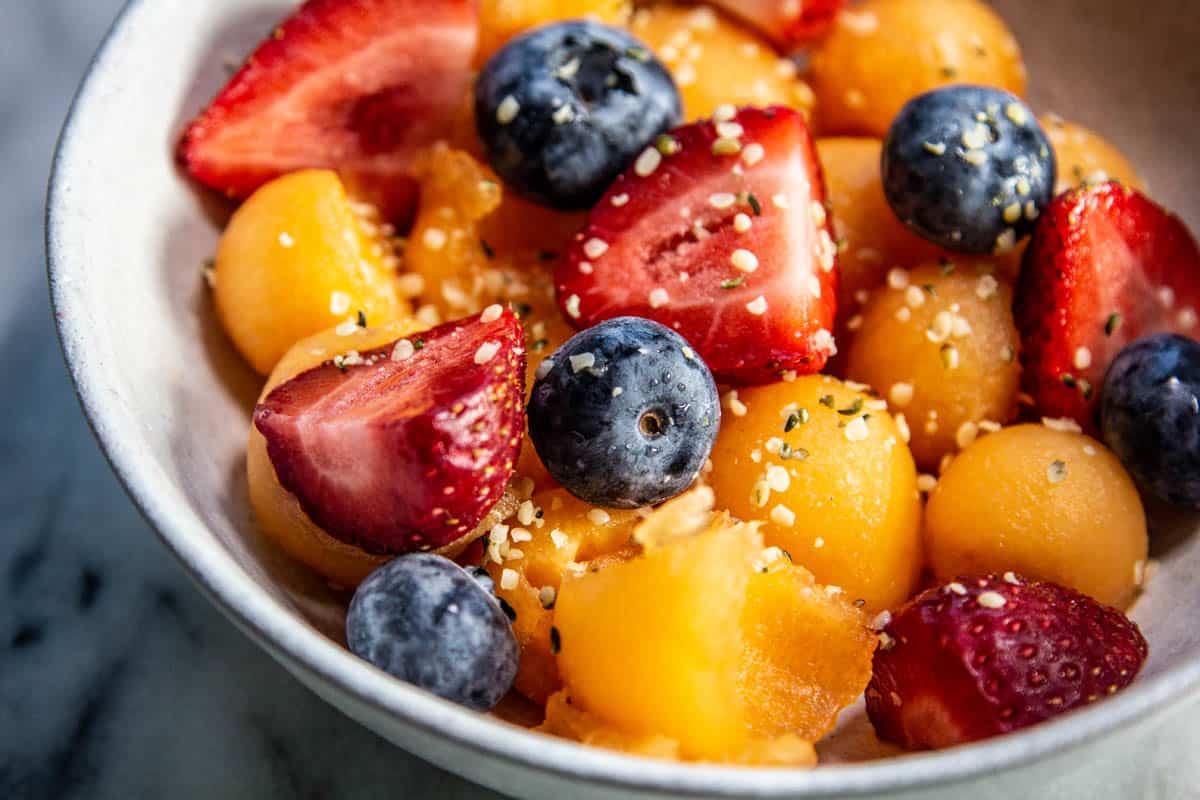 Is cantaloupe good for dogs?
Sweet juicy cantaloupe is one of the true pleasures of summer for you and for your pup!
Cantaloupes are a great source of vitamin C, potassium, and other nutrients. They're also high in antioxidants that fight free radicals and reduce inflammation. Cantaloupes are rich in fiber and are about 90% water, so adding some to your dog's diet can help promote hydration and healthy digestion too.
Is cantaloupe toxic to dogs?
No, cantaloupes are not toxic to dogs. There are a few things to be aware of when it comes to treating your dog cantaloupe.
Before sharing with your dog, remove the rind, membranes, and seeds—cantaloupe rinds and seeds can induce stomach upset. The rinds can also pose a choking risk.
When you introduce cantaloupe as a new treat, start out slowly to make sure your dog can digest it well. Cantaloupe is high in sugar, so it's best as a treat eaten in moderation. If your dog has canine diabetes, then cantaloupe is not the right treat for them.
If your dog loves cantaloupe, he might have some gas and diarrhea after eating a lot of it. But don't worry, this happens to people too sometimes. Just start slow a few pieces at a time and your pup should be fine.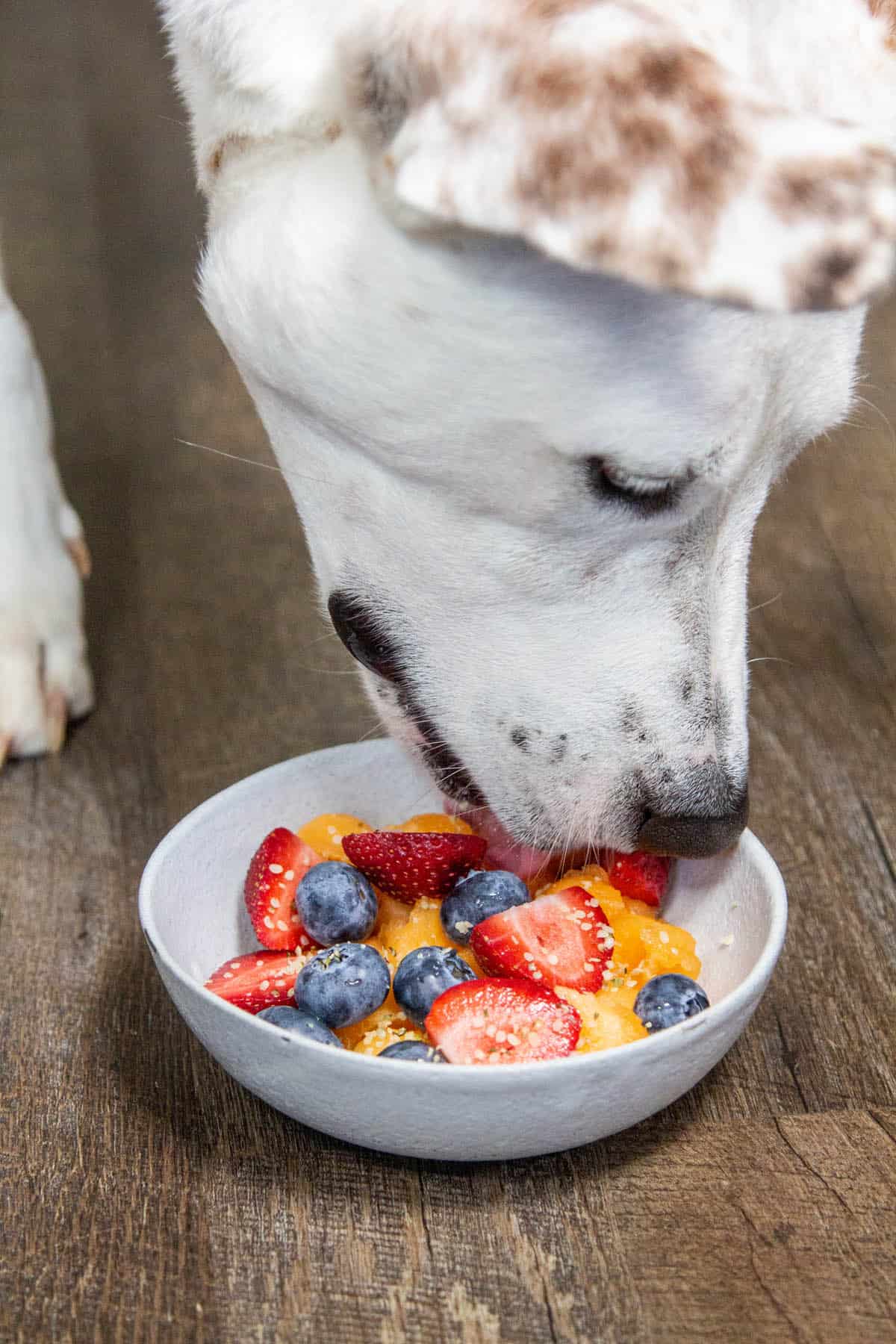 How much cantaloupe can dogs eat?
The 10% rule is a guideline that many veterinarians suggest for dog parents when it comes to giving their dogs treats. This includes fruit, and the calorie content from treats should not exceed 10% of your dog's daily diet.
One cup of cantaloupe chunks has 12 grams of sugar.
One cup of cantaloupe has 53 calories. That makes it around 8% sugar by weight.
Because cantaloupe contains a greater amount of sugar than some other foods, it should be eaten in moderation. If your dog is diabetic, avoid sharing cantaloupe.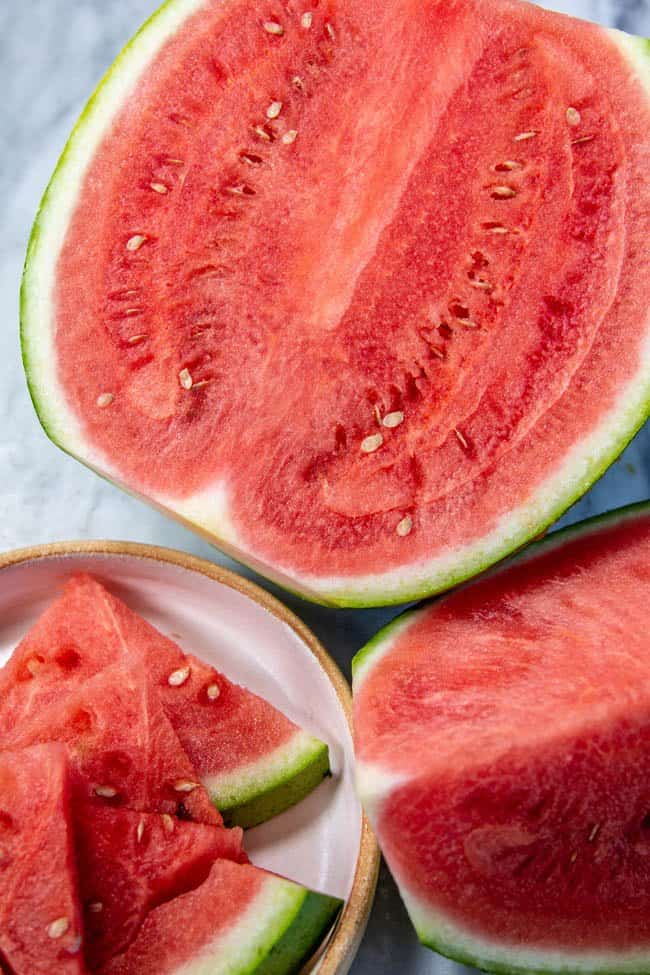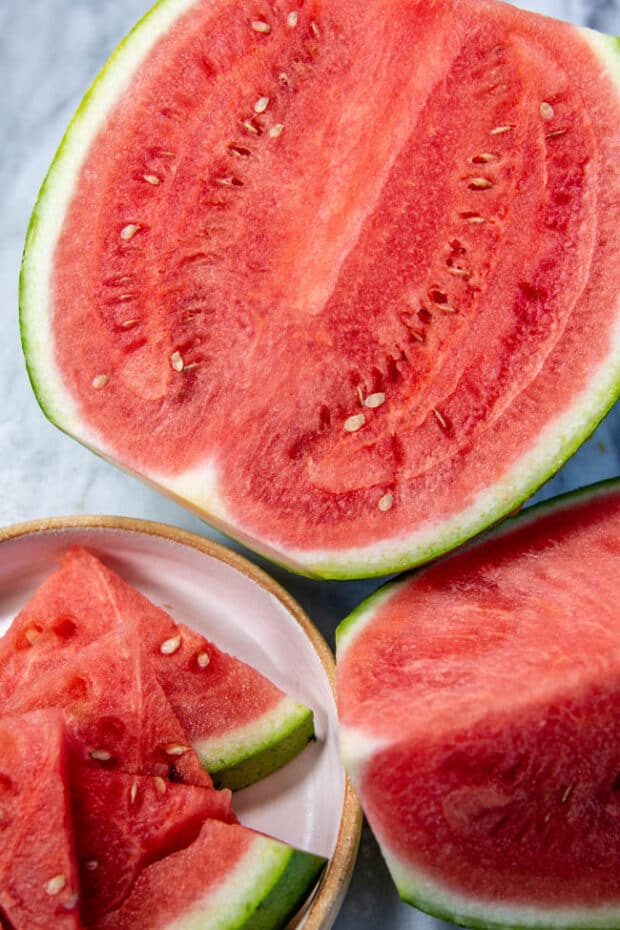 Yes! As long as the rind and seeds are removed your pup can enjoy all types of melons.
How to clean and prepare cantaloupe for your dog.
After you bring your cantaloupe home it is important always to follow safe handling and storing guidelines.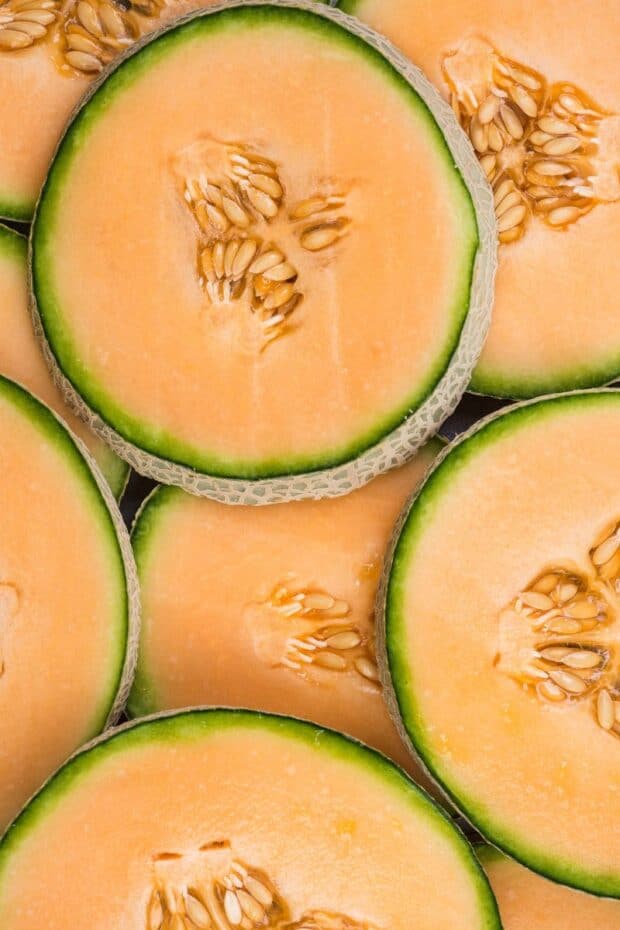 Safe handling & storing guidelines for cantaloupes.
Wash cantaloupe with soapy water thoroughly before cutting into it.
Use a scrub brush to clean the rind thoroughly.
Use a clean knife and cutting board when preparing cantaloupe to prevent contamination from other foods.
After cutting, store cantaloupe in the refrigerator in plastic wrap or a sealed container.
What fruits are safe for dogs to eat?
There are lots of fruits that are dog-friendly, but some that are not. It is important to understand what types of fruit are safe for your dog and which ones are dangerous.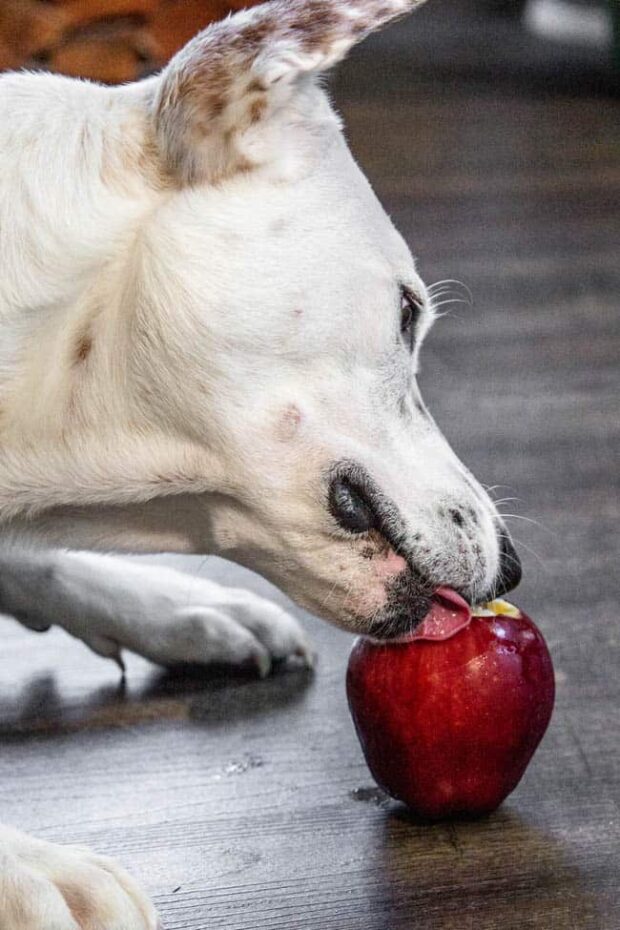 We love our dogs and love to pamper them as if they're our own kids. It's also fun to enjoy a handful of our favorite fruit with them.
But as members of our family, we also have the responsibility of keeping them healthy to live long and happy lives. Fruits are normally very nutritious for dogs, but there are limits.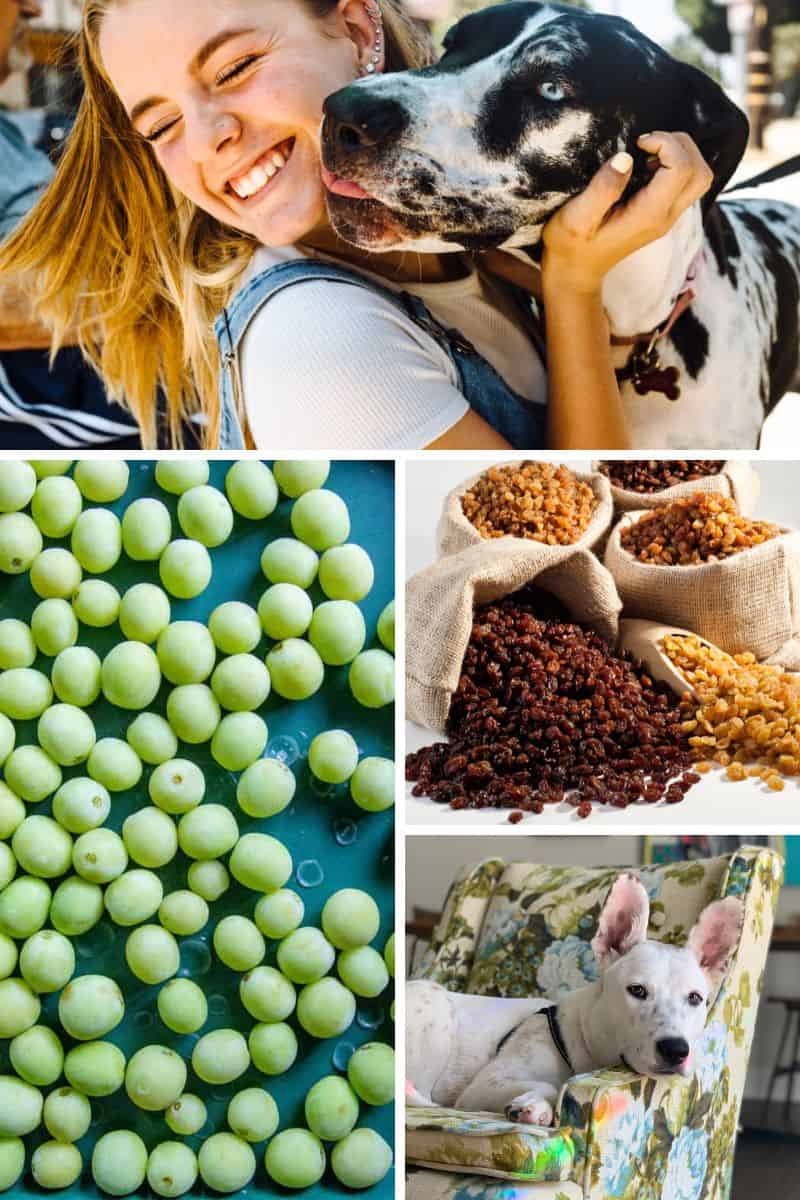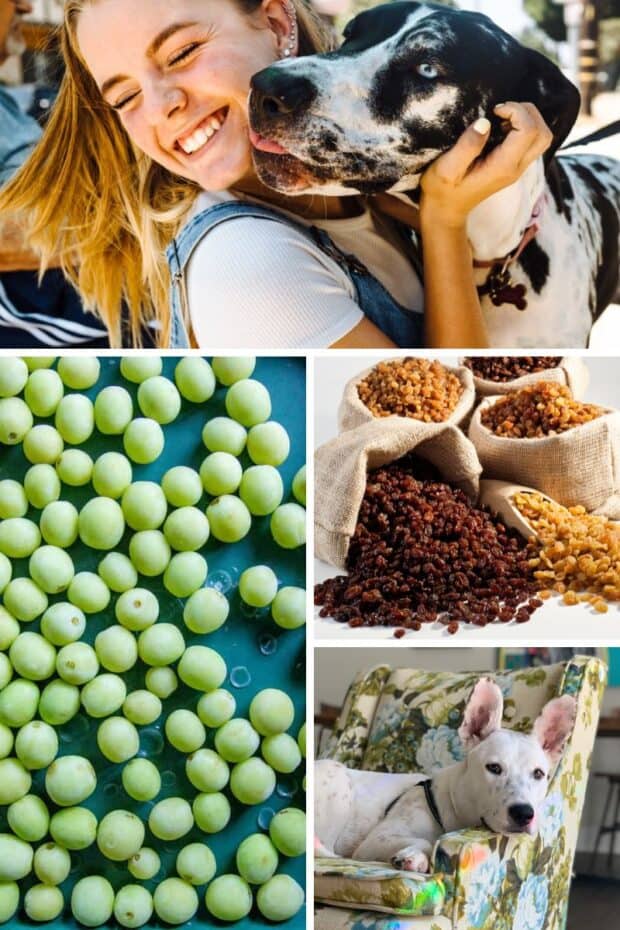 If there is one thing a dog owner should know, it's this: dogs can never be allowed to eat grapes or their dried variants, raisins. Doing so can result in dire, even lethal, consequences for the health of your dog and possibly leave you with a fat veterinarian bill on top of that.
If your pup loves this fruit salad I would be so grateful if you would rate the recipe and let me know what you think in the comments below!
Print
Easy Dog-Friendly Fruit Salad
This is a fruit salad you can share with your pup!
Remember the 10% rule when thinking about measurements. See blog post and recipe instructions for more details
Author:
Prep Time:

3 minutes

Total Time:

3 minutes

Yield:

varies

Category:

dog treats

Cuisine:

dog food
cantaloupe, cut into small pieces
strawberries, sliced
blueberries
sprinkle of hemp hearts
Instructions
You can use any combination or variety of fruit listed in the ingredients above or the notes below.
The 10% rule is a guideline that many veterinarians suggest for dog parents when it comes to giving their dogs treats like fruit - so the weight of your dog and how much fruit you treat them will vary. 
Small dogs: 3-4 small pieces of fruit per day depending on the size of the fruit and your dog.
Medium-sized dogs: 5-6 small pieces of fruit per day depending on the size of the fruit and your dog.
Large dogs: 6-8 pieces of fruit per day depending on the size of the fruit and your dog.
Notes
You can substitute other fruits in for the ones listed here like bananas, apples, raspberries, blackberries, or watermelon.
Keywords: can dogs eat cantaloupe, cantaloupe, dog food topper, dog treat,
Recipe Card powered by
Want to be a part of our online community outside of the blog? It's easy!! All you have to do is follow @THISMESSISOURS on FACEBOOK, INSTAGRAM, TWITTER, YOUTUBE, TIKTOK or PINTEREST to see cooking demos, and peeks into our day to day life.