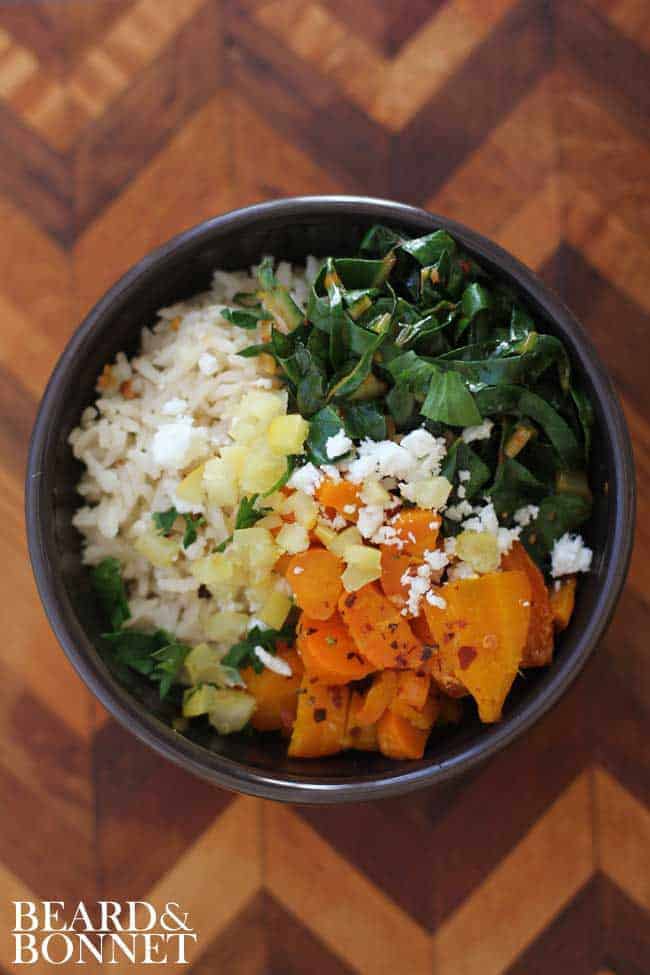 Sometimes you find a recipe that you LOVE, you make it, you stuff your face with it, and then you continue thinking about it so you make it again. At the end of November my neighbor, Beth of Tasty Yummies, posted a recipe for Harissa Roasted Carrots with Preserved Lemons and Feta. I had never tasted a preserved lemon or harissa before, and this seemed like the perfect opportunity for me to try them both. I called Beth and asked if she wouldn't mind sharing some of the preserved lemons that she made and she gladly agreed.
I spent the evening making her dish alongside the rest of our dinner and when I had the chance to taste it, I was in LOVE! The combination of the spicy harissa with the tart preserved lemons and roasted carrots was brilliant and delicious! I have thought about those carrots over and over again and recently I found myself creating a rice bowl that shared a lot of the same flavors along with a few additions of my own, I just love when one recipe inspires another. Trust me, this spicy harissa greens and roasted carrot rice bowl is going to knock your socks off!
The base of this rice bowl is a sweet and sticky coconut jasmine rice that is topped with carrots roasted in carrot juice, ginger, and lemongrass with spicy harissa greens. It's such a great blend of sweet and savory along with just the perfect jolt of heat from the greens. I have been topping these bowls with some of the preserved lemons from Beth, creamy feta, fresh parsley, and crushed red pepper flakes. Obviously the harissa and red pepper flakes are a little much for our kids so I make their bowls with only the coconut rice, roasted carrots, preserved lemons, feta, and parsley. It's one of those meals where everyone gets what they want. A little something spicy for Todd, something tangy for Eliza, and something sweet for Kash, it just might be the perfect dinner at our house! Added bonus is that this meal travels REALLY well the next day for lunch!
Now you may wonder why I chose to roast the carrots in carrot juice instead of just dry roasting them in the pan. It's simple really, roasting veggies in their own juices intensifies the flavor just like people cook meat in it's own juices. Same principal only the veggie version over here. I just love having some of that sultry carrot cooking liquid to drizzle on top of my rice bowl too. Spiked with the flavors of ginger, lemongrass, and a little nutmeg. It's insanely delicious!
Print
Spicy Harissa Greens and Roasted Carrot Rice Bowl
For the rice:

2 cups

jasmine rice

2

cans of full fat coconut milk, unshaken and cream at the top separated from the coconut water at the bottom

2 cups

water

1 ½ tablespoons

coconut sugar

1 teaspoon

kosher salt
For the roasted carrots:

1 tablespoon

olive oil

1

pound carrots, peeled and cut into

1

-inch pieces

2

-inch piece of ginger, peeled and quartered

2

pieces of lemongrass, tough outer leaves removed and split in half

1 teaspoon

kosher salt

¼ teaspoon

freshly grated nutmeg

1

-

1 ½

cups carrot juice
For the Spicy Harissa Greens:

½

pound fresh chard, washed, thoroughly dried, and cut into thin shreds.

2 tablespoons

olive oil

½ tablespoon

harissa paste

2

cloves garlic, minced
Garnish:
Fresh flat leaf parsley chopped
Red pepper flakes
Crumbled feta cheese, omit if vegan
Instructions
Make the rice: Rinse the rice in a colander under cool water until the water runs clear.
Combine the rice, coconut cream, water, coconut sugar, and salt in a medium sized saucepan. Bring just to a boil, stirring to dissolve the sugar, then cover and reduce the heat to low.
Cook until the rice is tender and has absorbed all of the liquid, 30-40 minutes. Fluff rice with a fork; cover and let sit for 10 minutes before serving.
Roast the carrots: Preheat the oven to 400°F. Wipe the tablespoon of olive oil in a medium sized roasting dish to grease the bottom. Place the prepared carrots, ginger, lemongrass, salt, and nutmeg in the roasting dish stir to coat the carrots in the spices then pour the carrot juice into the baking dish. You want the carrot juice to come about halfway up the side of the carrots, not fully submerged.
Roast the carrots in the preheated oven for approximately 20 minutes until the carrots are starting to brown in spots and are tender. Discard the pieces of ginger and lemongrass before serving.
Make the Spicy Harissa Greens: Heat the olive oil in a large skillet over medium-high heat. Add the harissa paste and minced garlic, stir to combine and warm through. Add the shredded chard to the skillet and use tongs to gently mix the greens into the harissa garlic mixture. When the chard has wilted down and is warmed through it is done, about 3-4 minutes.
Assemble the bowls:
Place the coconut rice in a large soup bowl, heap sauteed greens on top add roasted carrots and cooking liquid, top with preserved lemons, feta, red pepper flakes and parsley.
Recipe Card powered by
Also today I am sharing a roundup of 50 gluten free curry recipes on Tasty Yummies while Beth is away receiving her yoga instructor training. I would love it if you stopped by and said hello! Click here to see the roundup.