When my daughter was little and we were living in Tennessee, we would celebrate the arrival of the warmer months by eating our weight in homemade, berry laden shortcakes. As a single mom I didn't always have a lot of money for extra ingredients and would attempt to work magic with what I had on hand in the kitchen.
Buying everything I needed to make a pound cake (let alone purchasing a pre-made one) just for the sake of the two of us eating shortcake wasn't an option. I did, however, always have the ingredients on hand to make homemade from scratch biscuits. With the addition of a little extra sugar in the batter they were the perfect accompaniment to our sweetened berries and cream. Tender, flaky, golden biscuits lightly sweetened and drenched in berries and cream is pretty much heaven for a couple of southern girls like us!
Now obviously, tender flaky biscuits are hard when you are living a gluten free lifestyle. Any southern girl worth her salt can make a good biscuit and when we went gluten free I had to come to terms pretty quickly that my biscuits would NEVER be the same! One afternoon I announced that if I couldn't make stellar gluten free biscuits that we just wouldn't be having biscuits anymore. It was a sad day, but biscuits are sacred and not any ol' hockey pucks will do. I admit that every now and again I would work up the nerve and secretly give it another try, but each time it ended with an oven full of disappointment. That is, until now.
When Clabber Girl contacted me to collaborate on a few projects I was more than honored. My mom uses their baking powder in her bakeries every day and I grew up with them in my pantry. I couldn't wait to hop in my kitchen and reminisce about baking up goodies with my mom as a kid.
I have baked up quite a few treats these past few weeks with Clabber Girl, but when I saw the huge display of blueberries at the farmers market something struck me...I had to give gluten free biscuits another go. This girl needed some southern-style shortcake. As soon as I arrived home I pulled out my recipe notebook where I take notes of everything I cook and I started mixing my flours, adding the starches, and finally the baking soda. I cut in my butter and added yogurt. I mixed, I formed the dough, I cut out 10 beautiful biscuits, slid them into the oven, crossed my fingers, and said a little prayer.
15 minutes later when my oven timer went off I held my breath and closed my eyes. As I opened the oven door, the aroma that wafted past my face was intoxicating, and as I opened my eyes I was met with the most glorious, pillowy, golden biscuits! At this point I already knew something was different - the gluten free biscuits that I have been baking up the past few years looked anemic and it's hard to get a golden crust. But that wasn't the case with these beauties. They looked like perfection! The truth was in the taste though - I slid a lone biscuit off of the pan and placed it on my cutting board, I took my knife and cut it in half. As the knife passed through the bottom of the biscuit it was music to my ears; the biscuit had a solid base that made a pleasant crunch sound when the knife broke through.
That first bite of the biscuit made me literally squeal. I called my entire family into the kitchen- they each took a ¼ of the biscuit that I had sliced through. Todd declared these the perfect gluten free biscuit and even Eliza agreed -which meant a lot since 13-year olds never seem to agree with their parents about anything (seriously!). And the poor little fruit bandit who has never had a decent biscuit in his whole little life proclaimed his instant, unabashed love for them. Biscuits are officially back on the menu people! And we couldn't be more excited!!!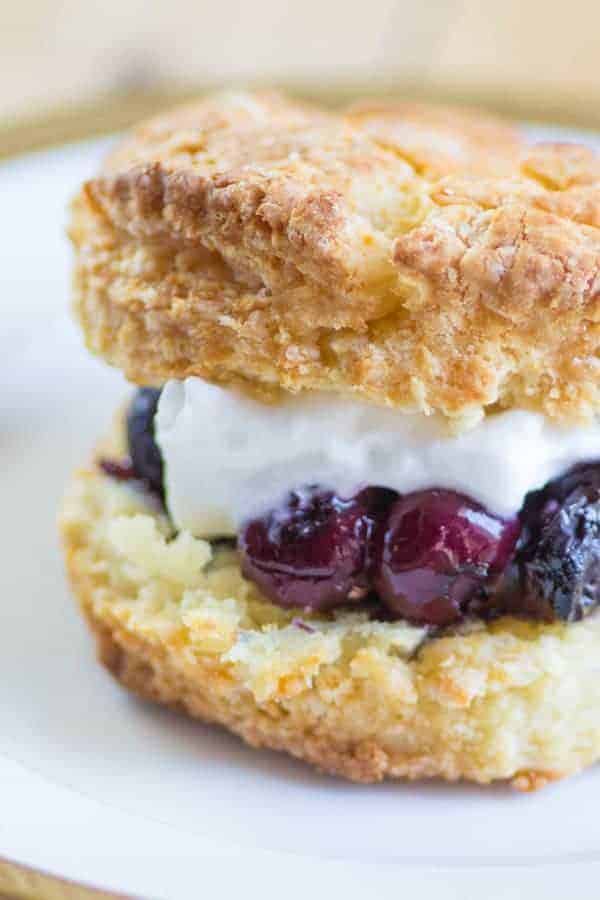 Now, I know what you are thinking, shortcakes are normally smothered with strawberries, but back when Eliza and I had shortcake celebrations on our own we found that just about any berry becomes instantaneously amazing when served up short cake style - especially blueberries!
[mc4wp_form id="7635"]
Print
Blueberry Lavender Shortcakes
Author:
Prep Time:

15 mins

Cook Time:

30 mins

Total Time:

45 mins

Yield:

10

biscuits

1

x
For the roasted blueberries:
12 ounces

fresh blueberries

2 tablespoons

honey

1 tablespoon

dried lavender buds
For the biscuits:
6 tablespoons

very cold butter

⅓ cup

superfine brown rice flour

⅓ cup

sweet white rice flour

½ cup

tapioca flour

½ cup

cornstarch

1 teaspoon

potato starch

1 teaspoon

xanthan gum

3 teaspoons

Clabber Girl baking powder

1 teaspoon

baking soda

2

-

3

teaspoons granulated sugar (depending on how sweet you like your shortcakes)

1 teaspoon

Kosher salt

1 cup

plain yogurt
To serve:
Instructions
Roast the blueberries:
Preheat the oven to 350°F.
In a baking dish just large enough for the berries to sit in an even layer combine the blueberries, honey, and lavender. Stir gently to coat all of the berries then roast in the preheated oven for 15-20 minutes until the berries begin to burst and a bubbly sauce has formed in the bottom of the pan. Remove the pan from the oven and allow the berries to cool completely.
Make the biscuits:
Slice the butter into small cubes, place them in a bowl, and place the bowl in the freezer to chill.
Preheat the oven to 425°F.
In a large mixing bowl combine the brown rice flour, sweet white rice flour, tapioca flour, cornstarch, potato starch, xanthan gum, Clabber Girl baking powder, baking soda, sugar, and salt. Whisk together until completely combined.
Cut the cold butter pieces into the flour mixture using a pastry blender, two knives, or your fingertips until the mixture resembles coarse crumbs.
Add the yogurt to the bowl and gently mix until the dough begins to come together.
Lay a large piece of plastic wrap over your kitchen counter and turn the dough out on top of it. Working quickly, gather the dough into a mass and gently pat into a thickness of ¾-inch.
Cut the dough into 2 ½-inch squares with a knife or into 2 ½-inch rounds with a floured biscuit cutter.
Arrange the biscuits no more than 1-inch apart on a baking sheet and bake in the oven for 13-18 minutes or until golden and cooked through.
To serve:
Split the biscuits in half, top with a heaping spoonful of the roasted blueberries and sauce, then a hearty helping of whipped cream. Place the lid to the biscuit on top and serve immediately.
Notes
If you are making these biscuits and not using them for shortcakes only use 2 teaspoons of sugar in the dough.
Recipe Card powered by