I happen to be the proud Mama of a handsome little gluten-free 2 year old today! Due to the fact that we have a birthday to celebrate I thought that I would share a simple technique to jazz up your favorite cupcake mix. In the past I have slaved away on  batchs of homemade cupcakes for our kids...and of course my Mom is a pastry chef so there have been some pretty amazing specialty cakes over the years. This year is different though because it is our first gluten-free birthday celebration. I decided to make it easy on myself and enroll the help of Better Batter, and use their yellow cake mix.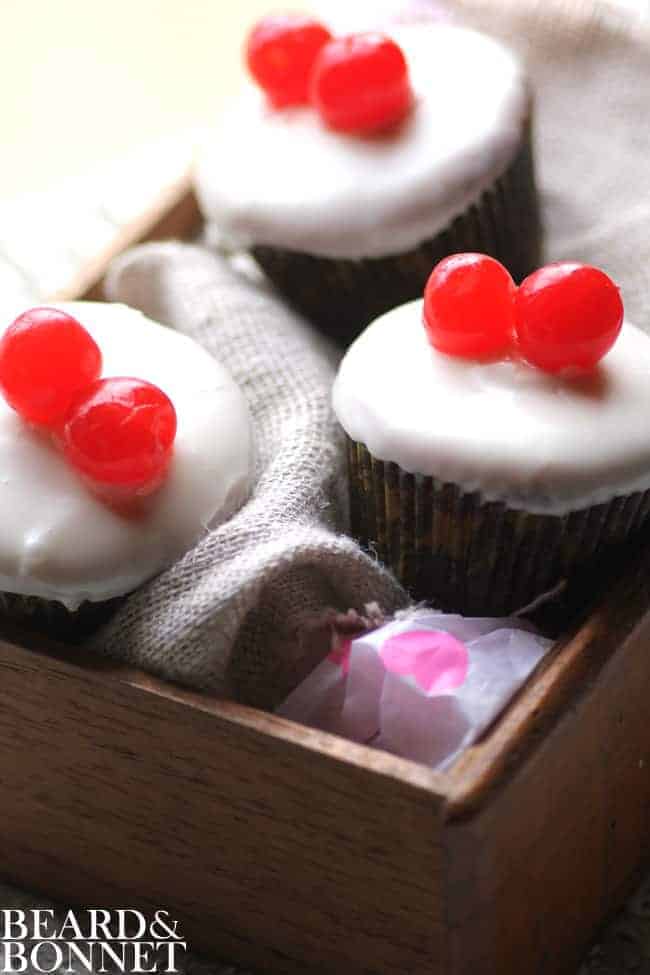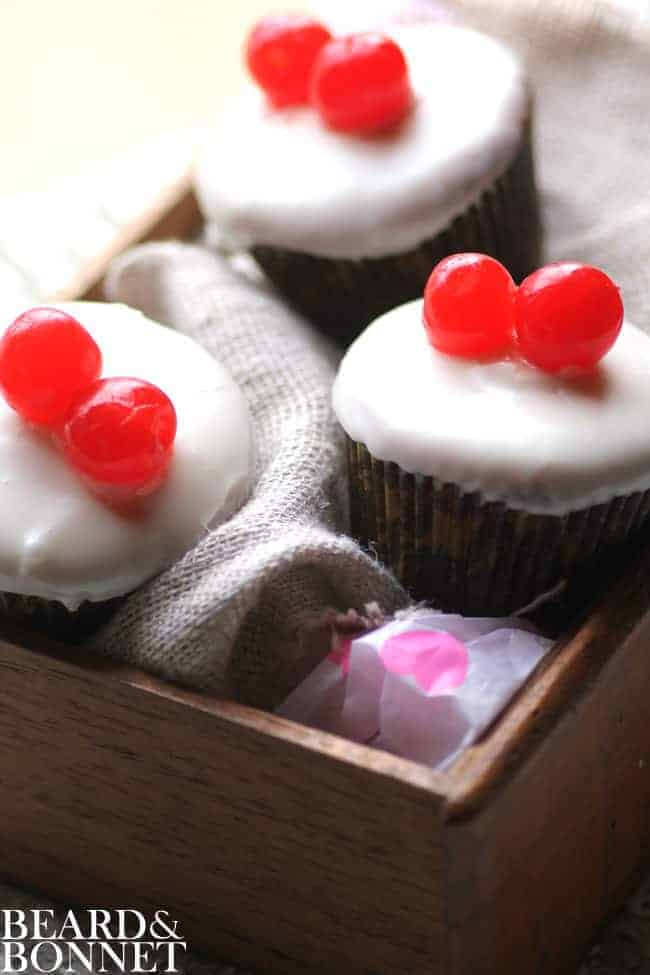 All you need for these delectable cupcakes is a box of g-free cake mix, a jar of cherry preserves, powdered sugar, vanilla, coconut milk, and a small jar of maraschino cherries. *I suggest using cherries with the stems but my grocery was out so I settled for these. Be prepared for people to think you slaved a way on these when they bite into the soft fluffy cupcake and find a fruity cherry center! *I was a little too generous with the cherry preserves and added a tablespoon to each cupcake...I adjusted the amount in the recipe below so that your cherry preserves will float in the center of your cupcakes, although I must admit cherry bottomed cupcakes were not bad either! 
I love Vanilla Extract from King Arthur Baking Company. They have ethically sourced Vanilla Extract from sustainable farmers in Madagascar. Their Vanilla Extract is great quality and is a pantry staple that you can use time and time again in recipes.
Cherry Vanilla Cupcakes
1 box of gluten-free yellow cake mix, I use Better Batter
1 jar of cherry preserves
1 cup powdered sugar
1 Tbsp. coconut milk
½ tsp. gluten-free vanilla extract
1 jar of maraschino cherries; drained, rinsed, and patted dry
Prepare the cake mix as directed on the box and divide into a muffin pan lined with cupcake wrappers. Before placing in the oven place a teaspoon of cherry preserves into the center of each cupcake. Bake as directed then allow to cool completely on a wire rack.
While the cupcakes are cooling mix the powdered sugar, coconut milk, and vanilla extract together in a bowl until smooth and spreadable. When the cupcakes are completely cooled dip each of them into the icing, slowly turning the cupcake to ensure that the whole top is coated. flip back over and place back on the wire rack for the icing to set. Right before serving top each cupcake with a maraschino cherry. Serve immediately.