What happens when you throw together your favorite weekend morning breakfast with your favorite holiday indulgence? A little bit of Christmas magic happens...in the form of an easy gluten and dairy free eggnog pancakes recipe!
I thought for sure we would have to pass on the Nog this year with Todd's dairy intolerance and my aversion to soy I didn't see much hope for us. Until I saw an image on Beth of  Tasty Yummies Instagram the other day of So Delicious Coconut Milk Nog! I quickly dropped what I was doing and hit up 3 grocery stores before driving all the way to Whole Foods to get it in on the dairy and gluten free, vegan Nog action. Oh man, it's so good! It's not too rich with just the right amount of everything we like about a glass of Nog.
It really doesn't get better than this easy Eggnog Pancakes Recipe.
Feeling pretty proud of myself having hunted and gathered a Nog that we can enjoy I quickly ran home and started to think of all of the things that I could make that would be even better with this Nog in it! First thought, I love pancakes, Todd loves eggnog, our kids love both. Why not throw caution to the wind and throw them together? Let me tell you, it works! It works in a "so happy these pancakes are gonna make you wanna snuggle by a warm fire in footie pajamas kind of way."
Does that even make sense to anyone else but me?! Hello Christmas morning breakfast, and possibly every other weekend morning breakfast until the fine people at So Delicious quit making their scrumptious coconut milk nog for the season! Thanks Beth for posting that picture...you just completed our Christmas!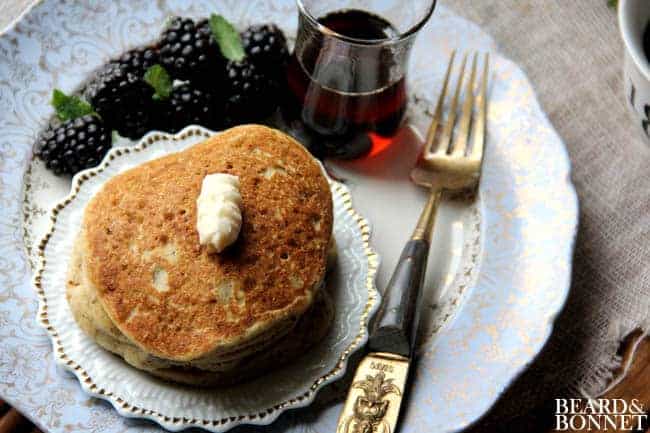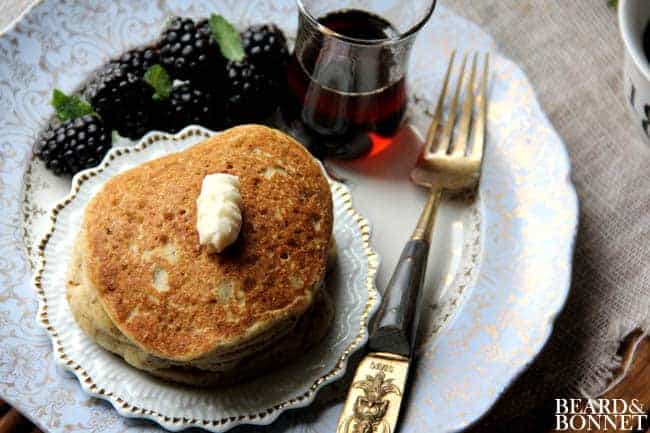 If you've tried this easy Eggnog Pancakes Recipe, I would be so grateful if you would rate it. Let me know what you think in the comments below. I just love hearing from you, and your reviews and comments really help others that visit This Mess is Ours!
Print
Eggnog Pancakes (Gluten and Dairy Free)
Adapted from The Blackbird Bakery's recipe for Sunday Morning Pancakes
Don't forget to rate the recipe, and let me know what you think about these Eggnog Pancakes in the comments below. I just love hearing from you. Your reviews/comments really help other people that visit This Mess is Ours!
¼ cup

plus 2 Tbsp. almond flour

½ cup

millet flour

2 Tbsp

. sweet white rice flour

2 Tbsp

. sugar

1 tsp

. guar gum

½ tsp

. kosher salt

½ tsp

. baking soda

½ tsp

. baking powder

¼ tsp

. freshly grated nutmeg

2

large eggs, beaten

2 Tbsp

. Earth Balance or Ghee, melted
cooking spray
Instructions
Preheat oven to 200° F to keep pancakes warm after they cook until ready to eat.
In a large mixing bowl combine all of the dry ingredients and mix well with a whisk.
Add the beaten eggs, nog, and melted butter and stir until the batter is smooth.
Heat a large skillet or griddle over medium-low heat. Checking the pan for readiness by sprinkling small drops of water onto the surface. If the water dances around the pan until it evaporates you are ready to start making pancakes.
Spray the pan lightly with cooking spray and drop batter either by ¼ cup measurements for large pancakes or for small pancakes drop 2 tablespoonfuls at a time. Cook until bubbles form on top of the pancake; turn and cook the other side until golden brown.
Serve warm, with warmed maple syrup, and a little slice of Earth Balance.
Notes
Makes 16 small pancakes or 8 large pancakes.
Recipe Card powered by
We are happy to have shared this post at the Gluten-Free Friday's link up party hosted by Vegetarian Mama, Eat.Live.Make, and Gluten Freed R.D.!  Hop on over to find more great gf recipes.
Want to be a part of our online community outside of the blog? It's easy!! All you have to do is follow @THISMESSISOURS on FACEBOOK, INSTAGRAM, TWITTER, YOUTUBE, or PINTEREST to see cooking demos and peeks into our day to day life.
What are the health benefits of almond flour?
Almond flour is a more nutritious, gluten free alternative to wheat flour. Made from blanched almonds, it is full of essential nutrients, especially Vitamin E and magnesium. These nutrients help to regulate blood sugar and reduce the risk of heart disease.
Click here for more on the health benefits of almond flour.
Frequently Asked Questions