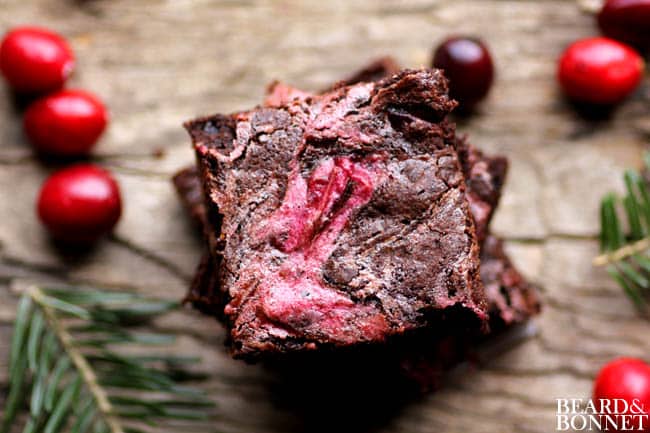 Remember back during the pre-Thanksgiving pumpkin craze when I posted a super easy recipe for Pumpkin Marshmallow Swirl Brownies?  Oh man, those brownies were yummy! So yummy in fact that I decided to make a Christmas version. I am in love with the festive pink marble swirl and really enjoy the tart finish that the cranberry sauce gives these brownies. Be sure to resist temptation and let the brownies cool all the way before slicing so that the swirl can set. I promise you will receive oohs and ahhs at any gathering you bring these to. It will be our little secret how simple these really are.
Cranberry Marshmallow Swirl Brownies
1 box Betty Crocker, Gluten Free Brownie Mix
2 eggs
¼ cup melted Earth Balance or butter
¼ cup cranberry sauce, slightly warmed
¼ cup Marshmallow Fluff
Cooking Spray
Lightly grease the bottom of an 8″ x 8″ baking pan with cooking spray and preheat the oven to 350°F for a shiny metal pan or 325°F for a dark or nonstick pan.
Stir the brownie mix, melted butter, and eggs in a medium bowl until blended really well.*The batter will be super thick! Spread the batter into the prepared pan, gently working the batter to all of the edges using the back of your spoon.
In a separate bowl combine the cranberry sauce and the marshmallow fluff by beating with a whisk until smooth. Scoop tablespoonful's over the top of the brownie batter.* I put 5 tablespoons full around my pan and it was plenty. (One towards each corner and one in the center) You will have some of the cranberry mixture left over, we dipped gluten-free graham crackers in ours..it was yummy! . Use a toothpick and swirl the brownie batter and the cranberry mixture together. The more you swirl the more marbled the top of your brownies will appear.
Bake for 28-31 minutes or until a toothpick inserted 2 inches from the side of the pan comes out almost clean. Allow to cool to set before serving. Store tightly covered.
Just in case you missed those Pumpkin Marshmallow Swirl Brownies click here.
 We are happy to have shared this post at the Gluten-Free Friday's link up party hosted by Vegetarian Mama, Eat.Live.Make, and Gluten Freed R.D.!  Hop on over to find more great gf recipes.