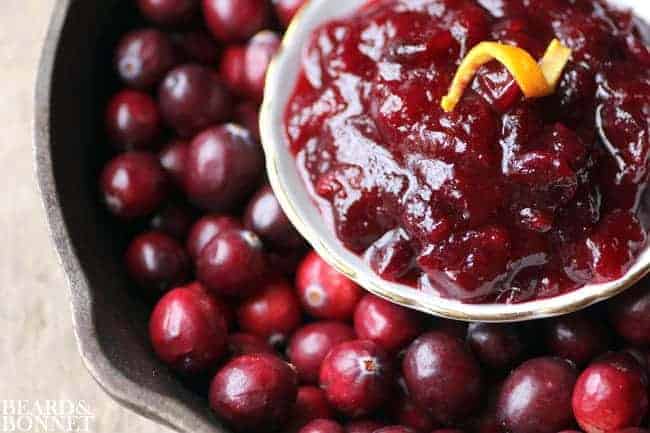 Everybody has their own version of cranberry sauce that they bring to the table for Holiday season. This is our house favorite, infused with the flavors of ginger and citrus, it is a perfect complement to your Holiday dinner.
Due to my slight obsession with cranberries we have been eating this sauce for a few weeks now all ready...we have topped biscuits, filled muffins and have even made a PB & C sandwich or two for the kids. What unconventional ways do you enjoy cranberry sauce?
Ginger and Citrus Cranberry Sauce
Makes approximately 2 cups
12 oz. bag of fresh cranberries
¾ cup fresh squeezed orange juice
2 oz. gold rum
1 inch nub of ginger, peeled
3-4 inch piece of orange peel
⅓ cup brown sugar
⅓ cup white sugar
Place all of the ingredients in a saucepan and cook over medium-high heat for 15-20 minutes or until most of the liquid has reduced, stirring occasionally. *During the cooking process you will be able to hear the cranberries POP! Eliza thinks this part is pretty cool. When the cranberry sauce is cooked, immediately remove the orange peel and ginger. The cranberry sauce is ready to serve or can be stored in the refrigerator for a few days. Bring to room temperature or heat on the stove when ready to serve.
We are happy to have shared this post at the Gluten-Free Friday's link up party hosted by Vegetarian Mama, Eat.Live.Make, and Gluten Freed R.D.! Hop on over to find more great gf recipes.