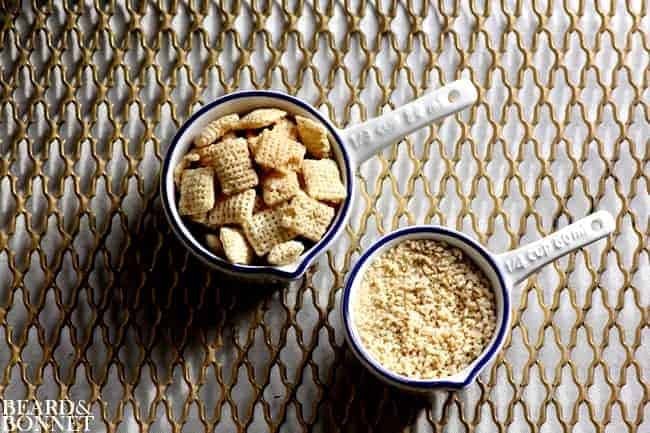 No, this write up won't win any awards for creativity or best recipe ever, but if you are living a gluten-free lifestyle like we are then this might just be a Thanksgiving Day game changer! It seems like every recipe I look at lately calls for Panko. *Maybe it is because I miss real Panko so much. Its ability to bread foods and top casseroles in a perfect, golden, crunchy, crusty topping makes Panko undeniably one of the most mouthwatering pantry staples of all. Since our gluten-free lifestyle change I have been grinding up every rice cracker, toasted gf bread, and gf cereal I can get my hands on to try and recreate that perfect crunchy bite and at last we have a winner! Here is how it happened…
If you were to look in other toddler's snack bags you would probably find a handy little stash of gluten-laden Cheerios. Don't get me wrong, I personally LOVE the little round bits of goodness, but for my son they are a one way ticket to a gnarly gluten reaction. My handy go-to cereal snack for him is Rice Chex; he loves it and squeals in delight when he sees the stash in his diaper bag. Last week when I was cleaning out the diaper bag from a week's worth of grab & go snack packing I found a bag of pretty pitiful, pulverized Rice Chex. At first I didn't think too much about it I just tossed the bag into the trash and went about my day. The epiphany happened a few days later when I saw a recipe on one of my favorite blogs for White Bean Casserole with a Crunchy Onion Topping, guess what makes that golden crunchy onion topping crunch…….Give up? PANKO, Agh!!!
So, there I was mouthwatering, stomach growling and if I must admit, pretty irritated that I couldn't whip that dish up for dinner. Feeling pretty defeated by all of the Panko crusted dishes I was seeing posted online and unable to find anything else that distracted my overwhelming desire for that casserole I decided to go to my pantry and try to find some kind of dinner inspiration that didn't involve crunchy, golden, Panko goodness. There were plenty of potential meals that I could have whipped up, but I just kept thinking obsessing about that casserole…I bet it would be delicious, crispy, golden and savory. *Does anyone else day dream about food they can't eat? I think I have a problem! At that very moment, my amazing toddler came running in from the playroom begging for his favorite afternoon snack. * I think he sensed my desperation! I reached into the pantry and pulled out the big box of Rice Chex, made him a little snack cup which triggered the memory of that little bag of pulverized Chex. There they were…staring at me, and I was staring at them… they were begging me to try and turn them into a crispy, golden, gluten-free, Panko-esque casserole topper. *Why I have never tried this before is beyond me!
I grabbed a few handfuls, tossed them into a large Ziploc bag and broke out the rolling pin. I crushed them until they were light, airy and they looked flaky, like real Panko. Then, I whipped up the rest of those casserole ingredients, minus the turkey bacon, and crossed my fingers as it went into the oven. Can I just say it was an EPIC moment in my gluten-free kitchen when we sat down at the dinner table to eat our faux-panko topped casserole?! It may not seem like a big deal to you, it has forever changed the way I will bread, top, and stuff! All thanks to my miniature knight in shining armor craving his afternoon snack.
Have you ever had a moment in the kitchen that has changed how you prepare your meals and the ingredients you use forever?
We are happy to have shared this post at the Gluten-Free Friday's link up party hosted by Vegetarian Mama, Eat.Live.Make, and Gluten Freed R.D.! Hop on over to find more great gf recipes.
(Visited 1 times, 1 visits today)