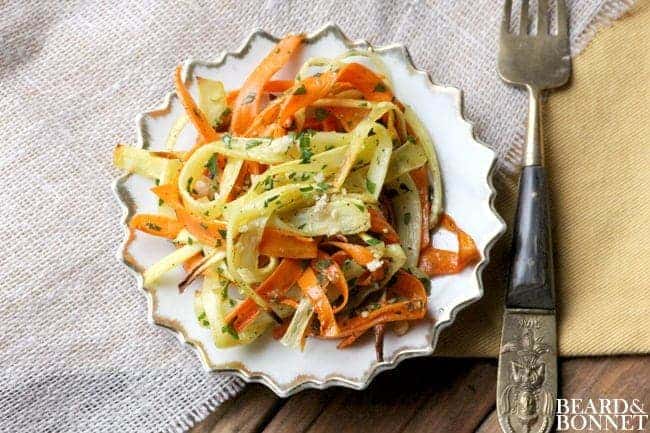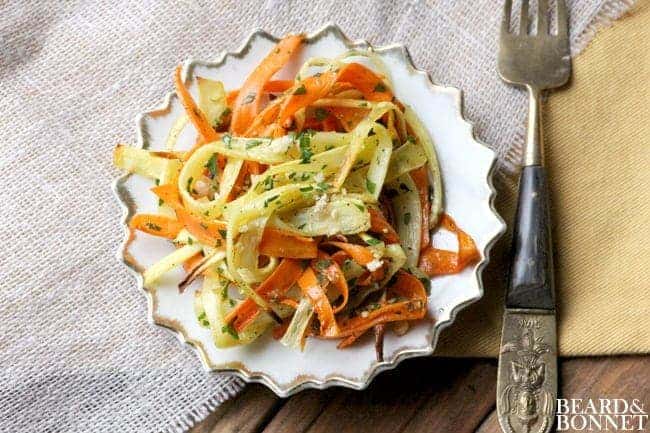 Still looking for quick, easy additions for your Thanksgiving dinner? Look no further; this one I promise is a winner! Besides the fact that it is slightly addictive, has a hint of white truffle mixed with roasted garlic, and can be made well in advance, it also tastes great hot or cold. *Not refrigerator cold, room temperature cold, although it probably does taste great straight from the fridge...mine just never makes it that far! I am guilty of making this salad early in the day intending for it to be a part of my family's dinner and then eating it all before they even get a chance to lay eyes on it. *Sorry guys!
You see that little crumble on top? Looks like Parmesan...it's not! It's a quick Vegan trick that I came up with recently and I am willing to share it with you because we are friends. It doesn't require nutritional yeast like a lot of vegan cheese recipes and it has only one ingredient. Pine nuts! They share the same slightly sweet nutty flavor that I love about Parm. Just grind up a tablespoon or two in your food processor or blender, being careful to stop at the crumbly stage before they turn into pine nut butter. Sprinkle away on everything from garlic bread to this simple salad!
I used roasted garlic in this salad; it's so great to have on hand. Roast a bulb or two in the beginning of the week and you will have yummy roasted garlic to use in your dishes all week long! Don't know how to roast a head of garlic? I would show you, but Kiersten that has the amazing Oh My Veggies blog did such a great job last week that I will just send you over there to say hello and to see how it is done! Just click right here. *While you are there you should check out her collaboration with photographer Rikki Snyder for a vegetarian Thanksgiving Dinner that will knock your socks off and will have meat eaters saying "Who needs turkey?"!
Roasted Carrot and Parsnip White Truffle Salad
Serves 6
1 lb. carrots, washed and peeled
1 lb. parsnips, washed and peeled
1-2 Tbsp. olive oil, for roasting
1-2 cloves roasted garlic, smashed with a fork
1 tsp. white truffle oil
2 Tbsp. flat leaf parsley, chopped
2 Tbsp. toasted pine nuts, ground to a crumble
Salt and pepper to taste
Preheat the oven to 425° F and line a baking sheet with parchment paper.
Use a vegetable peeler or mandoline to thinly slice the parsnips and carrots into ribbons. * How thick or thin you slice will change the amount of time that you roast the veggies. Toss the carrot and parsnip ribbons with a tablespoon of olive oil and sprinkle with salt and pepper to taste. Lay them out in a single layer on the baking sheet and place in the oven to roast. *Watch closely depending on how thin you sliced the roasting step could be as fast as 10 minutes or if thicker they can take up to 20! When the ribbons are beginning to brown and crisp on the edges they are done. Remove them from the oven and toss with the truffle oil, roasted garlic, and parsley. Sprinkle with ground pine nuts when ready to serve.
We are happy to have shared this post at the Gluten-Free Friday's link up party hosted by Vegetarian Mama, Eat.Live.Make, and Gluten Freed R.D.! Hop on over to find more great gf recipes.