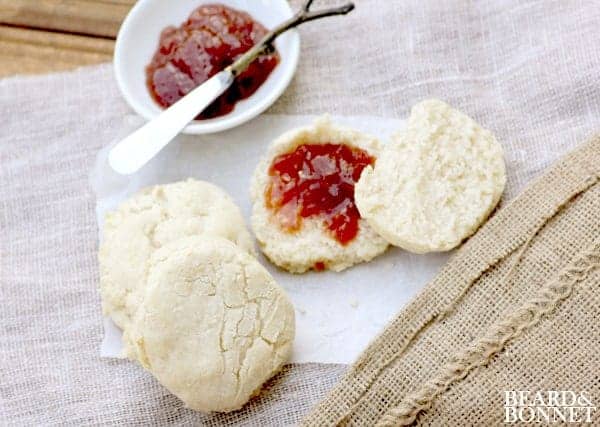 Breakfast just might be my favorite meal of the day. Matter of fact, I will eat breakfast foods any meal of the day! Pre-gluten and dairy free lifestyle we always had biscuits on hand, I think it is a requirement when you live in the South. Post gluten and dairy free lifestyle we have been utterly disappointed by every attempt at biscuits. I have tried countless recipes for gluten and dairy free biscuits…some of them were gritty, some were like hockey pucks and others would serve better as skipping stones than a tender flaky biscuit. My poor family has suffered through so many batches of biscuits…with each new recipe they have watched me destroy the kitchen with a mess that can only compare to that of a scientific experiment gone awry.
A few batches were given a one way ticket straight from the oven to the trash bin. One batch served as pretty great dog biscuits and there were a few that we were willing to consume but we were not willing to call them biscuits! I am a true believer in the saying "With great risk comes great reward." and we were willing to risk a great number of meals to find our new go-to biscuit. Alas, leave it to Anthropologie to show me the light and allow me to serve up one hell of a biscuit!
You might be wondering how a clothing and home store taught me to make the perfect gluten and dairy free biscuit. Well, I went in for a little inspiration and I left with the coolest whisk ever and my favorite gluten-free cookbook to date, The Blackbird Bakery Gluten-Free cookbook by Karen Morgan! I have had to modify her recipes to be dairy free but they have all been amazing and I am now serving up tender, flaky gluten and dairy free biscuits on a whim.
Vegan Gluten and Dairy Free Buttermilk Biscuits: adapted from The Blackbird Bakery Gluten-Free cookbook by Karen Morgan
1 Tbsp. lemon juice
1 cup So Delicious coconut milk, unsweetened
1/2 cup sorghum flour
1 cup cornstarch
1/2 cup tapioca flour, plus 1/4 cup for dusting work surface
1 tsp. guar gum
1/2 tsp. kosher salt
1 Tbsp. baking powder
3 Tbsp. very cold Earth Balance or other butter alternative, diced
3 Tbsp. very cold vegetable shortening, preferably non-hydrogenated, diced
2-3 Tbsp. water if needed
Fruit preserves, honey, agave or butter alternative for serving
Position oven rack in the center of the oven and preheat to 425°F.
Measure and dice earth balance and vegetable shortening and place on a small plate in the freezer to keep cold.
To make the "buttermilk" combine the coconut milk with 1 tablespoon of lemon juice and set aside for 5 minutes to rest until curdled.
In a large bowl combine all of the dry ingredients and stir with a whisk to blend. (See, I knew that whisk would come in handy!) Using a pastry cutter, cut the shortening and Earth Balance into the dry ingredients until the mixture resembles small peas.
Stir in the "buttermilk" until the dough forms a ball. If the mixture seems too dry stir in the water 1 tablespoon at a time. The dough should be more wet than dry. Dust your work surface with some of the remaining 1/4 cup tapioca flour and knead dough until smooth. (About 3 to 4 turns.)
*IMPORTANT NOTE: The less you touch the dough the better the biscuits will be. Resist the urge to over-knead the dough or your biscuits will be dry and possibly turn into stone pucks.
Form the dough into a round approximately 1 inch thick. Using a 3-inch-diameter biscuit cutter, cut out biscuits and arrange in a unbuttered 9-inch cake pan and bake for 12-15 minutes until cooked through. Remove the biscuits from the oven and transfer to wire racks to cool briefly.
Serve hot, with toppings of your choice.
We are happy to have shared this recipe at the Gluten-Free Friday's link up party hosted by Vegetarian Mamma! Hop on over to find more great gf recipes.
(Visited 75 times, 75 visits today)