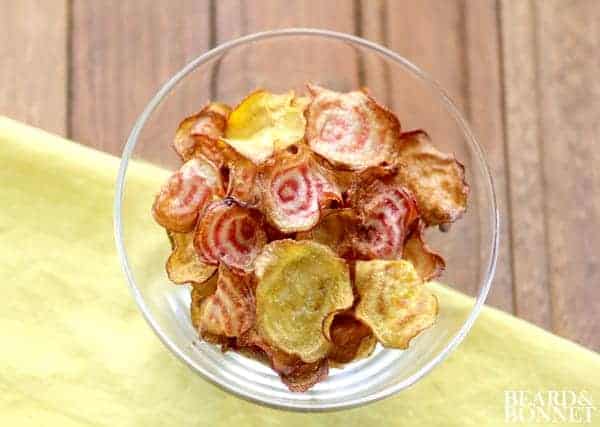 We are so lucky to have children that are adventurous eaters! Todd and I rarely have a problem getting our kids to try new things, which has helped considerably with the switch to our gluten and dairy free diet. However, there are a few vegetables that have eluded our table because even our foodie kids have turned up their noses. Beets are one of those veggies that we just couldn't seem to get Eliza to try and if she won't touch it chances are that Kash won't either.
With school being back in session Eliza and I are constantly brainstorming about new things to pack in her lunchbox. This past week we packed Veggie Spring Rolls and Edamame with fresh fruit but this week E has decided that she would like to swap it up and try something different. The main component that she requested we build her lunchbox around next week is hummus. My first thoughts were bell pepper, carrot and sugar snap pea dippers along with a few wedges of pita bread and rice crisps. (*Eliza is able to eat gluten and dairy but is such a supportive sister that she only eats those things when she won't be tempting her little brother. Her lunchbox is the perfect place for me to pack things like pita bread that are still healthy for her but are also now a treat!) I ran my ideas past E and she was all in and excited for next weeks lunch box menu.
As I was perusing the produce aisle at Whole Foods yesterday to stock up on items for her lunch I noticed the most beautiful Candy Cane Beets. Have you ever seen them? They don't look much different on the outside than regular beets but cut them open and you will find one of the most beautiful veggies that you will ever see! I couldn't pass them up so I grabbed a few of each and decided that at least Todd and I could indulge in them even if the kids weren't interested.
Upon arriving home and unpacking all of our goodies from the grocery I realized that I had forgotten a key element to E's lunchbox. The rice crisps!!! There is nothing that I hate more than having to run back in the store for 1 thing. I almost always wind up with at least one impulse purchase if not more that I had resisted in my previous trip. Totally frustrated with myself I began scouring the cupboards to see what else I might have on hand that would be a decent substitute for the rice crisps I had promised in E's lunchbox. After rummaging for a few minutes I realized that my return to the grocery store just might be inevitable. As I stood there staring into the pantry my eyes wandered over to the kitchen counter. There they were my beautiful Candy Cane Beets, and then it hit me, I could make crisps out of the beets! I knew I had to work fast because I only had 45 minutes before the bus brought E home from school. My goal was to have a fresh batch of candy cane crisps ready as an after school snack. Hopefully, they would be yummy enough to receive the approval for next weeks lunch box!
I grabbed my trusty cast iron skillet, the mandoline and a couple of the beets. I sliced the beets paper-thin to ensure a quick cook in the bath of peanut oil that I had warming on the stove. I sliced, I fried, I salted and I waited anxiously for the bus to arrive. I couldn't help but sneak a few for myself and Kash while we waited. The crisps were so yummy! Slightly salty with a sweet finish, Kash and I were hooked and when E came through the door with a ravenous appetite she began eating the chips without even asking what they were. By the time it was over she had eaten close to 3 beets by herself ranting and raving about what cool potato chips I had made. She said that they tasted like sweet potatoes and she agreed that they could travel to school with her in her lunch box. Only then did I tell her what they really were…her jaw hit the ground for a minute and then she shrugged and said, "I guess that I like beets!"
Phew! No need to channel my inner "Sam-I-Am" the beautiful Candy Cane Beets had done all of the work on their own and they are especially good dipped into hummus which meets the requirements of next weeks lunchbox! I won't bother to tell her all of the health benefits of beets either but, if you don't know how good they are for you I suggest that you click here and snack on a few Candy Cane Beet Crisps while you read the article.
Candy Cane Beet Crisps
2-3 Beets
Peanut Oil
Kosher Salt
Heat peanut oil in a cast iron skillet over medium heat to 350° F. I like to have about 2 inches of oil for making small batches of chips like this but you can increase the depth of the oil for larger batches. Line a sheet pan with paper towels and set aside.
Wash the beets well and trim 1-inch off the root end. Then slice the beets into very thin slices, about 1/8-inch thick using your mandoline.
When the oil is hot fry 1/4 of the sliced beets. Let fry until curled at the edges and most of the bubbling has subsided, about 3 to 4 minutes. I flipped mine once during the cooking process. When cooked through transfer the beets to paper-towel-lined baking sheet and sprinkle with salt. Continue with the remaining beets.
These can be kept in an air tight container for a few days. My plan for this week is to make a small batch every other day to ensure nice crispy chips in E's lunch and because I want to treat myself to fresh crisps too! I saved my peanut oil from the first batch to use again. Just give the oil time to cool and strain it into a glass jar.
(Visited 3 times, 3 visits today)