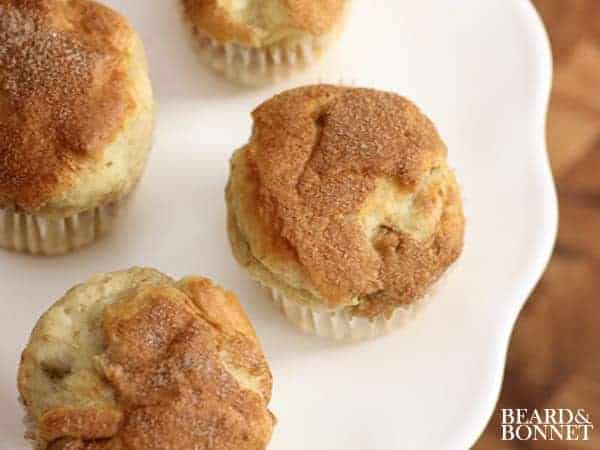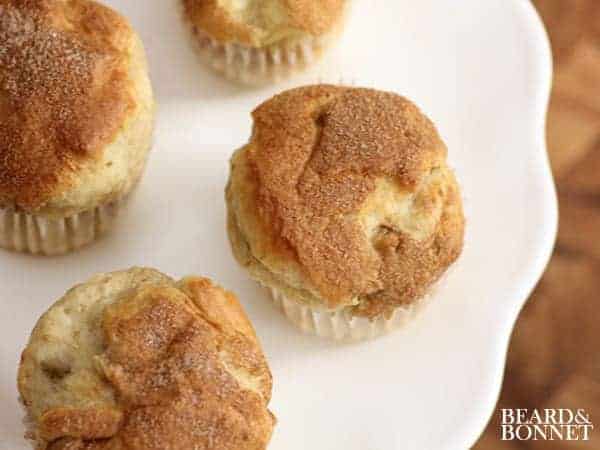 Pregluten-free + dairy free lifestyle our weekend mornings looked like this:
Roll out of bed to the baby alarm, brew coffee and whip up a batch of muffins. You know the ones in the grocery store that you don't even have to think to bake you simply stir in a little water maybe an egg and you bake. It was easy and if I mashed up a fresh banana in the banana nut muffin recipe mix you would think they tasted pretty darn good. There were usually a few left to snack on throughout the day and the cleanup was minimal. Most importantly, who doesn't like a muffin? I admit from scratch would be best but, with 2 kids a husband and a business to keep up with I crave a few simple prep foods in my life.
I love this King Arthur gluten and dairy free banana muffin mixes!
When we went gluten and dairy free those super easy box mixes were one of the first things out of the house. I was thrust into the role of short order cook on the weekends! One person wanted eggs, another oatmeal maybe a gluten-free + dairy free pancake or two. By the time I sat down to eat, my breakfast had turned into brunch and everyone else was circling the kitchen asking about what was for lunch. Something had to give and I had to reclaim my lazy weekend morning of super easy muffins & coffee.
One weekend I was talking to Todd's mom on the phone and she said, "I shipped King Arthur Flour gluten-free baking mixes to your house!" Todd's mom is a wonderful cook and has always trusted the King Arthur brand and since Kash's diagnosis had been looking for gluten-free products for us to try. A few days later the UPS man showed up with the box that would help me reclaim my lazy weekend morning. The box was packed with mixes for pancakes and bread, gf all-purpose flour and the crowning jewel of the shipment was the box of gluten-free muffin mix.
I decided the following Saturday that I would give this little box mix a try and I am so glad that we did! Not only are the muffins super simple with only a few extra steps than the mixes we used to use but the mix is a vanilla base that I can change any way that I want by adding in different fruits and nuts. No more being stuck with blueberry muffins when what we really wanted was a cranberry orange or banana nut muffin recipe.
Another bonus in my book is that the box says it makes 12 but I can get 14-16 large muffins out of it. I was lucky to get 10 decent size, predetermined flavor muffins before. Most importantly, the taste of these muffins are exquisite! They are soft and airy with just a hint of vanilla no one would argue with you if you said that you had baked them from scratch. In fact, we have since taken these beautiful little box mixes with us on our family vacation and fed them to 10 other family members that could not tell they were gluten and dairy free and that raved about how delicious they were.
Since being introduced to the King Arthur Flour gluten-free mixes I have started to see them in Whole Foods and Super Target but you can also order them in bulk through our gluten-free Amazon store.
If you've tried this Banana Nut Muffin Recipe, I would be so grateful if you would rate it. Let me know what you think in the comments below. I just love hearing from you, and your reviews and comments really help others that visit This Mess is Ours!
Print
Gluten and Dairy Free Banana Nut Muffins
Don't forget to rate the recipe, and let me know what you think about these Gluten and Dairy Free Banana Nut Muffins in the comments below. I just love hearing from you. Your reviews/comments really help other people that visit This Mess is Ours!
6 Tbsp

. Smart Balance, melted

3

large eggs

¾ cup

vanilla flavored coconut or almond milk

1 ½

fresh bananas, mashed

¼

walnuts, chopped
cinnamon sugar for dusting the tops of the muffins
Instructions
Preheat oven to 375 degrees and line muffin pan with paper muffin cups sprayed lightly with cooking spray.
Stir together the melted Smart Balance, eggs and the baking mix. Using an electric mixer , beat in the coconut milk ¼ cup at a time , scraping the bottom and sides of the bowl after each addition. Continue beating at medium speed until the batter thickens, about 1 minute. Stir in the mashed bananas and walnuts.
Fill the muffin cups until they are almost full and sprinkle with cinnamon sugar,
Bake for 18-22 minutes, until a cake tester inserted in the middle of one of the center muffins comes out clean.
Remove from the oven, and after 5 minutes transfer muffins to a rack to cool.
Notes
Yields: 14-16 muffins depending on size.
Nutrition
Serving Size:

1 muffin

Calories:

189

Sugar:

2.1 g

Sodium:

370 mg

Fat:

9.1 g

Carbohydrates:

23.5 g

Protein:

3.6 g

Cholesterol:

35.4 mg
Recipe Card powered by
Want to be a part of our online community outside of the blog? It's easy!! All you have to do is follow @THISMESSISOURS on FACEBOOK, INSTAGRAM, TWITTER, YOUTUBE, or PINTEREST to see cooking demos and peeks into our day to day life.
What are the health benefits of bananas?
Bananas are known for their mineral content such as potassium and manganese of which many people do not get enough. These minerals are important for heart health, especially blood pressure control. Bananas also include several vitamins and nutrients that aid the body in overall health. The fiber helps to level out blood sugar levels and improve digestive health.
Click here for more information on the health benefits of bananas.
Frequently Asked Questions