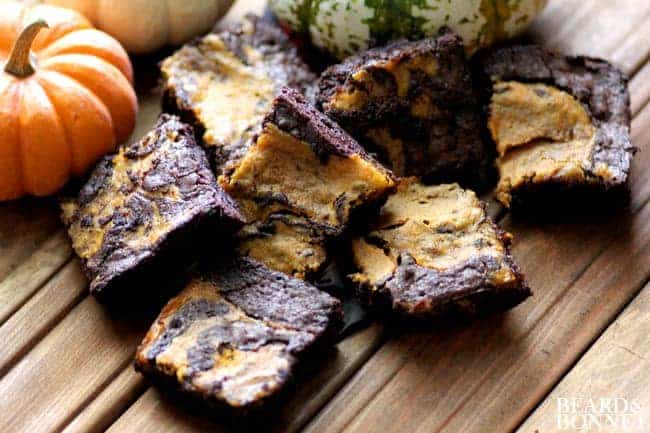 Are you tired of the pumpkin madness that has hit the internet and the stores yet? If you are like me you are reveling in this pumpkin flavor fest that will be gone all too soon. In years past, I have been tempted with pumpkin cream cheese brownies, and let me tell you they are to die for! The only problem this year is that my family cannot have the cream cheese or the gluten laden brownie mix that goes with them. A few days ago, while I was in the middle of a pumpkin crazed snack attack I spotted something in my pantry that I am now considering divine intervention. There was a jar of Marshmallow Fluff sitting right next to a can of pumpkin puree, my gears started turning and my eyes started wandering around the rest of the pantry to see what type of gluten-free sweet treat could become the vehicle for my pumpkin marshmallow experiment. Sitting there, all alone on a shelf of its own was a lonely little box of gluten-free Betty Crocker brownie mix. Less than an hour later I was staring at a pan of ooey-gooey pumpkin laden chocolate brownies that made me so happy I almost forgot to photograph them.
Pumpkin Marshmallow Swirl Brownies
1 box Betty Crocker, Gluten Free Brownie Mix
2 eggs
¼ cup melted Earth Balance or butter
¼ cup pumpkin puree (not pie filling)
¾ cup Marshmallow Fluff
Cooking Spray
Lightly grease the bottom of an 8" x 8" baking pan with cooking spray and preheat the oven to 350°F for a shiny metal pan or 325°F for a dark or nonstick pan.
Stir the brownie mix, melted butter, and eggs in a medium bowl until blended really well. *The batter will be super thick! Spread the batter into the prepared pan, gently working the batter to all of the edges using the back of your spoon.
In a separate bowl combine the pumpkin puree and the marshmallow fluff by beating with a whisk until smooth. Scoop tablespoonful's over the top of the brownie batter.* I put 5 tablespoons full around my pan and it was plenty. (One towards each corner and one in the center) You will have some of the pumpkin mixture left over. Use a toothpick and swirl the brownie batter and the pumpkin mixture together. The more you swirl the more marbled the top of your brownies will appear.
Bake for 28-31 minutes or until a toothpick inserted 2 inches from the side of the pan comes out almost clean. Allow to cool most of the way to set before serving. Store tightly covered.
We are happy to have shared this post at the Gluten-Free Friday's link up party hosted by Vegetarian Mama, Eat.Live.Make, and Gluten Freed R.D.! Hop on over to find more great gf recipes.