I am a huge fan of gigantic hearty salads that eat like a meal! You know what I am talking about - there are salads that leave you longing for more substance after you have eaten an entire platter full and then there are salads that hit the spot and leave you satisfied without feeling like you over indulged.  I call the latter of the two Supper Salads and this is definitely one of them.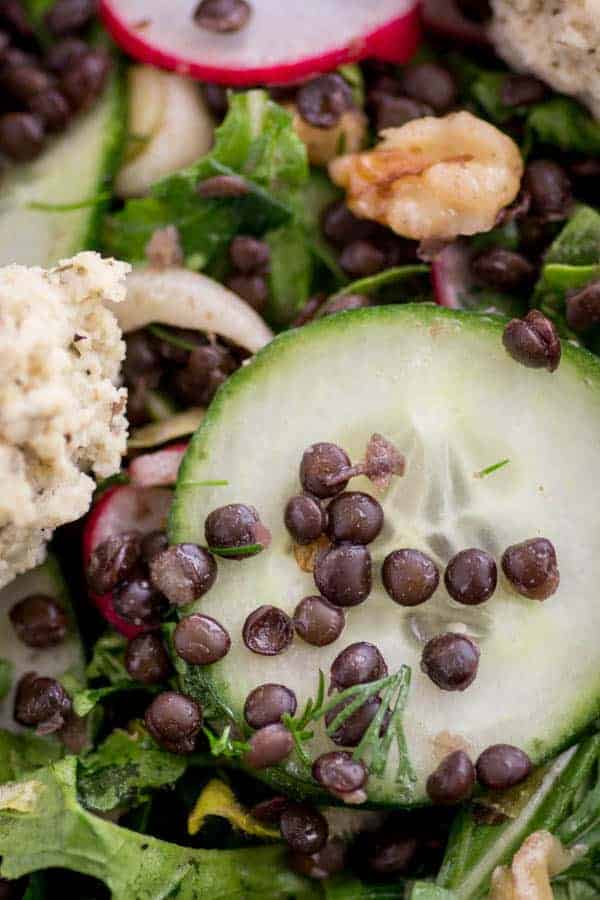 This salad boasts a hearty helping of lentils, peppery arugula and dill tossed with radishes, cucumber and endive - all topped with toasted walnuts and the best cashew cheese I have ever tasted! Are you swooning yet?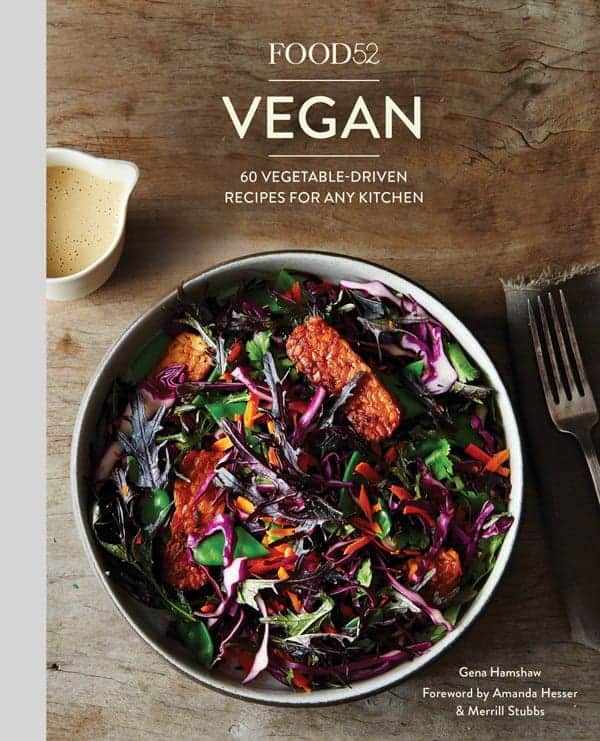 This recipe is from Gena Hamshaw of Choosing Raw's new cookbook Food 52 Vegan. I don't know about you, but I am more than slightly obsessed with Gena's column on Food 52, The New Veganism, and am beyond thrilled that she asked me to share a sampling from her book here with you!
There are so many great recipes that I cannot wait to dig my fork into, but this French Lentil and Arugula Salad with Herbed Cashew Cheese had to happen first!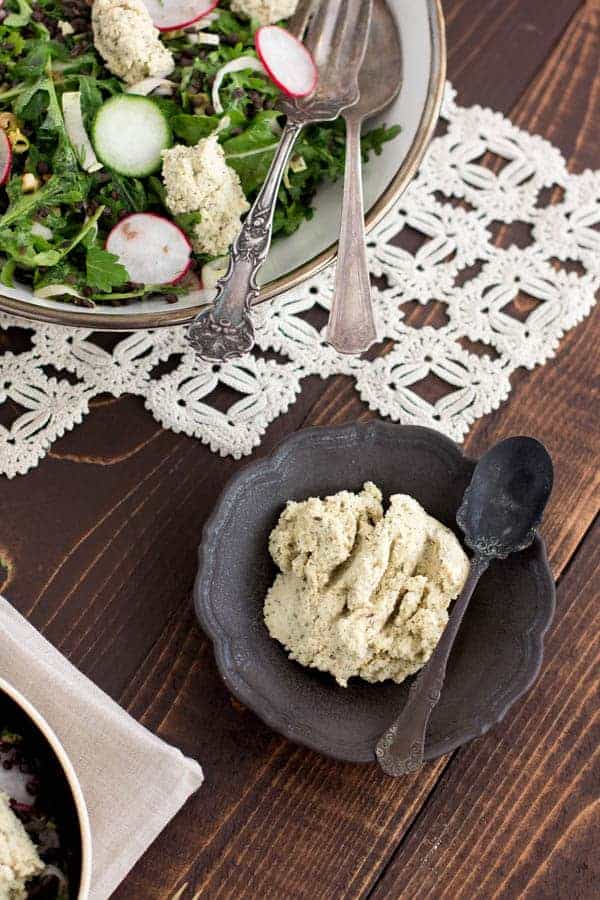 I am a sucker for cashew based recipes and I just couldn't resist trying Gena's spin on a cashew based alternative for goat cheese. This was by far the most delicious cashew cheese I have ever tasted! I was so glad to have some left over after we devoured this salad so that I could spread it onto crackers and toast over the next few days - I seriously just cannot get enough! Put this on repeat - it's a keeper!
[mc4wp_form id="7635"]
Print
French Lentil and Arugula Salad with Herbed Cashew Cheese
Don't have Le Puy green lentils on hand? You can use any type of cooked lentil in this recipe and it will still be delicious. We used Black Beluga Lentils for our salad! Also, making the cashew cheese requires some forethought, so if you don't have any on hand or time to make it, you can omit it or substitute a chopped avocado.
1⁄3 cup

(80ml) olive oil

1

small shallot, minced

1 teaspoon

salt

2 tablespoons

freshly squeezed lemon juice

1 tablespoon

champagne vinegar

1 teaspoon

Dijon mustard

2

1⁄2 cups (

375g

) cooked Le Puy green lentils (see notes), drained well

2 cups

(

60g

) firmly packed baby arugula leaves

1 cup

(

115g

) thinly sliced radishes

1 cup

(

50g

) chopped endive

1 cup

(

105g

) sliced cucumber

1⁄4 cup

(

12g

) chopped fresh dill

1⁄3 cup

(

35g

) toasted walnuts, chopped
Pepper

1⁄4 cup

(60ml) Herbed Cashew Cheese (recipe follows below)
Instructions
In a small bowl or measuring cup, whisk together the olive oil, shallot, salt, lemon juice, vinegar, and mustard until evenly blended.
In a large bowl, stir together the lentils, arugula, radishes, endive, cucumber, and dill. Drizzle evenly with the dressing, then toss or stir until all the ingredients are evenly coated. Stir in the walnuts and season with black pepper to taste. Dot the top of the salad with small bits of the cashew cheese (about 1⁄2 teaspoon each).
Serve the salad right away, or store in an airtight container in the fridge for up to 3 days.
Notes
The Best Way to Cook Lentils Good news: lentils are quicker to prepare from scratch than beans and add great texture and nutrition to dishes. To cook them, start with about 1 cup (200g) of red, brown, or Le Puy (green) lentils. Pick out any that are discolored or shriveled. Rinse the lentils under running water, then combine them in a saucepan with 2 1⁄2 cups (590ml) of water. Bring the water to a rapid simmer, then reduce to a gentle simmer. Add extra water as needed so that the lentils remain barely submerged.
Simmer the lentils for 20 to 30 minutes, until they're tender but retain some chew. (Red lentils take less time to cook because they've been split, so they'll likely be tender in 20 to 25 minutes.) Drain them, then season with salt and pepper to taste. 1 cup (200g) of dry red, brown, or Le Puy lentils will make between 2 and 2 1⁄4 cups (400 to 450g) of cooked lentils.
Recipe Card powered by
Print
Herbed Cashew Cheese
Nut cheese can be made with almonds, Brazil nuts, macadamia nuts, or pine nuts, but cashews, with their buttery texture and mild taste, are perfectly suited to the task. This cashew cheese, which is soft and spreadable, is infused with herbs for a more complex flavor profile and nutritional yeast for a kick of umami. Spread it on crackers or toast or crumble it over a salad.
Author:
Yield:

1 ¼ cups

1

x
1

1⁄2 cups (

195g

) cashew pieces or a combination of cashews and pine nuts, soaked in water for at least 3 hours and drained

2 tablespoons

large-flake nutritional yeast

1 teaspoon

salt

2 teaspoons

herbes de Provence

1⁄4 teaspoon

pepper

3 tablespoons

freshly squeezed lemon juice

1

clove garlic, minced

4 tablespoons

(60ml) water
Instructions
Put the cashews in a food processor or blender (preferably a high-speed blender). Add the nutritional yeast, salt, herbes de Provence, pepper, lemon juice, and garlic. Pulse a few times to break the cashews down until they have a wet, coarse, mealy texture.
With the motor running, drizzle in 2 tablespoons of the water. Now it's time for some kitchen intuition: keep adding water, stopping occasionally to scrape down the sides of the work bowl, until the mixture has a good consistency. It should be similar to thick hummus—a little coarse, but smooth and spreadable. You may not need all of the remaining 2 tablespoons of water. (If using a blender, start on a low speed and gradually increase to high speed as you add the water, using a plunger attachment the entire time to keep the mixture blending.)
Taste and adjust the seasonings as desired. Stored in a covered container in the fridge, the cheese will keep for about 5 days.
Recipe Card powered by
Reprinted with permission from Food52 Vegan, by Gena Hamshaw, copyright © 2015, published by Ten Speed Press, an imprint of Penguin Random House LLC.
I am a participant in the Amazon Services LLC Associates Program, an affiliate advertising program designed to provide a way for sites to earn advertising fees by advertising and linking to amazon.com. This means if you make a purchase using these links above – your cost remains the same, but I earn a small percentage to help support this blog. Thank you so much for your support!