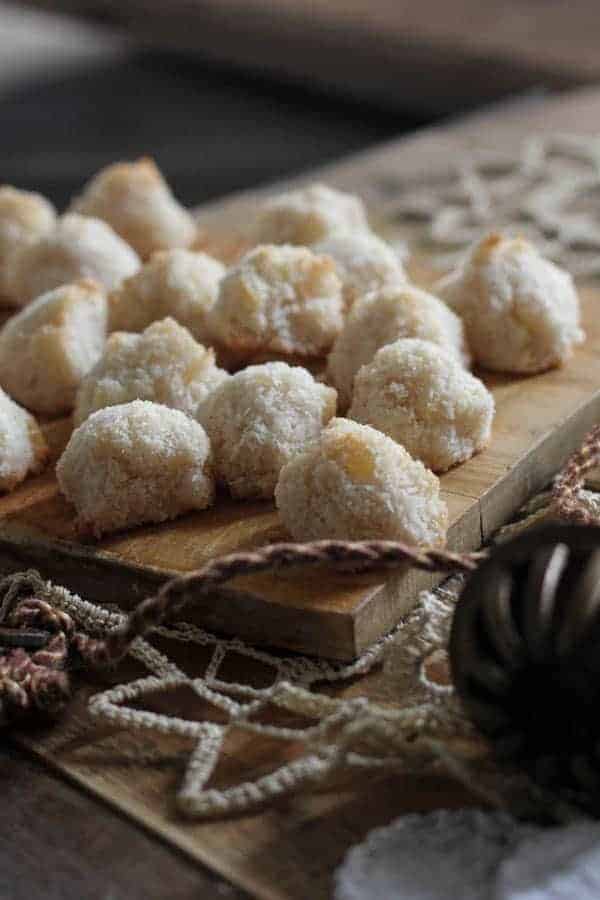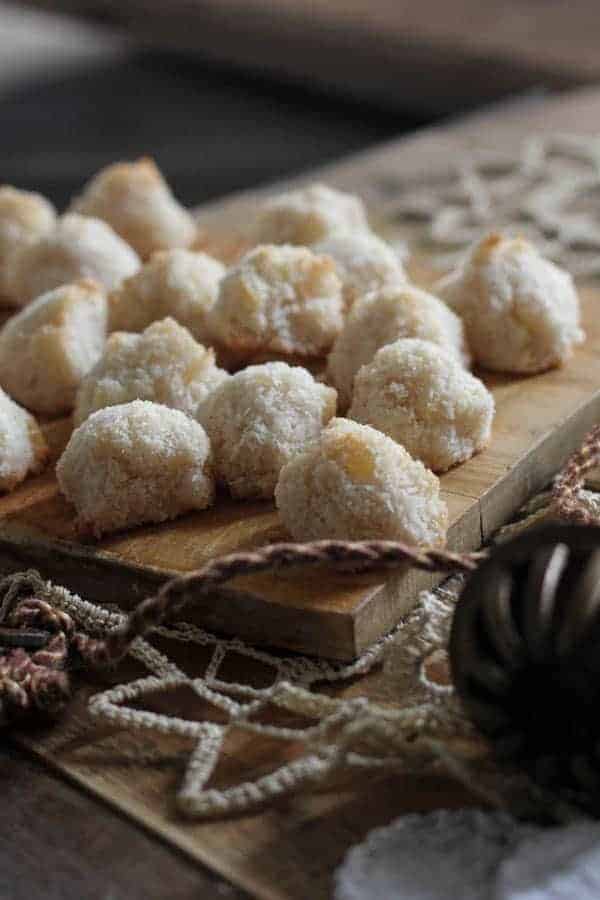 Day 4 of 12 Days of Gluten Free Cookies is here and I am so excited to share my super easy ginger coconut macaroons!! If you have been around for the first few recipes of this series then you know exactly what I am about to say, but just in case you are new to the 12 Days madness here are a few things you should know...
1. All of the recipes in this series are gluten free and vegetarian, some are vegan, and some are dairy free too. If you have a dietary restriction some of the recipes may just be a simple substitution away from fitting into your diet. So, please check the recipes before deciding that a cookie is not for you and if you have questions leave me a comment. I am here for you!!
2. I used King Arthur Flour – gluten free multi-purpose flour for all of the cookies in this series. I simply wanted to make sure that all of the ingredients I used for these cookies were easy to find. Second, I know that custom blending flours can be intimidating so for now we are going to stick with something easy.I also love Vanilla Extract from King Arthur Baking Company. Their Vanilla Extract is great quality and is a pantry staple that you can use time and time again in recipes.
Coconut Macaroons take me back...way back to when I was still living at home with my parents. Before all of the drama of being a teenager and the hustle and bustle of adult life; back to when I just baked cookies for fun while listening to New Kids on the Block. (Don't judge!) I can vividly remember finding a recipe in one of my mom's cookbooks for coconut macaroons. My dad was a lover of all sweets that were laced with coconut and I wanted to make those macaroons for him so bad.
I am pretty sure I used the wrong type of coconut, possibly burnt them my first time around, and honestly I can't even remember what my dad thought of them; although I am sure he told me they were great - even if they weren't. I can vividly recall how excited I was about them though, I just knew they were special cookies! That same excitement that I felt as a young girl waiting for my first batch of macaroons to come out of the oven came pouring back as I baked these to share with you.
I have to admit I have upped my coconut macaroon game since that first batch too! Over the years I have made all sorts of shapes and flavors, but there is just something about the combination of coconut and ginger that keep me coming back to this recipe. Besides the flavor and simplicity of these cookies I love that they come together in about a half an hour so they are perfect for snacking and last minute gifts for friends and family.
Print
Ginger Coconut Macaroons
Author:
Yield:

1 ½

dozen

1

x
¾ cup

granulated sugar

2 ½ cups

unsweetened, shredded coconut

2

large egg whites

1 teaspoon

pure vanilla extract
pinch of sea salt

¼ cup

finely chopped crystallized ginger
Instructions
Preheat the oven to 325° F and line a baking sheet with parchment paper. Set aside.
In a large mixing bowl combine the sugar, coconut, egg whites, vanilla, salt, and ginger. Mix well with your hands to make sure that all of the ingredients are incorporated.
Dampen your hands with cold water. Scoop 1 ½ tablespoonfuls into your hand and form the mixture into a mound. Place on the prepared baking sheet with at least an inch of space in between the cookies.
Bake approximately 15-17 minutes, until the macaroons turn golden brown, rotating halfway through. Uneaten cookies can be stored at room temperature in an airtight container up to 3 days.
Notes
Adapted from Martha Stewart
Recipe Card powered by