Nothing says " I love you!" more than fresh baked breads and goodies, right?! We have been away from home for over 3 weeks now and although we have shared some pretty amazing meals with our family and friends, I have missed cooking for my little family of 4.  I love sitting around our table and sharing our stories from the day, laughing at silly jokes, and hearing the clinks of forks on plates. Today I decided to go a little further than just dinner and make popovers too! I have been nervous about baking popovers since we have been on our gluten-free journey because they were one of Todd's favorite childhood treats. His mom would make popovers for his family's Easter dinner every year and he still gets a little twinkle in his eye when we talk about how much he looked forward to them every year.
I don't know what it was about today that made me try them…maybe I was feeling a little brave or maybe it was more like I felt that I should redeem myself from the burnt, inedible lunch that I made for him. *I camped out on the floor by the oven during the baking time to ensure that I didn't have another burnt disaster on my hands! Which ever it was, I am glad that I took the plunge and so was he! We ate popovers like Kings at dinner and they were so easy that I will be revisiting them again soon. I definitely see a future post about popover mix-in's in my future. Do you have any favorite treats that remind you of your childhood?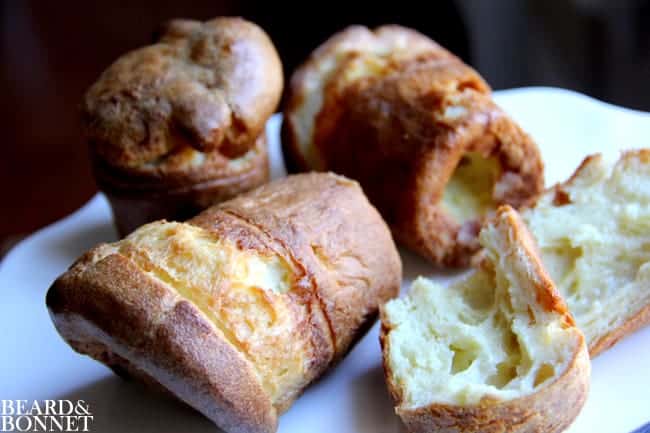 Gluten-Free Parmesan Popovers
Makes 6 large popovers or 12 small
Adapted from King Arthur Flour
1 cup King Arthur Gluten-Free Multi-Purpose Flour 
1/4 teaspoon xanthan gum
1/2 teaspoon salt
1/2 cup Parmesan, grated
1 1/4 cups milk, slightly warm
4 large eggs, at room temperature
3 tablespoons butter, melted
Cooking spray
Preheat the oven to 400°F. Spray a 6-cup popover pan or muffin pan with cooking spray.
In a large bowl whisk the eggs, melted butter, and milk together. In a separate bowl whisk the flour, xanthan gum and salt together. Gradually sift and whisk the dry ingredients into the wet ingredients until you have a smooth batter then add the Parmesan cheese.
Pour the batter into the prepared pan, filling each cup about 2/3 full.
Bake for 25 minutes at 400°F, then reduce heat to 350°F and bake for an additional 15 minutes, until the popovers are deep brown in color. Remove from the oven, let the popovers set for about 5 minutes, then remove from the pan and serve immediately. *I use a butter knife to run around the edges of my popovers to coax them from the pan.
We are happy to have shared this post at the Gluten-Free Friday's link up party hosted by Vegetarian Mama, Eat.Live.Make, and Gluten Freed R.D.!  Hop on over to find more great gf recipes