With Todd traveling almost constantly these days I try to make the most of the few days a week that I get to spend with him. His birthday was yesterday and sadly we spent it on opposite sides of the country...3 hours and 1000's of miles apart. I knew in advance he would be gone on his special day so last week while he was home I tried to spoil his taste buds every chance I could.
Prior to our gluten-free lifestyle, every now and then I would shamelessly buy a big box of cream puffs in the frozen department of the grocery store and we would pop a few out of the box at night after the kids had drifted off to sleep. It was a guilty pleasure for the both of us and honestly, it was a treat that I wasn't sure we would ever indulge in again. I knew when he was home last week I wanted to make each and every meal count and if I could make a batch of cream puffs to serve to him as a surprise late night treat; I knew he would be over the moon! So, I enlisted the help of my old friend Martha Stewart and her trusty recipe for Cream Puffs, then I adjusted a few ingredients, crossed my fingers, and held my breath while they baked. Amazingly, they came out perfect on the first try! *Seriously, that hardly ever happens.
When the first batch came out of the oven it was all I could do to not eat half of them by myself! *Self-control when it comes to indulgent treats has never been my thing. I admit this recipe is a little more involved than I usually like to post here on B+B, but I think that if you take the time to make these decadent gluten-free cream puffs that you will not only be thanking yourself, but singing your own praises as well. I suggest making the pastry cream one day, taking a rest and making the cream puffs the next. I can burn out in the kitchen when a baking project takes too long, so dividing up the task between days works really well for me. I also suggest dipping these little beauties in a little Meyer Lemon Curd, seriously you will be glad that you did!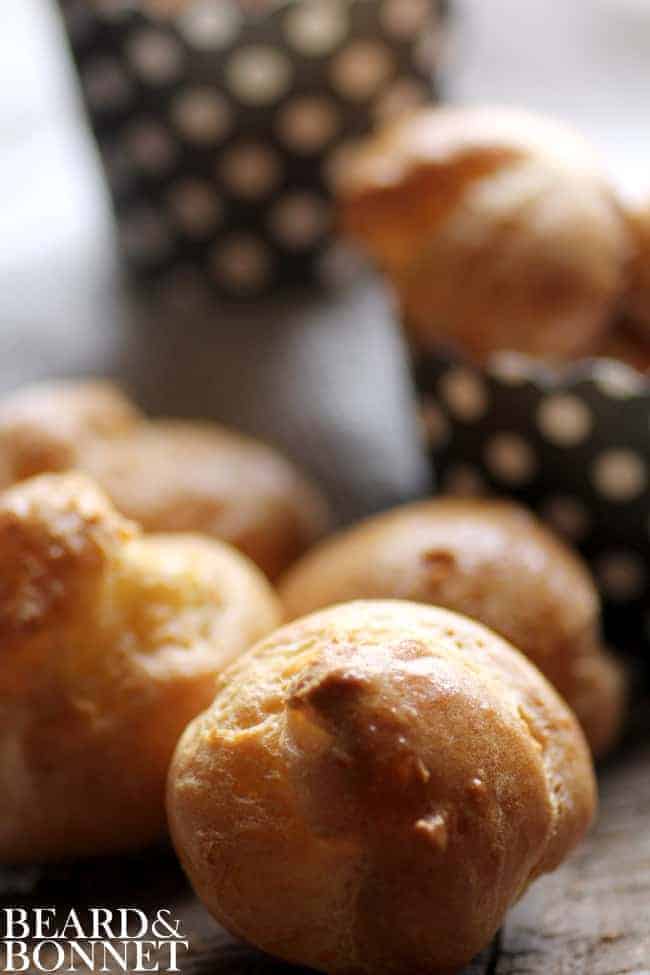 Print
Pastry Cream
Author:
Yield:

1 ¾ cups

1

x
Makes about

1 ¾ cups

2 cups

whole milk

½ cup

sugar

1

vanilla bean, halved lengthwise and scraped
pinch of salt

3

large egg yolks

3 Tbsp

. plus 1 ½ tsp. cornstarch

2 Tbsp

. unsalted butter, cut into small pieces
Instructions
Bring milk, ¼ cup of sugar, vanilla seeds, and salt to a simmer in a saucepan over medium heat, whisking to disperse seeds.
Whisk the egg yolks and remaining ¼ cup sugar in a medium bowl. Whisk in the cornstarch, 1 tablespoon at a time. Ladle a ½ cup hot milk mixture into the yolk mixture, whisking constantly to temper the eggs. Add the remaining milk mixture ½ cup at a time whisking constantly. When the milk and eggs are completely incorporated return all of the mixture to the saucepan and heat over medium-high heat, whisking constantly, until the mixture comes to a full boil and is thick enough to hold its shape when lifted with a spoon, about 2 minutes. Remove from heat and stir in the butter. *Think warm vanilla pudding consistency.
Transfer the mixture to a bowl and place plastic wrap directly onto the surface to prevent a skin from forming and refrigerate until cold. Pastry cream will keep for a few days in the refrigerator.
Recipe Card powered by
Print
Gluten-Free Vanilla Cream Puffs
Author:
Yield:

3

dozen

1

x
For Pâte à Choux (paht-ah-shoo)
1 cup

+

2 tsp

water

½ cup

unsalted butter

1 tsp

granulated sugar

½ tsp

. kosher salt

1 cup

Better Batter Gluten-Free Flour, or gluten-free all purpose flour

5

large eggs
For the cream puffs
1

recipe pastry cream (follows)

⅓ cup

heavy cream

1

egg+

1 Tbsp

water
cooking spray (preferably canola or another tasteless oil)
Instructions
Preheat the oven to 400°F with a rack in the center position and line 2 baking sheets with either non-stick baking mats or parchment sprayed with cooking spray. Mark the baking sheets for piping by dipping the wide end of a large decorating tip in Better Batter and setting it down gently on the sheet pan about an inch apart. *I was able to get 4 across on my baking sheets. These little flour circles will serve as your guide to piping your perfect cream puffs.
To make the pâte à choux: Combine 1 cup of water, butter, sugar, and salt in a medium saucepan over medium-high heat. Bring the mixture to a boil, and immediately remove from the heat. Use a wooden spoon to stir in the flour, when it is completely incorporated return to the heat. Dry the mixture by stirring constantly over heat until it pulls away from the sides and the liquid has cooked out, about 4 minutes. *I literally had a puddle of water in the bottom of my pan that was separated from the ball of dough. At this point it is supposed to look like a big blob, appetizing, right?!
Transfer the mixture to the bowl of an electric mixer with the paddle attachment, and mix on low speed for a few minutes to cool slightly. Add 5 eggs, one at a time mixing until each addition is incorporated. Once all of the eggs are incorporated you can test the batter by touching it with your finger or a rubber spatula, if a sticky ribbon forms when you pull away the batter is perfect. If not, add the extra 2 teaspoons of water one at a time, mix thoroughly and test again after each addition. You are looking for a batter that is smooth and shiny and creates a sticky ribbon. If your batter at this point is still not creating a sticky ribbon you can add water a ½ teaspoon at a time until it does.
Fill a pastry bag fitted with a plain round ¾-inch tip with the pâte à choux, and pipe 1 ½ inch rounds onto the prepared baking sheets using your flour circles as guides. Beat together the remaining egg and tablespoon of water; use your finger to rub the egg mixture over the cream puff, smoothing the ridges and flattening the tip.
Cover one baking sheet with lightly oiled plastic wrap and place in the fridge. Bake the remaining sheet pan in the oven at 400°F for 15 minutes; reduce heat to 350°F and bake for an additional 15-20 minutes, or until the puffs are golden brown. Transfer to a rack to cool completely. Return the oven to 400°F and repeat the baking process with the second sheet pan.
To fill and finish; whip heavy cream to medium peaks in a small bowl, stir pastry cream to soften and add the whipped cream to the pastry cream in two batches, folding to combine. Fill a pastry bag fitted with a plain round tip with the pastry cream mixture. Insert the tip into the bottom of each puff, and fill. Wipe of any excess cream that overflows from the bottom of the puff and serve immediately. These puffs will keep for a few days in the refrigerator tightly wrapped.
Recipe Card powered by
* I feel like I should mention that I am in not affiliated with Better Batter nor do I receive any type of payment for using or suggesting their products to you. I just really love them!