[mv_video aspectRatio="true" doNotAutoplayNorOptimizePlacement="false" doNotOptimizePlacement="false" jsonLd="true" key="luptb4xsoet9sqdm2w8g" sticky="false" thumbnail="https://mediavine-res.cloudinary.com/v1597609031/mm9ter02xgiqcqdesvip.jpg" title="Homemade Dog Food Recipe" volume="70"]It's no secret that fresh herbs and spices are beneficial to a person's health and diet, but did you know that your dog's diet could benefit from them too!? In the summer months, it's easy to include green leafy herbs like curly parsley and basil into our homemade dog food because I have lots of them growing in the garden. But, when fresh herbs are sparse I turn to my spice cabinet where I keep a little jar labeled 'Homemade Dog Food Seasoning'.
When fresh herbs are not an option
This easy to make custom spice blend combines dried parsley, basil, dill, rosemary, and oregano. I sprinkle on a little of the seasoning blend at every feeding for added nutrition. I know I'm contributing to fresh breath, happy tummies, and better long term health benefits for both of our dogs!
***Please note, I am not a veterinarian, just a very passionate dog owner! The information in this blog post documents our own personal experiences, research, and the recipes that we feed our dogs under our veterinarian's careful supervision. Please, consult with your vet and use your own personal judgment when considering transitioning to a 100% human grade food diet for your pup. POST UPDATE 9/25/20 to add more information on ingredients. The original recipe is still the same***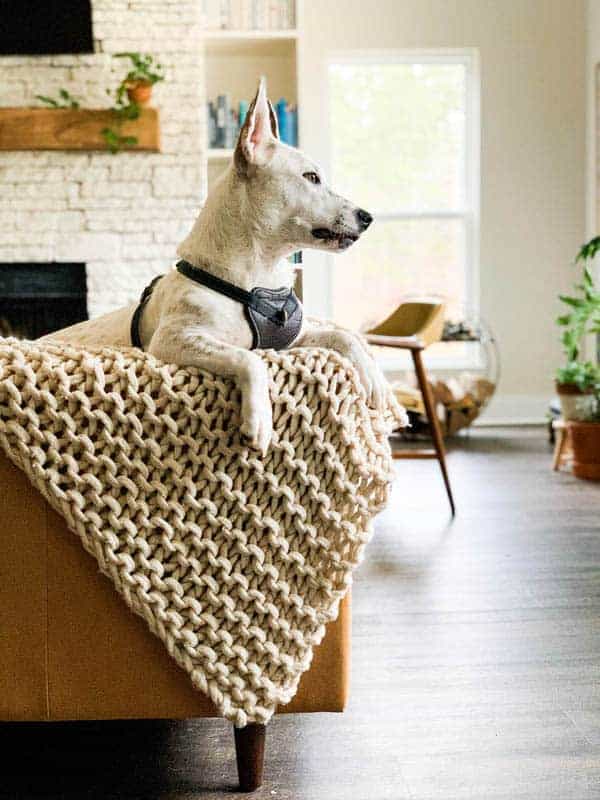 Why we switched to homemade dog food
Recently, I shared a blog post about our dog's health issues and why we decided to make the switch to a diet that is made up of 100% human grade food.
In our experience, the switch was easy, cost effective, and so much healthier for our dogs than a traditional doggie diet of processed kibble! The homemade dog food recipe that I make for our dogs combines lean ground sirloin, wholesome brown rice, fresh vegetables, hard boiled eggs, and tender herbs. This healthy, vibrant alternative to traditional dog food has given our 11 year old dog, Hooch, a new lease on life!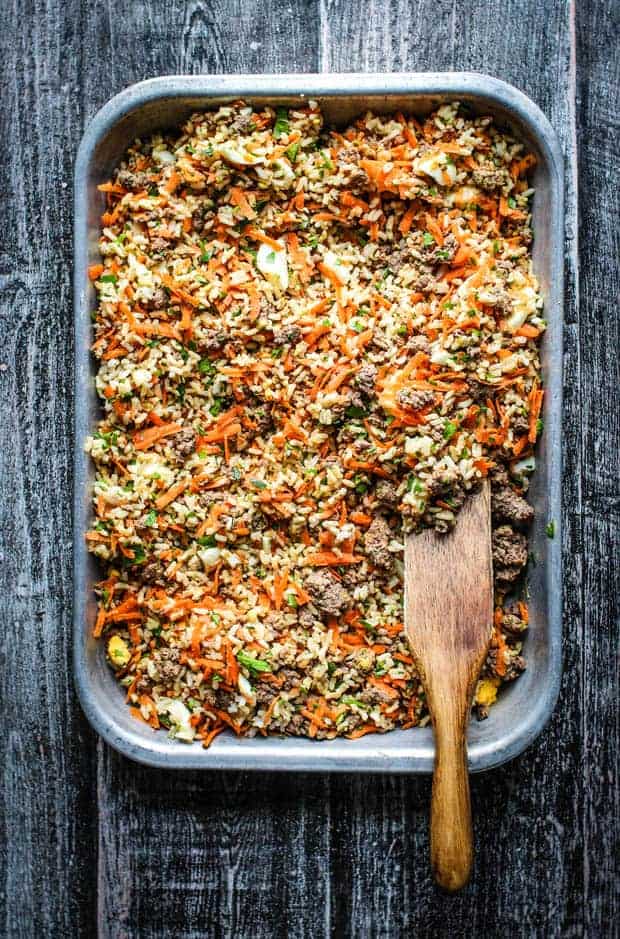 Since making the switch 8 months ago I have been so inspired by the improvements we have seen in Hooch! It's pushed me to continue to research different ingredients that might help even more. I'm excited to share my first Homemade Dog Food Seasoning blend with you and your pup! I really hope you will benefit as much as we have.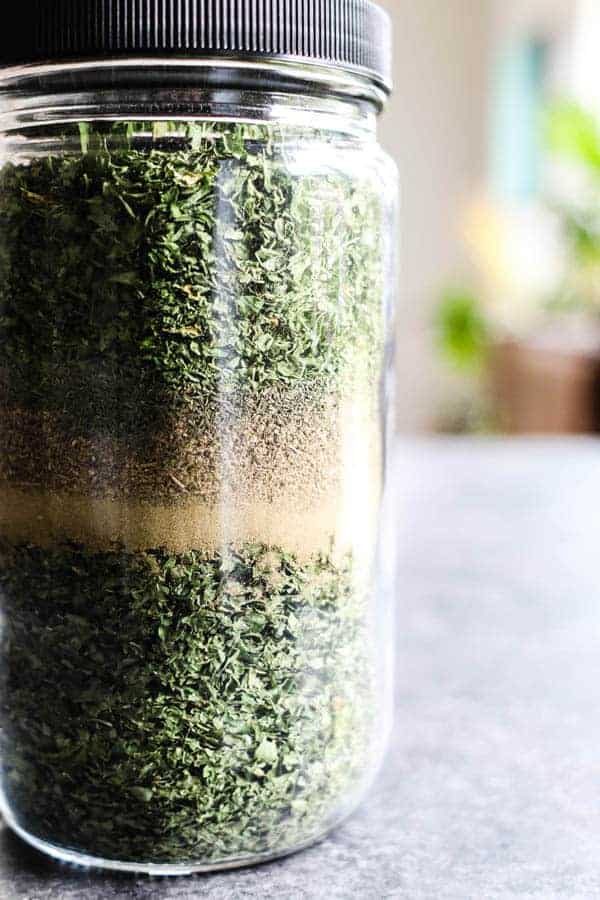 There are 5 dried herbs in my Homemade Dog Food Seasoning blend, let's break down why I chose each of them....
This dog-approved leafy herb, well-known for its delicious role in pesto, has antioxidant, antiviral, and antimicrobial properties. We began incorporating basil into Hooch's food to help alleviate symptoms of arthritis because basil has a high concentration of beta-carophyllene, which also makes basil useful in treating inflammatory bowel disease. Other benefits of basil for dogs include lifting their mood, decreasing stress, and reducing anxiety.
While very rare, some dogs can be allergic to basil, so incorporate slowly into your dogs diet and work up from there.
Dill is part of the parsley family and a sprinkle of this delicious herb could benefit your dog in all sorts of ways! If your dog is a living vacuum cleaner like our Rebel – picking up any food they see that has fallen on the ground! Or if the garbage can is your dog's idea of a buffet line; it's a good idea to keep some dill on hand. Dill is known to be a digestive aid, helping with gas, nausea, cramping and appetite. As an added bonus, dill works wonders as a doggie breath freshener too! According to Herbs for Pets by Gregory L. Tilford and Mary L. Wulff, dill's breath freshening action comes from its antibacterial powers that work well in the mouth for foul breath caused by bacteria and gingivitis.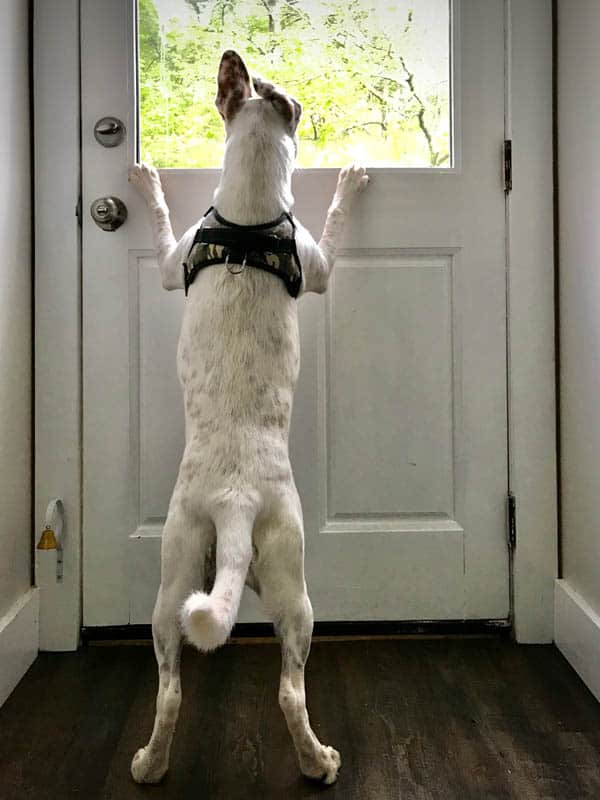 First and foremost, when it comes to parsley for dogs, you want to feed the curly variety whenever possible and watch those serving sizes, as parsley does contain a toxic compound called furanocoumarin which can be dangerous in excessive amounts. In smaller servings, however, parsley does your dog way more good than harm!
Believe it or not, dried curly parsley can be hard to find, here is a quick an easy way to dry curly parsley in your microwave at home...
DIY Dried Curly Leaf Parsley
Place 1 paper towel flat onto a microwave safe plate.
Lay out curly parsley bunches in a single layer on the paper towel, then add another paper towel on top.
Microwave 1 minute, then in 15 second increments until dry.
After the leaves are dry and crunchy, remove and discard the stems.
Store in an airtight container until ready to use.
Parsley, an excellent source of flavonoids, antioxidants, and vitamins, is often added to dog treats as a breath freshener and can be used to also soothe the stomach. Initially, I started incorporating parsley into our dogs food because I learned that it can help to relieve the swelling and pain from arthritis and other inflammatory conditions. However, I wish I had started adding parsley into our dog's diets a long time ago as it also helps to flush toxins from the body which supports kidney health. As we discussed in my homemade dog food post, our 11-year old dog Hooch was diagnosed with kidney disease last December. I can't help but wonder if we could have avoided that diagnosis by switching him to a real food diet with ingredients like parsley much sooner in his life.
It is important to note, the positive effects that parsley can have on the kidney's is only preventative and will not reverse the progression of kidney disease if your dog has already been diagnosed. In fact, you should not be giving any parsley to a dog that is prone to developing kidney stones, because parsley contains high amounts of oxalates. Our Hooch does not have kidney stones, so we still incorporate small amounts of parsley at this time, but as his condition progresses we may opt to eliminate it from his diet.
WARNING: Spring Parsley (a member of the carrot family) looks almost identical to parsley but is toxic for dogs and cats.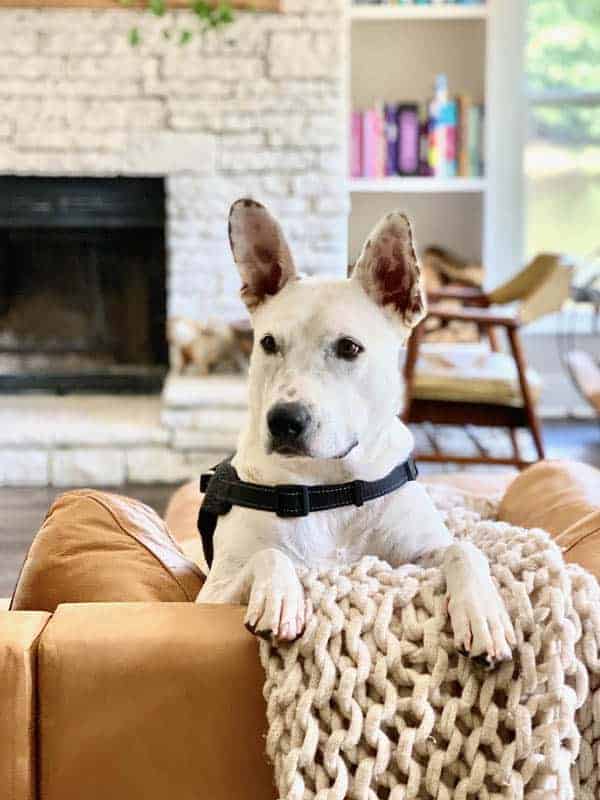 There's a reason rosemary essential oil is so often used as a natural preservative in dog food, it is a great pathogen-fighter against common food bacteria, meaning it can help keep food from spoiling! And those pathogen-fighting capabilities extend to your pet's body too, where it can help fight against various bacteria and fungi! Since rosemary contains antioxidants it is a great ingredient to add to your pup's food to combat age-related illnesses like cardiovascular disease and cancer.
While big name dog food brands use rosemary essential oil, I personally only recommend using dried rosemary at home as essential oils are SUPER concentrated and can have adverse effects if not portioned correctly. Herbalist Gregory L. Tilford, co-author of Herbs for Pets wrote "Rosemary is generally safe when used appropriately, however, the essential oil, which is often used in very small amounts as a natural food preservative is very strong and concentrated. In small amounts it will lend a calming, relaxing effect, but if fed in too much abundance it can produce the opposite – a nervous system stimulant effect that may exacerbate nervous system disorders, like epilepsy. All said, as long as the oil is not used in concentrations greater than 1 percent of the entire composition of a food or supplement product, it can be used quite safely."
Feeding your dogs small amounts of oregano can help cleanse your dog's body from toxins due to its strong antibacterial, antifungal, and antiviral properties. Oregano packs more than 40 times the value of antioxidants found in apples and is a rich source of vitamins A, C, and K coupled with Omega-3s, calcium, iron, manganese, and dietary fiber which are all essential in your dog's diet! Oregano is a key player in this Homemade Dog Food Seasoning Blend because it can help to reduce inflammation and swelling as well as alleviate pain and improve mobility in joints. All which is very important if I want my sweet Hooch to move around easier and still give me ten like the picture below!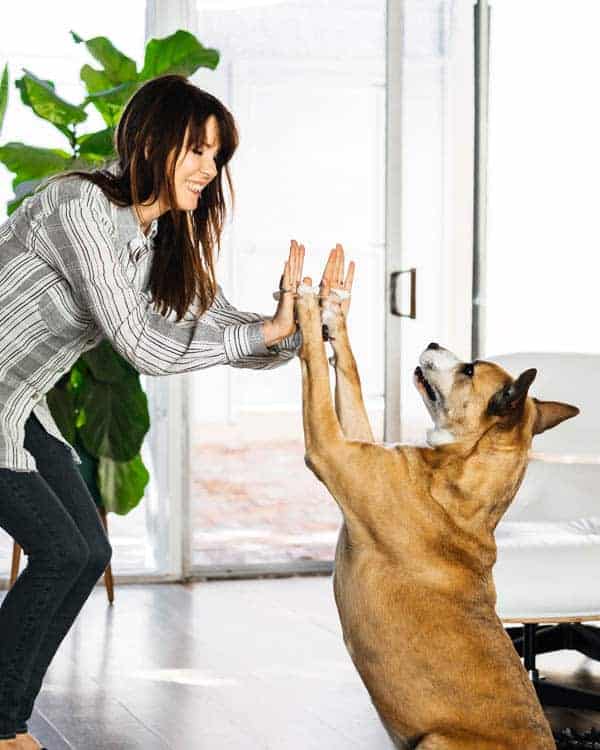 How much Homemade Dog Food Seasoning Blend should I be adding to my dog's meals each day?
Start small by adding a little sprinkle (a pinch for small dogs, a ½ teaspoon for larger dogs) of these herbs to your dog's food each day and work up from there. Adding dried herbs like these is a safe way to give your pups a little boost in nutrition, freshen their breath, and heck it probably will make their food a little more flavor-able too!
If you've made our Easy Homemade Dog Food Seasoning Blend for your pup I would be so grateful if you would rate the recipe and let me know what you think in the comments below! I just love hearing from you and your reviews and comments really help others that visit This Mess is Ours. Want to be a part of our online community outside of the blog? It's easy!! All you have to do is follow @THISMESSISOURS on FACEBOOK, INSTAGRAM, TWITTER, YOUTUBE, or PINTEREST to see cooking demos, and peeks into our day to day life.
Print
Homemade Dog Food Seasoning
I keep a BIG batch of this homemade dog food seasoning blend on hand at all times because it's fast and easy for me, but you don't have to go as big as I did. Simply combine equal parts of the herbs you are using in a jar and shake to combine.
I use this over top of my 100% human grade homemade dog food, but you can also use it over kibble or canned food.
Author:
Prep Time:

1 minute

Total Time:

1 minute

Yield:

10 tablespoons

1

x
Category:

gluten free

Method:

No cook

Cuisine:

Dog Food

Diet:

Gluten Free
2 tablespoons dried curly parsley
2 tablespoons dried dill
2 tablespoons dried orgeano
2 tablespoons dried rosemary
2 tablespoons dried basil
Recipe Card powered by