Breakfast is the most important meal of the day for all of us, even our dogs! Get your dog's day off to a great start with a healthy dose of protein, vitamins, and minerals by feeding him/her a delicious Pumpkin and Yogurt Bowl for Dogs in the morning. These yogurt bowls are filled with good for your dog ingredients like plain, fat free Greek yogurt, 100% pure pumpkin puree, plant based vitamin and mineral powder, and my Homemade Dog Food Seasoning which is a blend of 5 herbs that have extraordinary health benefits for your dog!
***Please note, I am not a veterinarian, just a very passionate dog owner! The information in this blog post documents our own personal experiences, research, and the recipes that we feed our dogs under our veterinarian's careful supervision. Please, consult with your vet and use your own personal judgment when considering transitioning to a 100% human grade food diet for your pup. ***
[mv_video aspectRatio="true" doNotAutoplayNorOptimizePlacement="false" doNotOptimizePlacement="true" jsonLd="true" key="vrvmxn8gepkvq5o9pygd" sticky="false" thumbnail="https://mediavine-res.cloudinary.com/v1599051389/spch5sycodduwah6avjy.jpg" title="Pumpkin and Yogurt Bowl for Dogs" volume="70"]
Let's talk about what goes into these Pumpkin and Yogurt Bowl for Dogs shall we...
Nonfat Greek-style yogurt || Yogurt has a variety of health benefits for dogs including protein, calcium, a variety of vitamins & minerals, AND probiotics which are great for their guts! It is important to know though, that if you are going to feed your dog yogurt, you make sure that it is plain & free of any added sweeteners, both natural & artificial. Dogs should never eat any yogurt containing xylitol, a common sweetener in human foods. Even a small amount of xylitol-sweetened yogurt is toxic for dogs and may lead to liver failure because it accumulates in the liver tissue. It's also best to stay away from yogurt flavored with fruits or any type of "mix-ins", as these frequently have added sugar in the form of syrups and may also use artificial sweeteners.
Greek style yogurt has less lactose than regular yogurt so it is gentler on tummies. Just like humans though, some dogs can be lactose intolerant. As you hopefully do with all treats, feed your dog a small amount of yogurt starting with a teaspoon for small dogs and a tablespoon for larger ones, give him some time and see how he reacts. If there are no adverse reactions like excess gas or upset tummy you can increase the amount.
**If you suspect that your dog has a lactose issue, you should refrain from giving your dog yogurt all together and just double up on pumpkin.**
100% Pumpkin Puree || Pumpkin works wonders for ALL dogs both big and small, but especially for those with gut issues. Plus, they think it tastes great! I am talking about 100% unadulterated canned pumpkin, no sugar loaded pumpkin pie filling for your pup. When you read the ingredients on the can you only want to see pumpkin listed. Pumpkin is full of fiber, which can help dogs feel fuller faster and stay fuller longer without necessarily taking in too many calories, so it is a great option for pups that are overweight as well! 100% pumpkin is safe for ALL dogs! A couple of teaspoons for smaller dogs or a couple tablespoons of pumpkin for larger dogs each day is a great way to treat them and keep their gut in check.
Gross but true, some dogs eat their poo...If you happen to have a dog that sometimes does this pumpkin is a great addition to their diet because, it tastes great mixed into their food, but it causes a reaction to happen inside their bodies and it makes their poop taste horrible to them so they will no longer eat it. How poop doesn't taste horrible to all dogs in the first place I don't know, that requires more research on my end. But, at least for now you know that you can deter your poop nibbling canine with just a bit of pure pumpkin. Again....ewww.
Dog Greens Vitamin & Mineral Powder || We made the switch to a diet of 100% human grade food almost a year ago when our oldest dog, Hooch, was diagnosed with stage 4 kidney disease. Since then, I have spent countless hours comparing labels, scouring the internet, and researching information on all of the vitamin options available for our dogs and the Dog Greens brand is hands down the winner for us. We have supplemented our dogs diet with this incredible blend of vitamins and nutrients for 8 months now - they LOVE it and so do I! It is made from a blend of organic & wild harvested spirulina, chlorella, alfalfa, barley grass, wheat grass, kelp and Irish moss.
Homemade Dog Food Seasoning || Oh yeah, in case you missed it - I have a recipe on my site for a blend of 5 herbs that I sprinkle over my dog's food at every meal. They love the taste and I love the health benefits. It's a win win!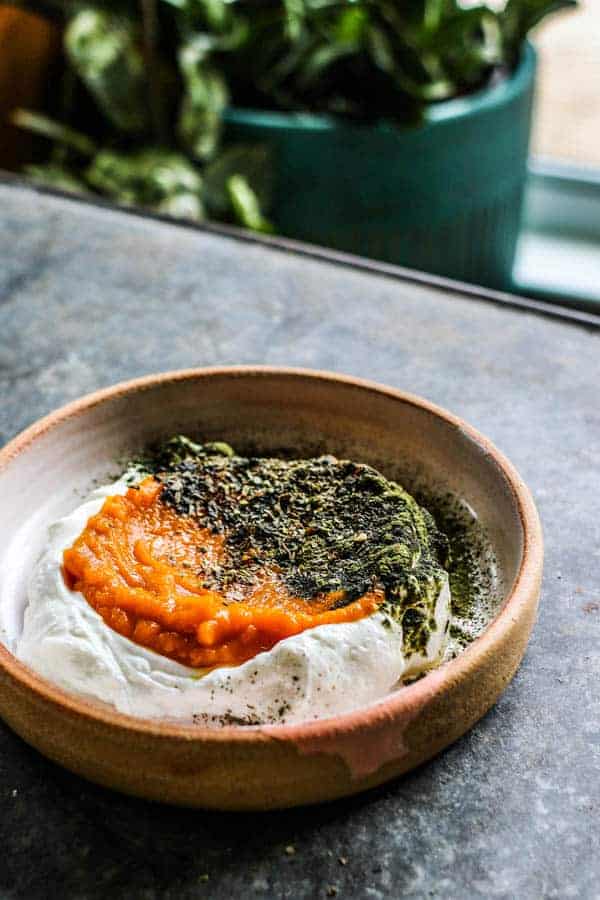 In the past 8 months, Hooch's lab results have repeatedly shown an improvement in his overall health and I'm happy to report that the indicators in his blood work for stage 4 kidney disease have dropped to stage 1 levels!!! It truly feels like a miracle every time we hear his lab results come back! I know for a fact that it is the mix of diet, lifestyle, and supplement changes that we made that have caused this miraculous turn around for him and there is no doubt in my mind that these changes have given us more quality time with him in the long run!
Looking for more ways to feed and treat your dog with easy homemade dog food recipes? I have you covered!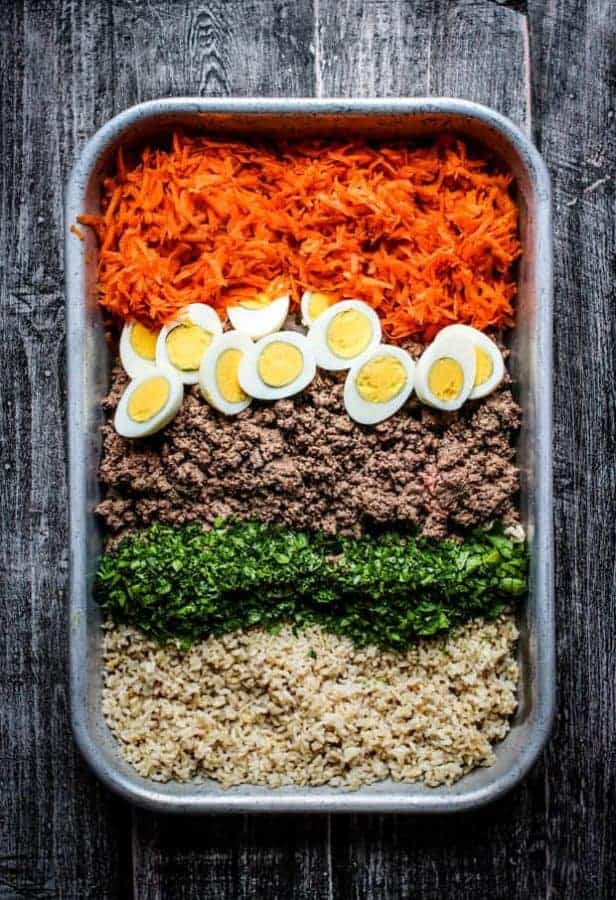 Homemade Dog Food || It's a fact, feeding your pup a diet of 100% human grade dog food is easy, cost effective, and WAY better for them than a traditional doggie diet of processed kibble! My easy homemade dog food recipe combines lean ground beef, wholesome brown rice, fresh vegetables, hard boiled eggs, and tender herbs for a healthy, vibrant alternative to traditional dog food that has given our 11 year old dog a new lease on life!
Homemade Dog Food Seasoning Blend || It's no secret that fresh herbs and spices are beneficial to a person's health and diet, but did you know that your dog's diet could benefit from the addition of them also!? In the summer months, it's easy to include green leafy herbs like parsley and basil in our dog's fresh homemade food because I have lots growing in the garden. But, when fresh herbs are sparse I turn to my spice cabinet where I keep a little jar of spices labeled 'Homemade Dog Food Seasoning Blend'. This easy to make custom spice blend combines dried parsley, basil, dill, rosemary, and oregano for a seasoning blend your dog is sure to love!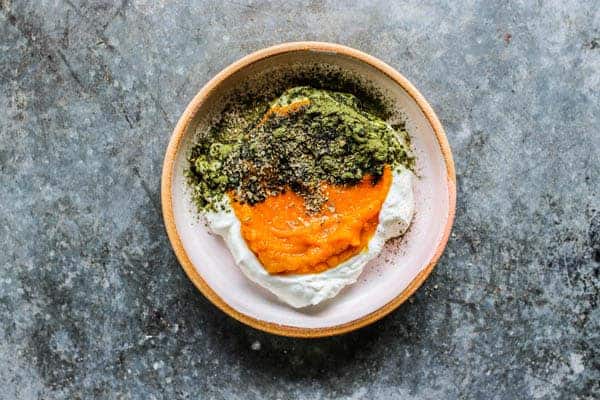 If you've tried our Pumpkin and Yogurt Bowl for Dogs recipe I would be so grateful if you would rate the recipe and let me know what you think in the comments below, I just love hearing from you and your reviews and comments really help others that visit This Mess is Ours!
Print
Pumpkin and Yogurt Bowl for Dogs
Don't forget to rate the recipe and let me know what you think about this popcorn in the comments below, I just love hearing from you and your reviews/comments really help other people that visit This Mess is Ours! 
Author:
Prep Time:

1 min

Total Time:

1 minute

Yield:

1

serving

1

x
Category:

Dog Food

Method:

No cook

Cuisine:

Dog Food
Instructions
For both small and large dogs:
Combine all of the ingredients in a small dish and serve immediately.
Notes
PLEASE NOTE: Nutritional information below is calculated with the ingredients and largest serving amount of each ingredient for a large dog. 
Nutrition
Serving Size:
Calories:

405

Sugar:

26.6 g

Sodium:

199.2 mg

Fat:

2.9 g

Carbohydrates:

43.2 g

Protein:

55.4 g

Cholesterol:

25.5 mg
Keywords: homemade dog food, dog food recipes, yogurt bowl for dogs, dog recipes,
Recipe Card powered by
Want to be a part of our online community outside of the blog? It's easy!! All you have to do is follow @THISMESSISOURS on FACEBOOK, INSTAGRAM, TWITTER, YOUTUBE, or PINTEREST to see cooking demos, live #CoronaCall 's, and peeks into our day to day life.